Should I General Contract My Pole Barn? Pros, Cons & Best Practices

Subscribe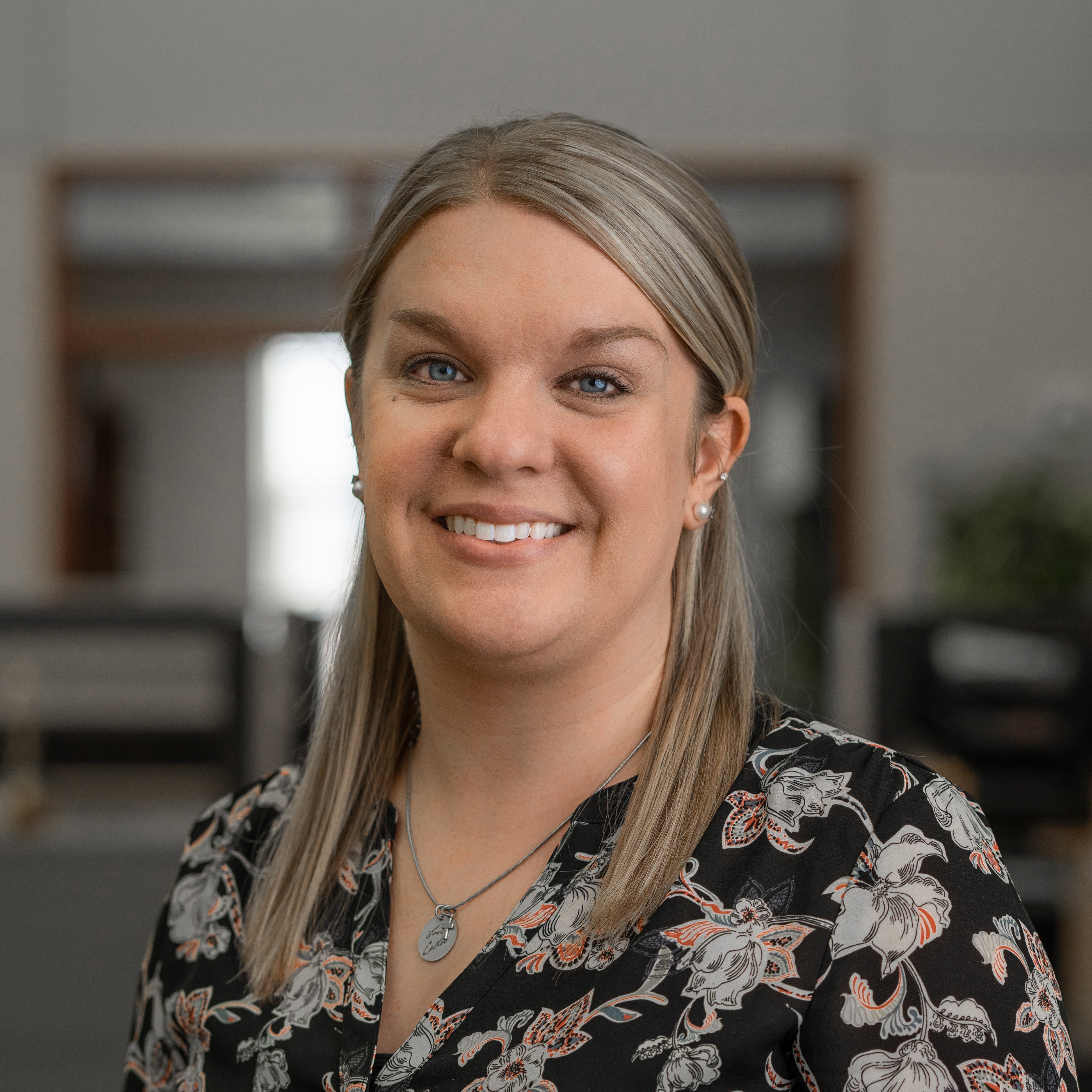 Angie graduated from Indiana State University with a Bachelor of Science in Interior Design. Prior to joining the FBi team, Angie was a kitchen and bath sales consultant in Lafayette, IN. In 2012, she started with FBi as the Inside Sales/Marketing Assistant. Today she holds the role of Sr. Marketing and Inside Sales Manager. Angie grew up in a farming community and has always enjoyed helping her family on the farm. A past 10-year 4-H Member, her passion for livestock pursued her to take a career in the agriculture field. She and her husband live in Northwest Indiana with their two daughters. In her free time, she enjoys outdoor leisure activities and spending time with friends and family.
There are three kinds of people in this world:
Those who go out and make things happen
Those who sit and watch things happen
Those who wonder what happened
Since you're reading this article about general contracting your pole barn or post frame building, there's a pretty good chance that you fall under the "those who go out and make things happen" category. Sitting around and waiting for things to happen isn't a part of your personality. You're well aware that the only way something is going to get done is by going out and doing it yourself.
If we had to guess, you're also the type of person who sets lofty goals for yourself and meets these goals consistently. You're typically good at what you do, and many people like yourself have successfully been their own general contractor (GC) during the construction of a new pole barn or a post frame building.
Taking it upon yourself to be your own general contractor may be appealing to you for numerous reasons:
You're not paying additional money to have someone else be your general contractor
You can control the schedule or construction phases of when you want things accomplished
You don't have to rely on anyone else to make decisions for you
Things will get completed exactly how you want them done
It's easier to depend on yourself to show up and do the work correctly
But…does that necessarily mean you're a proper fit for the job? Lucky for you, our 'General Contracting Your Post Frame Building' guidebook will help answer your questions and guide you through the steps involved.
Perhaps you'll end up being the perfect fit for the job, or maybe you'll recognize that hiring a general contractor with post frame experience is a better option.
What Are the Steps to General Contracting Your Post Frame Building?
The essential steps to general contracting any successful construction project are displayed below in the simple construction process model:

Following these five steps will help ensure your post frame construction project remains on schedule and under budget and doesn't get out of hand. Before you begin, you need to find out if you're up to the task of being your own contractor.
Assuming your project isn't unreasonably complex or unusual, the answer to that question is YES. Of course, there are a few caveats to answering yes. Almost anybody can survive being his/her own general contractor. A better question is… how hard do you want the task to be?
Are you the type of person who has:
Good time management skills?
Organizational abilities?
The capacity to lay things out in a logical sequence?
If you answered yes to any of the qualifications above, then there's a good chance you'd be a good fit. Why? Because all of these skills are necessary for a smooth pole barn construction process.
It's practically impossible to get a task accomplished without time management, organization, and logistics – especially a sizable one like a post frame building.
Don't get us wrong… you can still general contract without these skills, but you'll definitely have more headaches. Keep in mind that acting as your own general contractor is significantly more natural if you work with a Design/Build company for the building structure (or shell.)
What Are the Benefits and Drawbacks of Being Your Own General Contractor?
Most people can take on the role of a general contractor, but it's not something that everyone wants to do. Whether being your own general contractor makes sense for you or not, it will all depend on how these benefits and drawbacks balance out.
Benefits
Save Money

: Between management costs, contingency fees, and general contractor markups of materials and subcontractor labor, savings can range from 8 – 24%, depending on the size and scope of the project.


Build Equity: By saving money on the construction of your post frame building, you can achieve some "instant sweat equity." In some cases, people use this equity as a down payment.


Control the Project: By being your own general contractor, you get to choose your own subcontractors, be precise with what you want, and dictate quality, safety, and for the most part, schedule.


Gain Satisfaction: There's nothing quite like being able to look back on a well-done project, knowing that you are the one who met the challenges and got it done.
Drawbacks
Commitment

: Choosing to be your own general contractor is a major commitment of your resources, and possibly a distraction from your regular business. Once you have decided to take on the job, it can be challenging to turn back.


Time: Being your own GC takes time. You'll be responsible for completing the obvious tasks: answering questions, spending time at the job site, and making phone calls.

Don't forget about the time you'll need to spend in the planning phase working through the pole barn design and any site issues. Skimping out on the planning part may seem tempting, but doing so will only end up costing you more time later.


Expertise Needed: While not absolutely necessary, previous construction experience can help you out a great deal. Prior experience with permits and codes is also a major bonus.


Risk: In a worst-case scenario, an inexperienced person (or anyone who just hasn't planned well or doesn't manage the job properly) can experience cost overruns, project delays, poor subcontractor quality, and all the conflict that goes with those things.
Complex projects require a high level of engagement by the general contractor. Due to the level of detail and integration of subcontracts, construction terms, and processes, you'll want to be as hands-on as possible. Direct involvement will help you define and understand the project scope, especially when selecting and managing subcontractors.
However, you can always reach out to your post frame builder for advice or assistance.
It basically boils down to this trade-off: assume some risk to save some money. For most people, it's worth it…especially if they can manage the risk and eliminate some of the hassles that generally accompany being your own general contractor.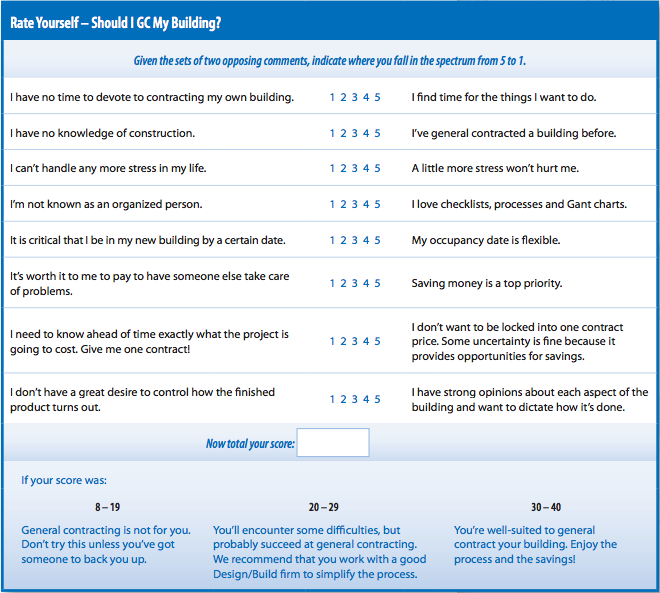 Other General Contracting Tips
Visit the job site frequently to ensure work is running smoothly, and no issues are present
Contact your state's underground utility locator (811) before digging.
Make sure everyone on the job site knows how to reach you at all times in case of questions or emergencies.
Use the scopes from your various subcontracts as your checklists when inspecting the sub's work.
Establish a working relationship with all the subcontractors.
Stay on top of the project details to execute your plan.
Make payments to subs as work is accomplished. It's not a good idea to pay too much ahead, or the pace and quality of work will suffer. Nor should you delay payment without good reason, because work could stop altogether.
Inspect work daily and communicate concerns early.
From your inspections, develop a daily or weekly "punch list" (list of items that need to be corrected) and discuss the list with the sub. It's never a good idea to wait until a sub is done to point out mistakes because you can risk them moving on to the next job without helping you first.
A wise man once said, "If you don't enjoy the journey, you won't enjoy the destination." Try to have some fun and enjoy the process along the way. All your hard work will be worth it in the end!
Should You Be Your Own General Contractor?
As you've read through this article about general contracting your pole barn, you've covered quite a bit of ground – from the benefits to the drawbacks, and helpful tips to keep in mind during the process.
By now, you should have a much better handle on the construction process and what's ahead of you in your budding role as a general contractor. But remember, your pole barn builder is still there to help if you have any questions.
As one of the nation's largest Design/Build post frame companies, we offer the expertise you can rely on, from the planning and permitting stage to the building design and construction of the building shell.
Remember the necessary steps to general contract a successful construction project:
Plan: broad objectives
Verify: feasibility
Acquire: post frame building designs, drawings, and permits
Select: high-quality subcontractors
Execute: construction and manage subcontractors
Following these steps will help ensure your building project remains on schedule and on budget and does not get out of hand.
Whichever path you decide you want to take on your journey to building your pole barn, we wish you nothing but success and the best of luck.
---
Have more questions about post frame warranties not covered in this article? Please contact FBi Buildings at
1.800.552.2981
or
click here to email us.
If you are ready to get a price,
click here to request a quote
and a member of our sales team will call you.