Building Tips | Energy Efficiency | Building Design
7 Types of Lighting to Put Inside Your Pole Barn

Subscribe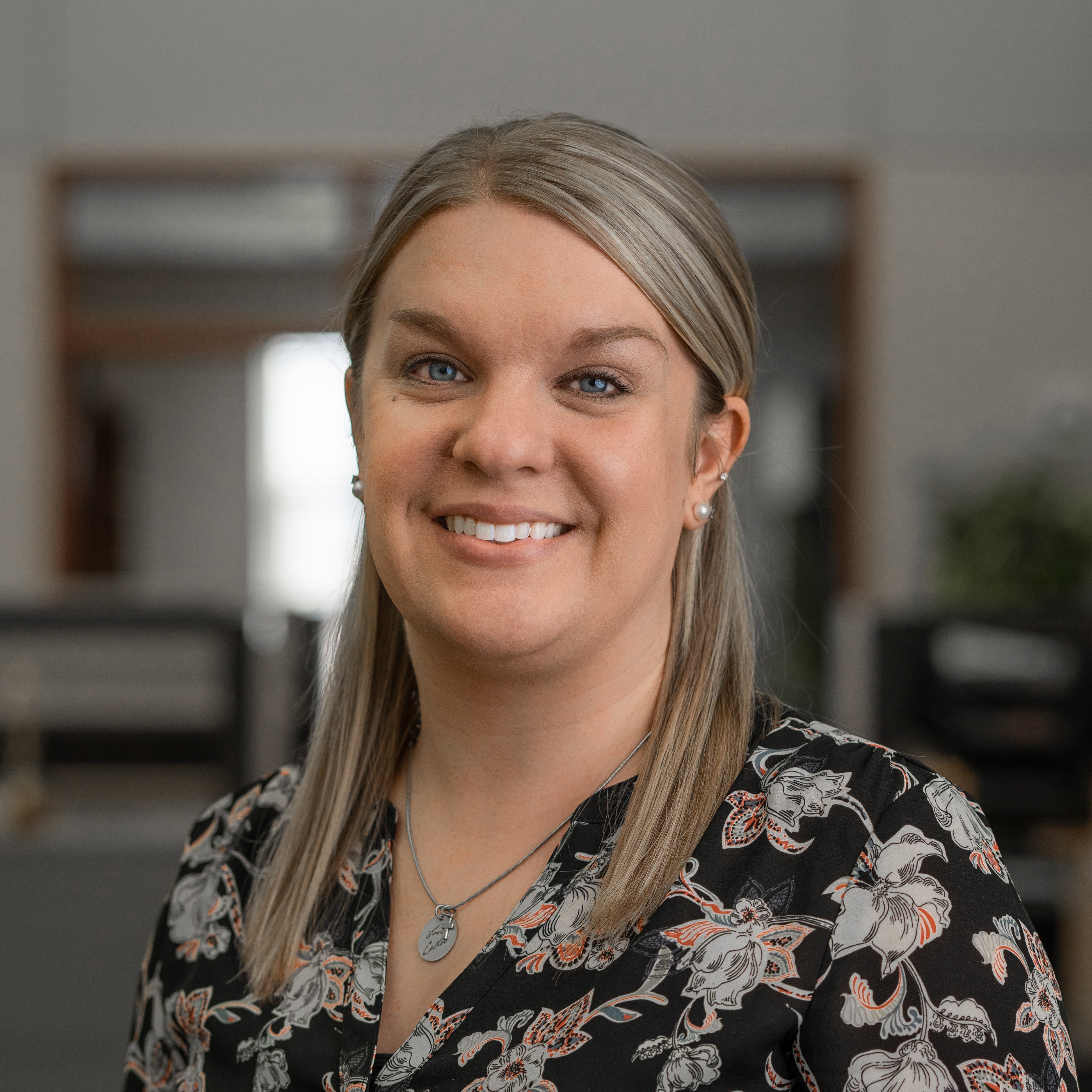 Angie graduated from Indiana State University with a Bachelor of Science in Interior Design. Prior to joining the FBi team, Angie was a kitchen and bath sales consultant in Lafayette, IN. In 2012, she started with FBi as the Inside Sales/Marketing Assistant. Today she holds the role of Sr. Marketing and Inside Sales Manager. Angie grew up in a farming community and has always enjoyed helping her family on the farm. A past 10-year 4-H Member, her passion for livestock pursued her to take a career in the agriculture field. She and her husband live in Northwest Indiana with their two daughters. In her free time, she enjoys outdoor leisure activities and spending time with friends and family.
It's no surprise that there are abundant uses for post frame construction. Every person uses their pole barn differently. Some pole barns are mainly used as cold storage, especially for agricultural purposes. Typically, these are only utilized during the day – making the use of a lighting plan unnecessary or straightforward.
However, if you plan on using your pole barn after dark, you'll want to consider adding some pole barn lighting to the interior (or exterior) to keep it functional when the sun has gone down. Some of us enjoy tinkering with our hobby toys late at night, or maybe your job requires you to work long hours.
Depending on your goal with your pole barn, you may or may not benefit from setting up a lighting plan that will work for you and your building. Everything from suburban buildings to horse barns will require some type of lighting solution.
This article explains the tips and seven different lighting options (yes, there is more to light bulbs than imagined) to help you get started with your lighting design for your new or existing post frame building.
Why is a Good Lighting Design Important?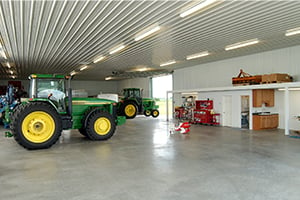 One essential tip for pole barn lighting is to consider what you may need well before the building stage. If you have an idea of what type of electrical wiring you'll need before you build, you can save many headaches when it comes time to running the wiring or hiring an electrician.
If you choose to go the DIY route, please make sure that you follow the building codes for electricity in the state you live. After all, if you're spending all of your time and a large chunk of money on a new building, you'll want to make sure that it is compliant and safe for those who will be using it.
A good lighting design enhances both the performance and energy efficiency of a post frame building. It can also result in other benefits such as improved visual comfort (reduced glare) and lower maintenance and replacement costs.
An effective and efficient lighting system will:
Take advantage of natural daylighting via

pole barn windows

and

walk doors

with glass panes. This will also help with energy conservation.
Make sure fixtures and lamps are adequately sized for use with one another
Incorporate appropriate controls for electric lights
Use high-efficiency linear fluorescent systems are the primary light source
Concentrate task lighting only where it is needed, without the unnecessary expense of lighting everything
Use compact fluorescent bulbs (CFLs) instead of incandescents for task-level lighting wherever possible for enhanced energy savings. CFLs are miniature versions of full-size fluorescent lights.
TIP: Some additional devices can reduce your lighting energy costs. These include motion-control sensors that turn on lights only when needed and a switching-system panel that lets you turn lights on in different building parts. Ask your electrician about these options.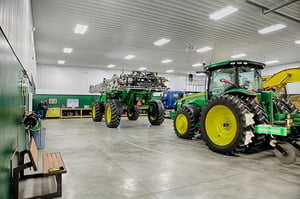 Before you decide what type of lighting will work best for your needs, consider the following questions to guide you along the planning process:
How much light is required? For example, do you need to light the entire pole building or only parts of it?
What will you be doing in the space? Different tasks require different levels of lighting. For example, precision work may require brighter, more focused illumination.
How much can you afford? The initial investment for lighting, including the wiring, must be factored into your budget. Therefore, it pays to compare the costs of different lighting options.
For example, fluorescents vs. metal halide fixtures and lamps for high or low bay applications. You should also examine operating costs for each option:
Heat output
Watts consumed
Cost of replacement lamps
Warranty coverage
Etc
7 Types of Pole Barn Lighting
There are a variety of lighting types that can be used in your post frame building. Whether you need ample lighting in your farm shop or controlled lighting in your man cave, there's a suggested lighting type for each need.
The chart below highlights the six different types of lighting that are frequently used within pole barns. Table source: U.S. Department of Energy.
Lighting Type

Efficacy
(Higher is better)

Lifetime (Hours)

Color Rendition

Color Temperature

Initial Cost

Standard "A" Bulb

10-17

750-2,500

Excellent

Warm

$

Tungsten Halogen*

12-22

2,000 - 4,000

Excellent

Warm to neutral

$

Straight Tube*

30-110

7,000 - 24,000

Fair to good

Warm to cold

$ - $$$

Compact Fluorescent

50-70

10,000

Good

Warm to cold

$$$

HID Metal Halide*

70-115

5,000 - 20,000

Fair

Cold

$$$$

HID High-Pressue Sodium*

50-140

16,000 - 24,000

Poor

Warm

$$$$

LED Light

27-92

10,000 - 50,000

Good

Warm to cold

$$$$
Please refer to the notes below for the denoted (*) lighting types.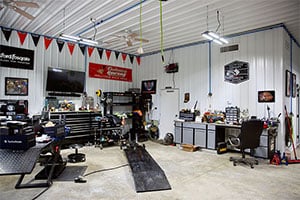 We want to make sure that you're aware of all the pros and cons of the lighting types that were mentioned in the above chart. Please keep in mind the following notes when figuring out your lighting plan:
Tungsten Halogen: These types of lights produce a lot of heat. They are best used as accent lights or spotlights, not as a primary lighting source in

large warehouse areas

.
Straight Tube: Standard fluorescent is best used at ceiling heights below 15'. At greater heights, consider High Output fixtures with T5 bulbs. These produce very little heat and don't reduce headroom. They are becoming popular as alternatives to HID fixtures.
HID Metal Halide: Available as high or lay bay fixtures. Delayed startup. Light output drops and color can shift as bulbs age.
HID High-Pressure Sodium: Available as high or low bay. Delayed startup. Make orange-tinted light.
What Type of Pole Barn Lighting Will You Choose?
A high-quality post frame builder and an experienced electrician can assist with the overall lighting design. Is your floor plan more detailed? As a result, do you feel like you need more specialized help? Hire a lighting designer.
A good lighting specialist will provide solutions that cut energy costs (resulting in reduced energy bills) while creating a more pleasant environment. Remember this important tip when planning your lighting plan: artificial lights produce heat in addition to light. By minimizing the lighting in your post frame building, you can reduce the electrical load on your heating and cooling system - and thus reduce energy costs. Conversely, more lights may help minimize space heating requirements during cold weather.
The type of lighting you choose will also be dependent on your overall budget. When you're ready to take the next step in your building process, give us a call at (800) 552-2981, and we'll get you in touch with one of your Project Sales Consultants.