Posts | Building Tips | Residential Buildings | Building Design
Pole Barn Trends: Building a Man Cave or She Shed

Subscribe
Cori grew up on her family's small grain and livestock operation in Northwest Indiana. In 2018, she graduated Summa Cum Laude with a Bachelor's degree in Business Administration & Marketing from Marian University Indianapolis. Having shown beef cattle for 12 years at the county, state, and national levels, Cori chose to pursue a career in agriculture. Today, she serves as the Marketing Content Creator on the FBi team. In her free time, Cori enjoys spending time with family and friends, watching sports, listening to live music, and traveling.
It's safe to say that man caves and she sheds are in style. Unless you've been living underneath a rock for the last few years.
Television networks, such as DIY, FYI, and HGTV, are premiering series following the rise of this trend. Even insurance companies are poking fun at the movement. Poor Cheryl!
With all this hoopla, we don't blame you for wanting to build a man cave or she shed. In fact, we've had customers consciously save their money for this very reason.
Picture this: a custom 56' x 80' 14' hobby shop equipped with a deluxe kitchen for her social gatherings and storage room for his fishing boat and equipment.
Let's be real. Who hasn't thought about having a special place to relax and escape from the hustle and bustle of everyday life? We're guilty as charged!
This article discusses why pole barn construction is an ideal choice for your man cave or she shed. Then, we'll walk you through our design tips that'll take your building investment to the next level. With our help, you'll be the next trendsetter in your neighborhood.
To see the ultimate pole barn man cave, check out the quick video below.


What is a Pole Barn Man Cave or She Shed?
A man cave or she shed is a designated space used by a man or woman as a personal area to pursue hobbies or leisure activities.
Post frame construction offers design flexibility and energy efficiency, which adds significant value to your man cave or she-shed.
Why is Pole Barn Construction an Ideal Choice for My Man Cave or She Shed?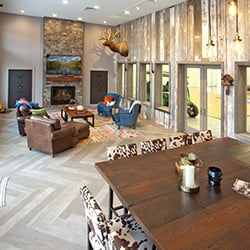 Now, you're probably wondering, "Why should I build a pole barn?"
Sure, you could go to the nearest home improvement retailer (e.g., Home Depot or Menards) and purchase a standard building kit.
It's the least expensive option, which is fine if you're looking to self-build or have a strict budget.
But your man cave or she shed should ooze personality. After all, it's your private sanctuary.
A custom pole barn is built around your needs. Its design flexibility allows you to combine the need for two post frame buildings into one.
Are you a hardworking farmer? You can incorporate an office into your farm shop. It's the perfect place to catch up on bookwork or emails in between outdoor activities.
After a long day's work, you can grab a cold beverage and watch the big game on a 50-inch flatscreen TV — all in the comfort of your shop office. No need to go home just yet!
Disclaimer: we're not responsible for decreased productivity in the workplace.
If you're looking for a backyard getaway, you can always add living quarters to your pole barn garage. The storage area will hold bicycles, four-wheelers, mowers, and other miscellaneous equipment.
Meanwhile, the interior space will include a kitchenette for preparing light meals to serve family and friends. Off to the side, there's plenty of room to pick up a game of pool or foosball with the guys.
Outside, a large porch will be decorated with patio furniture, plants, and a small fire pit — perfect for summer gatherings with the gal pals.
Not to mention, post frame construction utilizes high-quality materials that will last a lifetime (or longer). Ask your pole barn builder if they use the following building components:
1) Kynar 500 Paint System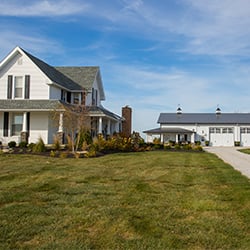 Choosing your pole barn colors is an essential part of the building process.
Please be sure to take your time researching the paint system and color selections that your post frame builder offers. A permanent decision shouldn't be rushed.
We recommend Kynar 500. This paint system is key to the enduring beauty of your pole barn.
How so? Its unique formula contains one of the strongest bonds known to man.
A combination of Kynar fluoropolymer resin and ceramic pigments produces excellent resistance to chalking, fading, and weathering.
The end result is a durable product that withstands abrasion, ultraviolet radiation, extreme weather, chemicals, and solvents.
Before selecting a color, you'll need to consider your surroundings.
Do you want your pole barn to match an existing structure? If so, you'll want to review your post frame builder's color swatches for a close match.
Please keep in mind that "close" doesn't mean "exact." Unless you're using the same paint from the same company. Often, it's easier to use a complementary color rather than an exact match.
If you're the type of person that needs everything to be "exact," you should ask your builder about custom colors. They might be able to get the desired color. However, this option will most likely cost you extra money.
If you're not worried about coordinating with an existing building, then your color options are wide open. We recommend looking at other pole barns, especially those similar to your construction project, for design inspiration.
Don't forget to ask your post frame builder for brochures, samples, or design tools (if available).
2) High-Grade Lumber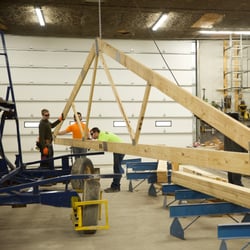 High-grade lumber is necessary for a longstanding man cave or she shed. A higher grade means the pole barn trusses can carry more stress.
There are two ways to grade lumber: visually and mechanically.
Visual grading is done manually with the human eye. A trained inspector examines the boards and assigns a grade based on set criteria.
The grade shows how much the wood fibers can take in terms of bending, compressive, tensile, and shear stresses.
Again, the grade level has a substantial impact on the strength of the board.
In some applications, FBi Buildings' in-house truss plant uses Machine Stress-Rated (MSR) lumber.
Each piece of MSR lumber is tested for stiffness and strength in an electromechanical machine.
To further refine the assessment, it's visually inspected to determine a final grade.
As a result, we know the lumber strength before we start hanging trusses for your man cave or she shed.
It's important to note that MSR lumber is the only wood subjected to rigorous testing and quality control screening.
This building component will improve the performance and reliability of your post frame structure.
3) Laminated Columns
Columns, also referred to as posts, are integral parts of a pole barn. They support the entire roof system and transfer all vertical loads to the footings. In addition, posts are the backbone of your walls and resist horizontal loads.
The term "laminated column" refers to two or more layers of dimensional lumber that has been mechanically laminated with nails.
Typically, these posts are made from 2x6, 2x8, or 2x10 lumber. They're strong, stress-rated, and pressure-treated.
Laminated columns are highly resistant to bending, twisting, or warping. Why? Because there's very little chance of a knot being in the same place on all three pieces.
Did we mention that laminated columns have a longer lifespan than solid posts?
Each layer of lumber is permeated with wood preservative and kiln-dried. This treatment prevents rot and termite damage.
4) Fastening System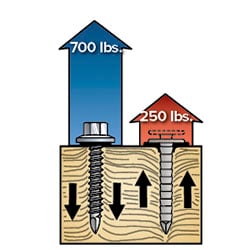 A fastener is a restraint that attaches to something or holds something into place.
The term "fastening system" refers to the type of fastener used and how/where it's applied.
In post frame construction, fasteners are used for attaching wood to wood or steel to wood.
The fastening system can dramatically affect the structural integrity of your man cave or she shed.
The right choice will provide a long-lasting, tight connection between wood and steel panels. Plus, it'll ensure a stronger, stiffer structure that'll look good well into the future.
When selecting a fastening system, we recommend using screws over nails.
They have superior holding power compared to nails (700 pounds versus 250 pounds). But, that's only part of the story.
Wood fibers tend to return to their original position when a screw or nail is driven into the fibers. Nails push the wood fibers down, while screws pull the wood fibers up. As the fibers return to their original position, they will push nails out and pull screws tighter.
A firm, lasting grip maximizes seal effectiveness and strength. Look for a fastener that encapsulates the rubber washer (last line of defense against leaks).
If your washer is exposed to the elements, it will degrade over time, becoming less effective. Then, those pesky leaks will create a rotten and weakened structure.
Altogether, you must pay close attention to the type of building components your pole barn builder uses. It's worth your while to evaluate the different offerings before building a man cave or she shed.
How Should I Design My Pole Barn Man Cave or She Shed?
Ideally, we'd love for Chip and Joanna Gaines to design our man cave or she shed. One can dream, right?
Luckily for you, we've watched our fair share of "Fixer Upper" episodes. Without further ado, here are our top design tips to consider when planning the ultimate pole barn oasis:
1) Plan Ahead for Utilities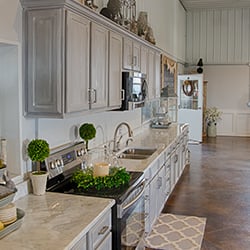 Most post frame buildings are equipped with electricity. But your man cave or she shed may require extra utilities such as plumbing for your kitchen or bathroom.
This added convenience will eliminate back-and-forth trips to the house.
In the early stages of the design process, ask yourself the following questions:
Remember, it's easier to update your building design than the actual pole barn. The last thing you'd want is to bust through drywall for a pipe/wire issue that could've been avoided.
Don't forget to follow your local building codes. The best way to find out what those codes entail is to contact your local building official or authority having jurisdiction (AHJ).
Again, it's easier to complete your post frame project right the first time rather than fix problems down the road.
2) Make Energy-Efficient Choices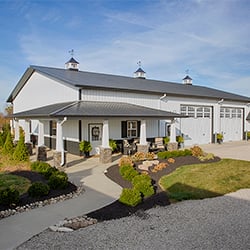 Your man cave or she shed is supposed to be your home away from home. It only makes sense that you'd want to be comfortable.
Before you install a heating and cooling system, you'll need to consider the entire building envelope.
The following features work together to lower heat conduction, maximize comfort, and reduce energy bills:
Moreover, you can practice energy efficiency outside by planting deciduous trees and windbreaks around your man cave or she shed.
An effective landscape design can return an initial investment in less than eight years.
Making energy-efficient choices will help you minimize consumption and realize tangible savings.
3) Manage Pole Barn Condensation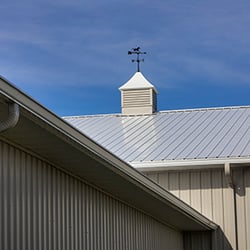 The primary purpose of pole barn ventilation is to prevent condensation (moisture build-up).
Condensation occurs when warm, moisture-laden air contacts a cooler surface, such as the underside of your metal roof.
Since lower-temperature air cannot hold as much moisture as warmer air, the excess humidity turns into water droplets. Then...drip, drip, drip!
With any structure, moisture can cause the following damage:
As a result, ventilation works to minimize the temperature difference between indoor and outdoor air. How? By drawing in the fresh air and exhausting stale air.
There are four ways to ventilate your man cave or she shed:
The way you ventilate your pole barn will be based on how you plan to use it.
4) Don't Forget to Accessorize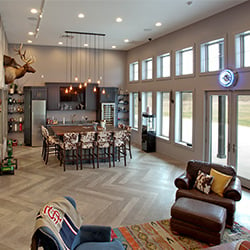 Now that you have the technical details taken care of, you can finally focus on decorating your man cave or she shed. It's time to let your personality run wild!
Although it boils down to personal preference, there are some accessories that every man cave or she shed should have.
After a long day, kick back and relax in a recliner. Catch the latest "Real Housewives" episode on the big flatscreen. Pour yourself a glass of refreshing sweet tea from the nearby refrigerator.
If you're an avid hunter, display your wildlife mounts for visitors to see. Showcase your antique finds. Hang up a neon sign for that nightlife vibe. You can never go wrong with wall artwork.
Invite family and friends over for a barbecue. When the air cools, you can start a fire in your new pit. The children can roast marshmallows while the adults engage in conversation around the bar.
The only thing missing is a pool or hot tub. But that's a project for another time…
How Will You Design Your Man Cave or She Shed?
Ultimately, how you design your man cave, or she shed is up to you. Our goal as one of the top post frame builders in the Midwest is to provide tips that'll help you build the perfect oasis.
Are you interested in seeing floor plans? Download our FREE Rural Plan Book. This guide features 16 detailed designs, including a variety of storage, utility, and hobby buildings designed for the way you live (or want to live).
If a post frame building catches your eye, but you'd like to make a few minor tweaks, just let us know. All of our pole barns are customizable.
Also, you can design your own building with our online 3D Design Tool. Save, print, or email your floor plan to family and friends.
Are you ready for a quote? Submit your building design to us, and a member of our sales team will give you a call to begin the estimating process.
---
Do you have more questions about pole barn man caves or she sheds that are not covered in this article? If you need help designing and planning, please contact FBi Buildings at 800.552.2981 or click here to email us. If you are ready to get a price, click here to request a quote and a member of our customer engagement team will help you determine the next steps of your project.