Subscribe
What Are Our Most Popular Residential Pole Barn Sizes?
One of the most challenging things to decide when constructing a pole barn is how big or how small you're looking to build. You can look at post frame galleries online all day to get an idea of what size you'll need, but that pole barn was custom made for someone else's needs in mind.
Figuring out the purpose of your post-frame building will help you determine what size your custom pole barn will need to be.
1. Do you need space for extra storage?
2. How about space for your hobby?
3. Maybe you want something with living quarters?
You could just start small knowing you can add on to your pole barn later, but that could end up being a costly option. Perhaps you could build bigger than you think you'll need, but you might end up with space you'll never use, and those dollars spent were wasted. To get the most out of your money, it's best to consider all factors upfront.
A post frame building is no small investment, so we understand you don't want any less or any more than you need. That's why we've compiled a list of our most popular residential pole barn sizes to help you decipher where you want to be with yours before post frame construction begins
Continue reading to learn about our most popular residential post frame building sizes, and which size is best for your pole barn's purpose.
Which Residential Pole Barn Style Are You Looking to Build?
Of the following, which residential pole barn style fits your vision?
Shome/Shouse
Hobby Shop/Hobby Barn
Garage/Storage Space
Entertainment Space
Recreational Space
Since figuring out which type of pole barn you're needing is the first step, now you can take a look at what's going in your post frame building so you can determine its size. Only envisioning the items going in your pole barn doesn't do you justice, though. What if you could actually see what you're putting in your post frame building before you even call for a quote?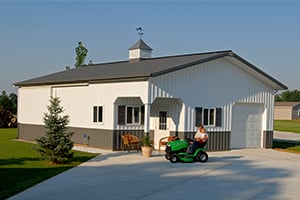 The first phase of our Design Online Tool allowed you to digitally create a 2D pole barn right from your home. You can add porches, overhangs, overhead doors, windows, and cupolas to get a feel for what your pole barn would look like in real life.
Now, our second phase of our Design Online Tool allows you to create the interior of your pole barn. Depending on which style you're looking to build, you can add furniture, tool benches, boats, RV's, and so much more.
The best part is that these items are fit to scale. You can adjust the sizes as needed so you can ensure you're getting the most accurate fit. Knowing this ahead of time can most definitely help you determine the most precise size you'll need to build.
Let's take a look at each style and which residential pole barn sizes are our most popular.
Residential Buildings Styles
1. Shome/Shouse
In a residential pole barn home, also known as a shome or a shouse, you'll have a large, open concept to work with. Each room will flow effortlessly into the next without any interruptions from interior walls. Open concepts make a home feel much larger since you're taking advantage of every square foot possible.
Like a typical stick-built home, your post frame home will have the following:
Living Room
Kitchen
Dining Room
Laundry Room
Bedroom(s)
Bathroom(s)
Some people might opt for extra space for an office, or maybe extra space for a workout room. These are all essential factors to consider, even if it might not be something you need now, but you'll want to have later on. If there is any need for expansion in the future, it's best to account for that now.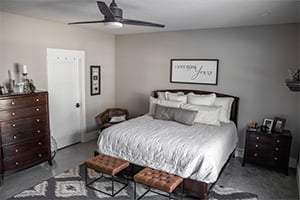 Once you know how many rooms you'll need, you'll want to focus on the size of the furniture going in each room. Having large furniture in a smaller room will make it feel cramped, and it will feel like you don't have any space to move comfortably. When you know what size you'll need each room to be, you can finally conclude the overall pole barn size.
Most Popular Shome/Shouse Sizes:
64' x 64' x 16'
48' x 104' x 20'
70' x 104' x 20'
In need of some inspiration for your shome/shouse? Check out this pole barn home.
2. Hobby Shop/Hobby Barn
Your pole barn hobby shop can be whatever you want it to be. Whether you like to rebuild cars, woodwork, or do side jobs in your spare time, a hobby shop is a perfect space to get this all done.
If your hobby is rebuilding cars, how many vehicles will you have in your post frame hobby shop at a time? You'll want to ensure you have ample space for each vehicle and adequate space so you can work comfortably. Let's not forget to account for all of the tools and equipment you'll need to get the job done.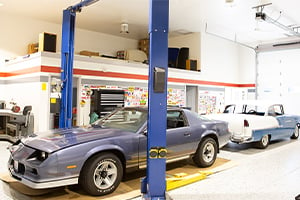 The same goes for a hobby like woodworking. Do you like to build small or large scale items? Will your tools and equipment take up the majority of your shop, or do you work with minimal tools? If you prefer to get your work done at a workbench, you'll want to confirm that's accounted for as well.
For those who are looking to build a hobby shop for their side jobs, it's crucial to consider how many jobs you could be working on at a time. Depending on the types of projects you are undertaking, such as welding, servicing, and cleaning/detailing, the size and number of tools and equipment needed will vary.
Don't forget to keep in mind the potential to expand or grow in the upcoming years. Remember that it's less expensive to build bigger now than it is to add on later on down the road.
Most Popular Hobby Shop/Hobby Barn Sizes:
30' x 48' x 10'
42' x 64' x 12'
60' x 120' x 16'
In need of some inspiration for your hobby shop? Check out this hobby garage.
3. Garage/Storage Space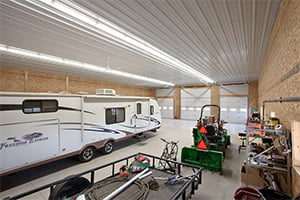 Sometimes having a one or two-car garage isn't ideal for larger families, especially when the majority of the family is driving their own vehicle. This doesn't leave additional space for items like a lawnmower, shelves or cabinets for storage, or hobby toys like an ATV or snowmobile.
What happens if you have larger hobby toys such as a boat or an RV? Without a space to stow them, they end up sitting out in the elements enduring potential damages. Having a post frame building to store your belongings ensures they'll be better protected.
Don't forget our Design Online Tool allows you to see how the interior of your pole barn will look. If you have items such as a boat or RV, this tool will enable you to place each item in your barn so you can see exactly how they'll fit the size you're wanting.
Most Popular Garage/Storage Space Sizes:
48' x 64' x 16'
40' x 80' x 16'
60' x 88' x 16'
In need of some inspiration for your garage/storage space? Check out this RV storage garage.
4. Entertainment Space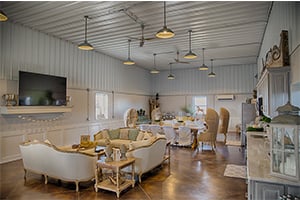 If you're someone who enjoys entertaining but doesn't have space to host family and friends comfortably, have you thought about a residential pole barn to resolve that hitch?
A pole barn would be perfect for friends and family to gather. The open-concept allows for everyone to gather in one area without feeling secluded, and this allows for easy conversation. Your pole barn can be insulated too, so you'll be able to entertain comfortably year-round.
When establishing the size of your entertainment space, think about what you like to do when you gather with loved ones. Will there be an area for games? How about a kitchen and bar for food and drink connoisseurs? Perhaps you just need a large, cozy seating area for conversing and catching up?
Regardless of how you like to entertain, a pole barn is a perfect solution, because your options are virtually endless when it comes to deciding how you want your space to look.
Most Popular Entertainment Space Sizes:
42' x 20' x 15'
48' x 64' x 14'
56' x 80' x 14'
In need of some inspiration for your entertainment space? Check out this gathering room.
5. Recreational Space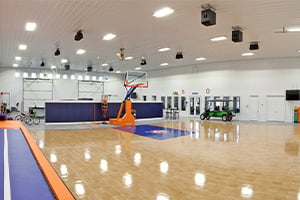 For the sports enthusiast, what better way is there to enjoy your favorite sports year-round than with a recreational pole barn?
Since your pole barn can be insulated, you'll be able to play sports even in the winter months comfortably. Instead of being cooped up all winter, now you can have a place of your own to retreat to practice or burn off some extra energy.
While basketball courts are the most favored option, you can also branch out with an indoor batting cage in your post frame building. Maybe tennis is more your style so that you could build a pole barn with an indoor tennis court.
No matter which route you take, your recreational pole barn will be the talk of the town.
Most Popular Recreational Space Sizes:
48' x 44' 12'
48' x 104' x 10'
70' x 104' x 20'
In need of some inspiration for your recreational space? Check out this indoor basketball court.
Which Residential Pole Barn Will You Build?
After seeing our most popular sizes for each style residential pole barn, do you know which one you'll build? We know determining the perfect size can seem like a daunting task, but the good news is it's not impossible. With advanced tools, such as our Design Online Tool, building a pole barn has never been easier.
We can't wait to see how you make your residential post frame building your own. Whether you choose a garage for extra space, build your forever home, or opt for that indoor basketball court you've always dreamed of, we know you'll love what you choose. Just remember to always build with confidence.
---
Do you have more questions about residential pole barns that are not covered in this article? If you need help designing and planning, please contact FBi Buildings at 800.552.2981 or click here to email us. If you're ready to get a price, click here to request a quote, and a member of our Customer Engagement Team will help you determine the next steps of your project.