Our Top 5 Pole Barn Hobby Shops in 2023

Subscribe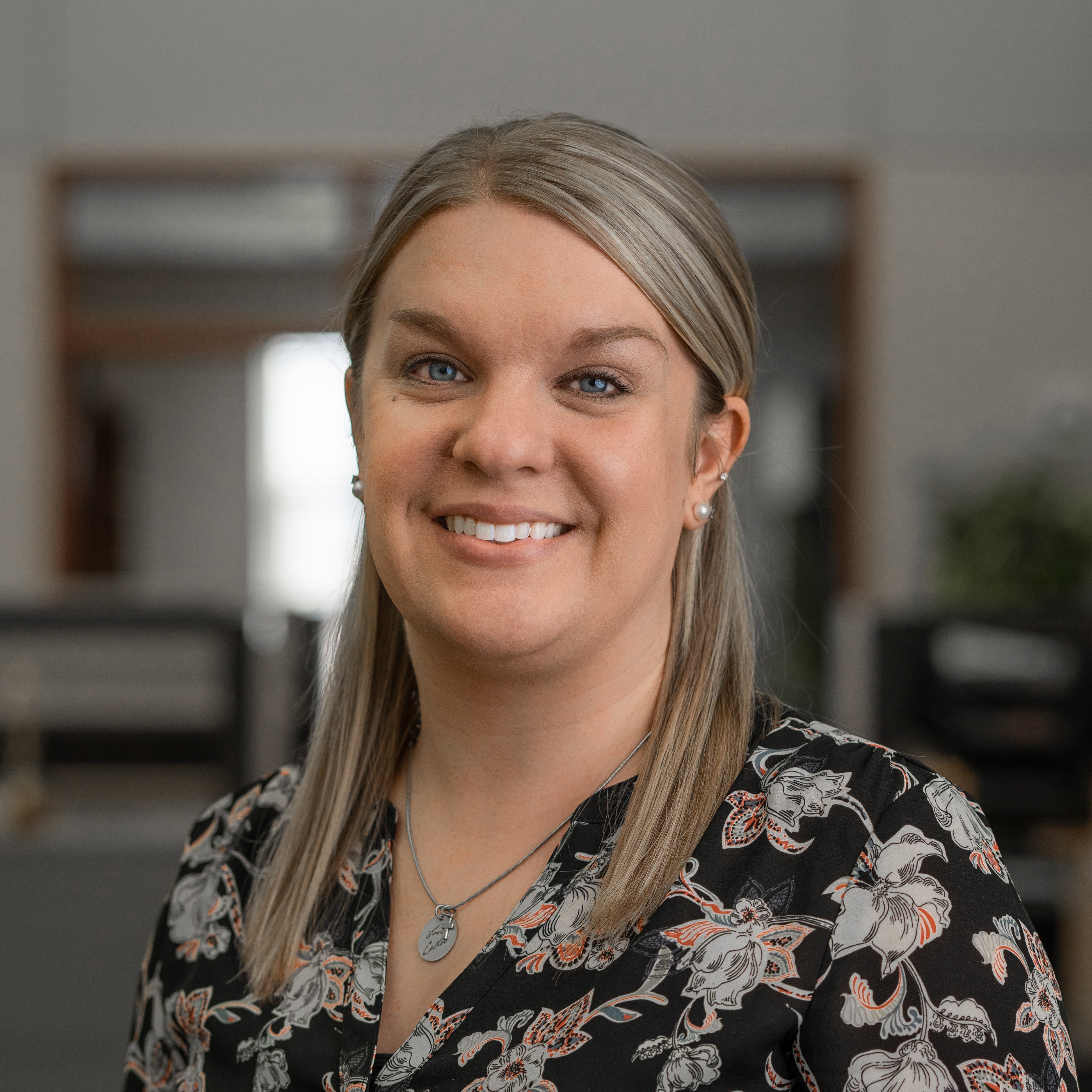 Angie graduated from Indiana State University with a Bachelor of Science in Interior Design. Prior to joining the FBi team, Angie was a kitchen and bath sales consultant in Lafayette, IN. In 2012, she started with FBi as the Inside Sales/Marketing Assistant. Today she holds the role of Sr. Marketing and Inside Sales Manager. Angie grew up in a farming community and has always enjoyed helping her family on the farm. A past 10-year 4-H Member, her passion for livestock pursued her to take a career in the agriculture field. She and her husband live in Northwest Indiana with their two daughters. In her free time, she enjoys outdoor leisure activities and spending time with friends and family.
Do you have more "toys" than you do storage space? I'm not talking about children's toys either. I'm talking about your hobby toys. Like that bass boat that you fish on every summer, or the newest Polaris Ranger that you and your kids drive around every fall.
Maybe it's in your plans to purchase a snowmobile, but there's just one problem.
You're running out of adequate storage space. It's bound to happen...maybe you just didn't think it would happen as soon as it did. Where are you going to keep your toys? After all, they're not a cheap investment so you want to make sure they're properly stored when they're not being used.
A custom pole barn is the perfect solution to the problem you're facing, and our Project Sales Consultants and in-house design team can help you design the perfect hobby shop or hobby barn that's fitted for you and your lifestyle.
We've made the process a bit easier for you and narrowed it down to our top five designs.
Our Top 5 Pole Barn Hobby Shops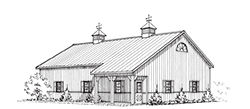 1.) Suburbanite's Envy
This beautiful, yet compact post frame building is the perfect size for any small to medium lot.
It's equipped with both a spacious cold storage area and a workshop that will keep you out of the elements during the cold winter months and give you a cozy place to hang out when it's your turn to host the next game night with your friends.
It features a large sliding door so that you can easily back in your fishing boat or park your ATV, RV and work truck.
The detail of the small porch gives you a space for a personal touch and welcoming entryway.
2.) Appalachian Retreat
The Appalachian Retreat is one of the most classic pole barns with a timeless look. It features an even smaller footprint than the Suburbanite's Envy that's best suited for small lots.
But, don't let the small size fool you. This building is jam-packed with spacious storage, character and major possibilities.
The loft in this building can be used as a variety of things such as a man cave, an office or extra storage. Who am I kidding? I'd be using this space for extra storage.
The open deck system is a great area to store all of your recreational hobby toys, including that brand-new snowmobile.
The spacious front porch is the perfect spot to sip tea during the summer and watch the leaves turn during the fall.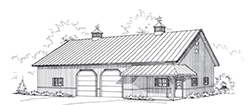 3.) Liberty Summons
The Liberty Summons is the perfect complement to your house. This post frame building can feature matching shingles and color scheme to the home that you've already created with your family.
The dual overhead doors in the front gives you easy access to drive in your vehicles.
The interior is large and open and gives you plenty of space for both your working vehicles and your recreational toys.
The private workshop is the perfect spot to work on projects in peace all winter long.
The out-of-sight storage is a great place to store those eye sores or…a great place to hide Christmas presents from your loved ones. I know a few people who could use a good hiding place for their presents, how about you?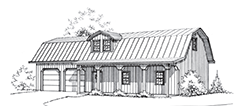 4.) Cambron Clubhouse
This building is more than just a pole barn garage, it's the ultimate destination for you and your loved ones.
This popular two-story barn is not only a great place to store your hobby toys during the winter, it's also a fantastic place to create warm memories during those long cold months.
The Cambron Clubhouse features a separate clubhouse that can be used as a social gathering location. Do you enjoy having your kids' birthday parties outside and not in your house? Then this would be the perfect floor plan for you!
Or, you could set up some couches and hang out with friends. Move in some soccer nets and have an indoor game with your kids to kick that cabin fever.
The loft offers additional storage and let's not forget about that spacious front porch that will be calling your name during the summer months - it's the perfect spot to sit and watch fireworks during the fourth of July.
The garage portion of this building features two overhead doors that make it easy for you to drive in your RV or to park your gator.
This building is a no-brainer if you need hobby toy storage and a place to make memories with your friends and family for years to come.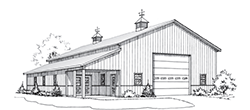 5.) Sportsman's Club
If there was ever a dream pole barn that featured everything that you could ever want, this one is it. The Sportsman's Club is the ultimate post frame building for entertaining.
Be the envy of all of your friends with this luxurious space that features a copious amount of storage space, a private office, a game room and a kitchenette.
Be the ultimate host of large family gatherings when you clear out the shop and set up tables for large family dinners during the holidays or special occasions. I don't know about you, but if I had this barn at my house I would be hosting all of my family gatherings!
Store everything in this gorgeous hobby shop, from your tractors to your fishing and hunting gear during those colder months of the year and keep them clean and pristine.
Have you been good this year? Santa sure can't fit the Sportsman's Club under the tree, but he can certainly fit it into your near future.
Cold Weather Doesn't Prevent Quality Builds
You might be reading this article dreaming about which pole barn would be best for you to store all of your hobby toys, but you also might be thinking, "When is the best time to build?" Don't let the winter months scare you away from doing a post frame building project.
Have the building ready for winter storage and broken in for the summer months ahead. Ask any of our experienced professionals about the next steps you need to take to prepare your site for your ideal hobby barn this winter.
Are You Ready to Start Designing Your Pole Barn Hobby Shop?
Did you like what you saw with our top five hobby shop plans? Maybe you're intrigued to see more floor plans, or maybe you're ready to start designing your own pole barn building.
Our Rural Lifestyle Buildings eBook is the perfect piece for you to look through. Packed with 16 different floor plans, you'll be sure to find one that will meet your needs. And if you don't? It's okay...each floor plan can be customized for what your wants and needs.
---
Do you have more questions that are not covered in this article? If you need help designing and planning, please contact FBi Buildings at 800.552.2981 or click here to email us. If you are ready to get a price, click here to request a quote and a member of our customer engagement team will help you determine the next steps of your project.