Posts | Residential Buildings | Building Design
Our Top 5 Pole Barn Garage Plans

Subscribe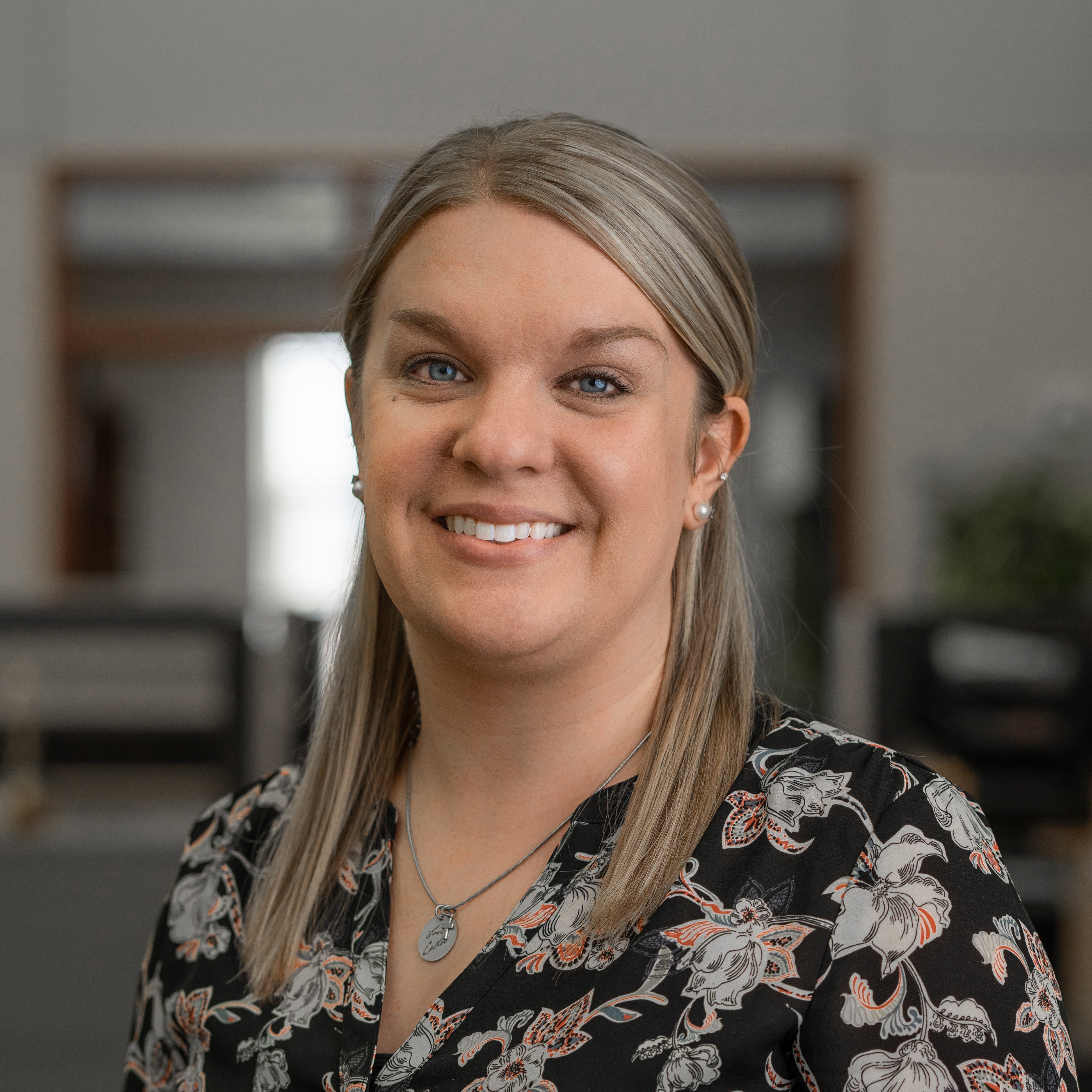 Angie graduated from Indiana State University with a Bachelor of Science in Interior Design. Prior to joining the FBi team, Angie was a kitchen and bath sales consultant in Lafayette, IN. In 2012, she started with FBi as the Inside Sales/Marketing Assistant. Today she holds the role of Sr. Marketing and Inside Sales Manager. Angie grew up in a farming community and has always enjoyed helping her family on the farm. A past 10-year 4-H Member, her passion for livestock pursued her to take a career in the agriculture field. She and her husband live in Northwest Indiana with their two daughters. In her free time, she enjoys outdoor leisure activities and spending time with friends and family.
Do you have an existing storage shed or even a two-car garage that is overflowing with bikes, Christmas decorations, fishing poles, or even extra boxes and totes that you don't know where to store? Or are you looking for more storage space for that recently purchased (and still shiny) ATV? If so, it may be time for you to consider building a new pole barn garage. Similar to other post frame buildings, the way you design and build your building is going to depend on your needs and long-term goals.
Do you find yourself answering yes to any of these questions?:
Do you need extra space for classic car storage?
Do you need more storage for decorations or an overflow of tools?
Will you be using your garage for a workshop?
Do you need a little bit of storage space or an ample amount?
As you design and plan your new pole barn garage, it's always a good idea to look at other plans for inspiration. Sure, you can easily go to Pinterest to see other people's garage ideas, or you might even go to your local lumber yard to see if they have any garage kits to buy. We want to make the planning process as easy as possible for you, so we've rounded up our top five pole barn garage plans.
The Top 5 Pole Barn Garage Plans (Our Recommendations)
A garage is an obvious solution for vehicle storage, but have you also considered what your other storage needs would be? With post frame construction, not only do you get a less expensive building (compared to stick-built), but you also get a more flexible structure. These top five floor plans show the wide variety of design ideas for post-frame. From smaller residential garages to more significant, hobby shop buildings, each plan is customizable for your unique needs.
1. Suburbanite's Envy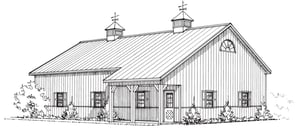 This 36' x 56' building is designed to fit even the smallest country lots, that it just might become your favorite new hang-out spot. A comfortably 36' x 16' proportioned workshop is accessed from the inviting covered porch. Put a couple of patio chairs on your porch and enjoy the sites of country living all summer and fall long.
The 36' x 40' cold storage part of the building provides enough room for all the necessities of country living:
Utility tractor
Gator
4-wheeler
Camper
Extra pickup truck
You can access the cold storage area with a 12' x 12' overhead door, which makes the accessibility of your toys that much more convenient.
2. Appalachian Retreat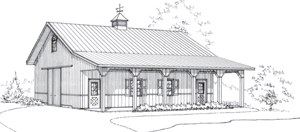 This building features 12' sliding doors at each end to make access easy for vehicles or equipment, but this 36' x 40' building isn't just about vehicle storage; it's also about recreation.
The 12' x 40' large front porch is an ideal place to hang out with friends and family after a summer barbecue or even after a long day of work. What's better than sitting on a front porch enjoying the nice, gentle breeze? Not only is it relaxing, but it's also very inviting.
Another selling point of this building is the 18' x 40' overhead deck system. We've said it once, and we will say it again...you can never have too much storage. The stairs make it easily accessible for you to get your belongings whenever you need them. If you're running out of storage space in your attic or basement, then this is the perfect plan for you.
3. Coachmaster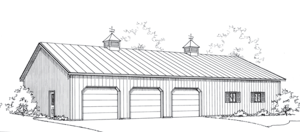 This spacious 42' x 72' building is a deluxe garage and so much more. Three, 10' x 8' overhead doors provide a parking spot for all of your vehicles (and even for your kids when they start driving), while the extra-wide 14' x 8' door on the end wall accommodates your dually and trailer.
Best of all, after pulling in all your cars and trucks, you still have an abundance of room left over. Store your boat, create a flexible working shop, or even set up an indoor basketball court – the possibilities are endless.


4. Backyard Beaut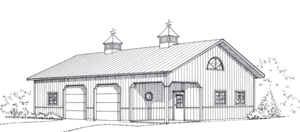 This next 36' x 56' suburban building is one of our customers' all-time favorites. The 12' x 12' inset, sheltered porch provides a welcoming entrance and presents an ideal place for little decorative touches, like a park bench, hanging plants, and flowers.
Inside, you'll enjoy the 12' x 24' spacious workshop: an ideal getaway place to work on odds and ends or even an area where the entire family can work on projects together. The main part of the building provides plenty of parking space for your cars, trucks, mower, 4-wheeler, and whatever else you've wanted to get out of your house garage. The two, 10' x 8' overhead doors make it easy to get all of your toys in and out with ease.
5. Grandpa's Workshop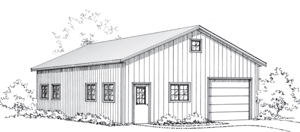 This quaint 30' x 48' building is ideal for those of you with smaller acreage. The main purpose of this garage is to be primarily used as a workshop with secondary space for the overflow of vehicles.
Five double windows provide an abundance of cheery light above your workbench. This could be a woodworker's dream shop, with plenty of lengths to accommodate longboards and big projects.
Leave it all open or divide it down the center. Either way, there is ample space with the 10' x 8' overhead door for pulling in your truck and bass boat and keeping an assortment of bikes, utility vehicles, camping equipment, and more.
Pick The Right Garage Floor Plan for You
Our Rural Plan Book was created to be a helpful resource to you as you begin the planning process of your new post frame building.

Our goal is to make it easy for you to:
Plan
Buy
Build
Own the right building for your needs and desires
Did you know that one of the best ways to start the planning process is to look at what others have done? These building plans represent a wide range of applications, from simple hobby shops and garages to large, elaborate post frame structures. Our customers have told us they enjoy seeing this variety because much can be gleaned from buildings of various sizes and styles.
We also offer another excellent planning tool, our online FBiPlanner™. This web tool lets you design your dream building and then fill it with scaled items, such as boats, RVs, ATVs, trucks, tractors, trailers, workshop items, and much more.
No matter where you are in the planning process, feel free to give us a call at (800) 552-2981. Our team stands ready to assist with design/engineering, permits, pricing – whatever it takes to help you maximize the value of your building investment while moving your project from a dream to your reality.


---
Do you have more questions that are not covered in this article? If you need help designing and planning, please contact FBi Buildings at 800.552.2981 or click here to email us. If you are ready to get a price, click here to request a quote and a member of our customer engagement team will help you determine the next steps of your project.