Did You Know We Offer Residential Metal Roofing?
Subscribe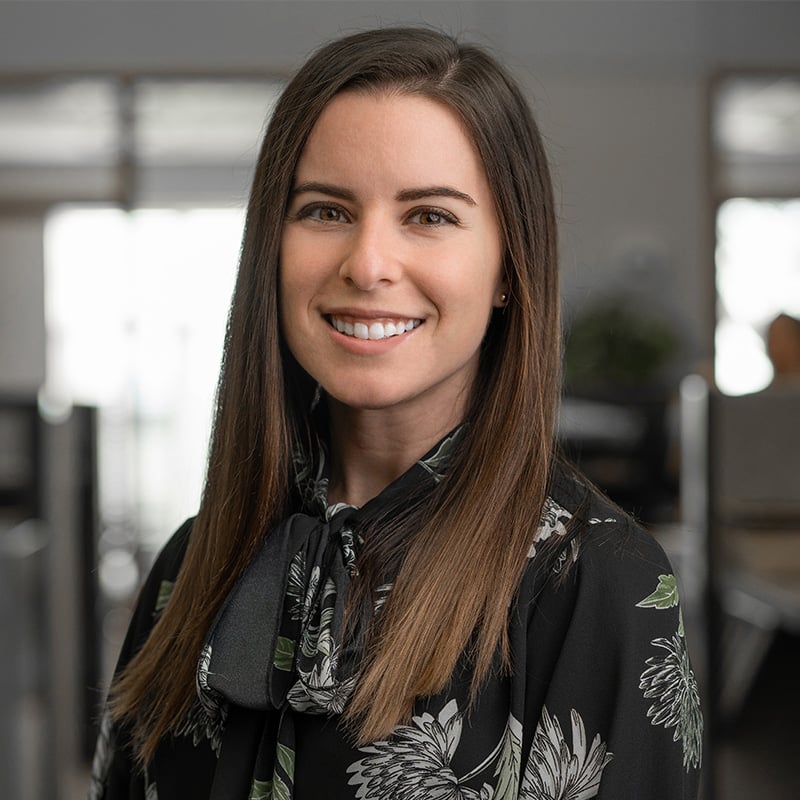 After working in the banking industry for 5 years after college, Courtney realized she needed a change and decided to pursue a new career path. Growing up she has always been creative and enjoyed writing, taking pictures, or painting. Now as the Marketing Content Creator for FBi Buildings, she gets to utilize her creative abilities in her everyday work. In her free time, you can find Courtney at home reading a book, partaking in any and all outdoor activities, or traveling and photographing her adventures. Courtney resides in Northwest Indiana with Lacey, her red tick coonhound.
When you imagine a residential home, what exterior features pop in your head to describe it? Do you see a farmhouse in the country with board-and-batten siding and a large, wrap-around porch? Or, do you see a craftsman-style home at the end of a cul-de-sac with large columns, intricate details, and an eclectic color scheme?
Perhaps modern comes to mind with its asymmetrical details and thoughtful use of natural elements. Regardless of which style of home comes to mind, every home has a few things in common:
Siding
Roofing
Windows
Doors
Siding has a wide array of options you can choose from to finish your home. Depending on your style, you can choose from vinyl, wood, cement, stone, and stucco, just to name a few.
Windows and doors come in many different options as well. Not only can you choose different shapes, but you can also choose different colors and materials to fit the style you're looking to achieve.
When it comes to roofing, the options are a little more mainstream here in the Midwest. The most popular choice for roofing is asphalt shingles. However, there is a trend that has made its way into the residential construction world.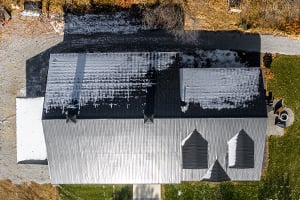 Metal roofing.
You're probably asking yourself, "isn't metal made strictly for post frame buildings?" The answer is yes, this option is typically used for pole barns, but it's also an excellent choice for residential homes. This particular style has become widely popular in the Midwest because of the many benefits that come from selecting metal instead of asphalt shingles.
The best part is that you don't have to endure countless hours of detailed research to find a company that will install a metal roof for you because FBi Buildings offers this option. Whether you're looking to build a new home or you're simply looking to re-roof your current home, we've got you covered.

Continue reading to learn about the pros and cons of using metal over shingles to see if this is the right choice for you and your home.
What Are the Advantages and Disadvantages of a Metal Roof?
While metal is the best option for a pole barn, is it the best option for your residential home? For some people, it just might be the answer they never knew they needed. For others, it might not be the best fit. Depending on what you're looking to get out of your roof will determine if using steel is the route to take.
If you're unsure if this is the best solution for your residential home, we've compiled a list of pros and cons to help answer the questions you're pondering. Use this list to establish if the pros outweigh the cons and vice versa.


Metal Roofing Advantages:
Some advantages of opting for a metal roof over shingles are as follows:
1. Increased Energy Savings
Metal is an energy-efficient choice because the metal reflects both UV and Infrared light rays, which is what impacts the heating and cooling of the surface. This can reduce your energy costs by up to 40%, which is exceptional for those blistering summer days.
Even though they deflect solar heat, they provide excellent insulation during the blustery winter months, too.


2. Increased Longevity
Most steel roofs can last anywhere between 30 and 50 years. Traditional shingle roofs only last between 12 and 20 years, which is quite a significant decrease in longevity. Having to continually re-shingle your home every 12 years can become quite costly in the long run and can be, quite frankly, a nuisance.
Metal is also extremely durable, meaning it can withstand a good amount of wear and tear. But, we'll cover more on that in the following points below.
3. Numerous Color Options to Choose From
There is no shortage of color options when it comes to metal paneling. Just like with asphalt shingles, there is a wide variety of colors and shades to allow you to find the perfect match for your home.
With the Kynar 500 paint option, the metal paneling will look brand new for many years to come. Kynar 500 won't fade nearly as quickly as other paint options will, which means you won't have to consider replacing it back to its brighter origin.
4. Interlocking Panels for Maximum Wind Resistance
Most metal roofs have panels that interlock or intersect in some way to increase durability. In high winds, this prevents the panels from breaking apart and taking the rest of the panels with it. Other roofing materials just overlap or depend on gravity to hold everything in place, which does its job, but not on a blustery Midwest day.



5. Metal is Fire-Resistant
One major perk of opting for metal is the fact that it's fire-resistant. The material is superior to stray sparks or embers that could land on your roof, such as embers from your nearby bonfire or sparks from a firework your neighbor shot off, protecting your home from an exterior fire.
This also means the same for a lightning strike. If you live out in a wide-open area that is prone to seeing quite a few lightning strikes too close to home, knowing you have a fire-resistant roof can ease your mind. Lightning still may strike your roof, but it is less likely to ignite a spark on metal.
6. Lightweight Material
We hate to sound like a broken record, but the most important factor to consider when building any type of building is its structural integrity. As structure ages, roofs with low weight help guard against structural movement and damage. Metal is the most lightweight material offered for residential roofing, giving metal a leg up on other materials.
Another cool thing is that metal is light enough to be placed over an existing shingle roof. If you enjoy doing what you can to help our environment, then you'll be happy to know that this eliminates more waste pile up in the landfills. You win, and so does Earth.
7. Metal is Modern
Styles are ever-changing, but one style that will never leave is modern. Right now modern is one of the biggest trends in the housing industry (thank you, Joanna Gaines.) Metal is simple and sleek making it one of the most modern elements you can use for the interior or exterior of your home.
If you are looking to bring your home up to date, simply installing a metal roof is the best way to give a real facelift to the exterior.
Metal Roofing Disadvantages
Some advantages of opting for a metal roof over roof shingles are as follows:


1. Longer Installation Time
Each metal roof is carefully flashed to meet your roof configuration, which causes the installation of your roof to take longer than an asphalt roof would take. It's not quite as easy as nailing down shingles then covering them with sealants and mastics.
2. More Upfront Cost
Metal roofs are not cheap, but they are a worthy investment. While they cost more upfront, your dollars will stretch much farther in the long run. Since a metal roof can last on average up to 30-50 years, you do not need to replace them as often as you would need to replace asphalt shingles.


3. Increased Noise Potential
If the metal roof is not installed correctly, anything that falls on your roof will be amplified more than if you had a shingle roof. If it is installed correctly, it's installed over a roof deck, insulation, and underlayment, which will dampen the noise drastically and this will not be an issue for you.
4. Color Match Inconsistency
Your roof is continuously enduring the heat of the sun's rays, so it's only inevitable that fading will happen. If a metal panel becomes damaged and you need to replace it, the new panel will be brighter than the rest of your house. Your other option is that you could just replace the entire roof to ensure the color match is exact.
5. Increased Leaking
If the metal panels are not installed correctly, there is an increased chance your roof can leak. Since the panels are interlocked with each other, if they are not secured properly, water can seep through the seams and potentially cause water damage in your home. However, if the panels are installed correctly, this will not be an issue.
Will You Choose A Metal Roof for Your Residential Home?
Now that you've read about the pros and cons of metal roofing for your residential home, will you opt for metal over shingles? Not only will it help your house to stand out from everyone in your neighborhood or down your county road, but it's an investment that will last for many years to come.
The hard part now is determining which style and color work best for your home. Don't worry; when you're ready, you can just give us a call, and we'll help you select the best style and color for your residential home - free of cost.
If you want to learn more about metal roofing, check out this great article by McElroy Metal for additional information.
And remember, always build with confidence!
---
Do you have more questions about residential metal roofing that are not covered in this article? If you need help designing and planning, please contact FBi Buildings at 800.552.2981 or click here to email us. If you're ready to get a price, click here to request a quote, and a member of our Customer Engagement Team will help you determine the next steps of your project.