Posts | Post Frame Homes | Residential Buildings | Building Features | Building Design
4 Common Uses For Residential Pole Barns

Subscribe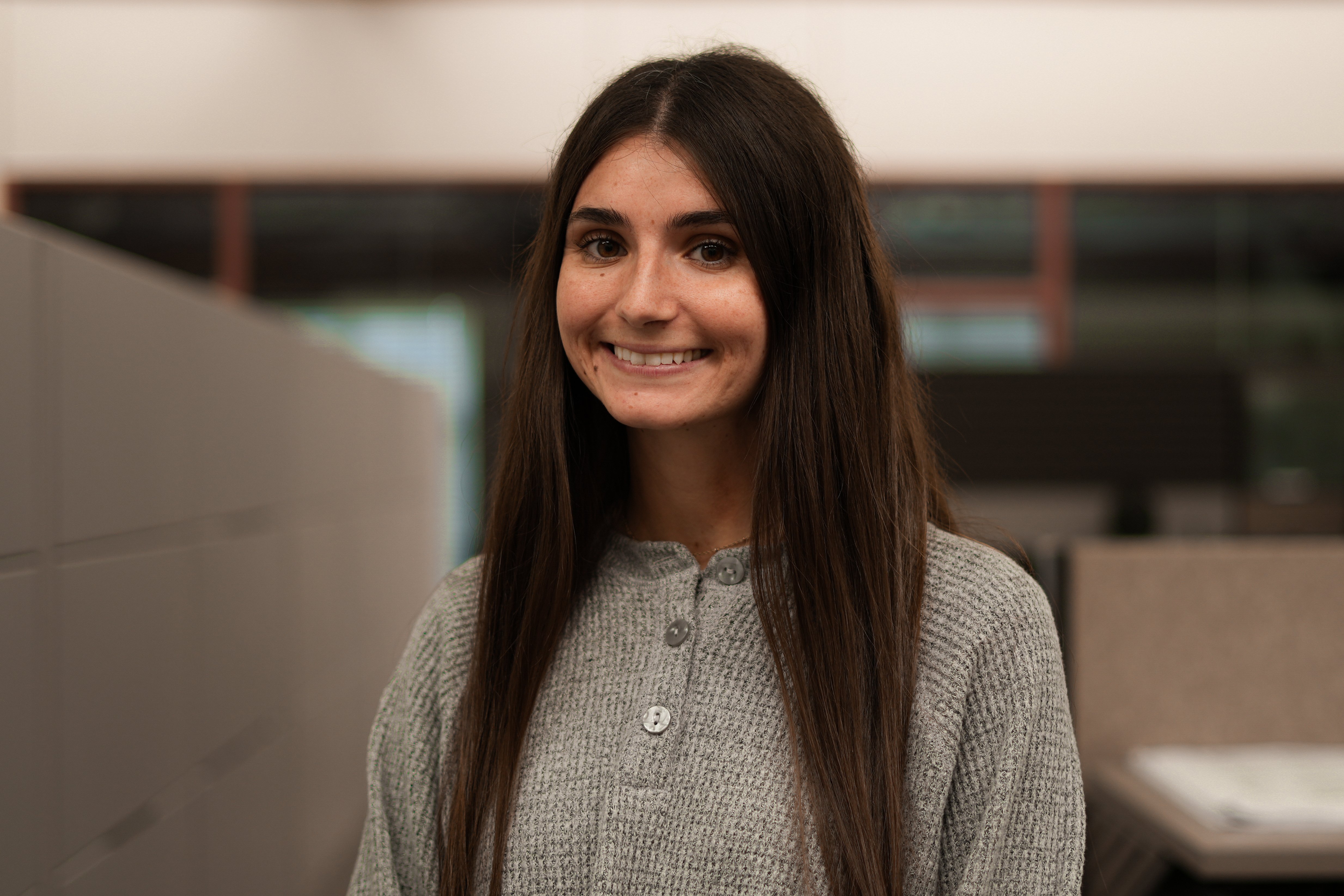 Addy graduated from Indiana University in Indianapolis with her BFA in Graphic Design. Addy has always enjoyed being creative and now serves as a Marketing Content Creator at FBi Buildings. In her free time, she enjoys drawing, painting, photography, and spending time outside with her family and friends.
Residential pole barns can be used for anything, including permanent residences, workshop spaces, garages, and hobby shops. Whether you've seen a project online or you're simply following your creative inspiration, we'll help you learn more about your options.
First, it's important to know what you're looking for and how you'd like to make use of your new pole barn. Building a pole barn may look a little different for everyone, so we'll discuss the four common types of post-frame buildings that can be made unique to you.
4 Types of Residential Pole Barns
1) Pole Barn Homes

If you're looking for a custom-designed home, pole barn homes have become a great option to go with. Pole barn homes conveniently double as a combination of living quarters and storage space. They're often referred to as barndominiums or shomes.
With a choice of several unique features, a pole barn house might be the right fit for your evolving lifestyle. In addition to living quarters and storage space, pole barn homes can include at-home gyms or studios.
Features
Open Floor Plans
Why an open floor plan? Technically, the post-frame structure of your pole barn home provides enough support to the house itself, and the interior walls won't need to bear any weight. Compared to a traditional home, your post frame home will have an open-concept floor plan. Your space will feel larger, and you'll have more options for design flexibility.
Recreational Spaces
With dual-purpose living space, pole barn homes can be completely customized. You can give your home a unique purpose with an attached workshop, home office, or indoor basketball court. Living can be made fun with a pole barn home, and the options are endless.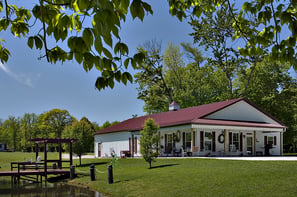 Wrap Around Porches
There's benefits in utilizing your outdoor spaces too. You can make the most of your outdoor living quarters with a custom wrap-around porch, perfect for quality time outside. Or, you can take further steps to accommodate a patio space. When planning your home construction, you'll want to include features that benefit you.
Additional Features to Think About:
Overhead Doors
Sliding Doors
Overhangs
Cupolas
Windows
2) Hobby Shops
These recreational spaces, known as "hobby shops" or "hobby barns," are a step above your standard garage. Post-frame construction could be your go-to if you need an alternate space for projects or extra storage.
Hobby shops have more of a finished look and feel, making them stand out from a typical workshop. Though we're not a turn-key construction company, there's plenty of opportunity for us to meet your needs and make sure your visions are brought to life.
Features
Living Quarters
It's common for a hobby shop to house a boat or camper, but we've seen specific projects that include livable spaces, too - like a man cave or entertainment area. Some hobby shops will even have a bedroom or bathroom inside, along with storage and workspace.
Storage Space
In the process of talking to your project sales consultant, you'll want to consider how much space is needed. Will you be storing vehicles here or working on projects centered around your latest hobby? Most often, we find that our customers enjoy the extra room.
Climate Controlled Interior
When considering that most hobby shops are a combination of both living quarters and workspace, climate-controlled interiors are something to think about. Interior liners provide the building with a finished look and help maintain an internal temperature.
Custom Doors and Windows
Even when it seems like there are a lot of design decisions that need to be made, we'll always help you bring your visions to life. Our purchasing vendors can assist in ordering custom doors or windows - a great way to dress up your building or add a touch of unique character. Hobby shops can be as straightforward or as detailed as you'd like, with features like:
Sliding Glass Doors
Overhead Doors
Window Grid Patterns
3) Workshops
Workshops are versatile and can be used for a variety of purposes. They're durable and able to withstand the weather.
The details of a person's workshop, like the size and features, depend heavily on the space available and the projects in mind. Often, the purpose of a workshop is for storage space or activities like woodworking, metalworking, and car repairs.
Features
Building Access
You'll need to consider what type of doors your workshop should have. Will you be moving heavy equipment in and out? If so, certain features can be incorporated to make things easier. Examples of what to include or choose from are: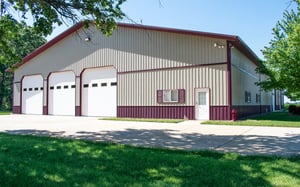 StepSaver Latch System
Overhead Doors
Hydraulic Doors
Lighting
If energy efficiency is something that you're considering, there are window options that'll amplify your natural light. Using an ample amount of windows can be cost-effective long-term. The examples below include window features that provide excellent natural light.
Eave Lite
Sky Lite
Ridge Lite
Vinyl Windows
Fixed Windows
Half-Round Windows


In addition to natural light, efficient lighting systems are essential too. Consider how much lighting you'll need, what you'll use your pole barn for, and what you'd like to spend. A high-quality post-frame builder and an experienced electrician can assist with the lighting design.
Interior Finish
Finishing the interior of your barn is up to you. Depending on the look you'd like to achieve and the purpose that it'll provide, our design team will work with you to discuss features. If your workshop is more of a storage shop, you won't necessarily need a finished interior. Though, insulated offices can be a bonus. Finishing touches include: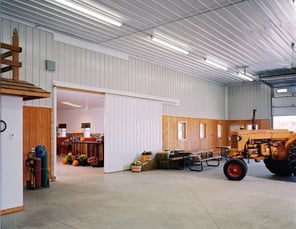 Thermax
Vinyl Back
Sprayed Polyurethane Foam (SPF)
Fiberglass Insulation
Building Wrap
Steel Liner
Split Liner
Acoustical Steel
Deck System


Overall Appearance
The features of your residential pole building will be discussed with your project manager when you're going through the design process, but what's your vision? Consider the options for siding color, window trim, cupolas, and maybe even a porch. Workshops can look sleek and still be useful at the same time.
4) Garages

Post-frame style garages have become quite popular. They're a long-lasting and attractive feature that can be added to any home or property. If you're looking to add an extension to your home via a garage, you'll discover that it can be designed to accommodate all of your needs.
Garages are typically great for an overflow of tools or extra storage space. Still, you can make yours unique with key features and aesthetic choices.
Features
Doors
It's necessary to consider what you'll be storing in your garage. Do you have a single sedan, need a two-car garage, or drive a pick-up truck? Choosing your garage door depends on how you'll use your residential building. We often see customers choose between a sliding or overhead door, with sizes of:

Single Sedans: 9' wide by 7' tall door.
Two-Car Garage: 18' wide by 7' tall door.
Pick-Up Truck: 10' wide by 8' tall door.


Exterior Design
With a metal building, certain design decisions can transform the look and feel of your pole barn garage. You'll want to decide on the colors of your garage and any additional features too. How will they accent or compliment the rest of your building?

Other design considerations include: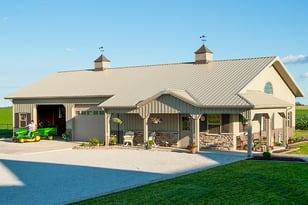 Cupolas
Doors
Roof
Trim
Windows
Flooring
Picking a floor for your pole barn garage is a choice that must be made along the way, but first, a firm building pad of (dirt, clay, sand, or stone) must be established. Common types of flooring include:
Gravel:

A low-cost and low-maintenance alternative, great for drainage and compaction. Though, you may need to rake and haul in more gravel over the years.

Stone: This is an option that provides less wear and tear on vehicles, and even though it's mechanically crushed limestone, moisture levels are still well-managed.
Concrete: A popular option that reduces dust build-up and moisture, allowing for easy cleanup. Concrete also provides a finished look with various color options and stamp patterns available.


Ventilation
An important feature to consider is ventilation, which prevents condensation build-up. We'll look at the different options below:
Overhangs: 1' or 2' overhangs will allow cool air to be drawn inside your pole barn. Ridges placed at the peak of the roof will release the humid air.
Cupolas:

Cupolas are made more decoratively but can be functional or non-functional. Electricity must be installed for trapped heat to escape through the side vents and fans.

Doors & Windows: These are standard building features that allow air to pass through.
Mechanical Ventilation:

In certain situations, ceiling fans can be installed if natural ventilation isn't enough.



We know that a lot of information may have been covered, but we've created a simple guidebook for you to begin visualizing your next project.
Which Type of Residential Post Frame Structure Will You Choose?
Ultimately, there's a different type of residential pole barn for each person's style. Consider designing your pole barn online to see what best suits you!
Ready to take the next step in the building process? Please call us at (800) 552-2981 or reach us online to determine your pole barn estimate.
Do you need to know if your idea is worth pursuing? You can request a rough ballpark quote without 100% committing to a post-frame project.
---
Do you have more questions about residential pole barns that are not covered in this article? If you need help designing and planning, please contact FBi Buildings at 800.552.2981 or click here to email us. If you're ready to get a price, click here to request a quote, and a member of our Customer Engagement Team will help you determine the next steps of your project.