Posts | Videos | Building Tips | Building Design
6 Ways to Finish Your Pole Barn Interior

Subscribe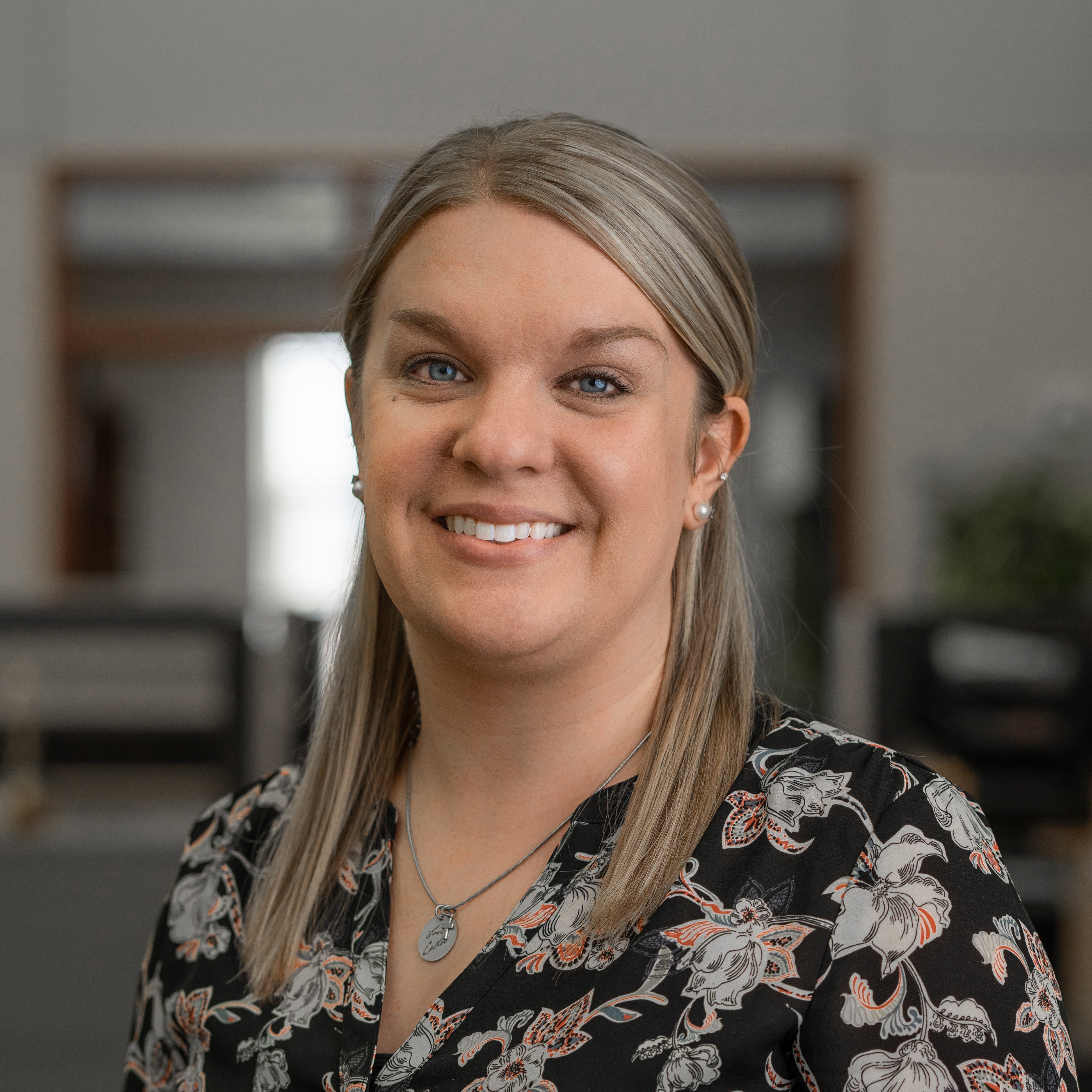 Angie graduated from Indiana State University with a Bachelor of Science in Interior Design. Prior to joining the FBi team, Angie was a kitchen and bath sales consultant in Lafayette, IN. In 2012, she started with FBi as the Inside Sales/Marketing Assistant. Today she holds the role of Sr. Marketing and Inside Sales Manager. Angie grew up in a farming community and has always enjoyed helping her family on the farm. A past 10-year 4-H Member, her passion for livestock pursued her to take a career in the agriculture field. She and her husband live in Northwest Indiana with their two daughters. In her free time, she enjoys outdoor leisure activities and spending time with friends and family.
Modern post-frame construction is touted for its design flexibility. This construction method offers a wide selection of building materials.
Exteriorly, you can achieve any aesthetic you desire – steel, vinyl, and wood siding with a brick or stone façade. Any roof pitch can be utilized and covered with asphalt shingles or metal roofing panels.
The pole barn interior is equally versatile. Clear-span trusses allow your open-concept floor plan to exceed 100 feet (depending on the type of post-frame building). High sidewalls allow ample space for attics, lofts, second stories, or vaulted ceilings.
So, how will you finish the inside of your post-frame building? While it's nice to know that multiple building materials are available, researching the pros and cons can be overwhelming (and time-consuming). That's why we did the heavy lifting for you.
This article details the advantages and disadvantages of our six most popular pole barn interior finishes. A little insight may solidify your building design or completely change how you envision your post-frame building.
Editor's Note: Most post-frame builders specialize in the building shell only. However, we can still help you plan your dream pole barn from the inside out.
6 Ways to Finish Your Pole Barn Interior
1) Plywood
First, plywood comprises thin wooden veneers (plys) pressed together with glue. Typically, the top layer is hardwood (e.g., birch, beech, or maple), while the inner is softwood. Plywood is available in 6' sheets.
This building material is lightweight and easy to install. Moreover, plywood offers structural strength – perfect for hanging wall-mounted shelves and tools. You don't have to worry about attachments falling off the walls.
Furthermore, the grain of this building material will give your man cave or workshop a warm, natural look. Some customers apply varnish to bring out the best wood patterns, making for a more distinct and attractive interior finish.
While plywood absorbs water, it dries quickly and returns to its regular shape. The panel edges are more resistant to moisture damage.
PROS:
Multiple finishes available
Adds texture to your pole barn interior
Can be painted or stained
Doesn't retain water
Can be removed and easily replaced if damaged
CONS:
Expensive
Not environmentally-friendly

2) Oriented Strand Board (OSB)
Like plywood, oriented strand board (OSB for short) is made of smaller wood pieces and is available in large sheets. However, the similarities end there. OSB is a mixture of hardwood and softwood pieces. Because the strands are small, the panel size can reach 12'.
OSB doesn't have a top veneer, which gives the building material a rough texture. This characteristic makes it more challenging to absorb paint or stain. Therefore, OSB is generally used as an underlayment.
As for installation, OSB is more flexible than plywood, which can be advantageous depending on the distance between columns. However, OSB swells after water absorption and will not return to its original shape.
PROS:
Cheaper
Larger panel sizes
Can be removed and easily replaced if damaged
CONS:
Swells with moisture
Not a finished appearance; doesn't paint or stain as well

3) Drywall
Next, drywall is a flat panel of gypsum plaster inserted between two sheets of thick paper. It adheres to metal or wooden studs using nails or screws. This interior finish is an excellent choice for commercial businesses or any pole barn with living quarters.
Drywall is available in different lengths and widths. This building material is well-known for its versatility, allowing for horizontal or vertical installation.
Choosing the correct type of drywall for your post-frame building project is critical. Ultra-light gypsum boards are easier to lift, carry, and install. Moisture-resistant drywall is necessary for humid climates within bathrooms and kitchens. Fire-resistant drywall gives pole barn owners peace of mind.
If you plan to install drywall, let your post-frame builder know before construction. They must prep your interior for stud walls, which can be placed anywhere because they do not support the pole barn roof.
Please remember that your post-frame building must be insulated before installing the drywall. If you skip this step (for whatever reason) and attach drywall directly to the metal panels, moisture can saturate this interior finish.
PROS:
Cost-effective
High-end and polished look
Lightweight and easy to install
Can be removed and easily replaced if damaged
CONS:
The surface is prone to damage
Not resistant to water damage


4) Steel
Interior 29-gauge steel can be carried out in two ways: along your pole barn ceiling or walls. This building material is a popular interior finish among customers because it enhances the appearance with its light reflectiveness. It also protects the insulation materials.
Although metal panels are highly durable, forklifts and other heavy equipment can leave dents or punctures. Luckily, our Repair & Renovation construction crews can easily replace the damaged sheet with a new one.
PROS:
Durable
Low maintenance
Can be removed and easily replaced if damaged
CONS:
Expensive
A Repair & Renovation construction crew is needed to replace the damaged metal panels

5) Plywood & Steel (Combination)
You can combine the advantages of plywood and steel by installing a combination (or split) interior finish. The product specifications are ⅝" AC or CDX plywood with 29-gauge galvanized steel on top.
Farmers can hang cabinets, hooks, pegboards, shelving, or tools on the bottom plywood portion. No need to worry about drilling holes into the steel! All while cutting some costs. While metal panels are relatively expensive, some customers opt for a 60/40 split interior finish (60% steel and 40% plywood).
Combining these building materials is a good choice if you're working on your farm equipment or heavy machinery but don't need the entire shop area lined with metal panels.
PROS:
Durable
Energy-efficient
Can be removed and easily replaced if damaged
CONS:

6) Miscellaneous Interior Finishes
As mentioned, pole barn interior finishes are practically endless when completing your post-frame building project. It's an excellent opportunity for owners to showcase their creativity and personality.
If you find scraps of building materials, why not see how they'll look on your walls? Some popular examples of unique, miscellaneous interior finishes include:
Board and batten
Pallet wood
Pegboard
PVC plastic
Shiplap
Tin (or grain bin siding)
Designing your pole barn interior to match your personality makes the building process fun. Don't be afraid to try something new; you might start the latest Pinterest or Tik Tok trend!

When is the Best Time to Finish Your Pole Barn Interior?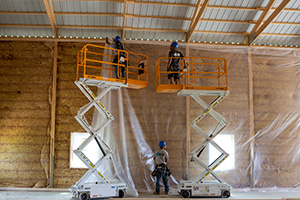 Believe it or not, winter is the best time to finish your pole barn interior. It doesn't mean the other post-frame construction seasons aren't a good time. Winter happens to provide significant advantages for general contractors.
While the wind is howling and snow is falling, contractors can hang pole barn insulation. Electricians or HVAC contractors can run electrical wires or ductwork inside your post-frame building. You can even prep your pole barn floor for concrete.
The best part of all is that you can save money. Typically, peak post-frame construction times in the Midwest are between April and October.
During the lull season, some post-frame builders and general contractors might need more work. Often, these individuals will offer building specials when their backlog is slow.
Can You Add Interior Finishes to Your Existing Pole Barn?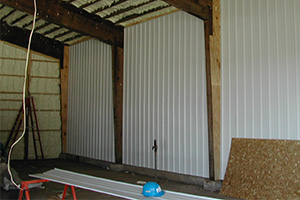 The beauty of post-frame construction is its flexible design to meet your building needs long after your pole barn is completed. In fact, it's not uncommon to renovate an existing post-frame building for a new purpose.
For example, farmers upgrade their cold storage building into an insulated farm shop. Homeowners transform their basic pole barn garage into a man cave. We've even had customers convert their tool shed into a barndominium!
As you can imagine, these renovation projects are complex. You're altering the original floor plan and intended use, which requires additional building materials and subsequent design loads (i.e., extra weight).
You must consider the following four factors when adding interior finishes to your existing pole barn:
Current state of your post-frame building
Additional project scope
For more information, we recommend downloading our "Adding Pole Barn Interior Finishes Checklist."
Which Pole Barn Interior Finish Will You Choose?
Now that you better understand the six most popular pole barn interior finishes, do you know which one you'll choose?
Ultimately, there's no right or wrong answer when it comes to decorating the ceiling and walls of your post-frame building. It boils down to personal preference. That's the beauty of pole barn construction – it's custom-designed to your needs and wants.
If you're unsure how a pole barn interior finish will look, we recommend using our Design Online Tool. This free resource can be accessed from the comfort of your home. The latest updates allow you to experiment with interior finishes and place the building design on your property using Google Earth. True to scale!
Submit your floor plan to us, and a sales team member will call you to begin the estimating process.
Additional Resources:
---
Do you have more questions about pole barn interior finishes not covered in this article? If you need help designing and planning, please contact FBi Buildings at 800.552.2981 or click here to email us. If you're ready to get a price, click here to request a quote, and a member of our Customer Engagement Team will help determine the next steps of your project.