Subscribe
The 5 Different Types of Pole Barn Porches
Building a pole barn has always been a goal of yours. When you pull into the driveway, you can envision a 40' x 80' tool shed in your spacious backyard.
This post frame building will house bikes, four-wheelers, lawnmowers, and other outdoor accessories.
But this pole barn isn't just about storage; it's about recreation too. A large porch would be an ideal place to hang out with family and friends.
During the summer, you can fire up the grill and enjoy a barbecue dinner with guests. When the weather cools off, you can grab a blanket and roast marshmallows over a small fire pit.
However, porches aren't limited to residential buildings. The beauty of post frame construction is its versatile nature. Customers have a wide variety of options throughout the design process.
As a result, post frame structures are a natural choice for agricultural, commercial, and equine buildings.
In this article, we discuss the various pole barn porches and features you should consider when designing your post frame building.
Why Should My Post Frame Building Design Include a Porch?
Now, you're probably wondering, "What are the actual benefits of building a pole barn porch?" That's a fair question!
Ultimately, a porch doesn't provide any structural benefits. Your post frame building will still function effectively and efficiently with or without this add-on. It boils down to personal preference.
Furthermore, adding a porch to your floor plan is strictly for aesthetic purposes. Is curb appeal essential to you? If so, then a porch might be a must-have feature for your pole barn.
This leads us to our next question: what are your porch options?
5 Types of Pole Barn Porches: Which One is Right for You?
Similar to a home, there are various porch styles you can incorporate into your building design. Before you dive deep into the different types of pole barn porches, ask yourself the following questions:
Is a porch allowed on my post frame building (e.g., setbacks)?
How much money am I willing to spend?
How do I plan to use the porch?
Do I want to include finishing touches?
Keep those answers in mind as we detail the five types of pole barn porches your post frame builder will be able to construct.
1) Front Porch
First, a front porch is the covered entrance to your structure.
Should you include one, your front porch will serve as a statement piece. Nothing welcomes your guests like a well-designed front porch. Not to mention, it'll be sure to grab the attention of passersby.
Also, it's an excellent opportunity to showcase your decor taste. We recognize that this may not be a big deal to some customers. Meanwhile, others like to add a little flair to their building entry.
Your porch decorations can be as simple as a park bench. Or, you can take it to the next level with a welcome sign and landscaping (e.g., flowers and mulch).
2) Back Porch
On the opposite side of your pole barn, you can add a porch for your back door (if applicable).
Picture this: you're interested in a building layout that accommodates hobbies dear to both genders. You and your significant other enjoy outdoor activities, such as camping and horseback riding.
You'd like to pull your camper into the shop via one overhead door and the horse trailer the next — no need to take turns storing trailers when there's enough parking space for both.
Plus, a spacious office would be convenient for you both to kick back and relax after a long day's work. After all, some customers consider their post frame building as a second home.
The backside would feature a large covered porch for patio furniture and plants — great for entertaining visitors.
However, you could use the back porch as a cooling area for horses. The choice is yours.
3) Inset Porch
Third, an inset (or recessed) porch is carved into the corner of your pole barn, rather than being attached.
It's a shady place to spend a lazy evening. Sit in a wooden rocking chair with a cold glass of sweet tea and watch your children (or grandchildren) ride ATVs around the yard.
Please note that an inset porch takes away from your building size. If you're interested in this porch type, we recommend padding the square footage.
Trust us; the last thing you'd want is to run out of space for your equipment and toys. It's better to be safe than sorry.
4) Wrap Around Porch
Fourth, a pole barn with a wrap around porch oozes southern charm. This porch type helps make the most of your property view and adds much-desired curb appeal.
Watch the sunrise or sunset over the cornfields from the wrap around porch of your farm shop. What a peaceful way to start or finish your day!
Wrap around porches are ideal for retail businesses too. You could line the porch sides with your products (e.g., lawn equipment or produce stands).
Moreover, it can wrap around one or two sides of your post frame structure. Do you want a back porch? This style can connect to the backside of your building.
Whatever your preference, a professional builder will be able to accommodate your needs.
5) Screen Porch
Fifth, a screen porch is self-explanatory...it's a porch that has been covered with window screens. Why? Because it prevents debris and insects from entering your pole barn.
An indoor porch is the ideal combination of indoor and outdoor living space.
Pro: No pesky bugs or inclement weather will ruin your festivities.
Con: It isn't climate-controlled. You'll need to purchase a fan and heat lamp for the summer and winter months, respectively.
Friendly reminder: Most post frame builders specialize in the building shell only. Therefore, you're responsible for finding someone to finish the project.
Are you a DIYer? There are helpful YouTube videos that'll teach you how to screen a porch properly.
Continuous vs. Drop Down Porch
Once you select a pole barn porch, you'll need to decide if it'll be continuous or drop down from your post frame building. What does that mean? Let us explain…
A continuous porch extends from the structure's roofline. There's no need for extra gutters, flashing, overhangs, and snow loads. It's the most cost-effective approach to post frame porches.
Contrastively, a drop down porch is a separate building level. Typically, drop down porches are viewed as more aesthetically pleasing. Unlike continuous, you'll need extra gutters, flashing, overhangs, and snow loads. Consequently, you can expect an approximate 10 percent increase in cost (materials and labor).
Both porch formats allow you to adjust the roof pitch. Of course, you'll need to consider building height if you choose a drop down porch. Clearance is crucial.
4 Essential Pole Barn Porch Features
Although not mandatory, we discuss four essential porch features you should consider for your post frame building.
1) Columns
Columns, also referred to as posts, are integral parts of a pole barn porch.
Porch columns are 6x6 posts. The wood type is subjective, but cedar and yellow pine are favored. Be sure to use wooden columns that are preserved and kiln-dried. This treatment will prevent deterioration.
Post frame owners can upgrade their porch columns to something more unique than wood. Exterior façade options include:
Brick
Steel
Stone
Stucco
And various siding products (e.g., aluminum and vinyl)
The steel columns can match your pole barn colors and miter joints (if applicable). Meanwhile, the cedar or versetta stone adds a nice finishing touch.
Be sure to check with your professional builder to see if this is a viable option for you.
2) Miter Joints
A miter joint is a v-like joint made by joining two wooden pieces to create a 90° corner. It's used to enhance the appearance of a porch post.
If you'd like the columns to match your post frame building, you can wrap the miter joints in steel. Or, you can leave the wood bare.
Additionally, you can have miter joints on one or both sides of the porch columns.
3) Soffits
Next, a soffit is the exposed siding underneath a roof's overhang. It plays a vital role in proper pole barn ventilation.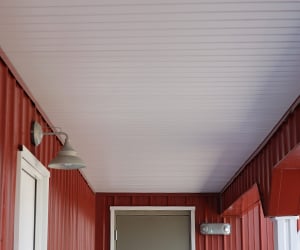 How? Air moves upwards as it warms and rises. Having 1' or 2' overhangs with vented soffits on the sides of your building will draw air inside. At the peak of the roof, ridge vents work to release the warm, humid air.
Overall, vented overhangs enable a structure to breathe and stay drier.
Although you can't see one's soffit from afar, it's typically the same color as your pole barn siding.
Soffits can be made using the following items:
Aluminum
Steel
Vinyl
Wood
It's important to choose a material that's suitable for your climate. For instance, Midwesterners often choose vinyl soffit.
If you prefer the non-soffit look, then you'll need to install netting to keep rodents (e.g., birds) from nesting.
4) Finishing Touches
Lastly, have you given much thought to the porch flooring? Popular options include basic concrete, stamped concrete, and gravel.
We've said it once, and we'll say it again...personal preference. In addition, how you plan to use the pole barn porch will influence your decision.
As mentioned previously, most post frame builders are responsible for the building shell. You'll need to hire outside parties to handle the flooring portion.
Do you have a strict budget? Are you eager to take on DIY projects? You can always give pouring concrete and leveling gravel your best shot.
Which Pole Barn Porch and Features Will You Choose?
Ultimately, how you choose to design your pole barn is up to you. Our goal as one of the top post frame builders in the Midwest is to provide tips that'll help you build the perfect porch.
For design inspiration, we strongly urge you to check out our pole barn gallery. Similar to our guidebooks, this online collection is FREE to use. No strings attached.
If you see a building that catches your eye, but would like to make a few minor tweaks, just let us know. We're a custom post frame builder. No cookie-cutter floor plans here. Our pole barns are built around your needs.
Also, you can design your own building with our new and improved online 3D design tool. Save, print, or email your final plan to family and friends.
Are you ready for a quote? Submit your design to us, and a member of our sales team will give you a call to begin the estimating process.
---
Do you have more questions about pole barn porches that are not covered in this article? If you need help designing and planning, please contact FBi Buildings at 800.552.2981 or click here to email us. If you are ready to get a price, click here to request a quote and a member of our customer engagement team will help you determine the next steps of your project.