Building Maintenance | Energy Efficiency | Posts | Structural Integrity
It's official! Colder temperatures are among us, and long gone are the days of warmth and light. Winter is right around the corner...no matter how hard we try to ignore it. Here in the Midwest, we're no stranger to ample amounts of snowfall, ice accumulation, and blustery winds. When the chill makes its appearance, we take several precautions to prepare for its brutal arrival.
Building Features | Building Tips | Energy Efficiency | Posts
When it's time for you to start designing your post frame building, what steps do you think you need to take? It's not uncommon for some customers to sketch their pole barn layout on graph paper because they don't want to forget their design. Not only does this help them visualize the layout of their building prior to talking to a post frame builder, but it also lets them compare different layouts if they have more than one in mind.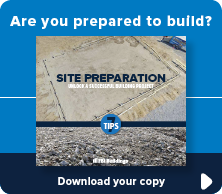 Enjoy a smoother construction experience.
The guidebook that offers essential steps and information which lays the foundation for an on time and on budget project.
Building Tips | Energy Efficiency | Posts
Spring has sprung! The remaining evidence of last winter's snowfall is melting away. Seeds are starting to take root. The surrounding scenery is coming to life with new sprouts and blossoms. Warmer temperatures are here to stay. Post frame projects are in full swing. It's our favorite time of the year.
Building Tips | Energy Efficiency | Posts | Structural Integrity
It's the time of year that most people look forward to...nice weather! The days are getting longer, and the temperatures are warming up. Unless you live in the Midwest (like us) because Mother Nature loves to play tricks. Regardless, you can finally start working on the long list of outside projects, such as landscaping.
Building Features | Energy Efficiency | Posts
Brace yourself; winter is officially among us. As Midwesterners, we know firsthand that Mother Nature can be unpredictable. We never know what type of winter she'll bless us with until it's here. One day, it's sunny with clear skies. The next, we're shoveling our snowy driveways and skating across the parking lot.
Building Tips | Energy Efficiency | Posts
Did you know that heating and cooling are the largest energy drains in post frame buildings with climate controlled spaces? If you think about it...it does make sense. Heat rises to the top of any building, and if your building isn't well insulated what happens to the heat? It will escape through the top of your building, or around any windows and doors that aren't properly sealed. If you're losing heat (or even air) around your windows and doors then you're also wasting money on energy costs. Let's think about how that concept works. Have you ever noticed that it takes forever for your furnace or even your air conditioner to stop running? That's because it's trying to keep up with heating or cooling your post frame building or even home. If there are leaks around windows, doors, or even in your attic then you're wasting energy.