Posts | Post Video | Building Tips | Structural Integrity | Energy Efficiency | Pole Barn Kit
DIY Pole Barn Kits: 5 Building Materials to Look For

Subscribe
Cori grew up on her family's small grain and livestock operation in Northwest Indiana. In 2018, she graduated Summa Cum Laude with a Bachelor's degree in Business Administration & Marketing from Marian University Indianapolis. Having shown beef cattle for 12 years at the county, state, and national levels, Cori chose to pursue a career in agriculture. Today, she serves as the Marketing Content Creator on the FBi team. In her free time, Cori enjoys spending time with family and friends, watching sports, listening to live music, and traveling.
Pole barn kits (also known as material packages) are increasing in popularity among DIYers.
If you've stumbled across this blog, there's a good chance that you're interested in taking on your own building project. Maybe you have construction knowledge, and if not, we're sure there are YouTube videos that you can watch for guidance.
As someone who sells pole barn kits, we decided to put together an article that addresses the building materials you should look for when researching your options. These tips will help you get the most out of your DIY post-frame building.
5 Building Materials to Look For When Buying a DIY Pole Barn Kit
1) Laminated Columns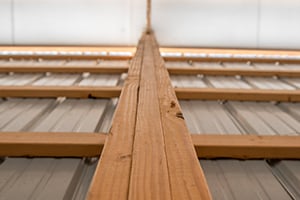 First, columns (or posts) are integral parts of a post-frame building. They support the entire roof system and transfer vertical loads (e.g., snow) to the footings.
The term "laminated column" refers to two or more layers of dimensional wood that have been mechanically laminated with nails. Typically, these posts are made from 2x6, 2x8, or 2x10 lumber. They're strong, stress-rated, and pressure-treated.
Laminated columns resist bending, twisting, and warping caused by horizontal loads (such as high winds).
Not to mention, they have greater longevity than solid posts. Each layer is thoroughly permeated with wood preservative and kiln-dried. This treatment prevents rotten columns and termite damage.
For maximum protection, we recommend buying posts that are saturated with more than 0.80 lb./cu. ft. of Chromated Copper Arsenate (CCA) wood preservative. This permeation is 33% more than industry standards, which you'll find in your standard pole barn kit from hardware stores and lumberyards.
Columns should be set at least 4' below grade (unless anchored to a continuous concrete foundation). This placement prevents frost upheaval in the winter months. Shallow depths create little resistance to lateral forces.
Editor's Note: Please ask your pole barn kit supplier if you can upgrade your laminated posts to Perma-Columns® for a more sustainable solution.
2) Fastening System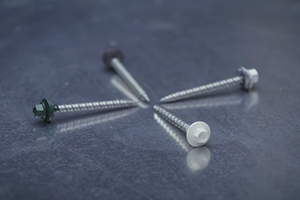 Next, the fastener is a restraint that holds something into place. The term "fastening system" refers to the type of fastener used and how/where it's applied. For example, in post-frame construction, fasteners attach wood to wood and steel to wood.
When comparing pole barn kits, you should pay close attention to the fastening system used to attach the metal panels and roofing. It's worthwhile to evaluate different offerings before making a purchase.
After all, fasteners can have a significant effect on the structural integrity of your pole barn. The "right" choice will provide a tight connection between the steel and wood building components.
When selecting a fastening system, we recommend using stainless steel screws over nails. The former has superior holding power compared to the latter (700 lbs. vs. 250 lbs.), but that's only part of the story.
Wood fibers tend to return to their original position when a screw or nail is driven inside. Nails push the wood fibers downward, while screws pull the wood fibers upward. As the fibers return to their natural state, they push the nails out and pull the screws tighter.
When installing the fasteners into the metal panels, you have two choices: the top of the rib or the flat area between the ribs. The flat area provides a tighter, more secure connection between the steel and wood. In contrast, a fastener in the rib allows movement around the seal area, which may cause leaks.
Furthermore, it would be best to look for fasteners that encapsulate the rubber washer (the last line of defense against leaks). If your washer is exposed to the elements, it'll become less effective over time.
Editor's Note: Even the best fastening system will only perform as well as the person doing the installation. Follow the drawings and assemble the pole barn kit according to the specifications.
3) Trusses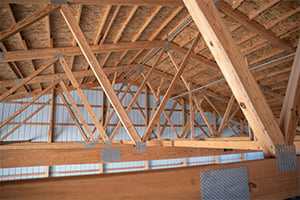 A truss is a rigid framework of members designed to support the pole barn roof. Trusses handle all the stresses from the roof (via purlins and steel) and transfer those loads to the columns.
Having well-designed trusses is crucial because if one fails, the others will follow suit. This domino effect results in building collapse.
To avoid truss failure, we recommend purchasing a pole barn kit with trusses that are:
Inspected and certified by a third party to ensure quality fabrication
Job ordered and engineered for your building kit with detailed drawings and specifications
Made out of high-grade or

Machine Stress-Rated (MSR) lumber

(if applicable)
Conjoined at critical points using heavy-duty steel plates
For more information, you can download our FREE "Structural Integrity in Post-Frame Construction" e-book."
4) Metal Panels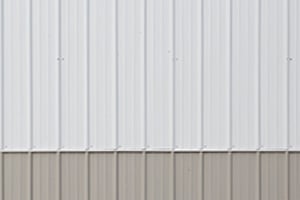 Steel walls, fastened to the wood frame, serve as vertical diaphragms to transfer lateral loads to the pole barn foundation. Metal panels are measured in two ways:
Thickness (gauge or inches)
Yield strength (the amount of force required to cause permanent deformation)
Editor's Note: Yield strength contributes more to the steel strength than its thickness.
While the metal thickness is essential, it's only one part of the equation. You want to make sure that your post-frame building consists of full-hard, high-yield strength steel. This panel provides greater resistance to impact damage (e.g., hail or rocks) and allows heavier structural loads.
As mentioned above, fasteners should be attached to the flat area between the ribs for a tighter connection. The closer the rib spacing, the greater the number of allowable fasteners and the stronger the metal panel.
While we're still on the topic of steel, you have to pick a color combination for your pole barn kit. Silicone-modified polyesters (SMPs) are commonly used but don't deliver the same results as Kynar 500® coatings.
The latter paint system withstands abrasion, ultraviolet radiation, extreme weather, chemicals, and solvents.
5) Walk Doors and Windows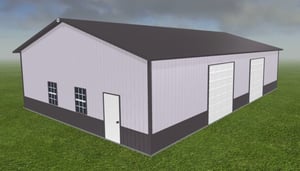 Lastly, standard pole barn kits are equipped with walk doors and windows. They create views to the outside, admit daylight, generate solar energy, and supply natural ventilation.
Since a great deal of heat loss will occur around the doors and windows, we recommend buying energy-efficient choices.
In walk doors, thermal breaks separate the exterior and interior surfaces to cut heat loss in winter and heat gain in the summer. Without the thermal break and a good weather seal, the advertised R-value means very little.
As for windows, we recommend the Simonton brand. Their products consist of low-conductivity materials and are dual-paned for better insulation.
When installing the windows, box trim should be used instead of J-channel. Box trim has a rubber gasket to seal tightly against the metal siding, keeping out air and water. With the latter, there is a slight gap between the J-channel and steel.
Together, these building features maximize comfort and reduce utility costs. For more information, you can download our FREE "Energy Efficiency in Post-Frame Construction" e-book.
Are You Ready to Build a Pole Barn Kit?
As one of the top post-frame builders in the Midwest, we don't believe that you should sacrifice quality when buying a pole barn kit. That's why we offer pre-designed material packages with the same materials if our construction crews were erecting the post-frame building.
If you're ready to move forward with your DIY construction project, you can click here to view our pole barn kits. Each design includes a detailed floor plan and a breakdown of the components provided.
Don't see your ideal building size? You can work with our Project Sales Consultants to customize a pole barn kit made just for you!
Additional Resources:
---
Have more questions about pole barn kits not covered in this article? Please contact FBi Buildings at 1.800.552.2981 or click here to email us. If you're ready to get a price, click here to request a quote, and a member of our sales team will call you.