Subscribe
Perma Columns: The Permanent Concrete Column System
Columns, or posts, are one of the most important elements in post frame construction because they are the final point of transfer for most building stresses to the foundation. The posts can be buried to the ground or anchored to an above ground concrete foundation.
Why Perma Columns are Advantageous:
They are a Permanent Solution: The column will never deteriorate due to insects or decay.
Up to 60% Stronger than Standard Laminated Columns: Why? Because the column never comes in contact with the ground so you don't have to worry about rotting.
Environmentally Friendly: No chemical preservatives contact the ground.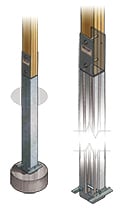 When you select Perma-Columns for your building, not only do you get the economy of post frame construction, you also get the durability of concrete. Perma-Column is the least expensive concrete foundation available for a post frame building. The system is just 25 to 33% of the cost of a continuous-poured foundation.
Perma-Column also offers the performance and incredible longevity of concrete while preserving all the benefits of post frame construction. You'll still get legendary speed and flexibility of construction.
For peace of mind, Perma-Column is a permanent foundation solution. There's no reason to worry about insect damage, rot or decay because no wood goes into the ground. You'll feel secure knowing your investment will last for a lifetime.
Concrete Perma-Columns can be delivered to the job site. FBi crews lower them onto their precast or poured-in-place footings, then align, level and backfill. Framing is raised and bolted into place. The process is identical to standard all-wood post frame construction, only no wood goes below grade. Economical. Durable. Permanent.


What are the advantages of Perma-Columns?
Laminated Wood Column: Attached above grade to the Perma-Column base. No wood goes into the ground. No rotting or decay. No insect damage. No worry.


Integrated Steel Bracket: Ruggedly strong and permanently welded to steel reinforcing bars in the concrete. Bolts secure the bracket to the laminated column.


10,000 PSI Pre-Cast Concrete: This special mix is 285% stronger than regular concrete. It contains polymer-fiber, corrosion-inhibiting and air-entraining admixtures for a lifetime of strength and durability.


Steel Reinforcing Connects Bracket to Anchors: Four welded reinforcing rods run the entire length of the concrete, creating a super-strong unitized design.


4 Feet Below Grade and Backfill: Provides maximum structural integrity and freeze-thaw protection.


Integrated Steel Uplift Anchors: Fused to the interior steel skeleton. A super-tight bond to the column with excellent uplift resistance.


Pre-cast or Poured in Place Foundation: Keeps your building solid from bottom to top.

---
Have more questions about building costs not covered in this article? If you need help designing and planning, please contact FBi Buildings at 1.800.552.2981 or click here to email us. If you are ready to get a price, click here to request a quote and a member of our sales team will call you!