Building Construction | Posts | Site Preparation | Building Design
What Foundation is Best for a Pole Barn?

Subscribe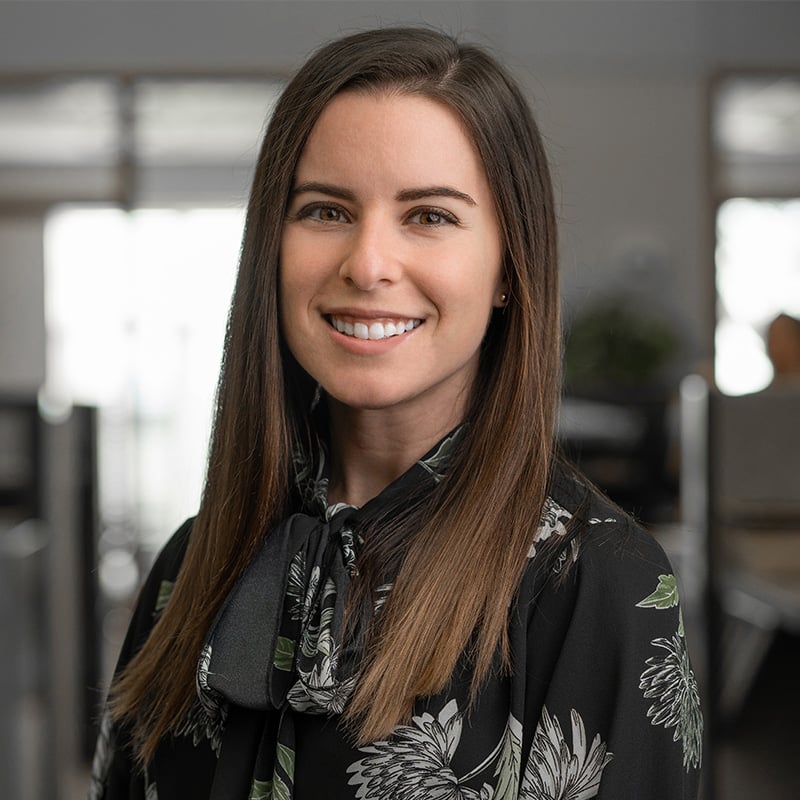 After working in the banking industry for 5 years after college, Courtney realized she needed a change and decided to pursue a new career path. Growing up she has always been creative and enjoyed writing, taking pictures, or painting. Now as the Marketing Content Creator for FBi Buildings, she gets to utilize her creative abilities in her everyday work. In her free time, you can find Courtney at home reading a book, partaking in any and all outdoor activities, or traveling and photographing her adventures. Courtney resides in Northwest Indiana with Lacey, her red tick coonhound.
When it comes to building a pole barn, there is no one-size-fits-all option to choose from.
Post frame buildings are custom built to appease every customer's wants or needs, so no two pole barns will ever be alike.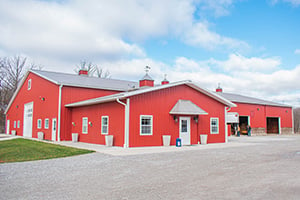 What selections one customer goes with might not work for the vision you have in mind and vice versa.
There are a plethora of building feature combinations to choose from which can make final selections seem challenging, but that doesn't mean it's impossible.
Our 60+ years of experience in the post frame industry has awarded us with the knowledge necessary to alleviate your doubts and second-guesses when it comes to building your dream pole barn.
That's why we've taken the liberty of recommending the best foundation for each style pole barn that can be built to help keep your stress at bay.
What Are My Pole Barn Foundation Options?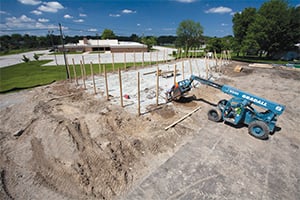 There are 5 styles of foundations you can opt for when designing your post frame building:
Dirt
Gravel
Stone
Asphalt
Concrete
Before any of the above foundations can be established, it is crucial to mention that a building pad must first be created. A firm building pad consists of any of the following:
Your building pad is established during site preparation, which is the first step in the building process before post frame construction can commence.
Site preparation is essential because this will ensure your pole barn's foundation is stable. This, in turn, ensures the overall structural integrity of your post frame building.Once site preparation is complete and a building pad has been established, pole barn construction can now begin.
Which Foundation Type is Best for My Pole Barn?
Not every post frame building will require the same foundation. This is great news for those who wish to opt-out of concrete to save money for a different building feature.
A cold storage building is a good example of where a concrete foundation isn't necessary.
On the flip side, concrete is highly recommended for a post frame home as a dirt floor will require more cleaning than we think you'd want to tackle.
Let's take a look at each pole barn style and which foundation type works best for that option.
1) Farm Buildings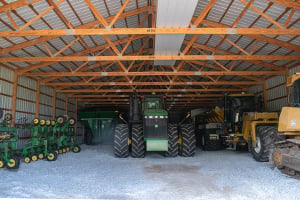 There are numerous sub-styles of farm buildings that can be designed and constructed:
Agricultural buildings can be tricky, though, as there is no universal foundation that is recommended for all of the above.
For example, if you have a livestock building or a pole barn being utilized for cold storage, you don't want to pour a concrete or asphalt foundation as this is not necessary for this instance.
Livestock buildings, tractor and implement storage, and open-sided buildings are best suited for a dirt, gravel, or stone foundation.
That doesn't go to say that concrete and asphalt can't be an option, but if you're looking to keep your bottom line down, ixnaying either of the two is a great way to accomplish that goal.
Concrete and asphalt foundations are better suited for farm shops, multi-purpose buildings, and seed dealerships.
If you're trying to work on or clean equipment in your farm shop, concrete is a more viable solution as opposed to gravel since you won't have to deal with gravel dust coating everything in your shop.
The same theory applies to multi-purpose buildings and seed dealerships; it's kind of hard to work in an office setting if dirt particles are floating in the air and ruining office equipment.
In these instances, we recommend opting for a concrete foundation.
For inspiration on farm buildings, check out this multi-purpose post frame building for an Angus breeder in Lake County, IN.
2) Commercial Buildings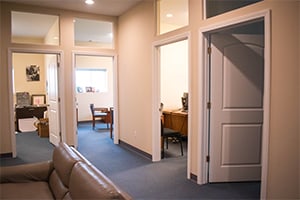 Commercial buildings also come in many different sub-styles:
For this style post frame building, we recommend pouring a concrete foundation no matter which sub-style you choose to build.
Concrete looks clean and professional which is exactly what customers expect in a dealership, retail, or professional services environment.
Nowadays there is even the option to glaze or stain concrete to give it a fun look or help extend its longevity.
Plus, you can take it a step further if you want to finish the flooring in your post frame building.
Carpet, hardwood flooring, and tile are all great finishing options to give your building a sleek, completed look.
If you need help deciding on how to design your commercial pole barn, check out this John Deere, Toro, and Stihl dealership in Lake County, IN.
3) Residential Buildings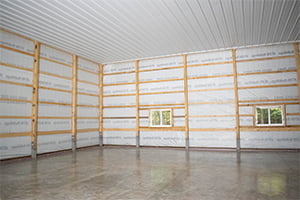 Sub-styles of residential post frame buildings are as follows:
As with farm buildings, there is no universal foundation to be recommended for residential pole barns.
For pole barns being utilized for storage, hobby shops, or tool sheds, you can easily get away with a gravel or stone foundation.
Gravel or stone is especially great for storage buildings if you don't plan on moving items in and out frequently stirring up gravel dust.
Hobby shops can go either way, however. Depending on how you intend to use your hobby shop will determine which foundation is recommended for you.
If your hobby is woodworking or building, a concrete foundation isn't always necessary.
But, if your hobby is restoring old cars and having a show floor of your classic vehicles, concrete is highly recommended to keep dust and debris at bay.
Pole barn homes and garages are best suited for concrete.
For one, your post frame home probably would not pass code if the building inspector came in and saw a dirt floor.
Second, imagine trying to clean a house or garage where dirt and dust are constantly kicked up… No thank you.
If you need some residential building inspiration, check out this pole barn garage located in Muskegon County, MI.
4) Equine Buildings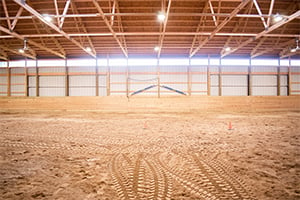 Horse barns aren't as tricky to navigate as the former style buildings discussed. Sub-styles are simple and include:
You can get creative when designing the post frame horse barn of your dreams. Thankfully this is easy to do thanks to our Design Online Tool which allows you to see a 3D version of your vision come to life.
The only areas in your horse barn that might see a concrete slab is in the tack room or viewing area into the riding arena.
However, pouring concrete as a walkway outside of the stalls is not out of the question, either.
For the most part, it is to be expected that your post frame foundation in an equine building will be dirt, gravel, or more typically a sand mixture in the barn itself.
You won't need anything fancy inside the stalls, so dirt will work perfectly here since it will be covered with shavings or hay anyway.
Dirt or a sand mixture is also the recommended foundation for indoor riding arenas. You'll have a much more pleasant riding experience than you would with gravel or concrete.
For a little horse barn inspiration, check out this equine building with an indoor riding arena located in Lake County, IN.
Are You Ready to Select Your Pole Barn Foundation?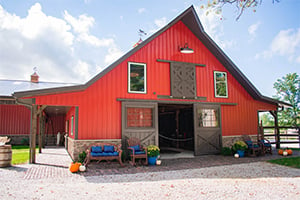 Now that you've had time to read through post frame foundation options and see our recommendations, have you decided which foundation you'll choose for your new pole barn?
If you're unsure of where to begin, you can always find inspiration on our Pinterest page for all things post frame buildings.
You can also give our post frame professionals a call so they can walk you through the process and answer any lingering questions you might have.
Our goal is to help you feel confident in designing your post frame building so that you'll love the finished product when it's all said and done.
No matter which pole barn foundation you decide to opt for, just remember to always build with confidence.
---
Do you have more questions about pole barn foundations that are not covered in this article? If you need help designing and planning, please contact FBi Buildings at 800.552.2981 or click here to email us. If you're ready to get a price, click here to request a quote and a member of our Customer Engagement Team will help you determine the next steps of your project.