Posts | Building Tips | Structural Integrity
Did You Know We Sell Pole Barn Kits?

Subscribe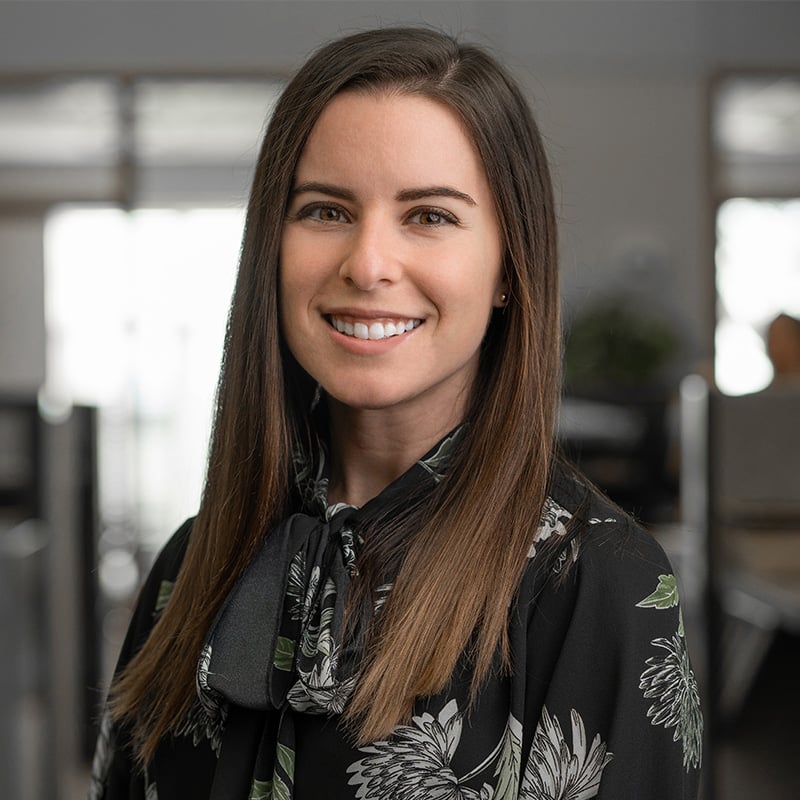 After working in the banking industry for 5 years after college, Courtney realized she needed a change and decided to pursue a new career path. Growing up she has always been creative and enjoyed writing, taking pictures, or painting. Now as the Marketing Content Creator for FBi Buildings, she gets to utilize her creative abilities in her everyday work. In her free time, you can find Courtney at home reading a book, partaking in any and all outdoor activities, or traveling and photographing her adventures. Courtney resides in Northwest Indiana with Lacey, her red tick coonhound.
There is a good probability you're reading this blog because you are the ultimate "do it yourself" type of person. You're known as the Chip or Joanna Gaines in your circle of friends, and those friends know just who to call when they need help.
You've never had a job you couldn't handle, and you're not one to turn down a challenge. Whether it comes to creating, repairing, or building, you're most likely to tackle it yourself as opposed to hiring someone else for help.
Nowadays, there are many resources to help you get started on your dream project. When it comes to building a pole barn, the resources for this are not lacking. With one quick internet search, you can find out where to get the materials, learn how to construct it yourself, and find inspiration for the interior within just a few minutes.
If you're looking for materials, we've got you covered. FBi Buildings offers material packages for five pre-designed pole barns. We also provide the option to customize your material package to get exactly what you're wanting.
Below we'll elaborate on what we offer in our material packages and why this just might be the best option for the do it yourself type.
What is a Pole Barn Kit?
A building kit, or material package, is a package that offers all of the materials necessary to construct the frame of your post frame building. Materials included are as follows:
Columns
Overhead door
Screws
Steel
Trusses
Walk door
Windows
Working with a professional builder to get your material package allows you to worry about the construction of the building only. FBi will ensure you have every piece of material you need, from the steel down to the screws, and we will deliver it on site.
What Makes our Pole Barn Kits Different?
If you're thinking to yourself, "Haven't you always offered material packages?", then you would be correct. The difference between then and now is that now we offer pre-designed building kits in five different sizes. This allows you to get a better vision for the type of post frame project you're looking to tackle.
If you don't use the best materials possible when constructing your pole barn, you could negatively affect the structural integrity of your building and create room for future repairs that you didn't account for. Keep reading to find out what goes into our material packages and why we believe that quality is essential.
1. Floor Plans
Each of our pole barn floor plans is specially designed by our in-house engineering team to ensure structural integrity. These plans will show you where your overhead door, walk door, and windows will be located so you can get a better idea of what your future pole barn will look like. However, they can be moved around to fit your needs better if necessary.
2. Columns
In your material package are laminated columns that are manufactured at FBi's on-site truss plant. We ensure that each column has been treated to prevent potential decay and insect damage. If any kind of significant damage from either decay or insects occurs, FBi Buildings offers a lifetime warranty to replace the damaged columns.
3. Screws
The screws we offer for your project are stainless steel umbrella head screws. This type prevents rusting and minimizes any leaking that could occur in the roof and the walls. We guarantee these screws won't rust, but we still offer a lifetime warranty on them courtesy of FBi Buildings.
4. Steel
Our in-house engineers prefer to use a 29 gauge, heat-treated, full-hard, high-tensile steel with a minimum yield point of 80,000 PSI. Our design team uses harder, quality post frame steel because this steel has an increased resistance against potential damage such as wind, hail, rocks, or any accidents.
Your steel will have a Galvalume substrate coating, which will provide the longest-lasting life possible for your steel. This protects against rust and corrosion 2-4 times better than the steel used by other builders.
To get an idea of the damage our steel can withstand, click here to take a look at our steel comparison video.
5. Trusses
FBi's trusses are job-specific and engineered for your building. Our professional in-house engineering team uses the latest computer-aided design and simulation systems to ensure the strength and structural integrity of each truss. Pre-engineered metal-plated wood trusses are designed per the American Society of Civil Engineers (ASCE) 7 standards.
We have our very own in-house truss plant where we manufacture our trusses under stringent quality control standards. Our truss plant is regularly certified by a third-party Truss Plate Institute inspection service.
6. Walk Doors
Our walk doors are made of steel, and they come in four different styles. Each offers protection against the expected and the unexpected demands of nature.
Steel doors with a thermal barrier prevent wintertime heat loss and summertime heat gain. These doors also protect against any potential interior condensation.
Steel doors made of pultruded fiberglass offer the ultimate protection against any weather extremes because this type of material is corrosion resistant and is electrically insulative. This choice would be best to withstand our unexpected and unusual Midwest weather.
7. Windows
To give you virtually unlimited size and style options, we use Simonton's Pro-Finish contractors series windows. The features of these windows offer quick and easy installation and are energy efficient to help you save on your energy bill. Four different glass options are available so you can select the one that is best for your needs.
3. Overhead Doors
The one thing our building material packages do not include is your overhead doors. Our reasoning for this is because of the numerous features and designs each overhead door offers, it's hard to choose just one for every design. Instead of a standard door, we can recommend you to a local overhead door company so you can choose the best option for your post frame building.
What Building Kit Sizes Are Available?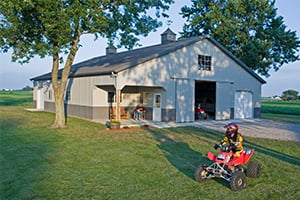 While no two pole buildings will be the same, each of the materials above is used in all of our building kits. Our goal is to make sure every post frame structure is built with the highest quality materials every single time.
The following sizes are available for your dream pole barn:
24x24x32
24x30x10
30x40x10
30x48x12
36x56x12
Don't see the size you're looking to build? That's not a problem. On top of these five sizing options, we also offer the option to customize your building plan for your pole barn.
How Can I Design My Own Post Frame Building?
It's easier than ever to design your own pole barn by using our very own Design Online Tool to make your dream become a reality. By using this online tool, you can see what your pole barn will look like in 3D. Whether you're looking to build an agricultural, commercial, equine, or residential pole barn, our online tool offers features for all types so you can see exactly what you're getting.
This tool allows you to place overhead doors, walk doors, and windows where you want so you can envision how each will be utilized. You can also add overhangs or a porch (enclosed or not) to give your pole barn a personalized touch. Not sure which color you want for your pole barn? No problem. All our standard color options are available to experiment with to see your vision come to life.
The best part? Our Design Online Tool allows you to place vehicles, tractors, and large equipment in your building so you can estimate the exact size pole barn you'll need. You can also move and rotate them to get a feel for how everything will fit, so you know you're building the best possible post frame building for you.
Which Material Package Will You Choose?
Now that you know what our material packages entail, which option will you decide to build? Whether you choose a pre-designed package or opt for something more customized, your pole barn is going to be a real showstopper. We know your friends and family will be in awe, and now you'll have something to brag about to them since you built it yourself.
---
Do you have more questions about material packages that are not covered in this article? If you need help designing and planning, please contact FBi Buildings at 800.552.2981 or click here to email us. If you're ready to get a price, click here to request a quote, and a member of our Customer Engagement Team will help you determine the next steps of your project.