Posts | Building Features | Comparisons
Pole Barn Kits vs Material Packages: What's the Difference?

Subscribe
Cori grew up on her family's small grain and livestock operation in Northwest Indiana. In 2018, she graduated Summa Cum Laude with a Bachelor's degree in Business Administration & Marketing from Marian University Indianapolis. Having shown beef cattle for 12 years at the county, state, and national levels, Cori chose to pursue a career in agriculture. Today, she serves as the Marketing Content Creator on the FBi team. In her free time, Cori enjoys spending time with family and friends, watching sports, listening to live music, and traveling.
If you're interested in building a pole barn, there's a good chance that you've done a little research into price estimates.
We shop around when purchasing a vehicle, house, insurance, schooling, television providers, etc. So, it only makes sense that you do the same for your post frame project.
You'd like to self-build a 60 x 88 x 16 tool shed that'll sit comfortably on your property. It'll house your four-wheelers, pontoon boat, and toy hauler. But this building isn't just about storage; it's about recreation too. A large front porch would be an ideal place to hang out with family and friends after a summer barbecue.
With this image in mind, you begin to surf the web for options. The top search results on Google (or Bing) are pole barn kits and material packages. You can't help but wonder, "What's the difference?" and most importantly, "Which one should I choose?"
What's the difference between a pole barn kit and material package?
A pole barn kit consists of pre-packaged materials for your building project. You're responsible for supplying the tools and labor. Pole barn kits can be purchased at the nearest home improvement retailer (i.e., Home Depot and Menards).
On the other hand, a material package requires working with a professional builder to create a custom pole barn. You're still responsible for providing your tools and manpower. These packages include high-quality materials from the ground up.
After all, we're talking about a large, permanent structure. It's a big decision. A costly one too. You want a product that'll last a lifetime (or longer).
In this article, we discuss the difference between a basic pole barn kit and project-specific material package. By the end, you'll be able to make an informed buying decision.
What is a Pole Barn Kit?
A pole barn kit consists of pre-packaged materials for your building project. You're responsible for supplying the tools and labor. Pole barn kits can be purchased at the nearest home improvement retailer (i.e., Home Depot and Menards).
Price varies by size, features, and current material costs. Don't forget to check with your preferred store to see if delivery fees are incorporated in the price or separate.
What is a Material Package?
On the other hand, a material package requires working with a professional builder to create a custom pole barn. You're still responsible for providing your tools and manpower.
These packages include high-quality materials from the ground up. Below, we detail certain features and upgrades that make a custom material package stand out from the standard pole barn kit.
Kynar 500 Paint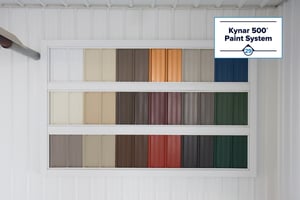 Choosing colors is an essential part of the building process. Be sure to take your time researching the paint system and color selections that your post frame builder offers. A permanent decision should not be rushed.
We recommend selecting a material package that uses Kynar 500. This paint system is key to the enduring beauty of your pole barn.
How so? Its unique formula contains one of the strongest bonds known to man. A combination of Kynar fluoropolymer resin and ceramic pigments produces excellent resistance to chalking, fading, and weathering.

The end result is a durable product that withstands abrasion, ultraviolet radiation, extreme weather, chemicals, and solvents.
Before selecting a color, you need to consider your surroundings.
Do you want to match another structure? If so, you'll want to review your builder's color swatches to see if there is a close match.
Please keep in mind that "close" does not mean "exact." Unless you're using the same paint from the same company. Often, it's easier to use a complementary color rather than an exact match.
Are you the type of person that needs everything to be "exact?" Ask your builder about custom colors. Depending on who you purchase a material package from, they might be able to get the color you want. However, this option most likely cost you extra.
If you're not worried about coordinating with an existing building, then your options are wide open. We recommend looking at other pole barns, especially those similar to your project, for inspiration.
Also, check with your builder to see what resources they have available, such as brochures, samples, design tools, etc.
Machine Stress-Rated (MSR) Lumber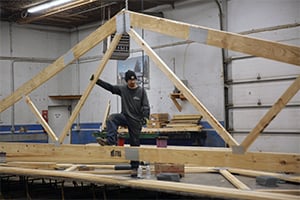 Your material package must use high-grade lumber for a durable post frame building. A higher grade means that the truss can carry more stress.
This leads us to our next question. How is the lumber graded? Let us explain...
There are two ways to grade lumber: visually and mechanically. Visual grading is done manually. A trained inspector examines the boards and assigns a grade based on set criteria. Then, the board is stamped with its grade.
The grade is important in two ways: aesthetics and design strength.
Civil engineers use reference books (e.g., National Design Specification for Wood Construction) to determine the design values for each species.
The grade shows how much the wood fibers can take in terms of bending, compressive, tensile, and shear stresses. Again, the grade level has a substantial impact on the strength of the board.
At FBi Buildings, our in-house truss plant uses Machine Stress-Rated (MSR) lumber. Each piece of MSR lumber is tested for stiffness and strength in an electromechanical machine.
To further refine the assessment, it's visually inspected to determine a grade. As a result, we know the lumber's strength before we create a material package for a customer.
MSR lumber is the only lumber subjected to this rigorous testing and quality control screening. This component will improve the performance and reliability of your structure.
Columns
Columns, also referred to as posts, are integral parts of a pole barn. They support the entire roof system and transfer all vertical loads to the footings. In addition, posts are the backbone of your walls and assist in resisting horizontal loads. There are two types of columns to look for in a material package: Laminated and Perma-Column.
Laminated Columns
The term "laminated column" refers to two or more layers of dimensional lumber that has been mechanically laminated with nails. Typically, these posts are made from 2x6, 2x8, or 2x10 lumber. They're strong, stress-rated, and pressure-treated.
Laminated columns are highly resistant to bending, twisting, or warping. Why? Because there's very little chance of a knot being in the same place on all three pieces.
Not to mention, laminated columns have greater longevity than solid posts. Each layer of lumber is completely permeated with wood preservative and kiln-dried. This treatment prevents rot and termite damage.
For maximum protection, we recommend looking for columns that are saturated with more than 0.80 lb./cu. ft. of Chromated Copper Arsenate (CCA) wood preservative. That's 33% more than industry standards, which you'll find at hardware stores and lumber yards.
Perma-Column® System
Alternatively, a material package allows you to upgrade your columns to a more permanent solution.
Perma-Columns are precast concrete columns that represent the evolution of post frame construction. They're sized to fit any laminated columns or solid posts.
This sustainable solution is guaranteed to withstand insect damage, decay, and rotting. No wood goes into the ground.
Using 10,000 PSI precast concrete, Perma-Columns are 3x stronger than standard concrete. Then, the columns are reinforced with 60,000 psi rebar welded to a ¼'' steel bracket.
Furthermore, they include microfibers to add shock resistance and durability, and microsilica to enhance compressive strength and erosion resistance.
A corrosion inhibitor protects the rebar reinforcement and brackets from rusting. A final admixture is added to give freeze and thaw protection.
Overall, this special mix guarantees a lifetime of durability. You'll be avoiding thousands of dollars in repair costs (rotten wood) by upgrading to Perma-Columns.
Fastening System
A fastener is a restraint that attaches to something or holds something in place. The term "fastening system" refers to the type of fastener used and how/where it's applied.
In pole barn construction, fasteners are used for attaching wood to wood and steel to wood.
The fastening system can have a dramatic effect on the structural integrity of your building.
The right choice will provide a long-lasting, tight connection between wood and steel materials. And it'll ensure a stronger, stiffer structure that'll still look good in the future.
When selecting a fastening system, we recommend using screws over nails. They have superior holding power compared to nails (700 pounds vs. 250 pounds). But, that's only part of the story.
Wood fibers tend to return to their original position when a screw or nail is driven into the fibers. Nails push the wood fibers down, while screws pull the wood fibers up. As the fibers try to return to their original position, they will push nails out and pull screws tighter.
When installing fasteners into steel, you have two choices: the top of the rib or the flat area in between the ribs. Connecting in the flat area is a tighter, more secure method.
Next, a firm, lasting grip maximizes seal effectiveness and strength. Look for a fastener that encapsulates the rubber washer (last line of defense against leaks).
If your washer is exposed to the elements, it will degrade over time, becoming less effective. Then, those pesky leaks will create a rotten and weakened structure.
Pay attention to the type of fastening system included in your material package. It's worth your while to evaluate the different offerings before making a purchase.
Sliding Doors
A door system is only as strong as the weakest link. If you're interested in a sliding door, then you'll want to make sure it's effective and efficient. That's why we recommend upgrading to the EasyMotion door.
The EasyMotion door opens and closes with the lightest touch. Metal-on-metal friction has been minimized at many contact points. The standard for sliding doors has metal rubbing against metal (or wood). This causes excessive wear and tear.
Whereas, EasyMotion's innovative features make it the easiest-to-use sliding door in the post frame industry.
StepSaver Latch System
Introduced in 2010, the StepSaver latch system saves you time and energy. No more running around to the walk-in door to disengage cam latches and snugger chains.
You can get inside your building in less time. Just turn the key and grab the handle. It's that simple!
Not to mention, the door can be unlatched and unlocked from the inside. This door latch is the first of its kind in pole barn construction.
Posi-Guide Track
The EasyMotion door features the Posi-Guide Track. It's an exclusive weatherproof system that ensures your sliding door opens and closes smoothly all year round.
The Posi-Guide Track doesn't collect rain, ice, snow, or debris (i.e., bird nests and leaves). A unique low-friction polymer roller is protected behind and underneath the track. This system keeps the door snug to the building as it operates.
Moreover, the track can match the color of your pole barn and will not rust.
Center Guide Options
No matter the size of your sliding door, there are three center guide options that'll work well with your operation.
First, a wood center door stub is the most cost-effective option if your approach and building pad will be gravel. We recommend this option if you're envisioning a concrete floor in the future.
Second, a concrete center door stub provides more stability. It's ideal when a concrete floor is not in the plans. Because these are made of steel versus aluminum, they are less likely to become damaged by equipment.
Third, a concrete apron approach provides the most stability against high winds when closed or in-use. The t-guides are positioned near the angle iron step, which minimizes bird and rodent entry when the doors are closed.
Re-engineered Strength
Lastly, the strength of a sliding door is mostly determined by the frame. The EasyMotion frame is thick, extruded aluminum that interlocks. The door has been engineered for minimal deflection and lasting endurance.
Aircraft-grade aluminum alloy on the frame and girts provides an outstanding strength-to-weight ratio. This produces a stiffer door that has less deflection in strong winds. At the same time, it's still light and easy to move.
Consultation (There If You Need It)
Unlike pole barn kits, you can upgrade your material package to include on-site consultation. If you have any questions or run into any issues, your post frame builder will be able to assist you. This option will provide you with peace of mind.
Overall, the price of a material package will vary by building size, features, and current material costs. Most construction companies include the delivery fee in the price.
Which Option Should You Choose?
As one of the top post frame builders in the Midwest, it's our job to get you thinking about your building options. If there's one thing we want you to take away from this reading, it's this...cheaper is never better.
Sure, pole barn kits may be initially cheaper than material packages. The price is appealing, but there's a reason why it's marked that low. Remember the saying, "You get what you pay for?" Don't forget it.
Ultimately, the decision of purchasing a pole barn kit or material package is up to you.
Maybe you've decided that DIY isn't the best option for you. Life happens. Your children (or grandchildren) keep you busy with school and extracurricular activities. Work demands your undivided attention.
Let's be honest. Building your own post frame structure is a major commitment. It requires expertise, resources, and time.
Plus, there's always the assumption of risk. For many people, it's worth it. Do you agree?
If not, you can design your own building with our 3D design tool. Save, print, or email your final plan to family and friends.
Are you ready for a quote? Submit your design to us, and a member of our sales team will give you a call to begin the estimating process.
In the end, we hope you get the dream building you've worked hard for and enjoy it for years to come.
---
Do you have more questions about material packages that are not covered in this article? If you need help designing and planning, please contact FBi Buildings at 800.552.2981 or click here to email us. If you are ready to get a price, click here to request a quote and a member of our customer engagement team will help you determine the next steps of your project.