Building Construction | Building Tips | Structural Integrity
Can a Pole Barn Have a Flat Roof?

Subscribe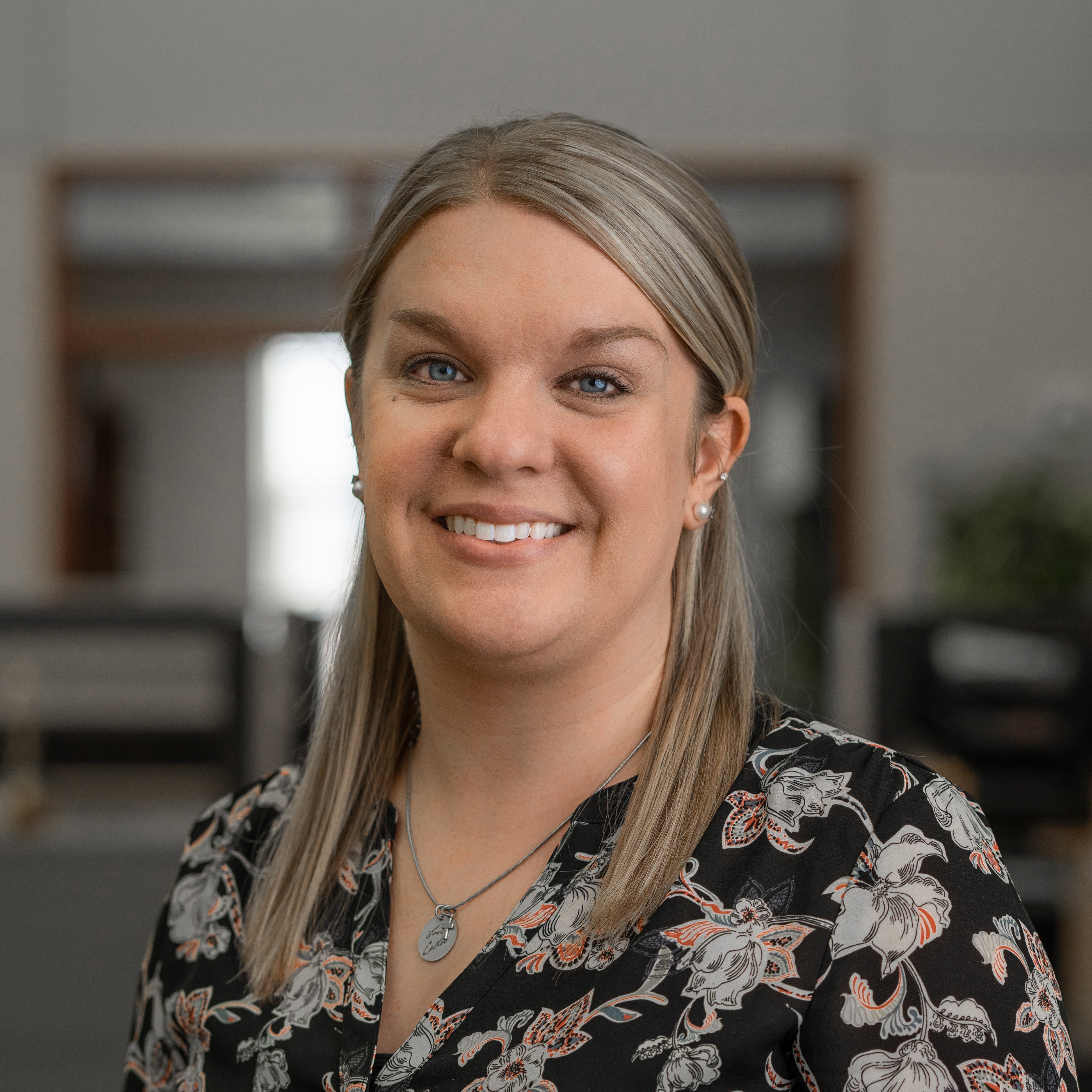 Angie graduated from Indiana State University with a Bachelor of Science in Interior Design. Prior to joining the FBi team, Angie was a kitchen and bath sales consultant in Lafayette, IN. In 2012, she started with FBi as the Inside Sales/Marketing Assistant. Today she holds the role as Marketing Project Manager. Angie grew up in a farming community and has always enjoyed helping her family on the farm. A past 10 year 4-H Member, her passion for livestock pursued her to take a career in the agriculture field. Her and her husband live in Northwest Indiana with their two daughters. In her free time, she enjoys outdoor leisure activities and spending time with friends and family.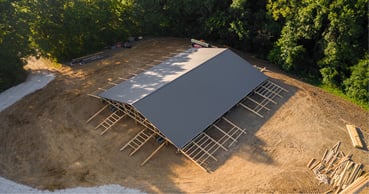 The prices in post-frame construction have dramatically fluctuated over the last two years. When prices were predicted to start dropping, other world events started happening, making the commodity markets even more unpredictable.
Some customers have decided to put their project on hold, hoping that prices will eventually drop. Others have decided that they are going to move forward with building their pole barn because they're uncertain when prices will drop.
You might even be going as far as finding cost-effective ways to build your pole barn, such as researching roofing materials, color combinations, roof styles, and pitches. Some choices are easy to make; meanwhile, others require a more in-depth thought process.
A flat roof might make sense to you because you assume it's a cheaper way to construct your pole building. Please keep in mind that the roof style and pitch will affect the structural integrity of your pole barn.
We realize these nitty-gritty details don't always come first to customers' minds unless they're familiar with post-frame construction.
In this blog, we will be discussing if having a flat roof is a structurally sound choice for your post-frame building.
Why is Structural Integrity Important in Post Frame Construction?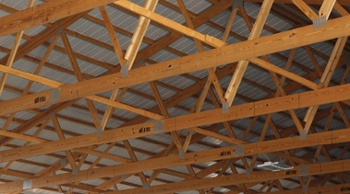 Before we start talking about the pole barn roof, it's important to understand how structural integrity plays a major role in your post-frame building.
Regardless if your building has a gambrel roof, gable roof, hip roof, or even a flat roof, if it's not structurally sound, you will more than likely run into construction problems down the road.
Structural integrity refers to a pole barn's ability to withstand anticipated structural loads without breaking. Any post-frame building, regardless of size and location, must be designed to resist vertical and lateral loads safely. First, vertical loads act in the up-and-down direction. Popular applications of vertical loads include:
Lofts
Deck systems
The weight of the building itself
Second, lateral loads act in a direction parallel to the ground, such as strong winds and seismic activity (earthquakes). These forces can work in any direction. Therefore, the pole barn must be designed to withstand loads, both parallel and perpendicular to any wall.
One "weak link" is all it takes to compromise the structural integrity of your pole barn. Therefore, each building component must be strong enough to carry out these anticipated design loads.
How Do Trusses Affect Pole Barn Structural Integrity?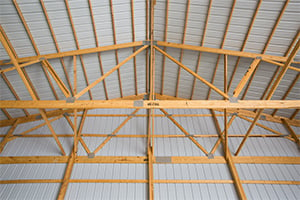 Please note that your pole barn is only as strong as its weakest component. That's why you must consider all areas of the building system before purchasing. Below, we list how trusses play a critical role in supporting the structural integrity of your pole barn.
A truss is a rigid framework of members designed to support the roof. You're probably familiar with its triangular shape. Trusses handle all the stresses received from the roof (via purlins and steel) and transfer those loads to the columns.

Having well-designed trusses is essential because if one fails, the others will follow pursuit. This domino effect results in building collapse.
To avoid truss failure, we recommend that you consider the following steps:
Select a professional builder whose truss plant is certified by a third-party inspection service
Check that your trusses are job ordered and engineered for your pole barn
Choose high-grade or

Machine-Stress Rated (MSR) lumber

(if applicable)
Use heavy-duty steel plates to conjoin the lumber at critical points
It's important to note that trusses are only one part of the overall building system. The entire post-frame structure must be designed to handle multiple stresses. You can have the most robust truss system, and your pole barn can still fail.
Can a Pole Barn Have a Flat Roof?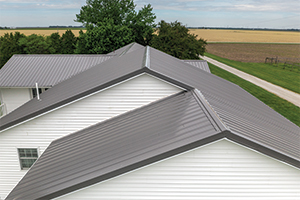 Contrary to what some people might say, pole buildings can be low-cost structures, it all depends on the overall interior and exterior features that you might choose. Pole barn roofs also have a few limitations. However, flat roof options are not the most common choice, but that doesn't mean your building can't have one.
For starters, flat, level roofs are probably not the most economic choice for a pole building. To provide for the maximum potential snow load, a flat, level roof requires stronger structural members, such as purlins and trusses.
The roof slope and shape also play a role in the snow load of the building. A steeply pitched roof will accumulate less snow in comparison to a flat or shallow roof.
For example, you build a small hobby shop in your backyard with a 12/12 roof pitch and your neighbor has a shed with a 2/12 roof pitch. Both structures will receive essentially the same snow load from any given snowfall, however, your building, with a 12/12 roof pitch, will accumulate less snow in comparison to your neighbor's building with a 2/12 roof pitch.
If snow load is not calculated correctly in the design stage of building your pole barn, issues could arise later on down the road, such as:
Your roof can begin to sag from the weight it endured
A sagging roof can start to leak
Lumber can become cracked
The drywall on the inside and masonry on the outside can begin to crack
Truss members, headers, rafters, columns, and purlins can bow
Sliding doors and windows might not be able to open correctly, if at all
These issues are the reason the structural design stage is vital. It's better to consider the consequences up front than have to deal with them later on. The more time you spend on designing means, the less time you'll spend on repairing pole barn damages.
Will You Be Choosing a Flat Roof for Your Pole Barn?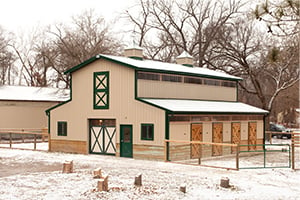 By now, you should have a greater understanding of how a flat roof can affect your post-frame building.
If you're still looking for design inspiration, we strongly encourage you to check out our pole barn gallery. This online collection is free to use – no strings attached. Simply just browse through the photo collection to see if anything stands out to you.
If a post-frame building catches your eye, but you'd like to make a few tweaks, please let us know. Our pole barns are built around your needs, and our specialty is making sure our customers get the building they deserve.
As always, you can design your post-frame building online with our 3D tool. Save, print, or email your floor plan to family and friends.
When you're ready for a pole barn quote, submit your building design to us, and a member of our sales team will give you a call to begin the estimating process.
---
Have more questions about open-sided buildings not covered in this article? Please contact FBi Buildings at 1.800.552.2981 or click here to email us. If you're ready to get a price, click here to request a quote, and a member of our sales team will call you.