Posts | Videos | Farm Buildings | Residential Buildings | Horse Barns | Comparisons | Commercial Buildings
Pole Barn vs Post Frame Building: What's the Difference?

Subscribe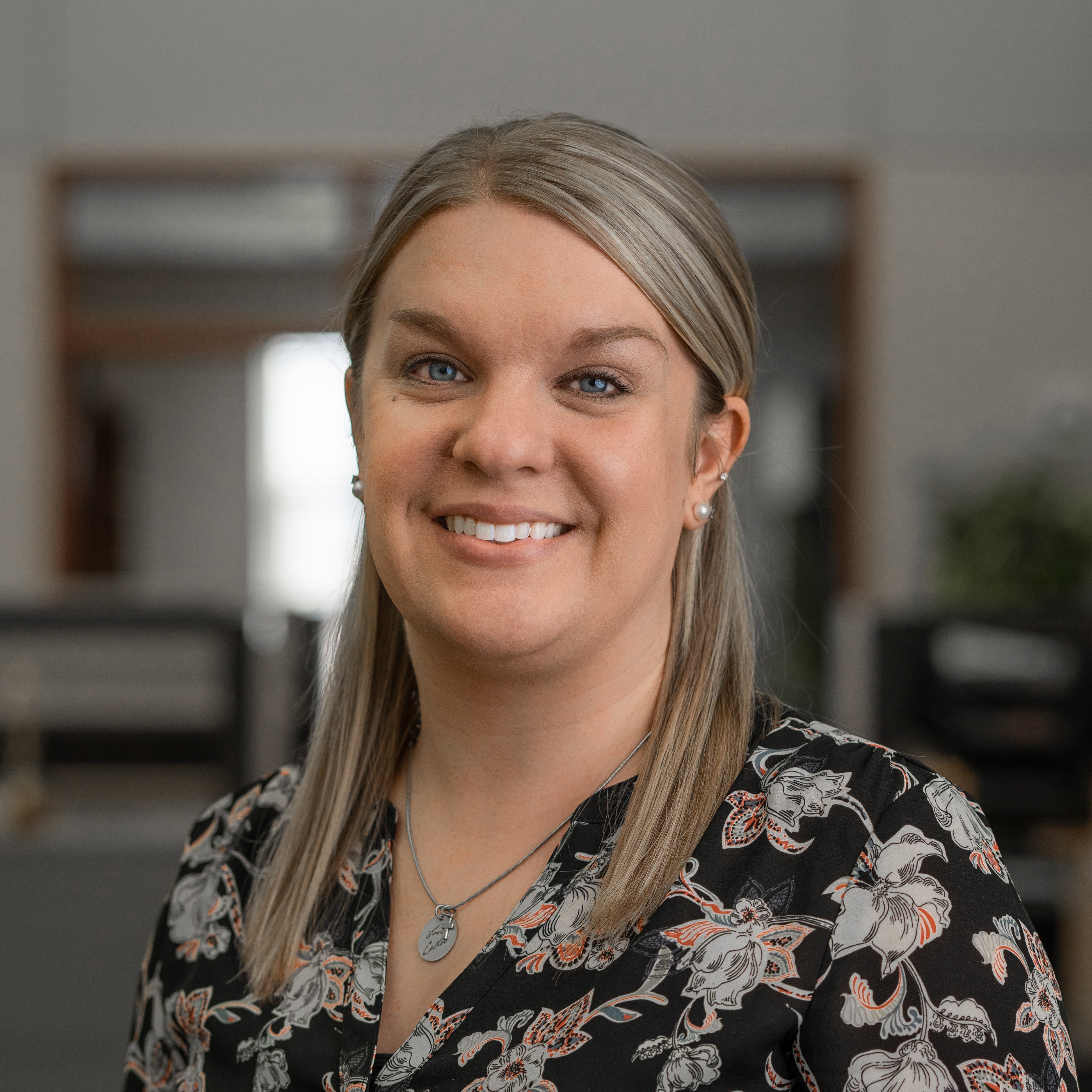 Angie graduated from Indiana State University with a Bachelor of Science in Interior Design. Prior to joining the FBi team, Angie was a kitchen and bath sales consultant in Lafayette, IN. In 2012, she started with FBi as the Inside Sales/Marketing Assistant. Today she holds the role of Sr. Marketing and Inside Sales Manager. Angie grew up in a farming community and has always enjoyed helping her family on the farm. A past 10-year 4-H Member, her passion for livestock pursued her to take a career in the agriculture field. She and her husband live in Northwest Indiana with their two daughters. In her free time, she enjoys outdoor leisure activities and spending time with friends and family.
Pole barn - a term that we have been familiar with since 1958. A term that we commonly use interchangeably with post frame building. A term that will always be used by our customers. You're probably wondering why? Because that's how we started our business. That's how our competitors started their businesses, and we all know how change goes...sometimes you just stick to what you've always done and/or referred something to because it's easier that way and you might even be afraid of what the change might bring.
So, let's answer the question that we can all agree to disagree on. Is a pole barn the same thing as a post frame building?
Is a pole barn the same thing as a post frame building?
Yes and no. Many people refer to post frame buildings as pole barns but very rarely do pole barns still exist. As a matter of fact, we were the first builder who began to use square posts. So, yes, we do build pole barns but know that the "poles" are now actually engineered 3-ply laminated wood posts or concrete Perma-Columns®.
It's a term that will never go away, and we're okay with that. However, the difference is making sure our customers are educated enough to understand that the "poles" they're referring to are actually square. Depending on who you choose for your post frame builder, each one of them will offer you different options for their laminated columns or "poles."
What Can I Use a Pole Barn or Post Frame Building For?
There's a common misconception that pole barns can only be used for farm buildings, and we understand why people would think that. That's what the root of our business was based on (and the same goes for our competitors) for a long time...hence why our name started out as Farm Builders, Inc.
However, over time we realized that we needed to do something different...we needed to think outside of the box...and we needed to provide our customers with more options than just agricultural buildings for farmers and ranchers. FBi's business was starting to expand and we needed to be ready to serve our customers in a way that we never thought possible.
The beauty of post frame buildings is flexibility with design. Not all buildings are the same. There are no interior columns inside the building so you can virtually do anything with the interior of your building...all while saving money.
So while farm buildings may be a popular option for post frame, you also can build commercial buildings, residential buildings, and even equine buildings. And the best part? They don't have to look like a standard pole barn.


What Are the Different Types of Post Frame Buildings?
1. Farm Buildings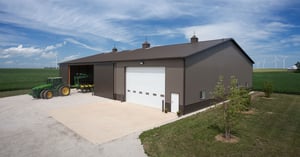 Are you needing a new post frame building but are unsure of what floor plan will best fit your needs? Or, maybe this is your first time putting up a pole barn, and you want to make sure you understand all of the design options and building features.
There's a variety of options that you can do with a farm building. From tractor and implement storage, farm shops, open-sided buildings, or even multi-purpose buildings,...who says farm buildings need to be a basic square building with little to no features? That could be an option if you decide tractor & implement storage is the best solution for your needs, but it doesn't have to be if you're looking for a multi-purpose building.
Our farm buildings can include many special features that address your needs and add to the attractiveness of your structure. Some of these popular features include:
Because post frame construction gives you greater power over the floor plan and design access, due to wood framing and widely spaced columns, you have greater freedom to customize the perfect pole barn solution for your farm operation.

2. Commercial Buildings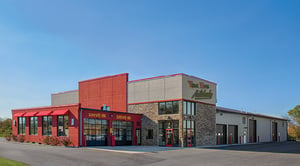 Do you already have a commercial property and are ready to put up a commercial pole barn building? Or, are you needing input about the best location for your industrial post frame project due to zoning and permitting issues?
From retail, industrial and warehouse buildings, municipalities, and even dealerships make sure to find a commercial builder who has in-house designers and engineers to make sure you get the exact post frame building you're looking for.
However, that isn't the only thing you should be looking for. It's equally important also to find a builder who will work closely with you for site planning, permitting, zoning, code requirements, and design and engineer drawings.
Pole barns should not be out of the running for your next commercial building. They give you the ultimate in cost savings, flexibility, and durability. They also start saving you money by saving you time. How's that possible? Because post frame construction is faster to build than stick-built.
Other benefits also include:
Just remember, it is possible to get a versatile commercial pole barn building that will save you time and money.

3. Residential Buildings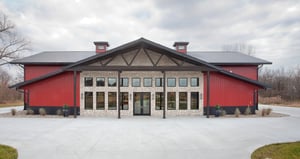 Do you have a good understanding of the different types of residential buildings? Whether you are looking for a garage, hobby shop, or just extra room to put all of your stuff, your dream residential pole barn can become a reality. Whether your dream pole building is a woodworking shop, storage for that brand new boat, or space to keep all of your tools, find a builder that can help you design it and bring it to life.
When looking for a pole barn builder near you, find a builder who:
Only uses quality building components that fight against the weather and

corrosion

Has an in-house design team who will help you design a building that looks good on your property

Can build an energy efficient building that is engineered to withstand

wind and

snow loads

Will work with you from discovery to scoping and permitting, to construction, and will give you service after the sale
Stronger than traditional stick-built buildings, pole barn residential buildings are not only long-lasting, they're also attractive.
4. Equestrian Buildings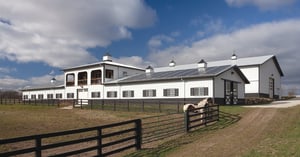 Horse barns need to be pleasing to both horse and rider. Whether horses are your business or hobby, your top priority should be to keep them safe and their riders safe...and quality built pole barns will do just that.
From basic stall barns to large boarding stables, riding arenas, and hay storage, horse barns can be designed to meet exactly what you're looking for.
When you choose post frame for your equine building, you can customize it to enhance your property and lifestyle with stylish amenities and helpful features, such as porches, dormers, indoor wash stalls, storage for feed and tack, cupolas, and much more.
No matter what your dream is for a horse barn or equestrian center, custom-built post frame buildings are made just for your site.


Which Type of Post Frame Building Will You Choose?
So, do you understand the difference between a pole barn and post frame building? Whatever term you decide to use just know that your
options will always be endless when you choose post frame.


---
Have more questions about pole barns or post frame buildings not covered in this article? Please contact FBi Buildings at 1.800.552.2981 or click here to email us. If you're ready to get a price, click here to request a quote and a member of our sales team will call you.