How Will Supply Chain Affect Pole Barn Construction in 2022?

Subscribe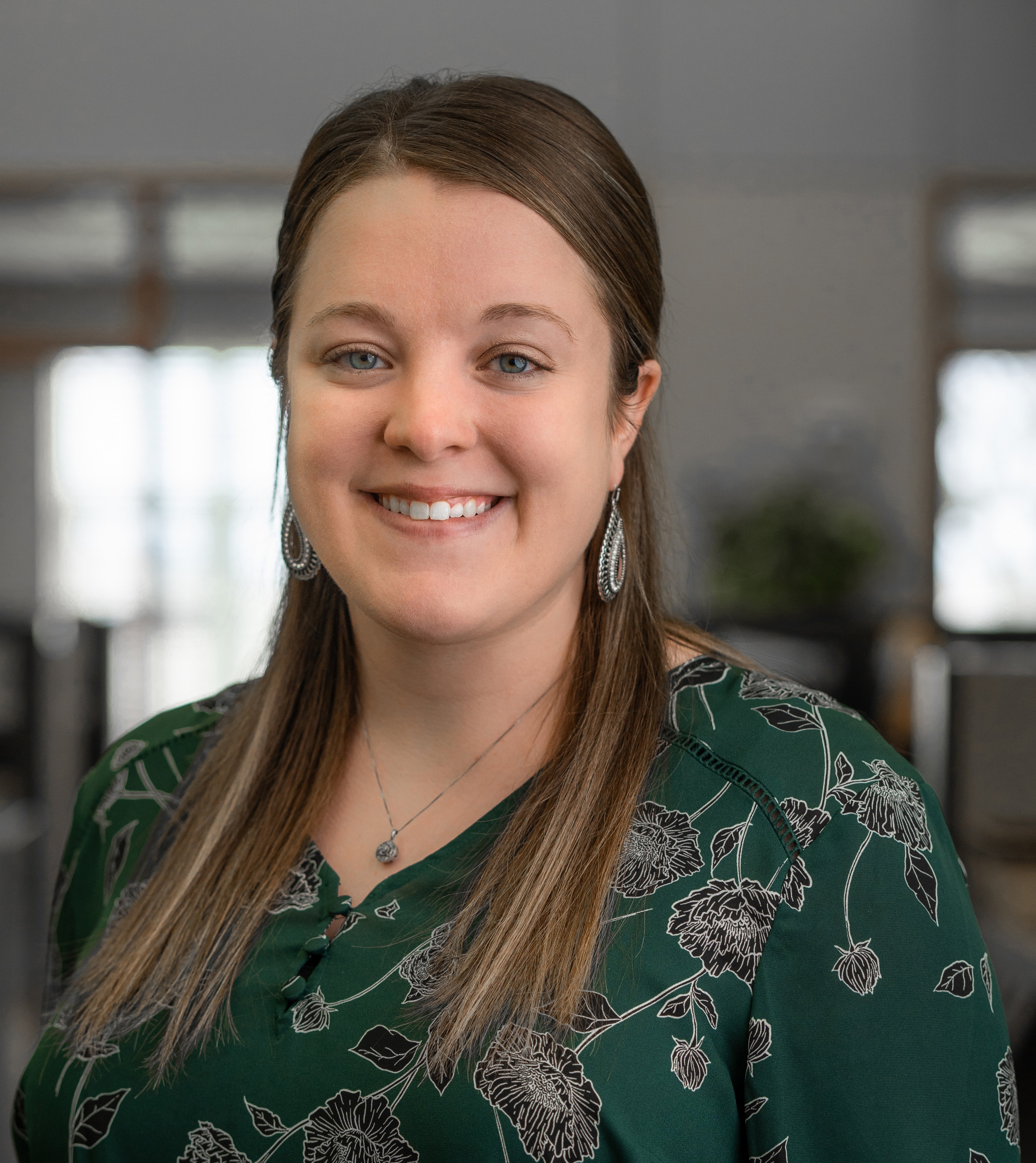 Cori grew up on her family's small grain and livestock operation in Northwest Indiana. In 2018, she graduated Summa Cum Laude with a Bachelor's degree in Business Administration/Marketing from Marian University Indianapolis. Having shown beef cattle for 12 years at the county, state, and national level, Cori chose to pursue a career in the agriculture field. Today, she serves as the Marketing Content Creator on the FBi team. In her free time, Cori enjoys spending time with family and friends, watching sports, listening to music, and traveling.
As the holiday season approaches, global supply chains are once again making news headlines. These ongoing problems have led to good shortages and shipping delays across all industries, including post-frame.
This article discusses how the "Great Supply Chain Disruption" (as coined by experts) affects pole barn construction and what FBi Buildings are doing to ensure our customers' building needs are met heading into the new year.
Editor's Note: This article covers a lot of information regarding supply chain woes and post-frame construction. Please feel free to skip ahead to sections you find the most prevalent to your search.
Table of Contents
What is a Supply Chain?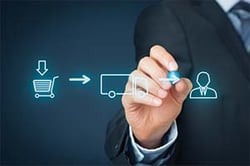 It's been a while since we've taken an economics course but defining a supply chain is relatively easy to understand.
It's a term that describes the planning, sourcing, manufacturing, distribution, and delivery of products or services from the point of origin to consumption.
Most businesses operate a complex supply chain network composed of many components, also known as supply chain nodes. These links connect to one another via flow paths.
Inventory and products, as well as information, travel along the flow paths to the various supply chain nodes. The ultimate goal is to ensure that consumers' needs are met efficiently.
What is Causing the "Great Supply Chain Disruption?"
1) A Classic Case of Supply vs. Demand
It's hard to believe that 2022 is right around the corner when it seems like yesterday the world was quarantining itself amidst the uncertainty of the coronavirus (COVID-19).
Workers across all industries were asked to stay home or social distance (if deemed an essential business) in an attempt to "flatten the curve."
During this time, lumber prices reflected the decline in residential construction, despite home builders' best efforts to push projects through the pipeline. To control plummeting futures, major sawmills dialed back on the production of building materials. Some wood producers shut down their factories for the foreseeable future.
U.S. steel prices also dropped in response to key buyers suspending their operations. Consequently, steel mills halted production and decreased capacity utilization rates.
Meanwhile, the rest of the country quarantined in the comfort of their homes with their electronic devices.
Some people passed the time learning the latest Tik Tok challenge. Others treated themselves to retail therapy and filled their Amazon shopping carts.
Property owners brainstormed home improvement projects, such as a new post-frame building in the backyard. Why not take advantage of those unbelievably low-interest rates (0 to 0.25 percent) on loans?
And that's how we ran into the first supply chain issue.
Problem #1: Manufacturing companies shut or slow down production while consumers are still buying products. Inventory levels are depleted (so prices go up), and producers must determine how to reopen their business in a global pandemic.
While trade has bounced back significantly since the start of the COVID-19 outbreak, the supply chain is still experiencing setbacks. So, let's take a closer look at the other red flags, shall we?
2) Port Congestion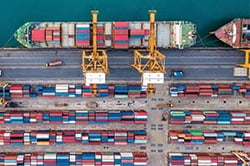 Virtually every U.S. home (and pole barn) contain items that have made their way through the Los Angeles or Long Beach ports. These imports (mainly from Asia) arrive in 20-foot to 40-foot shipping containers.
Cargo ships arrive off the west coast and into their assigned berths, offloading the shipping containers and taking more freight.
Once unloaded, the shipping containers are hauled away by truck or railcars to the distribution centers, factories, stores, and warehouses.
At least, this logistics network worked until mid-2020.
Fast-forward a year later, the wait times for docking and unloading cargo ships have grown to about 10 days. Then, most shipping containers will sit at the port for a week (or longer), waiting for their next destination.
And that's how we ran into the second supply chain issue.
Problem #2: The influx of imports caused by consumers' increased buying habits during quarantine has bottlenecked the main ports.
3) Labor Shortage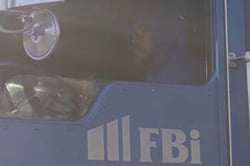 Another reason why the supply chain can't move all this freight on time is because of the nationwide labor shortage. Not necessarily at the ports, but farther down the road (no pun intended).
After the shipping containers are unloaded, truckers and warehouse workers are needed to move these goods cross-country.
As the need for long haulers grows, the number of qualified candidates dwindles. The reasons behind this labor shortage vary:
Older truckers viewed quarantine as an opportune time to retire
Truck driving schools have temporarily closed due to the pandemic
The nature of the job is a turn-off (long hours and away from home for an extended period)

Current regulations limit drivers' hours to 11 hours

(and they may sit at the port for that long in a single day)
Consequently, the ports are hiring local drivers to move shipping containers to nearby distribution centers and warehouses. Only to come up against the next obstacle – finding people to handle the freight at these places.
And that's how we ran into the third supply chain issue.
Problem #3: Workers throughout the entire supply chain process are hard to find for several reasons.
4) Mother Nature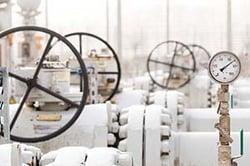 As Midwesterners, we know firsthand that Mother Nature is unpredictable and uncontrollable. But never in our wildest dreams would we imagine a winter storm pummeling Texas in February 2021, leaving most of the state without power.
Because of its location, Texas is home to many manufacturing companies and an extensive intermodal freight network.
Factories couldn't operate until electricity was restored. The Union Pacific Railroad had no choice but to reduce train lengths and shut down in some territories.
And that's how we ran into the fourth supply chain issue.
Problem #4: Mother Nature can cause infrastructure problems for input materials.
How Do Supply Chain Disruptions Affect Pole Barn Construction?
Now that you have a better understanding of the current supply chain woes, we can finally dive into how they affect post-frame construction. That's why you're still reading this article, right?
Believe it or not, most shipping containers consist of raw materials or parts that U.S. factories need to make their products, including those found in pole barns.
If you're ready to move forward with construction on your pole barn, we recommend checking out The Ultimate Guide to Building a Pole Barn. This free guide will help you navigate all of the steps that you need to take to insure your pole barn is done right...from start to finish.
Which Building Materials Are Affected by Supply Chain Issues?
A) Lumber & Steel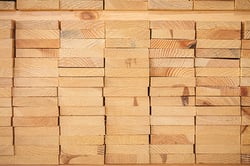 As stated above, lumber and steel were affected by the COVID-19 scalebacks and shutdowns.
Unsurprisingly, post-frame builders were faced with a double whammy. Without lumber or steel, there is no such thing as building farm shops, commercial businesses, detached garages, and horse barns.
Sawmills and metal manufacturers have since reopened, trying to meet the surging demand since consumers were quarantined with home improvement ideas. Do you remember those funny memes circulating on social media?
On top of production delays, the lumber and steel must be delivered to distribution centers, warehouses, or hardware stores. Then, post-frame builders must drop the building materials off at the job site.
Again, manpower is needed to move freight.
B) Kynar 500 Paint System
Polyvinylidene fluoride (PVDF), popularly referred to as Kynar 500®, is the premium resin for pole barn paint.
Its unique formula contains one of the strongest bonds known to humankind. A mixture of fluoropolymer resin and ceramic pigments produces excellent resistance to fading and weathering.
Moreover, the Kynar 500 coating is an excellent binder for electrodes found in lithium-ion batteries, specifically those used in electric vehicles.
Automotive and paint manufacturers are now battling over the resin ingredients currently sitting in shipping containers needed to coat their semiconductors and metal panels, respectively.
C) Windows
Incorporating energy efficiency into your building design is crucial, which is why we recommend installing high-quality windows.
Like sawmills and metal manufacturers, glass companies had to halt production due to the global pandemic, making it increasingly difficult to meet the growing demand.
Suppliers have warned customers about extended lead times, or worse, unavailability – all impacting the ability to serve end consumers efficiently.
D) Spray Foam Insulation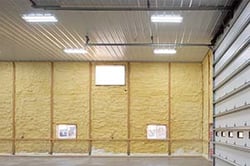 Furthermore, there's a foam shortage caused by the winter freeze in Texas.
Chemical plants shut down, specifically, those producing propylene oxide found in sprayed polyurethane foam (SPF). Sadly, some companies lost a percentage of their supply in burst pipes.
In recent years, SPF has become a popular application for pole barn insulation instead of fiberglass batts. It fills and seals all exposed areas and cracks within the post-frame building, giving you greater protection from air drafts and moisture.
Due to the chemicals and equipment involved, you should hire a professional spray-foam contractor to do the job.
How Do FBi Buildings Continue to Build Pole Barns Amid Supply Chain Disruptions?
Navigating these supply chain issues has been challenging for post-frame builders, big and small.
At FBi Buildings, our Purchasing Department has been aggressive with buying building materials and pushing construction projects since the start of COVID-19.
1) Explore Vendors and Establish Relationships
In light of these unforeseen circumstances, we've been able to re-evaluate our vendors and their offerings, allowing us to establish new relationships with name brands and offer cost-effective solutions. These partnerships are not only exciting for us but our customers too!
2) Create and Execute Effective Processes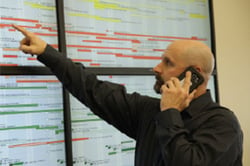 It's safe to say that we haven't had one pole barn project where every single building material was delivered on time. There has been some sort of supply chain delay or hiccup that's outside our control.
To continue meeting our customers' timeline, we've implemented a process that allows us to track the delivery dates of building materials. While we might not always like the timeframe, we at least know it and notify the Project Managers (PMs).
If the delivery dates don't match the proposed timeline, we can pursue other options to keep moving along. Open and honest communication with all parties involved allows us to meet expectations.
Overall, these strategies allow us to continue building pole barns in 2021 and the start of the new year.
Are You Ready to Move Forward with Your Pole Barn Project?
As one of the top post-frame builders in the Midwest, we must make sure you know the ongoing supply chain issues and how it affects your construction project.
Are you ready to take the first step and request a quote? Submit your building design, and a member of our sales team will call you to begin the estimating process.
---
Do you have more questions that aren't covered in this article? If you need help designing and planning, please contact FBi Buildings at 800.552.2981 or click here to email us. If you're ready for a price, click here to request a quote, and a member of our Customer Engagement team will help you determine the next steps.