Building Tips | Structural Integrity | Site Preparation
Can You Pour Concrete before or after Your Pole Barn?

Subscribe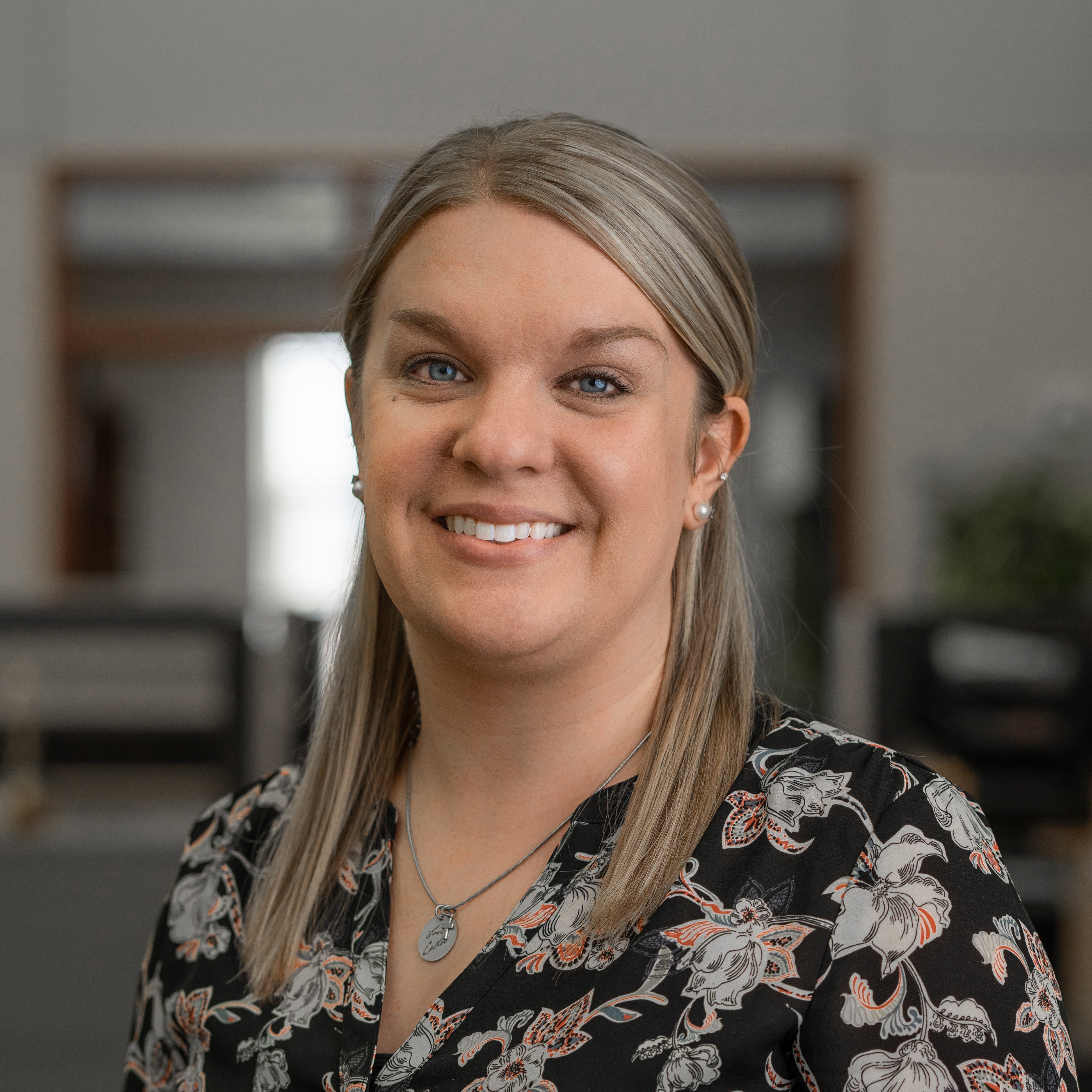 Angie graduated from Indiana State University with a Bachelor of Science in Interior Design. Prior to joining the FBi team, Angie was a kitchen and bath sales consultant in Lafayette, IN. In 2012, she started with FBi as the Inside Sales/Marketing Assistant. Today she holds the role of Sr. Marketing and Inside Sales Manager. Angie grew up in a farming community and has always enjoyed helping her family on the farm. A past 10-year 4-H Member, her passion for livestock pursued her to take a career in the agriculture field. She and her husband live in Northwest Indiana with their two daughters. In her free time, she enjoys outdoor leisure activities and spending time with friends and family.
One of the most common questions our Project Sales Consultants are asked during the pole barn building process is whether or not the concrete pad should be poured before or after the post frame building is constructed.
The short answer to this question is it depends. I know that seems like a very vague answer, and you were probably hoping for a definite response. But, unfortunately, too many variables go into pouring your concrete and the overall design of your post frame building.
No two post frame builders are alike. Meaning each one has its preferred construction method. Some builders might prefer that your concrete slab is not in place before construction, while others might tell you it doesn't matter.
One of the best things we can provide you with is the factors influencing your final decision.
This article will discuss how your site preparation and building features will influence your decision on when you should pour concrete for your pole barn.

4 Factors to Consider When Pouring Your Concrete

Before your post-frame builder can launch into construction, you need to ensure your job site is prepped.
Investing in site preparation will extend your pole barn's lifetime and reduce total project costs.
The overarching goal is to ensure that your post frame project runs smoothly – on time and under budget.
For your convenience, we briefly detail the site prep steps regarding the location of your building pad, which will affect your future flooring, in this case, concrete.

1) Where Should You Place Your Building Pad?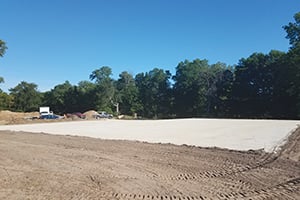 You must identify the exact position of your new pole barn. Please consider the following questions as you select a location:
How will people and equipment move around your building and property?

How will excess water drain away from your building?

How will your new building line up with existing structures or roadways/driveways?

How much excavation does your proposed pad need to be level?

Will you have enough room on your property for large equipment to maneuver around? Think semis, gradalls, and concrete trucks.
Your Project Sales Consultant can draft an extensive site plan that will be communicated with your excavator. Having a detailed site plan will help your project run smoothly from start to finish.
Now that we've covered the steps you need to take to ensure your building pad is prepped for your concrete, let's dive into when the best time to pour your concrete will be.
2) Time of Year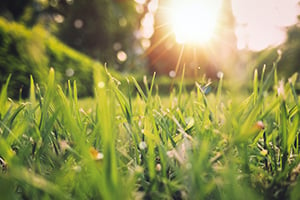 The beauty of post frame construction is its ability to build year-round. However, your excavator and concrete company may disagree. Frozen ground (winter) and mud (spring) can hinder when you pour your pad.
However, winter isn't an impossible time to pour concrete, and some certain tips and tricks can help your pad get finished.
Some concrete companies might add calcium chloride to their mix. Calcium chloride can help depress the freezing point of water.
Other companies might add hot water to their mix. As one of the key ingredients in concrete, water is essential for the curing reaction. Therefore, hot water can help encourage curing to occur more quickly.
As you're well aware, the winter months also bring frost. You do not want to pour concrete on the frosted ground. If this does happen, your concrete will do one of two things:
Create voids in the pad, which will lead to cracking

Greater the chance of frost heave
​​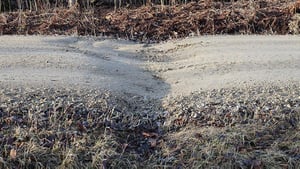 Frost heave is the upward swelling of soil caused by ice formation during freezing weather. Frost heave can compromise the structural integrity of your pole barn.
One way to help manage frost heave is by putting down a layer of Visqueen. The Visqueen acts as a barrier between the frozen ground and the concrete.
If you're expected to have your pad poured in the winter, your concrete company might use burlap curing blankets. The burlap will help evenly distribute water over the freshly poured concrete. Now that you have more knowledge about the winter months, in our opinion, the prime weather is in the spring and fall. The weather temperature during these months is pretty stable (meaning no extreme difference from hot to cold).
Too much cold or rainy weather can hinder the cure time for concrete. The longer it takes the concrete to cure, the more susceptible it becomes to weather issues.
We also understand that some post frame projects are driven by deadlines (you might not control when your building needs to get done). So yes, spring and fall have advantages over winter, but it doesn't mean you can't get your pad poured in the winter.
3) Building Details (Size and Door Placement)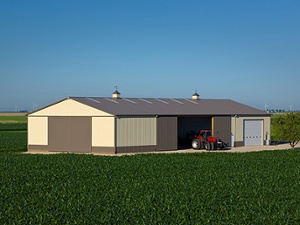 "Can my pad be poured before my building gets constructed?" To answer the question at hand, yes, it can be done. However, just because it can be done doesn't mean it's the best option for you. Depending on the building size, pouring concrete can be easier or more complex.
If your building will have overhead doors (think farm building or commercial warehouse), how big will those doors be? Your overhead door size will help determine when your concrete should be poured. If your door openings are less than 14' tall, you could run into accessibility issues with the concrete truck (especially if your building shell is already up).
With the shell of the building up, your only access is through the door openings. If this happens to be the case in your situation, the concrete company might have to rent a dump truck or concrete buggy. Either direction will create extra costs if they can't get in and pour their way out.
Speaking of cost, you might be wondering how much concrete costs nowadays. Keep in mind that the price does depend on the size of the pad, the thickness of concrete, and the type of reinforcement used (welded mesh, re-bar, fiber mesh, accessibility to the building pad, etc.).
We have seen concrete range anywhere from $5 - $8 per square foot.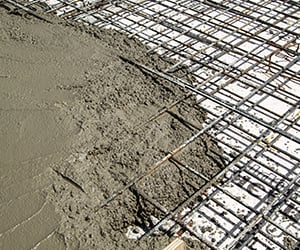 But, (yes, there is always a but in these situations), some concrete companies might prefer to have the shell up because they may not like the pad being exposed to the weather. Also, if rain occurs during the curing period, that could affect the process.
Concrete typically takes 24 to 48 hours to dry enough for you to walk or drive on it. However, concrete drying is a continuous and fluid event and usually reaches its full adequate strength after about 28 days.
On the flip side, the concrete truck can drive through the door openings if you do a stub ahead and the shell is not up.
A stub ahead is where our crews will come in before the concrete is poured, and place your columns at least three feet in the ground. Once the concrete has been poured (and cured), the crews will return and finish setting the columns. A stub ahead helps lessen the risk of columns being unknowingly hit by concrete trucks.
In summary, your building height and overhead door size will help determine if your pad should be poured before or after your building is constructed.

4) Potential Building Damage (Hitting Columns, Bumping Steel, Etc)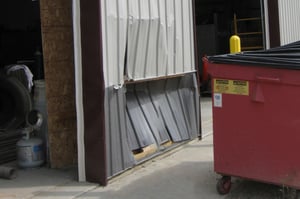 If you decide to pour your concrete after your building has been constructed, there is a potential risk for building damage. Your post frame columns tend to be "targets" for concrete trucks. Pouring slabs with columns only in place will add to the risk of one of them being knocked out of square.
However, the risk will be reduced if your concrete gets poured before your building shell is constructed by doing a stub ahead.
Another potential risk to watch out for is steel damage. With a completed structure, you take the risk of your steel getting hit once the shell is up. Although minor, it could happen.
You also have to watch out for the "splatter factor" that could happen to the inside of your steel. This occurs when your concrete gets poured and splatters on your wall.
You might not think that it's a big deal and you'll clean up the problem later, but this could potentially cause steel corrosion. This is because the backside of steel doesn't have the same protection as the exterior.
At FBi Buildings, we use galvalume-coated steel for our post frame buildings (roof and siding). Galvalume battles rust 2x to 4x longer than galvanized steel. For more information on galvanized vs. galvalume, watch the video below.
When Will You Pour Concrete for Your Pole Barn?
Now that you have a better understanding of the overall factors that will influence your pole barn concrete, it's up to you to decide whether you want your concrete slab in place before or after construction.
Regardless of which decision you choose, FBi Buildings can help you construct the farm shop, commercial building, or riding arena of your dreams. Our in-house construction crews have years of experience in the post frame industry and are used to working around existing concrete slabs or a site prepped for concrete after construction has finished.
Let us help you with your building by requesting a pole barn quote today!
If you're ready to move forward with your post frame project, we also recommend you check out The Ultimate Guide to Building a Pole Barn. This guide will help you navigate the steps that you need to take to insure your project gets done on time and under budget.
Sources:
How Long Does it Take To Dry?
---
Do you have more questions that are not covered in this article? If you need help designing and planning, please contact FBi Buildings at 800.552.2981 or click here to email us. If you are ready to get a price, click here to request a quote and a member of our Customer Engagement Team will help you determine the next steps of your project.