Subscribe
Can You Use Steel Trusses for a Pole Barn?
Building Construction | Structural Integrity | Building Design
Over the years, the span size of trusses has evolved. In the 1980s, post frame builders commonly used 60' (one-ply) trusses, and larger trusses (72' and 80') were made of two-ply lumber. The more ply (or layered material), the stronger the truss.

At the time, post frame builders were unable to hang or lift trusses without any bending or bowing. The higher up in the air, the more stress placed on the lumber. Consequently, it was easier to produce and swing one-ply trusses.
Naturally, engineers and post frame builders began to push the limits. So why not incorporate larger truss spans into the building designs without sacrificing high-quality material?

Eventually, this idea led to the birth and application of 100' clear-span trusses, but what if you're looking to construct a building that's over 100' wide? Will wooden trusses be the best option for you to use?

Can you incorporate steel trusses with a pole barn, or does it have to be a steel-framed building?

This article will discuss the advantages and disadvantages of using steel trusses in a pole barn.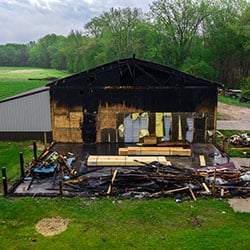 Why Do People Consider Steel Trusses?
Steel has a highly resistant nature which makes it resistant to fire and pest infestation. Therefore, steel trusses ensure that you do not experience pest and termite problems to which wooden structures are susceptible.
Similarly, steel trusses, when appropriately coated, are almost impossible to perish in the fire.

Another benefit of using steel trusses is the capability to be environmentally friendly. Steel is a material that is 100% recyclable, and when fabricators prepare steel structures, the material they use is 90% recycled.

Steel is also a good component when you're looking to construct a wider building than 100'. Of course, pole buildings are still a candidate for buildings wider than 100', but it's still important to understand the differences between the two materials.


Steel Trusses vs. Wood Trusses: Advantages and Disadvantages
Steel and wood are both designed to carry the snow and wind load ratings for the area. Therefore, if your structure is engineered to carry the load, both systems are acceptable materials to use.

As a post frame builder, we are naturally inclined to lean towards wood trusses. Wood is an easier material to work with (think attic, gambrel, and A-frame trusses) when constructing post frame buildings.

All of this can be done with steel, but it would be more tedious and labor extensive; the ease of fabrication is better with wood.

The lists below discuss the advantages and disadvantages of steel vs. wood from a material and overall truss system perspective.


Material Comparison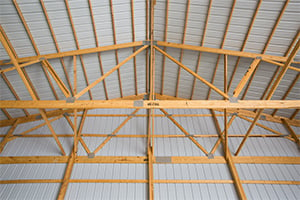 1) Energy Efficiency (Thermal Conductivity)

Wood is more of a thermal barrier than steel. Depending on the species and moisture content of the wood, wood can transfer heat about five hundred times more slowly than steel.
2) Strength

Steel is a more robust material than wood. Therefore, it takes less material than steel to carry the same amount of load.
3) Durability

Both materials are durable in their way. However, steel is more durable from a pest perspective (rodents and insects). However, both materials are susceptible to damage from water infiltration (rot and corrosion).

Some methods can be used to mitigate either phenomenon from occurring.

4) Fire Resistance

Wood is a combustible material while steel is not. However, timbers, although combustible, can deliver a significant resistance to fire. This would be attributed to the charring effect, where the outer layer of wood chars protects the inner core. When this occurs, a timber structure will outlast a steel structure.

However, this statement is only valid if you're dealing with large solid-sawn and glulam timbers. Dimensional 2x material, typically used in post frame trusses, would not behave the same way in a fire.

5) Uniformity

Wood is an organic material containing variations in grain patterns, knots, sizing, etc. Despite the uniformity, there are measurable ways of knowing what the strength of the members is.

Unlike wood, steel is a homogenous material with much less variation. However, like lumber, there are many different grades of steel.


Truss System Comparison
1) Economical

Steel likely becomes a more economical solution for widths over 100' in the heavier snow load areas. However, wood is more economical from a price standpoint.

2) Ease of Building / Manufacturing

Wood is a lighter material than steel. This makes it easier for handling during manufacturing and/or installation on the job site.

Wood trusses are also plated to the columns, while steel trusses require welding and bolting, resulting in more labor.
3) Strength

The main point to hit on is that every engineer will use the smallest possible amount or size to carry the needed loads regardless of the material they are designing with.

The idea that a building is stronger because it uses steel trusses is naive because wood is equally strong when engineered correctly.


How Do Engineers Play a Role in Pole Barn Construction?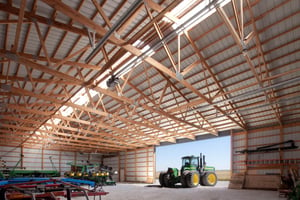 Most post frame companies wouldn't have the knowledge of truss design and grading without the help of experienced engineers.
Civil engineering refers to the design, construction, and maintenance of buildings and infrastructure that make up our world. The typical duties of a civil engineer include:
Analyzing reports, maps, and other data to help plan projects

Considering costs, regulations, environmental hazards, and other risk factors when planning a project

Verifying and submitting permit applications to local, state, and federal agencies

Providing estimates (e.g., materials, equipment, and labor) to determine project costs

Testing materials used in building projects

Using software to plan and design structures that line up with industry and government standards
To be a civil engineer, one will need a bachelor's degree in civil engineering or one of its specialties.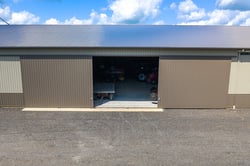 Leadership positions require a Professional Engineering (PE) license. A PE oversees the work of other engineers, approves blueprints, and signs off on construction projects. State licensure varies by state, but general requirements include:
A degree from an accredited engineering program

A passing score on the Professional Engineering exam

Relevant work experience under a licensed engineer
Some contractors or construction companies hire external engineers. However, we recommend working with post frame builders who have licensed engineers on staff because outside firms don't always have your best interest at heart.
However, in-house engineers work with you on your pole barn project from start to finish. They think creatively and strategically to provide a better end product for you.
The FBi Engineering Department consists of four individuals with degrees in engineering and specialties (i.e., agricultural, architectural, biological, and civil). They work closely with our Project Sales Consultants to determine design requirements while meeting customers' needs and wants.


Will You Ever Use Steel Trusses in Your Pole Barn?
We understand that was a lot of information to absorb. However, if there's one thing we want you to take away from this reading, it's that steel trusses can be used in pole barns if it's the right application (meaning larger buildings).
It's important to remember that pole barn trusses have come a long way since we joined the post frame industry in 1958. From truss span to lumber grading, it's amazing to look back and see how far we've come. However, sometimes you have to think outside of the box to meet your customer's needs, and maybe steel trusses will help you meet their needs.
Either way, whatever option you choose, you'll be getting a long-term building.
If you're considering steel trusses for your next project, we recommend doing your homework and speaking with a licensed engineer before you get too far into the planning process.
When all of your questions have been answered, you can design your building with our 3D design tool. Then, save, print, or email your floor plan to family and friends.


Resources:
What Do You Know About Structural Steel Trusses?
Q & A: Performance of Steel vs. Wood Beams in a Fire
---
Have more questions about open-sided buildings not covered in this article? Please contact FBi Buildings at 1.800.552.2981 or click here to email us. If you're ready to get a price, click here to request a quote, and a member of our sales team will call you.