Building Construction | Horse Barns | Riding Arenas | Building Features
Top 10 Horse Barn Features: How Much Do They Cost?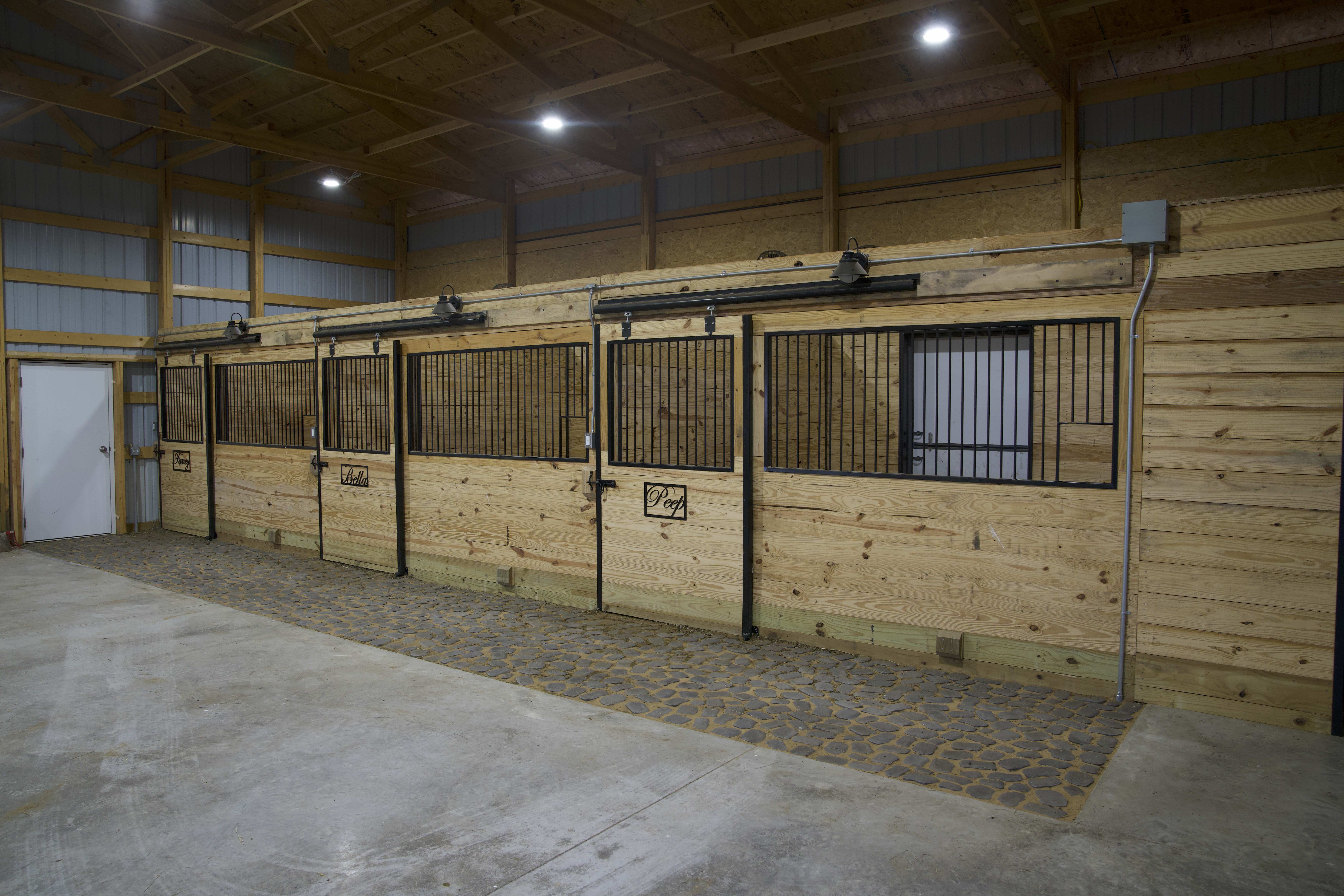 Subscribe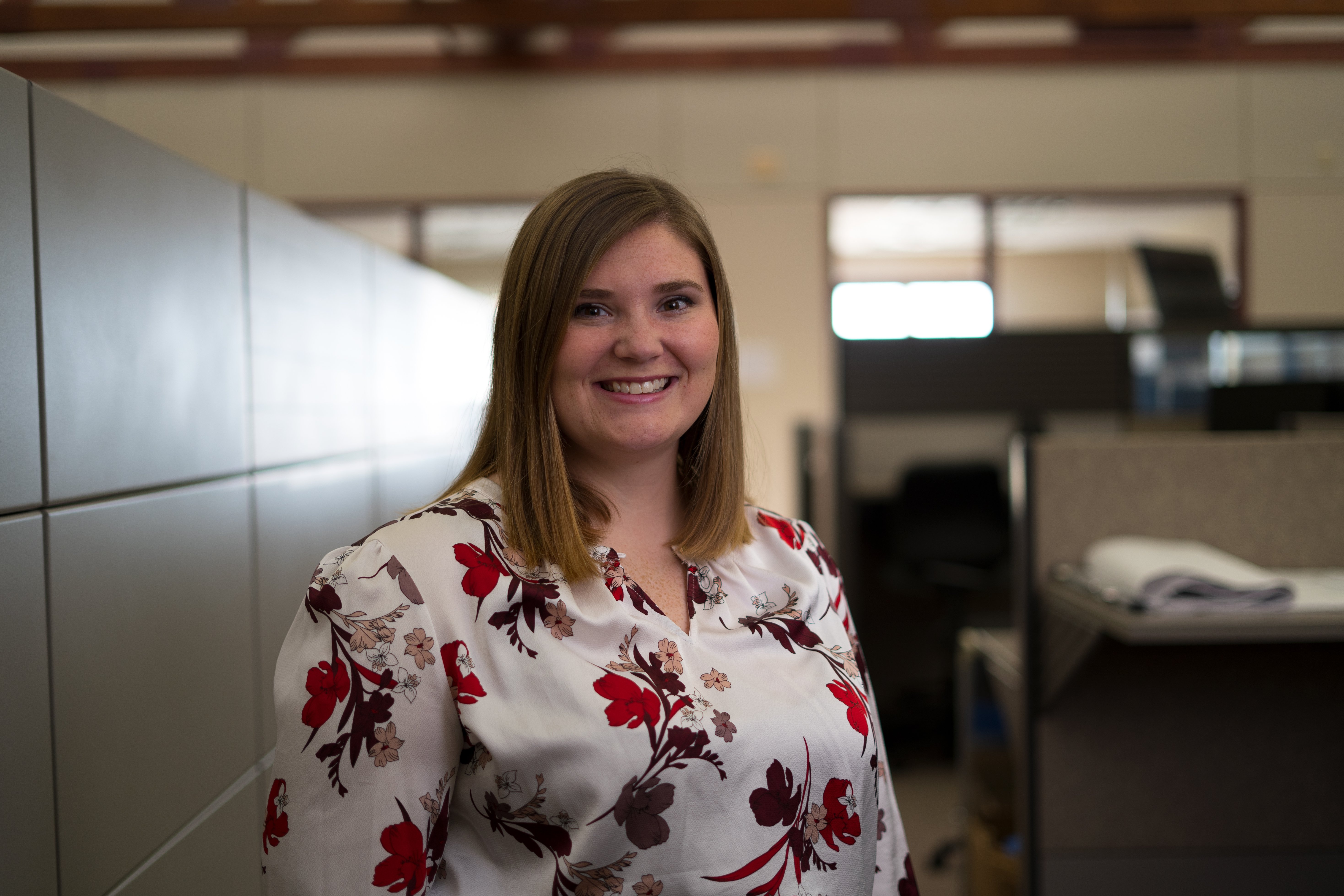 Nettie joined the FBi Marketing team in 2022 as the Marketing Content Creator. Nettie grew up just outside of Des Moines, IA. In 2016, she received her BS in Agriculture Communications from Iowa State University. Upon graduation, she has worked in agriculture sales and marketing. She moved to Indiana in 2020. Outside of work, Nettie enjoys quilting, crocheting, crafting, canning, gardening, fishing, and hunting. She is married and enjoys spending time with her husband and dog.
Whether you own a couple of horses as a hobby or dozens for business, designing a horse barn to meet your needs is vital. When it comes time for you to build an equine barn, there are ten features you can add to your pole barn to get the facility you need.
Top 10 Horse Barn Features:
Condensation barrier
Wash bay
Stalls
Sliding barn doors
Natural Light from Skylights & Eavelites
Cupolas
Dutch Doors
Tack Room
Hay storage
With a wide range of features, horse barns can vary widely in price. So how much do you want to spend, how big of a facility do you need, and what features do you want to include?

This blog outlines the prices you can roughly expect regarding the price of a horse barn. Please note that these prices are subject to change and are based on pricing in June of 2023.
Top 10 Horse Barn Features
1) Condensation Barrier
A condensation barrier may not be the first thing you think of, but it is one of the biggest things that can affect your horse's health.
Often we think that a barn should be insulated just like a home. But in fact, that can do more harm than good. You should NEVER spray foam a horse barn. This traps moisture and, without proper ventilation, leads to mold growth.
According to the University of Minnesota, horses acclimated to cold temperatures and often prefer it. Depending on their hair coat, they are most comfortable at temperatures between 18° and 59° F.
Horse barns offer shelter from rain, snow, wind, and heat. That is why proper ventilation to prevent condensation build-up in horse barns is vital.
Without ventilation, it can lead to:
Mold growth
Lumber decay
Poor human and animal health
Discoloring of stored possessions (e.g., vehicles and furniture)
Vented ridges are standard on FBi Buildings. Some additional ventilation features include 12" or 24" overhangs, cupolas, doors, windows, and mechanical ventilation, such as Big Ass Fans.
When horses breathe, they give off CO2 that then creates condensation. In addition, the manure and wash bay add moisture to the air. Horses need 4-5 air exchanges per hour to prevent moisture build-up.
A product we recommend equine enthusiasts consider adding to their barn is Thermax Condensation Barrier on the roof. At ½" thick, Thermax is $2.80 a square foot.
While there are additional options for condensation management, such as MoistureLok, we recommend ½" Thermax for a horse environment. Other products can cause the moisture to drip, where the Thermax helps prevent moisture buildup and condensation in the first place.


| | |
| --- | --- |
| Condensation Barrier | 1/2" Thermax $2.80/square foot |
2) Wash Bay
Just like humans, horses need a shower too. Instead of tying your horse outside, consider adding a wash stall area. These wash bays can have treated wood, cement blocks, or even fiberglass-lined walls. There are several factors to consider.
First, consider where in the barn you want the wash bay. To save money, try to place the horse wash bay near the laundry or restroom to save money on water and sewer lines.
Speaking of water, next, consider where your water and electricity are. Together these are a deadly combination. Ensure that no electrical outlets are nearby. If you install a water heater, ensure it is in a waterproof cupboard. If you have concerns, double-check with an electrician!
12' x 12' is our recommended size for a wash bay for the horse and groomer's safety. Also, consider adding rails. A 12' x 12' treated wood wash bay for horses costs approximately $3,500.
Drainage and runoff are also essential to consider. Your wash bay should be high enough to allow the water to run downhill. We recommend a concrete slab with a drain for runoff water.
The final thing to consider is what flooring to use. A concrete slab scored with a rake or broom will help eliminate slips. Some customers also add rubber mats for their horses' comfort. A gravel floor may drain well, but most horses prefer to avoid standing on uneven flooring.
| | |
| --- | --- |
| 12' x 12' Treated Wood Wash Bay | $3,500 |
3) Stalls
Our horse barn stalls are the perfect addition to any equestrian center or barn. High-quality building materials and craftsmanship ensure durability, while attractive designs allow maximum efficiency and functionality. When designing stalls for your equine facility, our recommended size is 12' x 12'.
Our standard FBi Building's horse stall is 12' x 12'. The top section of the stall wall and the door has ½" diameter black powder-coated grill tubes. We use untreated 2' x 8' tongue and groove #1 southern yellow pine lumber for the bottom half.
The very bottom two rows are treated 2' x 8' lumber to help protect the wood from urine and help with the longevity of your stall. Our standard horse stall front includes a 12" x 12" feed opening on the front of the grill.
There are many options when it comes to stall doors. Our standard high-quality horse stall door has a black powder-coated grill top and solid horizontal 2' x 8' tongue and groove #1 southern pine wood. Having the top grill powder coated leaves a glossy black finish and provides superior corrosion resistance.
When it comes to the cost of the horse stalls, there are many manufacturers that will range in features and price. For our standard 12' x 12' FBi stalls, you can expect roughly $4,500 per stall.
The first stall would require four walls, and each stall after that needs three, so depending on your layout and the number of stalls, this price can fluctuate slightly.
Another element to consider for your horse stall is a window grill. This allows the horse to get natural light into its stall but protects the window from the horse breaking it. The downside is it can be more challenging to open for fresh air. A window guard for a horse stall costs $450 each.
If you are also getting a quote on the cost of a Morton horse barn, we recommend reviewing our article on Morton vs. FBi Building.
| | |
| --- | --- |
| 12' x 12' FBi Standard Stall | $4,500 per stall |
4) Sliding Barn Doors
When looking at pictures of horse barns, you probably noticed many customers selected sliding barn doors with windows on top and crossbuck on the bottom.
These doors are sometimes called country squire or Arcadia-style doors. They come in several sizes, but the most common is 12' x 12'.
One misconception is that you can see out of the windows. As you can see in this picture, even the horse can not look out.
But don't let this deter you from adding these beautiful doors to your project! These doors add aesthetics and natural light to your barn. Plus, this is a functional feature. A 12' x 12' sliding barn door currently runs $7,500 per set.
If you don't want such a fancy look, a standard split sliding door may work better for you. Another option is an overhead door.
If you like convenience, then an overhead door is the best option for you. However, these can be a costly option. Both overhead doors and sliding doors will range depending on the size. Please note that FBi Buildings only frames for overhead doors. Our Project Sales Consultants will gladly help you find a local vendor for these doors.
Overhead doors edge out sliding doors when it comes to:
Weather resistance and seal

Performance under snowy, icy conditions

The capability of remote control access

Security
Sliding doors edge out overhead doors by:
Remember that when you need to back up your horse trailer, where on your land will the building be placed to best turn around? What door works best for you to load horses, unload hay, and utilize the horse barn best?
These factors will help you decide if a standard slip sliding door, a sliding door with windows and cross buck, an overhead door, or a combination of them will work best for your pole building.
| | |
| --- | --- |
| 12' x 12' Sliding Door with Crossbuck & windows | $7,500 per set |
5) Natural Light
Skylights
Just like during COVID, we all longed to be outside again. A great way to bring the outdoors in is by adding skylights!
At only $75 per skylight, this affordable additional feature adds some natural light and can lift the spirits of your horses.
The downside to skylights is sometimes they can leak when it rains.
If you add skylights to your horse arena, the shadows can scare your horse, so skylights are best in the stall barn area. Consider adding ridge lights or eavelights to an arena.
Eavelites
Another great feature to consider adding is eavelites. This low-cost feature adds natural light. They are typically 24" tall and go the length of the building or to your desired size.
The eavelites are under the overhang at the top of the side wall. The 24" eavelites run $14 per foot.
They are made of polycarbonate material that does not fade or discolor. The polycarbonate material is weather resistant, durable, provides UV protection, and has a ten-year warranty. They come in clear, soft white, and white opal.
To help you decide if eavelites or skylights are best for you, we put together this video with more detail to help you decide.
| | |
| --- | --- |
| Skylights | $75 each |
| 24" Eavelites | $14 per foot |
6) Cupolas
Cupolas are the squares that sit on the top of a roof, typically with a weathervane. They are often made of metal but can also be made of other materials.
Cupolas add to the overall aesthetics of your horse barn. Typically they are just for looks, but you can add fans to the cupolas to increase the airflow of your horse barn.
Removing the moisture from manure and condensation from your horse's breathing helps you provide a safer living environment for your four-legged friends. Adding a fan to a cupola costs roughly $1500 for the materials or approximately $3,000 after installation with an electrician.
They come in 24", 36", or 48" bases, but they can be as big as 66". 36" is the most common size, but 48" cupolas are used relatively often, especially on larger post-frame buildings.
A 36" x 36" cupola can cost $2,300 each. The price for 48" x 48" is $3,000 each.
A typical look on equine stall barns is to add glass panels or windows to the sides of the cupolas. Adding glass costs $1,000 for a 36" x 36" cupola and $1,200 for a 48" x 48."
| | | | | |
| --- | --- | --- | --- | --- |
| Cupola Size | Standard | With fan | With glass | With fan & glass |
| 36" x 36" | $2,300 | $5,300 | $3,300 | $6,300 |
| 48" x 48" | $3,000 | $6,000 | $4,200 | $7,200 |
7) Dutch Doors
A Dutch door is a 4' x 7' exterior door typically added to the back wall of horse stalls. It has the signature X on both the top and bottom. They commonly come in double Dutch, meaning that both the top and bottom can either swing open together or separately.
They also come as a single swing and open at the top to allow the horse to peek its head out, bringing in fresh air and sunlight.
An exterior Dutch door provides functionality and added quality of life for your horse. Nothing beats having the windows open at home on a nice summer day, so why not give your horse that same sense of serene tranquility and add double Dutch doors to your horse barn? The 4' x 7' Dutch doors cost $5,200 each.
| | |
| --- | --- |
| 4' x 7' Dutch Door | $5,200 each |
8) Tack Room
After a long day of trail riding, nothing beats a tack room. Having a place to store your saddle, blankets, bridles, brushes, and other related equipment is essential to prevent your expensive supplies from getting dusty and dirty. In addition, it helps keep clutter out of aisleways.
Tack rooms can be any size that your floor plan allows, but our standard recommended size is 12' x 12'. A tack room also should include an interior deck over the ceiling. A 12' x 12' tack room would cost $5,500.
An additional perk to adding a tack room is storage for your feed. This can protect feed from moisture from a nearby wash bay and helps deter mice. Plus, you can safely store medication and cleaning supplies away from your horse.
| | |
| --- | --- |
| 12' x 12' Tack Room | $5,500 |
9) Hay Storage
Regarding hay storage, you can design your post-frame equine barn to have a corner for storage, build a room, or add a hay loft.
Having hay piled up in a corner can be cost-effective. But if you want to keep your hay separate from a nearby wash bay and look more tidy, consider a hay storage area. For a 12' x 12' area lined with center match and no interior decking on top, it would cost $1,600.
Another option is to add a second-floor loft. With this, you can add an access door in the gable. The advantage is that you can easily scoop hay into the stalls below. This deck would run above a 12' aisle. The cost for a hay loft is $9 a square foot.
Having your hay near your horse can save on additional labor. But remember that moisture-ridden haystacks and bales can catch fire because of a chemical reaction that produces heat. To prevent a fire in your horse barn, consider alternative storage areas.
| | |
| --- | --- |
| 12' x 12' Hay Storage | $1,600 |
| Hay Loft | $9/square foot |
10) Pole Barn Porch
Pole barn porches add functionality and charm to your barn. Many customers opt to add a porch over the Dutch doors area of the horse barn. A horse barn porch adds extra comfort to your horse by providing shade and protection from wind and rain.
Another place to consider adding a porch is over an entryway. A similar feature to consider is a mansard; if you want the added unique style over your entrance and a beautiful addition to your new building but at a lower price than a porch, this is a good choice.
To determine the price of a pole barn porch, you must first find the linear footage. Adding the length to the width of the porch will give you linear footage.
Next, multiply that number by $200-250 to find the cost of a wrap-around porch.
Today a porch costs $200-250 per linear foot. There is a range since you may choose to wrap your columns in cedar, or you may want to add miter joints.
| | |
| --- | --- |
| Porch | $200-250 per linear foot |
What Features Are You Going to Add to Your Horse Barn?
| | |
| --- | --- |
| Feature | Cost |
| 1/2" Thermax | $2.80/square foot |
| 12' x 12' Wash Bay | $3,500 |
| 12' x 12' Horse Stall | $4,500/stall |
| 12' x 12' Crossbuck Sliding Door | $7,500/set |
| Skylight | $75/each |
| 24" Eavelites | $14/foot |
| 36" x 36" Cupola | $2,300 |
| 36" x 36" Cupola with glass | $3,300 |
| 36" x 36" Cupola with fan | $5,300 |
| 36" x 36" Cupola with glass & fan | $6,300 |
| 48" x 48" Cupola | $3,000 |
| 48" x 48" Cupola with glass | $4,200 |
| 48" x 48" Cupola with fan | $6,000 |
| 48" x 48" Cupola with glass & fan | $7,200 |
| 4' x 7' Dutch Door | $5,200 |
| 12' x 12' Tack Room | $5,500 |
| 12' x 12' Hay Storage | $1,600 |
| Hay Loft | $9/square foot |
| Porch | $200-250/linear foot |
This blog only outlined the top ten features. There are additional features such as windows, doors, foundation, and bird blocking that we did not discuss but are outlined in our Ag Features Guidebook.
As you can see from above, the features can add up quickly! Just six Dutch Doors added to a horse stall barn would cost $31,200. Depending on your budget and the features you desire for your equestrian oasis, you can expect to spend $75-100K+ in added features.
Trot over to our design online feature to select your desired features, colors, and size. From there, our sales team will create a free quote outlining the current pricing for the size and features selected.
---
Have more questions about pole barn trusses not covered in this article? Please contact FBi Buildings at 1.800.552.2981 or click here to email us. If you are ready to get a price, click here to request a quote and a member of our sales team will call you.