Posts | Building Tips | Building Features | Cost
6 Cost-Effective Ways to Build a Pole Barn

Subscribe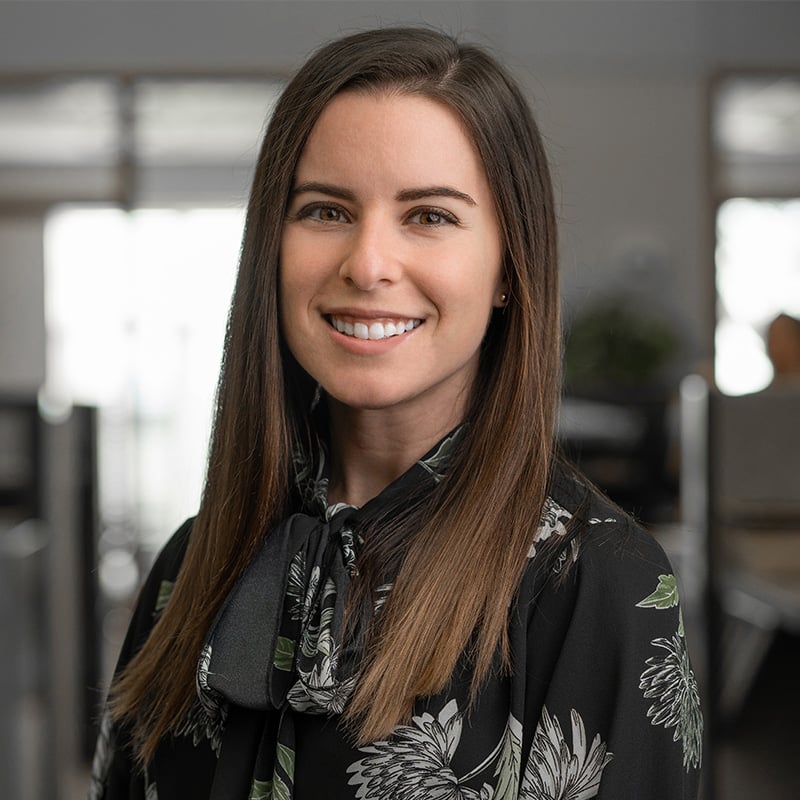 After working in the banking industry for 5 years after college, Courtney realized she needed a change and decided to pursue a new career path. Growing up she has always been creative and enjoyed writing, taking pictures, or painting. Now as the Marketing Content Creator for FBi Buildings, she gets to utilize her creative abilities in her everyday work. In her free time, you can find Courtney at home reading a book, partaking in any and all outdoor activities, or traveling and photographing her adventures. Courtney resides in Northwest Indiana with Lacey, her red tick coonhound.
You work hard for your money, so you want to ensure those dollars are properly spent. If there is a way to cut costs and keep the bottom line down, who wouldn't want to take advantage of that? More and more people are looking to save their money instead of spending it all, and we can't blame them.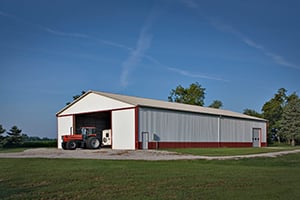 There are ways to keep costs down without compromising the overall product and functionality of your building, even if that means foregoing some specifications you wanted originally. One of the advantages of post frame construction is the flexibility for every budget and every need. Some things we believe are necessary actually end up being irrelevant.
Building a pole barn can seem intimidating because it's a considerable investment that requires a great deal of thought and decision-making. With the copious quantities of building features available for post frame buildings, it's tough to decide which of those features you'll actually need. The more upgrades you include, the higher your bottom line will be, and that is the most unnerving part of all.
But hey, that's what we're here for. We'll walk you through how you can save money on your future pole barn so you can see just how far your money can take you. You might be surprised to learn the ways your post frame building can be cost-effective. We're all about helping you cut costs without jeopardizing the overall structural integrity of your pole barn.
How Can I Save Money Building My Pole Barn?
Let's get straight to the point. Post frame construction projects, like any construction project, can be a bit expensive if you're not careful. You've compiled a list of options you'd like included in the design, and before you know it, your total cost to construct has skyrocketed. Wait… what just happened?
Now you're looking for ways to lessen costs when building your pole barn. If cutting costs by doing your own electrical, plumbing, painting, or miscellaneous site work is not your type of thing, don't worry; we've got a list of other options you can choose from.
Keep reading for the top 6 ways you can cut costs without feeling like you're cutting out what you really want.
6 Ways to Build a Cost-Effective Pole Barn
1. Ixnay the Concrete Foundation
Concrete is a great foundation for any type of post frame building from agriculture to suburban to commercial. However, it's not always necessary. Agriculture cold storage pole barns and suburban storage shops are a great example of where concrete isn't always needed.
Concrete is expensive, so by opting out of a foundation, you are looking to save a big chunk of money. There are other flooring options available that will cut costs drastically, such as:
Dirt
Gravel
Stone
Asphalt
Wait, did we really just say asphalt? Yes, it's really been done before. While it's pricier than dirt or gravel, it's still cheaper than concrete. Keep in mind, however, that this option requires a lot of future maintenance and could end up being costly in the long run.
Keep in mind, too, that if you plan to heat or cool your building in the future, concrete is critical, so this option might not be up for debate.
2. To Finish or Not Finish the Interior?
It is extremely easy to rack up the bill by finishing the interior of your pole barn. Sure, having a finished look is more appealing to the eye, but is it always necessary?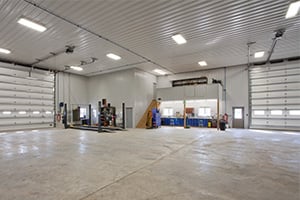 While drywall is one of the most popular options, it's also one of the most costly. Not only do you need to prepare the structure for stud walls to secure the drywall, but you'll also have to invest in proper pole barn insulation. Without insulation, moisture can seep into the drywall and cause rot, which will end up costing you money on building repairs.
Steel liner packages are also a popular choice for finishing the interior of a post frame building. This option is energy-efficient, more durable than drywall, and low maintenance. On the flip side, if the steel does become damaged, it can become susceptible to rust.
The most cost-effective option would be OSB. It's incredibly versatile and much cheaper than both drywall and the steel liner packages, so this choice is appealing to a lot of people. One downside of the OSB is that it cannot be painted or stained, leaving your pole barn looking unfinished. If this is a minor detail to you, then OSB just might be the way to go.
In the end, a post frame project without an interior finish being done will save you thousands of dollars on the initial price.
3. Go With a Sliding Door
Overhead doors are convenient, and boy do we love this factor. For someone who plans on moving large equipment in and out every day, the convenience factor can't be beaten. Plus, overhead doors come with a garage door opener so that you don't have to get out of your combine to open and close the pole barn door.
What else do overhead doors come with? A sizable price tag.
To keep your costs down, a sliding door would be the better route. While they don't come with the convenience factor of an automated door, they do come with a smaller price tag. However, doors with the StepSaver Latch System are more convenient than you would imagine.
The StepSaver Latch System prevents you from having to walk around to the walk door to get inside your pole barn and unlock the sliding door. Now, you can do this from the outside (and inside) just by turning the key and grabbing the handle.
4. Install Wainscoting
Some people like wainscoting because it's aesthetically pleasing to the eye, but did you know it can be used as a protective barrier, too? Accidents happen, so if there is any way to help alleviate the cost of repairs, we're here for it.
Wainscoting is a relatively inexpensive feature to include on your post frame building, and they're also easily replaceable. Replacing a damaged panel that is three feet tall is much less expensive than replacing a damaged panel that is 16 feet tall. This option can potentially save you from spending a ton of money on repairs in the future should your pole barn endure some damage.
5. Eliminate Unnecessary Building Features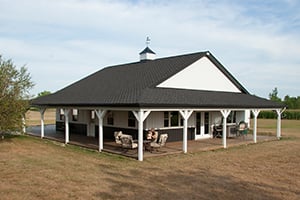 Certain building features can really make your pole barn stand out, but if they do not serve a purpose, should you include them in the building design? For example, if the following are not a necessity and could stretch your budget a little further than you'd like, it might be a good idea to leave them out:
All of these extras are difficult to pass up, but again, if they do not serve a purpose, it's best not to spend the money on them if you're looking to keep pole barn prices down.
If you're looking to spend the money on something you'll definitely need, use this money to upgrade your interior from OSB to an interior liner package. Perhaps you really do need that overhead door instead of a sliding door?
6. Use Quality Materials
We cannot stress enough about how crucial structural integrity is. By using the highest quality materials available, your pole barn will be able to withstand the test of time.
Now, you're probably wondering to yourself, "wouldn't using high-quality materials actually cost me more?" The correct answer is: yes! But it will only cost you more at the beginning of the project.
Utilizing inexpensive materials might seem like a great idea initially, but once you consider what the future may look like, all you will see are dollar signs.
When it comes to using high quality, durable materials, here are a few of our favorites:
Laminated columns: these columns are specially treated to prevent the columns from rotting. The treatment soaks all the way to the core to ensure that no part of the column is left vulnerable to decay. This option for your wood posts is more cost-effective, but an even more durable option would be Perma-Columns.


Perma-Columns: these columns are wood posts that are secured in the ground by concrete. Since the wood is not touching any part of the dirt, rotting will not be an issue. Spending a few more bucks on these columns will still cost you less than having to repair rotted wood columns in the future.


Stainless steel screws: we believe that screws are a better option than nails when it comes to post frame construction. Screws are stronger and can hold your building together better. Plus, stainless steel screws that have an umbrella head can prevent leaks from occurring in your pole barn, and they'll never rust. Winning.


Galvalume treated steel: steel coated with Galvalume will have a longer life than Galvanized steel. Galvalume is a combination of zinc, silicon, and aluminum that will combat corrosion better than any other steel.

Keep in mind, too, that steel with a lower gauge and higher yield strength will be more durable. Harder steel offers resistance against potential damage, such as dents or objects penetrating the steel and leaving a hole.


Quality lumber: the most important factor in structural integrity is the quality of the lumber being used. Lumber that is MSR tested is preferred, and if it's all done in-house under stringent quality control standards, that's even better.
Kynar 500 Paint: Traditional polyester paint isn't the wrong choice, but what if something even better is available? Kynar 500 paint has a unique formula that is one of the strongest bonds known to humankind, offering resistance to weathering and fading. It will hold up against abrasion, chemicals, extreme weather, solvents, and ultraviolet radiation.
How Will You Build a Cost-Effective Pole Barn?
Now that you've learned about the tips and tricks to keep your post frame building costs down, what building features will you choose for your design? We understand it's easy to be indecisive during the design stage when trying to decide upon the options you want. As long as you remember to build with confidence, you can conquer any project.
---
Do you have more questions about pole barn costs that are not covered in this article? If you need help designing and planning, please contact FBi Buildings at 800.552.2981 or click here to email us. If you're ready to get a price, click here to request a quote, and a member of our Customer Engagement Team will help you determine the next steps of your project.