Posts | Building Tips | Farm Buildings
What Size Should I Make My Farm Building?

Subscribe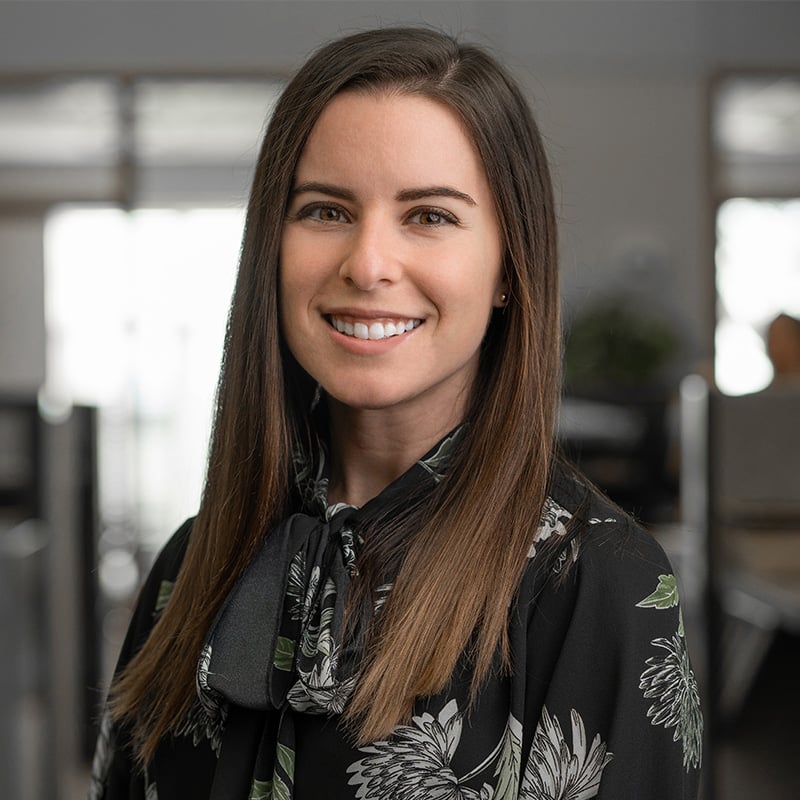 After working in the banking industry for 5 years after college, Courtney realized she needed a change and decided to pursue a new career path. Growing up she has always been creative and enjoyed writing, taking pictures, or painting. Now as the Marketing Content Creator for FBi Buildings, she gets to utilize her creative abilities in her everyday work. In her free time, you can find Courtney at home reading a book, partaking in any and all outdoor activities, or traveling and photographing her adventures. Courtney resides in Northwest Indiana with Lacey, her red tick coonhound.
Farming is a significant job and, depending on the classification of farming, can require a great deal of equipment and machinery. Farmers have combines, tillers, plows, tractors, balers, and planters - just to name a few.
If you are a farmer or if you have ever been around these types of equipment, then you know they are definitely not small. The equipment and machinery in farming keep getting larger and larger, and the last thing you would want to happen is to run out of storage space.
On the other hand, if you're raising farm animals, this too is a significant task at hand. Depending on how many animals you have on your farm, you know they take up a great deal of space as well.
In order to protect farm equipment, machinery, and farm animals from the elements of the outside world, it's crucial to have a place to store and house them if possible. Pole barns have been a widely popular option for farm equipment and animals for many years.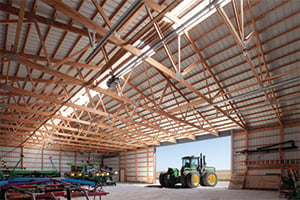 Not only are pole barns used for tractor and implement, but numerous farmers utilize their pole barn for a farm shop or an office too. When you are looking to build a post frame building, it is essential to keep these options in mind. Even if this is something you do not need at this point in time, a shop or an office could potentially be something you'll want in the future.
One of the best things about pole barns is how customizable each one is. You have the option to choose virtually any size, color combination, and numerous building features that will best fit your needs. With the design tools that are available today, deciding on what size pole barn works best for you has never been easier.
We'll take a look at the different variables that will affect how big your farm building should be so you can ensure your building will serve every purpose it's intended to serve. These variables are extremely important to know before you begin your post frame construction journey.
Keep reading to learn how to determine the right size your farm building will need to be, so it's the best possible fit for your farm and for generations to come.
What Will Your Farm Building Be Used For?
First, it's important to consider every purpose your pole barn building will need to serve. Whether you're looking to build something to serve one purpose, or looking to build something that serves multiple purposes, knowing this element will ensure you're not leaving anything out that could negatively impact your pole barns intention in the future.
Of the following, which type of building sounds most like what you're planning to build?

Farm shop for maintenance
Once you've determined the use of your post frame building, it's time to dig a little deeper to ensure all aspects are covered.
Tractor and Implement Storage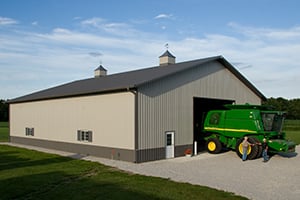 If you're building your pole barn to store your farm equipment, chances are you're going to need something relatively large. Tractors and combines are not very compact, so you'll want to make sure you have plenty of room for storage.
Before pole barn construction commences, you will want to consider the pole barn height and width based on how many pieces of farm equipment and machinery you have, or how many pieces of equipment you will have.
One of the biggest regrets our customers have later on down the road is not building a larger pole barn. Of course, you can always add on to your pole barn in the future, but that option isn't always a cost-effective one.
Keep in mind the idea of further operation expansion. Do you plan to grow your business in the coming years? Will that increase the need for additional equipment? It's better to be safe than to be sorry, so incorporating extra space in the building design stage is a great idea.
Recommended sizes for a farm equipment and machinery storage pole barn:
60' x 80'
60' x 120'
80' x 160'
Helpful hint: A common pole barn height that will fit most implement equipment is 16'. The nice thing about a 16' post frame building is it's the highest you can build using 2x6 columns before you would need to transition into 2x8 columns. This will help to keep your costs down, so you can allocate those costs elsewhere.
Multi-Purpose Farm Building
Will you elect to have a section in your pole barn for office space and another section for implement storage? Some farmers prefer to have a multi-purpose pole barn for both storage equipment and office space to make operations easier and more efficient. Even if having an office space right now is not a part of your daily routine, don't forget to keep this option in mind for the future. If this could be a possibility for you in the future, it's a good idea to consider it now.
Here are a few things to consider when designing your multi-purpose post frame building:

How much space will I need to accommodate all of my employees?
How much space will I need for an indoor restroom?
Will I need extra space for a break room?
Will I have customers coming in from the outside that will need a lobby to wait in?
Should I include space for extra office supplies?
Will I need storage for extra parts and tools?
How big of a farm shop will I need?
Remember when we said to consider every single aspect? We really weren't kidding. Here are a couple design examples of your typical multi-purpose farm building: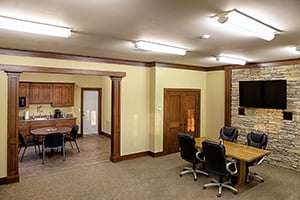 1. Drop down office build out: this section of the farm building is smaller in width and height and will typically be built off of the end wall. An advantage of a drop down office build out is that there is less height, which means there is less to heat and cool.

Another advantage is aesthetics. You can add a porch that will help to create a true office look on the outside and inside, which will help to define the office from the shop.

One negative of this option is that it can be noisier and hard to keep shop smells out of the office.

2. Interior office: this option is not a build out, but rather a section of the shop that is separated by a partition wall, or interior walls built out along the end wall. An advantage of this option is that it's much cheaper. You'll save money since the building structure is much cheaper per square foot than a drop down office build out would be.

Another advantage is that you can create a loft above the office with the extra space you'll have. This can be used for office storage, which will save room in the actual office below.
Recommended sizes for a multi-purpose farm building:
40' x 40' + 60' x 80'
40' x 64' + 60' x 104'
40' x 64' + 60' x 120'
60' x 64' + 80' x 160'

Farm Shop for Maintenance
Your farm equipment and machinery will be getting a lot of use, so it's only a matter of the fact that they will need regular maintenance and upkeep to help keep your operation running smoothly. Do you plan to do this maintenance yourself? If so, you'll want to consider putting up a farm shop, especially if you already have cold storage buildings on your site.
Depending on the number of tools and other work equipment you have should dictate how much space you'll need for the perfect farm shop. If you plan on accumulating more tools and equipment over the coming years, it might be a good idea to allow some extra space in the post frame building design.
Below are just a few things your farm shop might include:

Welding equipment
Vehicle lifts
Workbench space
Tool storage
Supply storage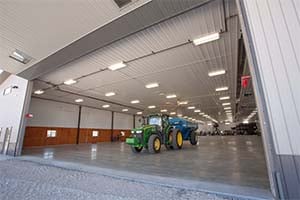 Whether you're working on farm machinery, side projects for family and friends, or run a business out of your farm shop, ensure you have the proper space allotted for all of the tools and supplies you will need to get your work done.
Recommended sizes for a farm shop:
60' x 80'
80' x 88'
60' x 120'
80' x 120'
The sizes listed in the last section are also great to build for a farm shop. You will know the exact size you need for your pole barn, but always keep in mind that it's easier to build a little bigger now than to have to add on later on.
Livestock Building
Do you have animals such as beef or dairy cattle? Or maybe pigs? How about chickens?
These animals will need a place of protection against the outside elements, so a livestock building is a perfect solution. Depending on how many animals you have will also determine if you'll need more than one agricultural building.
You'll want to make sure the width and length of your pole barn will comfortably house your animals. Will each animal have their own space? If so, you'll want to consider the divisions throughout the pole barn for each space.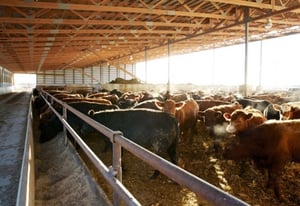 Don't forget about a place to store feed and other animal supplies. Having an extra room in your post frame building for hay and feed will free up space elsewhere that can be used for something else you may need the space for.
Recommended sizes for a livestock building:
If you're looking to house 4-H animals, like goats, pigs, or cattle, then a 30' x 40' or 40' x 60' post frame building will give you plenty of room
If you raise beef, then you'll want to consider building a monoslope facility. The size for your facility will depend on how many heads of cattle you're wanting to hold. We recommend 40 - 45 square foot/head if you're building a bed pack facility and 20 - 24 square foot/head if you're going to build a pit barn.
What Size Farm Building Will You Need?
After reading about the different factors that go into the different types of farm buildings, do you know what size pole barn you will need? While figuring out the exact size you need can feel a bit daunting, having resources available to help you can definitely ease the overthinking. Knowing what your pole barn will look like will lead you to construct a quality post frame building.
Whether you choose to go big or go small, your farm building will be everything you imagined it could be. As long as you remember to build with confidence, we are certain there is nothing that can stop your post frame dreams from becoming a reality.
---
Do you have more questions about farm building sizes that are not covered in this article? If you need help designing and planning, please contact FBi Buildings at 800.552.2981 or click here to email us. If you're ready to get a price, click here to request a quote, and a member of our Customer Engagement Team will help you determine the next steps of your project.