Posts | Building Tips | Farm Buildings
Design the Perfect Farm Shop Plan: 3 Tips to Get Started.

Subscribe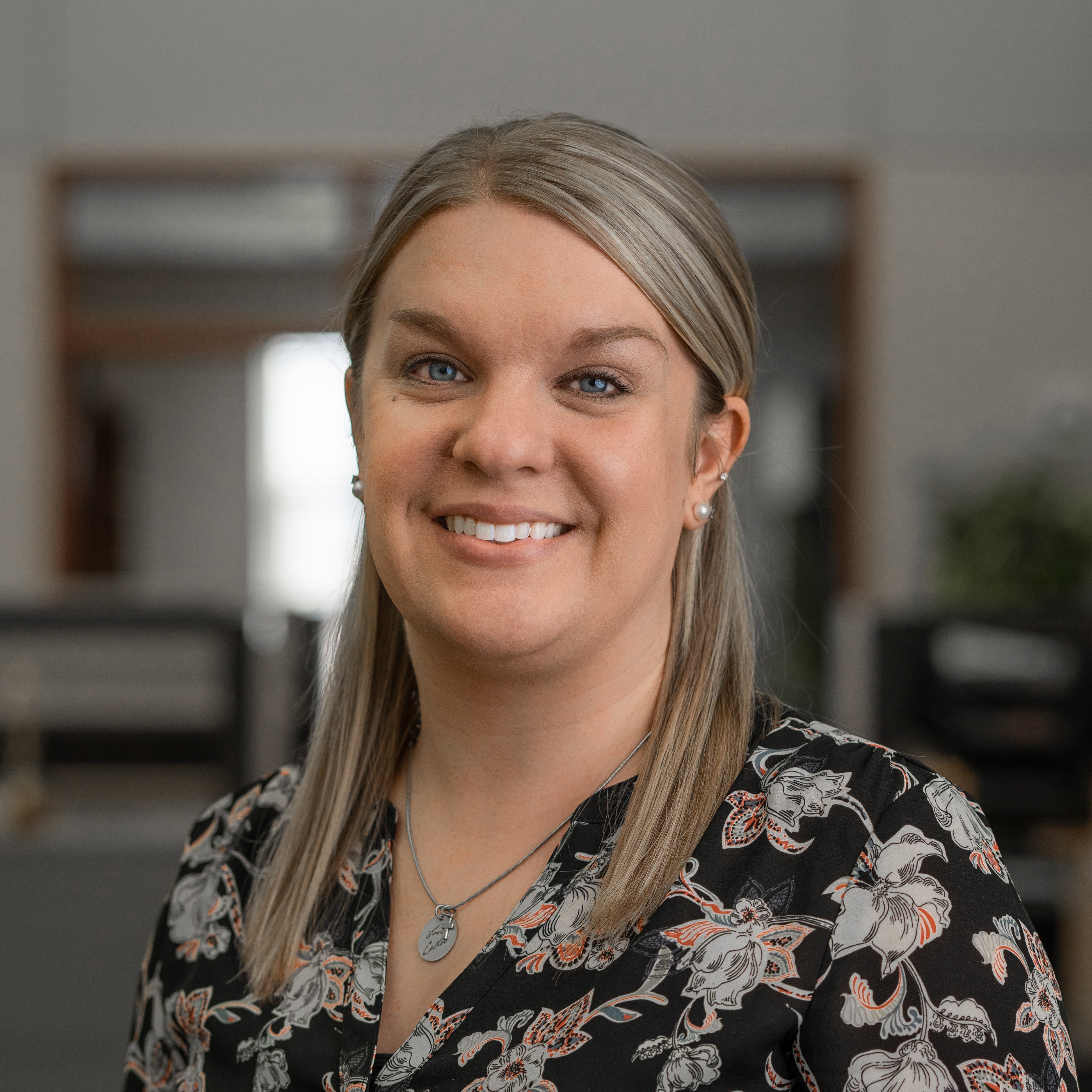 Angie graduated from Indiana State University with a Bachelor of Science in Interior Design. Prior to joining the FBi team, Angie was a kitchen and bath sales consultant in Lafayette, IN. In 2012, she started with FBi as the Inside Sales/Marketing Assistant. Today she holds the role of Sr. Marketing and Inside Sales Manager. Angie grew up in a farming community and has always enjoyed helping her family on the farm. A past 10-year 4-H Member, her passion for livestock pursued her to take a career in the agriculture field. She and her husband live in Northwest Indiana with their two daughters. In her free time, she enjoys outdoor leisure activities and spending time with friends and family.
As we know by now, there are many things to take into consideration during the planning stage of your new post frame building project. Actually, this statement is true for any big event, vacation, or large purchase that you might make during your lifetime.
Let's stop and think about this for a moment…
Let's say you want to plan your next family vacation. Your wife wants to go somewhere warm and tropical and relax on the beach (or maybe this is a dream of your husband or significant other). You, on the other hand, prefer to do something adventurous and in the mountains. After all, that's the whole purpose of a vacation, right?
How do you even make a decision?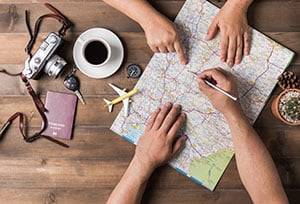 Well, for starters most large purchases (and this goes for vacations, electronic equipment, vehicles, etc.) start with research. After you've done extensive research on the best places to go, the best time to buy, or even the best affordable options, you share your findings with your partner.
Your partner listens to all of your options and will probably say something like this, "I would prefer if we do….." It may or may not be the option you want to hear, but you compromise with the opinion and move onto the next step, which is making the purchase.
The purchase has been made. You feel a sense of relief. Now all you have to do is sit back and relax until it's time to enjoy, right? Well, not really…
You see...after you make a purchase then you have to plan. Whether it's planning what you're going to do on vacation, where you're going to put the brand new TV, or even deciding on what floor mats will look best in your new Chevrolet Silverado.
Planning is involved in every type of purchase that we make.
The same scenario is true when you decide to move forward with post frame construction. We know that a proper building project all starts with site preparation. In some cases, this will make or break your project (especially if you don't do it correctly).
But, let's say you're going to build a new farm shop and you need help when it comes to designing a functional floor plan that works for you. All of these thoughts and ideas are swirling around in your head and you just want to make sure that you're making the right decision.
Sometimes you might struggle with building layout and design. Or, maybe you need help with future planning because you want to make sure that you don't run out of space when the next generation takes over.
All of these are great thoughts to consider when you're planning for a customized building, especially if it's going to be one that will last you your lifetime.
But, where do you begin when it's time to figure out a pole barn design? It's simple. And it all starts with these three tips.
How Should You Design Your Farm Shop? 3 Tips to Get Started.
1. Size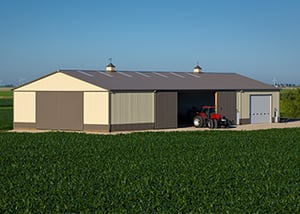 It's always a good idea to figure out how much you're willing to spend before deciding what size of farm shop you want to have. Needs and wants are two different things.
Is it practical for you to put up an 80' x 120' pole barn with a fully insulated interior and multiple overhead doors? Or, is that something that you want because it would be "really nice to have."
It's also possible that a 60' x 80' farm shop is what you're going to need because it fits within your budget, and leaves you with money left over that you can put towards finishing the interior.
There's nothing wrong with dreaming. Sometimes, that makes part of the planning process that much more enjoyable. If you're a dreamer and would love to have the bells and whistles, we recommend pricing those on a separate line item so you can see how much your "extras" are going to cost.
Do you want to know the plus side with pricing extras? If you need to cut down because of the budget, that's one area that you could trim.
How do you figure out how much you can afford without going too small or way over budget? It's really simple….start with these three tips:
Figuring out your pole barn location
Laying your plan out on graph paper
Designing your building online
Another aspect of the building size that we recommend considering is possible future expansion. The convenience of having your whole operation under one roof is compelling. Some customers seek to maximize the flow of their operation through a connection since a stand-alone building could interrupt the flow of people or vehicles around their property.
2. Layout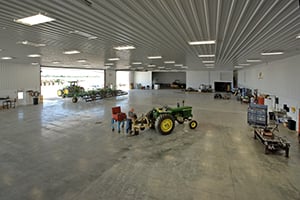 When it's time to design the "perfect" floor plan you'll want to think about how you plan on using the building now and in the future. This will allow you to work in a space that is efficient for you and your business, all while maximizing the most of your space.
After all, you don't want to have to worry about any wasted space that is not being used.
Since we are specifically talking about farm shop design, ask yourself the following questions:
Do you plan on washing your farm equipment inside?
Do you need a designated space for your tools?
Do you need a loft for additional storage?
Do you need to include a workbench?
Will you need access for a welder and an air compressor?
How many of these questions did you answer yes to? It's helpful for us, and other post frame builders, if you know what you're looking for prior to reaching out to a sales consultant.
This will give us (and them) a general idea of how much square footage you will need. Once square footage is determined and a price is given, then you can decide if it's going to be a cost-effective building design, or if you need to make cuts somewhere else.
3. Overall Design (Interior and Exterior Features)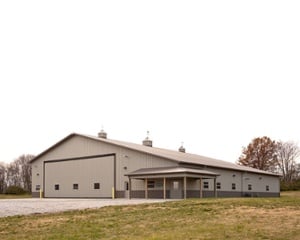 For some of our customers, this is the exciting step in the post frame building design process. The interior and exterior features of your building help make your design personalized, and it lets you choose what options to include.
This is certainly true if you choose to go with a custom builder. Remember, not all post frame builders have the ability to customize their designs. Some of them will only do the basic "cookie-cutter" type of buildings.
There is nothing wrong with this option if it's what you're looking for and it fits your budget. We just want to make sure you're aware that this isn't always true.
The overall design also includes deciding on the building features that will help you enhance your curb appeal and functionality.
For example, if you decide to give us a call for a pole barn quote, there are standards that come with our building. For instance, laminated columns are a standard, 5" gutters are a standard, and a basic sliding door is a standard...just to name a few.
However, you do have the option to upgrade to Perma-Columns, use 6" gutters, and EasyMotion sliding doors. But, did you also realize that there are more features for you to choose from?
Other Pole Barn Features to Consider
Wainscot (steel, brick, or stone)
Shingled roof
Overhangs
Mansards
Windows with shutters or grids
Porches (inset, wrap-around, or hip)
Cupolas
Steel liner packages
Flying overhangs
Gabled buildings
Custom dutch doors
Exterior coverings other than steel
And more
If you want to see what these features look like on a building, be sure to check out our pole barn gallery to give you some inspiration.


Are You Ready to Start Designing Your New Farm Shop?
Now that you know what the three tips are to help you get started, it's time to take the next step into turning your farm building plans into a reality. All you need to do is fill out our online request for the FREE Farm Plan Book or call (800) 552-2981 to have a hard copy mailed to you.


With 20 floor plan ideas to help you get started, you'll be sure to find a floor plan and design inspiration for a new farm shop, machine storage building, or even a multi-purpose building. If you can't find what you're looking for, remember that all of our post frame buildings are custom and built around your specific needs and desires.
If you're ready to move forward with your post frame project, we also recommend you check out The Ultimate Guide to Building a Pole Barn. This guide will help you navigate the steps that you need to take to insure your project gets done on time and under budget.
It could be possible that you're ready to start planning now. You've been pondering over farm shop ideas for months and you want to see what your plan looks like in real life. If you happen to fall under this category, check out our pole barn designer to start bringing your building to life. We can't wait to work with you!
---
Do you have more questions that are not covered in this article? If you need help designing and planning, please contact FBi Buildings at 800.552.2981 or click here to email us. If you are ready to get a price, click here to request a quote and a member of our customer engagement team will help you determine the next steps of your project.