6 Types of Commercial Post-Frame Buildings for Your Business

Subscribe
Cori grew up on her family's small grain and livestock operation in Northwest Indiana. In 2018, she graduated Summa Cum Laude with a Bachelor's degree in Business Administration & Marketing from Marian University Indianapolis. Having shown beef cattle for 12 years at the county, state, and national levels, Cori chose to pursue a career in agriculture. Today, she serves as the Marketing Content Creator on the FBi team. In her free time, Cori enjoys spending time with family and friends, watching sports, listening to live music, and traveling.
Are you interested in expanding your commercial business with a pole barn? Maybe you're a new entrepreneur looking into post-frame construction for your operation. Whatever the reason, you've come to the right place.
When people hear the term "pole barn," they often picture a farm shop or cold storage machine shed for large implements. Others envision a quaint red barn with cupolas, sliding doors, and grassy fencerows.
It makes for a picturesque landscape in the rural Midwest. However, pole barn design and usage goes beyond the agriculture industry.
In fact, post-frame construction is an ideal solution for many business owners and commercial real estate developers.
Pole barns provide design flexibility, energy efficiency, structural integrity, and subsequent cost savings. These significant benefits explain why architects, designers, and engineers favor this construction method over others.
This article discusses six types of commercial post-frame buildings guaranteed to meet your business needs.
6 Types of Commercial Post-Frame Buildings for Your Business
1) Retail Stores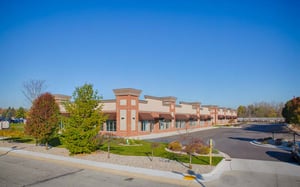 No two retail businesses are alike, and neither should their storefronts.
A retail post-frame building ensures longevity, whether it's a multi-use or single-tenant commercial real estate.
Popular examples of retail businesses that utilize pole barn construction include:
Gas stations
Restaurants
Shopping centers
Strip malls
As mentioned above, post-frame construction offers flexible floor plans and pole barn exterior options such as brick, engineered wood, metal, stucco, and vinyl siding.
You've worked hard for your retail business, so let a commercial post-frame building and its curb appeal return the favor.
2) Professional Services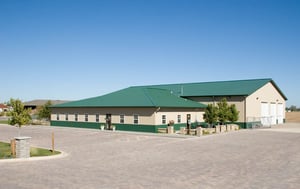 Does your business offer professional services to customers? A commercial post-frame building will help move machinery and people around quickly.
For example, a 40' x 60' pole barn with big garage doors is an ideal set-up for your garden center. Using the front showroom, you can display trending landscaping design ideas. In the back, you can store your gardening supplies (e.g., mulch, potting soil, or sod), lawnmowers, and other outdoor power equipment.
This type of commercial post-frame building is the perfect combination of office and much-needed storage space all under one roof system. Pole barn additions, building connections, and lean-tos are feasible options for extra square footage.
Moreover, professional services like auto body repair shops and event planning managers are making the switch to post-frame construction. Get down to business and scroll through our online pole barn gallery for design inspiration.
3) Automotive & Farm Equipment Dealerships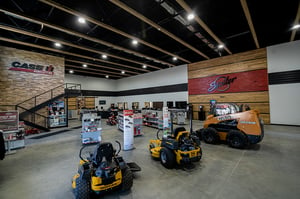 First impressions are important. Every automotive and farm equipment dealer wants to showcase their products and services in the right light, which is why more dealership owners are choosing pole barn construction over steel-frame.
Commercial post-frame buildings use specially designed and engineered clear-span trusses that do not require interior load-bearing walls. In other words, you can exhibit the newest heavy-duty pick-up truck or flashy sports car in a wide-open showroom.
Nowadays, 100' pole barn trusses are double-ply and made out of machine stress-rated (MSR) graded lumber. At FBi Buildings, we specifically use Southern Yellow Pine (SYP) MSR2400. A higher lumber grade means that the truss can carry more structural loads, eliminating the need for interior stud walls.
Again, commercial post-frame buildings are energy-efficient. Adding multiple windows is an excellent source of natural lighting and passive solar heating.
Please watch this short YouTube video featuring Stoller International, a Case IH farm equipment dealer in Northern Illinois.
4) Self-Storage Units
Humans inevitably collect stuff. Some people tap into their inner Marie Kondo and purge items without a second thought.
Meanwhile, others tend to hold onto things for a little bit longer. That one object could come in handy someday, but until then, it'll collect dust in the attic.
Not everyone has the luxury of having extra storage space in their stick-built home. Let alone the financing or land to build a pole barn on their own property.
Does this situation sound familiar to you? If so, your local community could benefit from having a self-storage post-frame building.
Look no further than pole barn construction for your communal storage needs.
No storage unit size is too big or small. Garage doors and walk doors can be placed virtually anywhere for easy access. A solid lineup of pole barn interior finishing options will keep valuables safe, giving your customers peace of mind.
5) Industrial Facilities & Warehouses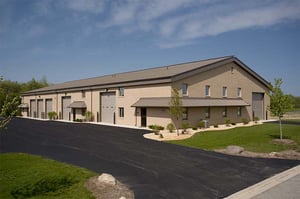 Manufacturers are the backbone of the U.S. economy, and commercial post-frame buildings are the backbone of their business.
Manufacturing companies are capital-intensive, meaning their operation requires a lot of heavy machinery to produce their products.
Post-frame building components, along with pole barn height, allow for a seamless flow of:
Assembly lines
Deliveries
Equipment
Material-handling
Storage
Trucks
If your industrial business requires accessibility and ample warehousing, a commercial post-frame building is the right solution for you.
6) Municipalities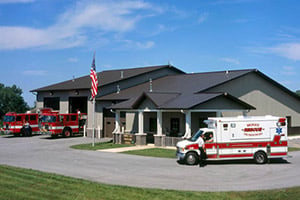 When driving through a small town, you can't help but notice the overwhelming sense of community.
People are walking in and out of downtown businesses. Children are running around the playground outside of their school.
Annual festivals are taking place around the city hall or courthouse square. Fundraiser meals are benefitting public safety personnel (e.g., law enforcement and volunteer firefighters).
Post-frame buildings can be a place where everyone comes together to support one another.
Does your local community need a new fire station, government office, or public school? Make the right choice and spend your taxpayer dollars on a municipal pole barn.
Post-frame buildings are relatively inexpensive compared to other construction methods due to:
Fewer building materials needed
Reduced labor costs
Minimized project delays
Shorter turnaround times
Designing and planning a municipality is a major responsibility. These public structures represent your community, which is why local officials are relying on post-frame builders for a commercial pole barn that citizens will appreciate.
Note: Your post-frame builder must have the resources to help you navigate the steps of a commercial construction project. From working with designers, engineers, and general contractors to obtaining financing and permitting, their guidance can make or break your experience.
Download our Commercial Portfolio, which includes involved parties and project specifications, so you know what to expect from your post-frame building (start to finish).
Which Type of Commercial Post-Frame Building Will You Choose?
As you can see, there are six types of commercial post-frame buildings that can meet your expectations and business needs. The design flexibility, energy efficiency, structural integrity, and cost savings that pole barn construction offers are second to none.
However, no one said that designing and planning a new commercial post-frame building is easy. Business owners or commercial real estate developers who familiarize themselves with the steps involved can have a memorable and rewarding experience. You can download our "Business Facility Guidebook: 7 Tips to Add Value to Your Building" for more information.
Are you ready for a commercial pole barn quote? Please call our office at (800) 552-2981 to speak with a sales team member.
Additional Resources:
Top Commercial Pole Barn Sizes
---
Do you have more questions about commercial pole barns not covered in this article? If you need help designing and planning, please contact FBi Buildings at 800.552.2981 or click here to email us. If you're ready to get a price, click here to request a quote, and a member of our Customer Engagement Team will help determine the next steps of your project.