Building Tips | Structural Integrity | Repairs & Renovations
How Can I Keep My Pole Barn Columns from Rotting?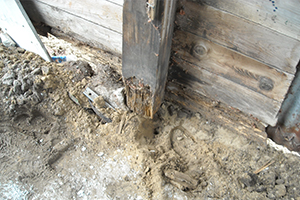 Subscribe
Cori grew up on her family's small grain and livestock operation in Northwest Indiana. In 2018, she graduated Summa Cum Laude with a Bachelor's degree in Business Administration & Marketing from Marian University Indianapolis. Having shown beef cattle for 12 years at the county, state, and national levels, Cori chose to pursue a career in agriculture. Today, she serves as the Marketing Content Creator on the FBi team. In her free time, Cori enjoys spending time with family and friends, watching sports, listening to live music, and traveling.
One of the most integral components of your pole barn is the columns, commonly known as posts. They support the entire roof system and transfer all vertical loads (e.g., snow loads) to the foundation.
Pole barn columns are the backbone of the walls and combat horizontal loads (e.g., wind loads). In other words, posts play a significant role in the structural integrity of your post-frame building.
Therefore, it's only natural that you'd want to know how to prevent your pole barn columns from rotting. Unfortunately, rotted wood is possible with older post-frame buildings from the 1970s or 1980s. However, it doesn't mean that you can't fix the problem.
In this article, we will answer the following questions regarding rotted pole barn columns:
Why do pole barn columns rot?
What do rotted pole barn columns look like?
How do FBi Buildings prevent rotted pole barn columns?
Can you repair or replace rotted pole barn columns?
Let's jump right in, shall we? If you don't have time to read this blog, you can watch the short YouTube video below.
Why Do Pole Barn Columns Rot?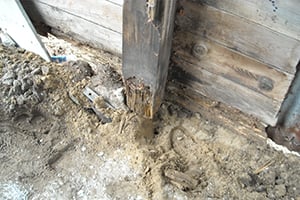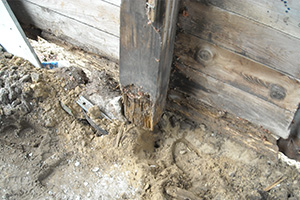 First, rot is a form of decay activated by moisture and fungi growth. Fungi grow in damp conditions, so you don't have to worry about the spores forming on dry wood.
Moreover, the wood must be continuously wet for fungi to germinate. An ideal environment is any wooden building component with a moisture content of 20% (or higher) that can't dry out quickly. Spring and winter are optimal times of the year for wood-eating fungi.
The key to preventing rotted pole barn columns is to be proactive with your post-frame building design, which we'll discuss in the third section of this blog.
What Do Rotted Pole Barn Columns Look Like?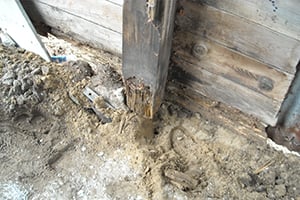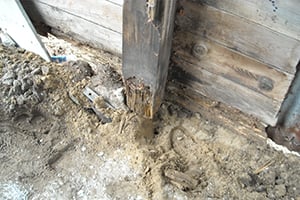 Second, did you know millions of fungi exist in the air and soil around us? There are many forms of fungi, such as molds, mushrooms, and yeasts.
However, three types of fungi infect pole barn columns:
Brown Rot

: Also known as "dry rot." This type of fungi targets the structural makeup of the wood. It causes the lumber to shrink and turn dark brown, which looks "dry in appearance. This fungus spreads rapidly and thrives in temperatures of 65 to 90ºF.



White Rot

: This type of fungi shares the same characteristics as brown rot. The only real difference is the color – whitish or light yellow. It also has a spongy texture.



Soft Rot

: The good news is that this fungus is recognizable with its honeycomb appearance. It causes the wood to decompose at a slower rate. The bad news is that soft rot can germinate at any temperature.
How Do FBi Buildings Prevent Rotted Pole Barn Columns?
As a post-frame builder with 60+ years of experience, we've repaired our fair share of rotted pole barn columns.
While wood is a natural element (unlike steel), we've found long-term solutions that prevent rotted posts. We recommend the following three pole barn column options: laminated posts, Perma-Columns®, or bracket-to-concrete.
Laminated Posts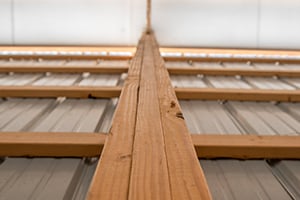 "Laminated post" refers to two or more layers of dimensional lumber that have been mechanically laminated with nails. Typically, these columns are made from 2x6, 2x8, or 2x10s. They're stress-rated and pressure-treated.
Furthermore, laminated posts are highly resistant to bending, twisting, and warping. Not to mention, they have greater longevity than solid posts. Each layer of lumber is permeated with wood preservatives and kiln-dried, which prevents rot and termite damage.
For maximum longevity, we recommend columns saturated with more than 0.80 lb./cu. ft. of Chromated Copper Arsenate (CCA) wood preservative. This number is 33% above the industry standard, which you'll find at hardware stores and lumberyards.
Laminated posts are cost-effective because they're installed traditionally – buried 4' below grade. With that being said, these columns will rot in the next 30 to 40 years, depending on your soil type.
Perma-Columns
Alternatively, Perma-Columns are precast concrete posts that represent the evolution of pole barn construction. This sustainable solution can withstand rot because no wood goes into the ground. They're sized to fit any laminated column or solid post.
In addition, Perma-Columns include microfibers for shock resistance and durability. Microsilica enhances compressive strength and erosion resistance. A corrosion inhibitor protects the rebar reinforcement and brackets from rust.
Bracket-to-Concrete Columns
A bracket-to-concrete column consists of a black powder-coated bracket screwed fastened into a laminated post and anchored to concrete with heavy-duty screws.
Similar to Perma-Columns, no wood is placed into the ground. Instead, a thick concrete foundation must be poured, which can be costly.
Can You Repair or Replace Rotted Pole Barn Columns?
We have great news if you have an older post-frame building with decaying columns!
FBi Buildings has 7+ (and growing) dedicated Repair & Renovation construction crews equipped to replace your rotted pole barn columns.
We understand the importance of securing the structural integrity of your post-frame building, which is why your repair won't take a backseat to new construction projects.
Each post-frame builder will have a different cost for replacing rotted pole barn columns. Many factors come into play when quoting a column replacement. For instance, are your wooden posts embedded in dirt, gravel, or concrete?
Our starting price is a minimum of $500 per pole (with at least six poles).
How Will You Prevent Your Pole Barn Columns from Rotting?
The shortest answer to this question is to keep your pole barn columns dry. But first, you must prevent moisture from penetrating the lumber. Your best bet is to use treated laminated posts or upgrade to Perma-Columns or steel bracketed to concrete.
As always, we're here to help you find the most effective solution for your post-frame building. And best of all, it doesn't matter who built the original structure.
Additional Resources:
How Much Does it Cost to Repair Rotted Pole Barn Columns?
Ultimate Guide to Pole Barn Repairs & Renovations
---
Do you have more questions about rotted pole barn columns not covered in this article? If you need help designing and planning, please contact FBi Buildings at 800.552.2981 or click here to email us. If you're ready to get a price, click here to request a quote, and a member of our Customer Engagement Team will help determine the next steps of your project.