Posts | Building Features | Site Preparation
Pole Barn Flooring Options: Which One is Right for You?

Subscribe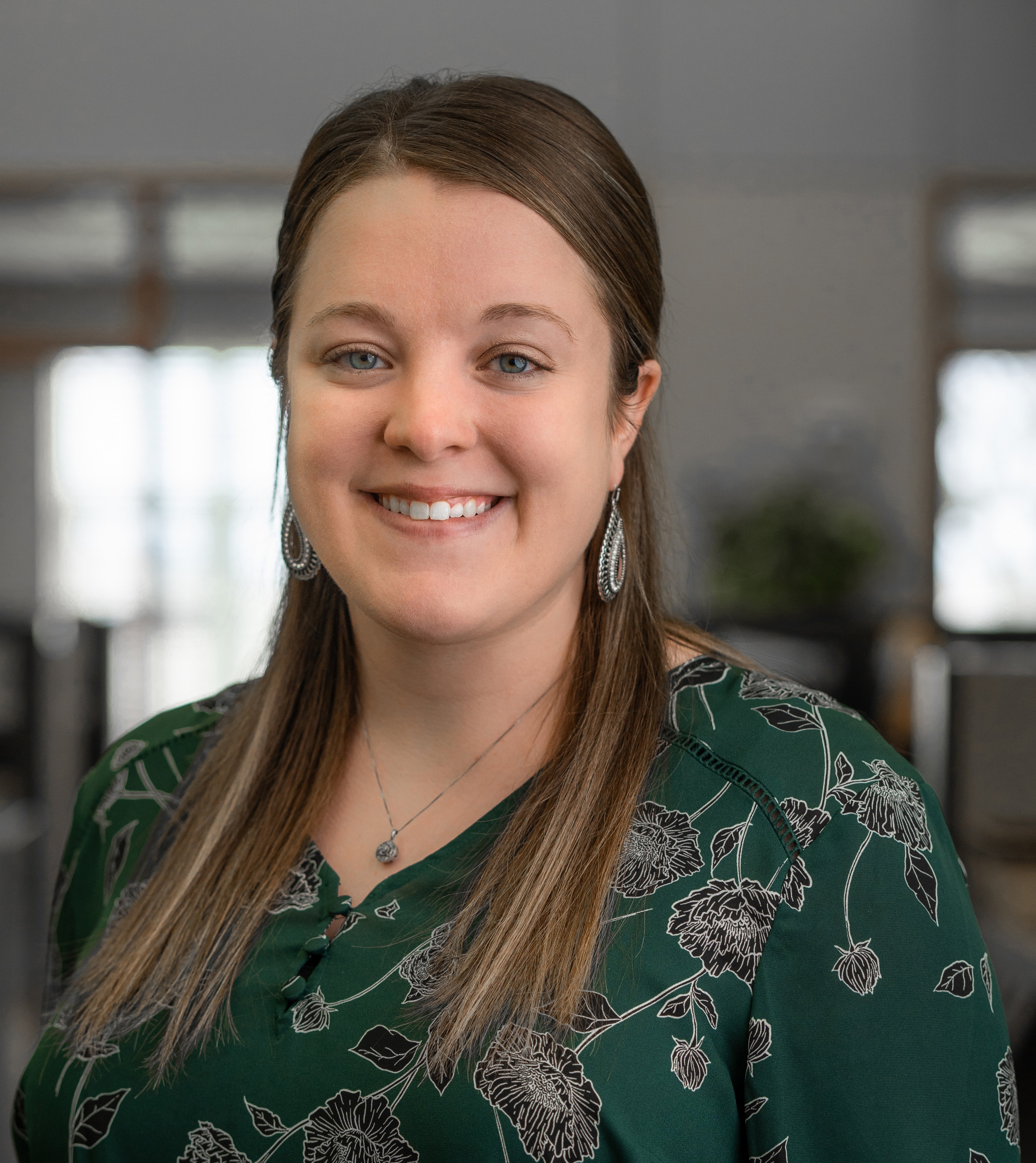 Cori grew up on her family's small grain and livestock operation in Northwest Indiana. In 2018, she graduated Summa Cum Laude with a Bachelor's degree in Business Administration/Marketing from Marian University Indianapolis. Having shown beef cattle for 12 years at the county, state, and national level, Cori chose to pursue a career in the agriculture field. Today, she serves as the Marketing Content Creator on the FBi team. In her free time, Cori enjoys spending time with family and friends, watching sports, listening to music, and traveling.
One of your core objectives is to build a new pole barn this year. You already have the land and finances set aside. There's half the battle that prospective customers face in post-frame construction.
Your spare time consists of designing your dream building, skimming countless brochures, and scrolling through online galleries for inspiration.
You even have a Pinterest board dedicated to your pole barn project. This process can be time-consuming.
As you can see (or will find out shortly), there are multiple building components to consider from the ground up, such as:
While those features play an important role in your building design, you'll first need to select a type of pole barn flooring.
This article discusses five common pole barn floors to choose from, ranging in style and price.
What Are My Pole Barn Flooring Options?
There are multiple flooring options to choose from, ranging in style and price.
The five most common types of pole barn floors are:
Dirt
Gravel
Stone
Concrete
Asphalt
The building use will determine which one is the best fit for your operation.
Please remember that most post-frame builders specialize in the building shell only. However, they should be able to connect you with reliable contractors within their network.
Before diving deep into those options, you

must

establish a firm building pad (e.g., dirt, clay, sand, or stone).
Aside from the foundation, this raised area serves as the basis for your post-frame structure. A solid slab can be achieved through proper site preparation.
What is Site Preparation?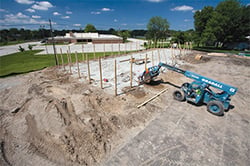 Before your pole barn builder can launch into the construction phase, you'll need to make sure your job site is prepped.
Investing in site preparation will extend your pole barn's lifetime and reduce total project costs.
The overarching goal is to ensure that your post-frame project runs smoothly – on time and under budget.
For your convenience, we briefly detail the site prep steps involving the building pad, which affects your future flooring.
Side Note: Do you need help finding an excavator to perform these tasks? Your builder should be able to provide a list of reliable operators in the surrounding area.
1) Where Should the Building Pad Go?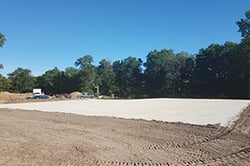 First, you must identify the exact position of your new pole barn. Please consider the following locations as you select a location:
How will people and equipment move around your building and property?
How will excess water drain away from your building? Where will it go?
How will your new building line up in conjunction with existing structures or roadways?
How much excavation is needed to make your proposed building pad level?
If needed, your Project Sales Consultant (PSC) can draft an extensive site plan that'll be communicated with the preferred excavator.
2) When Should You Construct the Building Pad?
One of the beauties of post-frame construction is its ability to build year-round.
However, your excavator may shake his/her head in disagreement. Frozen ground (winter) and mud (spring) hinder pad preparation.
Prime excavation weather is during the summer and fall months. This time frame is typically drier than others, which keeps your perimeter accessible for construction crews and equipment.
Avoiding weather-inflicted schedule delays will minimize additional costs.
3) How Should You Structure the Building Bad?
An ideal building location? Check. Scheduled excavation dates? Check. Now, it's time to determine how you'll structure your building pad.
The following factors will significantly influence the structural integrity of your new pole barn.
| | |
| --- | --- |
| Elevation | Crowning your pad from the center will direct water flow away from the structure. Proper grading will help achieve the desired elevation. |
| Size | Widening your pad on all four sides by 10' minimizes erosion. Gradual tapering will occur. |
| Compaction | Stabilizes your pad and reduces damage caused by common construction movement (less re-work). |
| Fill Type | Building with the correct granular fill is crucial. A layer of coarse stone over the soil base creates a capillary break and promotes drainage. |
| Drainage | Corrugated tile improves subsurface drainage. Connecting the downspouts to a tile system will direct water to strategic areas. |
Altogether, your post-frame building must sit on a structurally-sound pad with good drainage.
Site preparation may sound tedious, but it doesn't have to be. For additional tips, you can download our FREE "Site Preparation: Unlock a Successful Building Project" e-book.
5 Most Common Pole Barn Flooring Options
Once your building pad is complete, you can start exploring your pole barn flooring options.
As you compare the five different types, we recommend keeping your building use at the forefront of your decision-making process. For instance, are you a(n):
Overall, the primary purpose of your post-frame structure will determine which flooring is best for you. It's easier to do your research now rather than having regrets later.
1) Dirt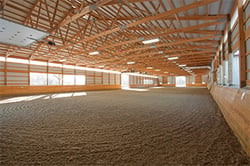 Dirt is an easy (and cost-effective) flooring option for your pole barn. Aside from site preparation, this surface type requires less fill.
Popular applications include agricultural buildings and equine facilities.
Heavy machinery can be appropriately stored in a dirt-floored barn. Horses can move and rest comfortably on a soil-based surface.
Naturally, the ground contains moisture. Therefore, grading and drainage control is crucial. To avoid potential condensation issues, we recommend investing in an adequate ventilation system.
You can always upgrade the dirt flooring for a more solid solution (e.g., concrete).
2) Gravel
Gravel is another low-cost alternative for your pole barn floor. It's an ideal choice for cold storage and open-sided buildings.
Unlike dirt, gravel is a superior material in terms of drainage and compaction. Plus, it'll keep your equipment relatively clean.
Over the years, you may have to rake, level, or haul in more gravel. But, it's still relatively low-maintenance.
3) Stone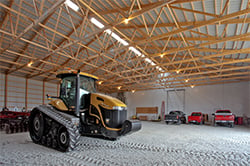 If you're wondering what's the difference between gravel and stone, you're not alone. Although both materials derive from rocks, they differ by production method and size.
Stone is the by-product of rocks being mechanically crushed. A popular type of crushed stone is limestone (1 ½" to dust).
It's widely available and incredibly versatile. Plus, it's less wear-and-tear on equipment compared to larger rocks.
Like gravel, stone is a superb fill that'll work to manage moisture levels within your pole barn.
Whether you're building a horse barn or tool shed, stone is a reliable finish.
4) Concrete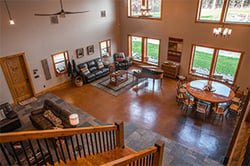 Next, concrete is one of the most popular floor selections in post-frame construction.
Why? Because it reduces the following annoyances associated with dirt, gravel, and stone floors:
Dust build-up
Excess moisture
Inability to maintain a clean space
As a result, a concrete surface is often installed in farm shops, commercial businesses, hobby barns, and garages.
Depending on the contractor, it's available in a wide variety of colors, finishes, and stamps.
Or, you can consider adding wooden or tiled floors that sit on top of the concrete foundation. It'll give your business, man cave/she shed, office, or post-frame home a nice decorative touch.
If you plan on using concrete for livestock use, we recommend scoring the top layer with a broom or rake to eliminate any slips and injuries.
Furthermore, you may want to invest in supplement flooring (e.g., rubber mats) to improve animal comfort. Standing on concrete alone for an extended period is detrimental to an animal's health.
Another critical aspect of concrete flooring is establishing finish floor elevation (FF). This benchmark determines the location of your grade board and concrete depth.
Moreover, the concrete depth (4" or 8") will dictate how high or low your grade board will sit.
Miscommunication on this step can result in floor height and drainage issues. FF must be clearly marked before completing excavation and starting construction.
Concrete may be expensive compared to other pole barn floors, but it's worth the investment.
5) Asphalt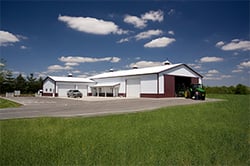 However, not everyone has extra room in the budget for concrete. Luckily, asphalt may be an affordable substitute.
But, there's a catch. It requires more maintenance over time.
Asphalt is soft, which can easily succumb to the weight of large implements. Weeds can grow in between the gaps of broken pavement.
Not to mention, it has a distinct tarry smell, especially when it's freshly applied or heated up.
Keep the long-term maintenance cost of asphalt in mind as you compare it to the initial investment of concrete flooring.
Which Pole Barn Floor is Right for You?
As one of the top post-frame builders in the Midwest, our goal is to recommend viable flooring options for your operation. Again, the primary building use will determine which type of flooring is best for you.
You can mix and match styles or keep it simple with one selection. To see what that may look like, design your own pole barn with our online 3D tool. Save, print, or email your floor plan to family and friends.
Are you ready for a quote? Submit your design, and a member of our sales team will give you a call to begin the estimating process.
---
Do you have more questions about pole barn flooring that are not covered in this article? If you need help designing and planning, please contact FBi Buildings at 800.552.2981 or click here to email us. If you're ready to get a price, click here to request a quote, and a member of our Customer Engagement Team will help you determine the next steps of your project.