Subscribe
What are the Most Popular Pole Barn Basketball Court Sizes?
Midwestern winters can be tricky, to say the least.
Some states, Michigan and Wisconsin, see ample amounts of snowfall each year. Their residents can build snowmen or go sledding, skiing, or snowboarding.
Meanwhile, other states have milder temperatures, and winter outdoor activities aren't enjoyed to the fullest. Or worse, it's too cold to be outside (e.g., Polar Vortex).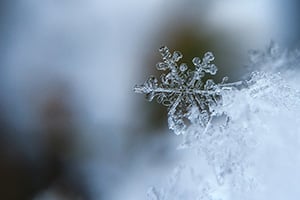 Regardless, it's nice to have a fallback plan for keeping yourself or the kids entertained during the winter months. If you can't have fun outside for whatever reason, then maybe you can enjoy some indoor activities.
But what's a person to do if they don't like to curl up with a good book? Or don't have a passion for hobbies like painting or woodworking?
What if the kids need a designated space to release their pent-up energy? Your house is only so big for healthy roughhousing.
If you find yourself in those scenarios, a basketball court within your post frame building may be an ideal solution for alleviating the winter blues.
In this article, we discuss the advantages of installing a pole barn basketball court and the most popular sizes selected by past customers.

4 Advantages of Installing a Pole Barn Basketball Court
Whether you're a basketball enthusiast or just looking for entertainment, an indoor basketball court can be a great addition to your post frame building.
The significant advantages of installing laminate flooring and a hoop in your pole barn include: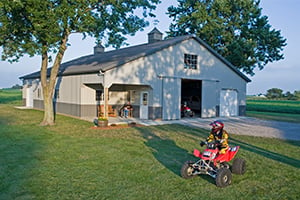 1) A Great Pastime for the Kids
Are you raising the next Michael Jordan, Kobe Bryant, or Lebron James (depending on who you think is the G.O.A.T.)?
Having a post frame basketball court is a great way to perfect those dribbling, footwork, passing, and shooting skills, especially when the months turn cold. Your athlete won't have an excuse to miss practice.
Also, your kids can release their pent-up energy when the bitter temperatures give them cabin fever. You may find this feature extremely helpful in times of a global pandemic. The kids can play in a warm post frame building while you focus on remote work or household chores.
2) Renovate Your Existing Pole Barn
Do you have an existing pole barn on your property that isn't being used to full capacity? You can easily renovate this space to include an indoor basketball court.
Depending on the building size and your storage needs, you can install a half or full-court option. Regardless of the court size, your kids can still practice their lay-ups and three-point shots.
We recommend checking out our blog titled "Pole Barn Renovation Ideas: What Can I Do?" to get the most out of your building design.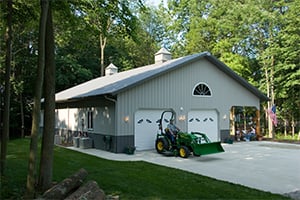 3) Increase Your Property Value
Although you don't plan to move anytime soon, it's important to consider your post frame building and property's resale value.
Per Realtor Magazine, a large, attractive garage or storage building adds curb appeal and resale value to your property. In fact, the lack of garage space is a deal-breaker for some home buyers.
However, a post frame building with an indoor basketball court can be a deal maker for future buyers with younger children (or plan to start a family).
Moreover, a pole barn basketball court has the potential to help you sell your property faster. Or you might like it so much that you won't move!
4) Perfect for Year-Round Use
Having an indoor basketball court in your post frame building is not only good for winter use but summer too.
Pole barn insulation works to keep your post frame building cool in the summer and warm in the winter months. Your HVAC system will also keep the space climate-controlled 24/7/365.
You may also install a ceiling fan in your pole barn. For instance, this feature can increase airflow, improve ventilation, reduce condensation, and result in energy savings.
As a result, you or your kids can enjoy a quick pick-up game despite the weather outside.
What Are the Most Popular Pole Barn Basketball Court Sizes?
Now that you're aware of the advantages of installing an indoor basketball court, are you ready to build brand new or renovate your pole barn to accommodate one?
Below, we take a look at some of our favorite post frame projects with basketball courts. Our goal is to provide you with different court sizes to keep in mind as you design your pole barn.
1) The Pole Barn Home with a Large Garage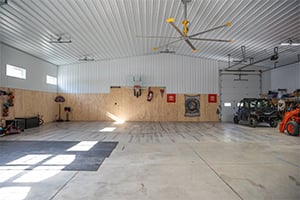 Located in Tippecanoe County (IN), this pole barn home looks like it was designed by Chip and Joanna Gaines. You know...the lovable co-stars from HGTV's "Fixer Upper."
Inside, you'll find that this open-concept floor plan includes the usual:
Kitchen
Dining Room
Living Room
Bathrooms
Bedrooms
Loft Storage
What really sets this post frame home apart from others is the basketball court inside the large garage. It's the perfect combination of recreational and storage space.
The interior finish includes steel and plywood liner with batt insulation. Laminate flooring gives the basketball court a more polished look. A Big Ass Fan helps keep the area cool during the warmer months.
Trust us; this pole barn home is truly one-of-a-kind.
Post Frame Basketball Court Size: 48' x 44' x 12'
2) The Weekend Getaway with a Recreational Area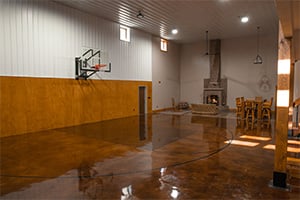 Located in White County (IN), this post frame home serves as a lodge for people looking to escape the hustle and bustle of everyday life.
Arrowhead Pass is a 7,950 ft2 building with 3,760 ft 2 of climate-controlled living space. It accommodates both small and large groups with the following features:
2 fireplaces
2 kitchens
2 lofts
4 bathrooms
4 bedrooms
4 dining areas
The shop serves as a recreation room equipped with an indoor basketball court. The owners opted for a half-court setup with plenty of storage space for other belongings (e.g., bicycles or 4-wheelers).
The interior finish is a combination of steel and plywood. Batt insulation was installed to help maintain a comfortable temperature for a quick pick-up game.
Furthermore, a radiant floor heating system was installed under the concrete slab. You'll never have to worry about cold feet during the winter months!
Post Frame Basketball Court Size: 18' x 104' x 10'
3) The Hobby Shop with a Hoop
Post frame construction is well-known for its versatility. Pole barns can offer something for everyone, and sometimes these structures can serve multiple purposes at a time.
Let's take a look at this hobby shop located in Will County (IL). Half of the post frame building is for classic car storage, while the other half includes a tiled basketball court. The commercial-grade hoop is secured to the steel and OSB panels.
Altogether, this pole barn is perfect for those who need room for more than one hobby.
Post Frame Basketball Court Size: 60' x 120' x 20'
4) The Ultimate Man Cave/She Shed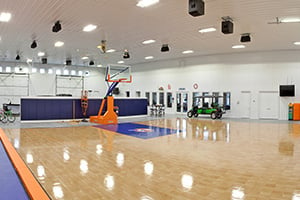 Building a man cave or she shed is one of the biggest trends in the post frame industry.
If you're looking for a personal area to pursue hobbies or leisurely activities, then a man cave or she shed is right for you.
Check out this hobby shop located in Champaign County (IL). It's the best of both worlds as the building design includes living quarters with an indoor basketball court.
Fun Fact: This man cave won 3rd Place in its division at the 2017 National Frame Building Association (NFBA) Building of the Year Awards.
This particular basketball court is a half-court set up with an authentic wood floor to give it that true gymnasium feel. An interior liner and ceiling were installed with a professional basketball hoop.
Plus, there's plenty of storage room for bicycles, 4-wheelers, golf carts, and other recreational toys.
Post Frame Basketball Court Size: 70' x 104' x 20'
Are You Ready to Install Your Pole Barn Basketball Court?
Whether you install a pole barn basketball court is up to you. Our goal as one of the top post frame builders in the Midwest is to provide tips that'll help you design the perfect structure.
Are you interested in seeing plans? You can download our FREE Rural Lifestyle Plan Book. This guide features 16 detailed drawings, including a variety of storage, utility, and hobby buildings made for the way you live (or want to live).
Also, you can design your building with our online 3D design tool. Save, print, or email the final plan to family and friends.
Are you ready for a quote? Submit your building design, and a member of our sales team will give you a call to begin the estimating process.
---
Do you have more questions about pole barn basketball courts that are not covered in this article? If you need help designing and planning, please contact FBi Buildings at 800.552.2981 or click here to email us. If you're ready to get a price, click here to request a quote and a member of our Customer Engagement Team will help you determine the next steps of your project.