Building Tips | Building Features | Cost | Building Design
6 Ways to Build a Pole Barn on a Budget

Subscribe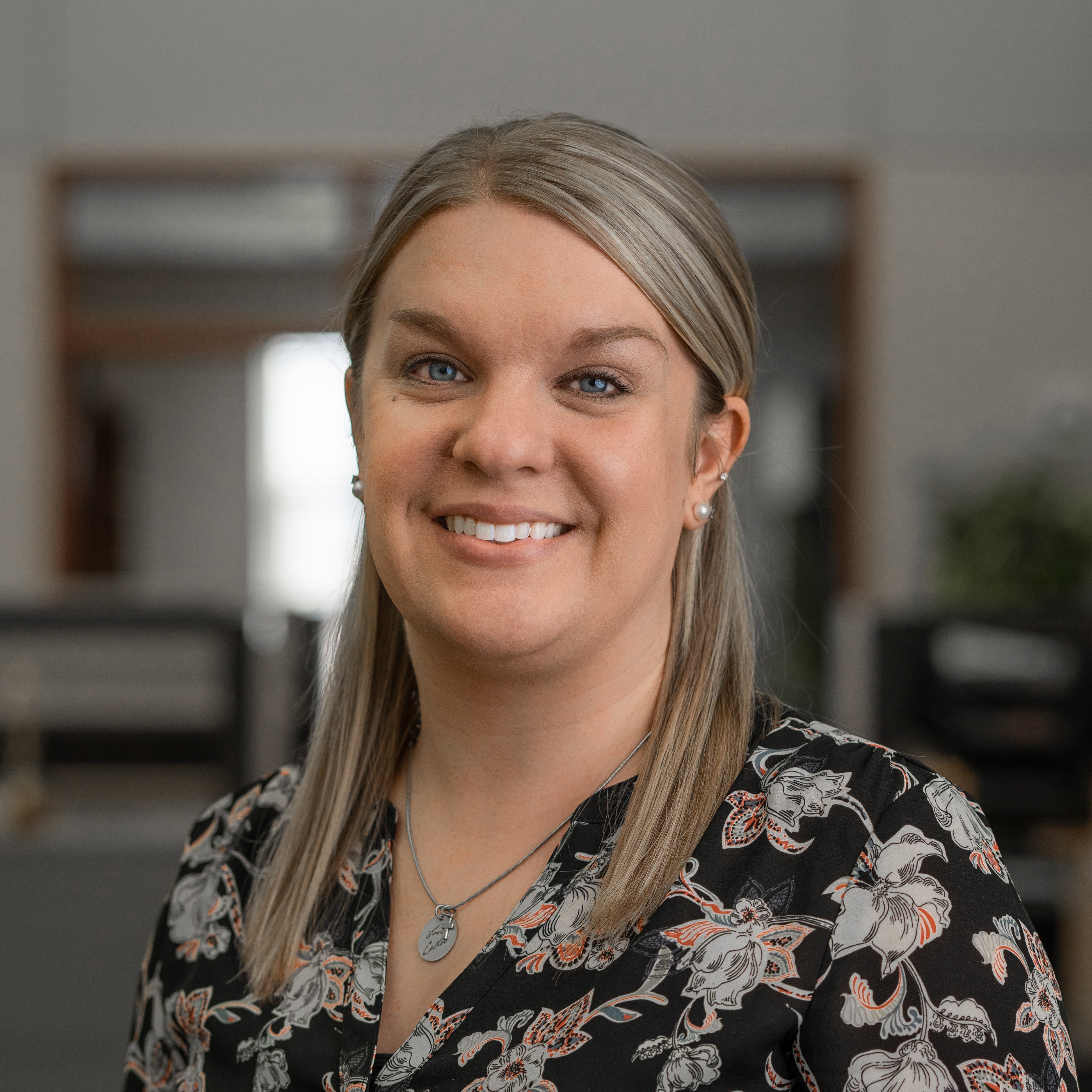 Angie graduated from Indiana State University with a Bachelor of Science in Interior Design. Prior to joining the FBi team, Angie was a kitchen and bath sales consultant in Lafayette, IN. In 2012, she started with FBi as the Inside Sales/Marketing Assistant. Today she holds the role of Sr. Marketing and Inside Sales Manager. Angie grew up in a farming community and has always enjoyed helping her family on the farm. A past 10-year 4-H Member, her passion for livestock pursued her to take a career in the agriculture field. She and her husband live in Northwest Indiana with their two daughters. In her free time, she enjoys outdoor leisure activities and spending time with friends and family.
You work hard for your money, so you want to ensure those dollars are properly spent. If there is a way to cut costs and get the post frame building you've always wanted, who wouldn't want to take advantage of that? One of the many benefits of building a pole barn is the flexibility for every budget and every need. Building a new farm shop, horse barn, or even post frame home can seem intimidating because it's a considerable investment that requires a great deal of time, planning, and decision making. With the copious quantities of building features available for pole buildings, it's tough to decide which of those features you'll need and what can be completed at a later time.
If you decide to work with FBi, our Project Sales Consultants will walk you through how you can save money on your future post frame structure, all while still getting a high-quality building. We're all about helping you cut costs without jeopardizing the overall structural integrity or sacrificing quality building materials for your custom pole barn.
In this article, we will explain the six ways to build a pole barn on a budget. Who knows, you still might be able to get the building you've always wanted in the long run.
6 Ways to Build a Pole Barn on a Budget
1. Planning Ahead for Your Project
Are you the type of person who knows what you want and how you're going to get it? If you answered yes, planning for a new pole barn shouldn't be any different. You'll eventually learn that a well laid-out plan will be beneficial during the building process.
3 Tips to Help You Plan Ahead for Your Post Frame Building
Obtaining a

building permit

: Unfortunately, there isn't a "one size fits all" permit for post frame construction. It all boils down to the intended use and

location

.
Many municipalities restrict where you can and cannot build. The one common connection between all pole barn permits is the setback, easement, height, and lot coverage restrictions.
If you know what restrictions your building permit may/may not have, it will help you prepare your building site and decide where those overhead doors need to be placed.
Preparing your building site: Site prep is the work done on your land before construction. Are you aware of the setback and easement requirements that your permit has in place?
This process allows you to identify site complications upfront and address them before construction begins.
Flexible building schedule: When you rush to get your project done, you're also rushing your

post frame builder

to get everything put in place to meet your deadline.
Jobs that are rushed will normally acquire additional charges for materials, shipment, delivery, etc., resulting in a higher cost. If you go into the process of having a flexible schedule (and giving your builder plenty of notice), then those additional charges usually do not occur.
2. Preparing Your Building Site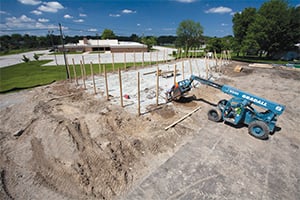 What if I told you that proper site preparation could save you time and money? Would you be willing to take the necessary steps to get your site done, right?
These seven steps will ensure for proper site preparation and help you fix any "unexpected" problems before construction beginning.
Determining building location and elevation: When deciding, consider the flow of people and equipment–especially if you have multiple buildings.

Elevation impacts drainage

and managing where the water flows.
Site access: Of course, you're already planning out how you'll access your finished building, but how will your builder access your site?
Will they have enough room to deliver your materials?
Is your site free of debris so the builder's equipment won't get stuck?
Will your builder have enough room for their heavy equipment?
Good site access allows equipment and materials to be delivered easily and efficiently.
Perimeter access: Perimeter access focuses on people and equipment once they are on site. In layman's terms, the construction crew needs room to move around on site.
Maintaining a clear and dry perimeter will allow materials, equipment, and crews to move swiftly.
Protecting your investment (safety): Your builder should value safety and take steps to assure you of that. Some job site hazards are already on your site, and you may not even realize it. Keep in mind these four points when choosing a post frame builder.



Safety: Make sure your builder has a safety program and a full-time safety manager. This will help determine what hazards are present on the job site that you might not be aware of.
Project Manager: Having a designated Project Manager allows you not to oversee the construction of your building, giving you much-needed peace of mind.
Builder's Risk: A Builder's Risk Insurance Policy is a must, protecting you during construction from any theft, storm damage, or vandalism that may occur.
Warranty: A comprehensive

warranty plan

provided by your builder is crucial for your building project's long term security.
Preparing your building pad: From pad structure, fill type, and drainage...all of these are important aspects of preparing your building pad.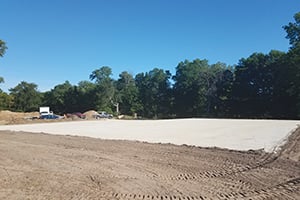 Here's a good overview to help you get a general idea of what we're discussing:
When to build your pad: Before building your pad, you need to analyze the benefits of each season and determine the ideal time to build.


Pad structure: Before the construction of your pad occurs, you (or your excavator) need to highlight key areas (dependent on your site) to ensure the pad is executed correctly.
Fill type: It's vital to discuss the different fill types and their advantages before you start.
Drainage: To minimize condensation within your building, it's important to review proper drainage. If done incorrectly, it can cause long-term effects on your structure.
Setting your crew up to win: When your crew is set up to win, they build more efficiently. A proper building pad allows their work schedule to be more predictable, regardless of the weather.
Finishing your project on time: With multiple parties working together to meet your deadline, scheduling factors need to be taken into consideration. For example, look for a builder that will help you facilitate a project schedule and pull in an excavator early to understand and meet the project deadlines.
3. Construction Start Date
During the winter, steel and lumber prices are historically lower. This allows for more economical pricing compared to the rest of the year.
Typically, post frame builders start the new year with a lower backlog. This provides flexibility to get on-site quicker and meet your project time frame. Depending on the time of year, this can range from one to three months.
Another factor to consider is your builder's crew power, which varies on your pole barn size. For smaller residential buildings, crews with 3-4 men maximize time and efficiency. For larger farm or commercial buildings, crews with 4-10 men ensure effective practices and help complete your project on time.


4. Determining the Right Pole Barn Size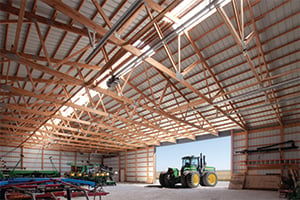 When you're trying to decide on the right pole barn size, it's always a good idea to determine what you will be storing (currently) or what you plan on storing in the future. Not only does the length and width play a role in the building price, but so does the height of the building.
We recommend staying within the industry norms. Remember these three tips when planning for your building.
Keep your building's width at 6' increments and the length of your building at 8' increments.
If you're looking to add height, 14' - 16' tall buildings will cost less than buildings that are over 16' tall. This is partly because buildings over 16' tall will use bigger columns to ensure proper

structural integrity

.
Any buildings over 80' wide will use two-ply trusses instead of single-ply. The upgraded truss will also need to use four-ply columns instead of our standard three-ply.
It's important to note that the above scenarios are just recommendations to get a cost-effective pole barn within your desired budget. We are a custom post frame builder, which means we can build any size you're looking for.
5. Reduce Added Building Features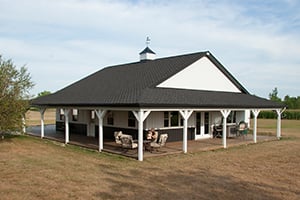 Certain building features can make your pole barn stand out, but should you include them in the building design if they do not serve a purpose? Sure, they might be nice to have, but would you be able to get the building you want all while saving money?
If the following are not necessary and could stretch your budget a little further than you'd like, it might be a good idea to leave them out or not upgrade.
6. Phase Out Any Interior Work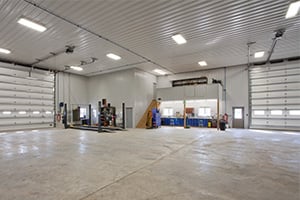 It is effortless to rack up the bill by finishing the interior of your pole barn. Sure, you'd love to have everything done at once, but is it something that can be done later (especially if your budget doesn't allow for it)?
If your budget is getting stretched too thin, consider phasing out these four options for later.
If you know this is something you plan on doing, it's important to let your builder know upfront so they can prep the interior for you. The most common interior finishes include:
Plywood
Oriented Strand Board (OSB)
Steel
Combination (Plywood & Steel)
Learn about each pole barn interior finishes' pros and cons, seeing which one would make the most sense for you.
If you know having extra space is important to you, it might be wise to prep for an interior deck system/loft. Installing a loft is the easiest way to add more room without breaking the bank.
You can store outdoor accessories (e.g., bicycles or kayaks) or holiday decorations that are taking up precious real estate in your garage.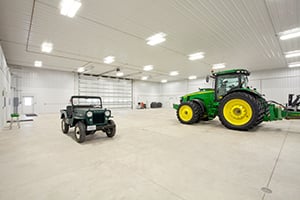 Concrete is a great foundation for any type of post frame building. However, your concrete doesn't have to be poured right away. If your building gets put up in the fall, you can have concrete poured in the spring.
Concrete also reduces the following annoyances associated with dirt, gravel, and stone floors:
Dust build-up
Excess

moisture

Inability to maintain a clean space
Depending on the contractor, it's available in a wide variety of colors, finishes, and stamps.

Lean-To/Building Additions
One of the biggest regrets we hear from our past customers is, "I wish I would have built a bigger building." We want to make sure we help you get the building you want without having any regrets later on.
Maybe you have plans for a larger building down the road, but it isn't entirely necessary at the moment (remember...planning is a good thing). Before you go too far, identify the amount of additional square footage needed. This number will help you decide if expansion is possible, as well as the best option for you.
If your post frame builder is aware of the future addition before construction starts, they can make sure your building is prepped to affect overall structural integrity.
How Will You Build Your Pole Barn on a Budget?
Now that you've learned about the tips and tricks to keep your pole barn on a budget, what will you decide to do for your overall design?
We understand it's easy to be indecisive during the design stage when deciding upon the options you want. It's part of our job to help make sure you're making the right choices for your future building.
If sticking to your budget is the priority and getting the post frame building you want is also of high importance, plan for the changes you'll be making later. You'll be glad you thought of the future needs and wants because your building will already be prepped for it.
---
Do you have more questions about pole barn costs that are not covered in this article? If you need help designing and planning, please contact FBi Buildings at 800.552.2981 or click here to email us. If you're ready to get a price, click here to request a quote, and a member of our Customer Engagement Team will help you determine the next steps of your project.