Posts | Building Features | Building Design
Pole Barn Interior: Can You Install Drywall?

Subscribe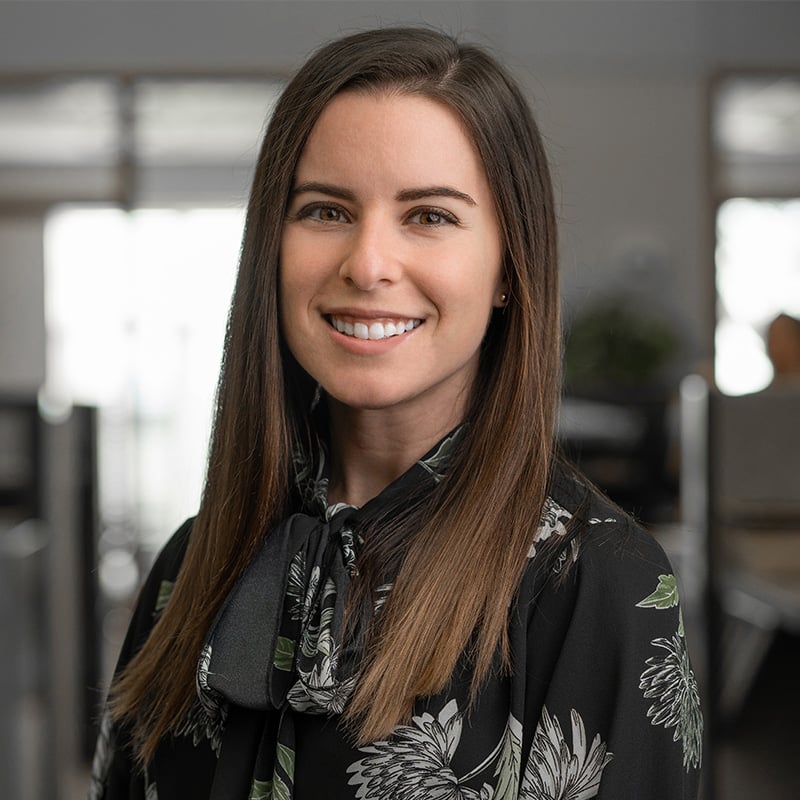 After working in the banking industry for 5 years after college, Courtney realized she needed a change and decided to pursue a new career path. Growing up she has always been creative and enjoyed writing, taking pictures, or painting. Now as the Marketing Content Creator for FBi Buildings, she gets to utilize her creative abilities in her everyday work. In her free time, you can find Courtney at home reading a book, partaking in any and all outdoor activities, or traveling and photographing her adventures. Courtney resides in Northwest Indiana with Lacey, her red tick coonhound.
There's a vast array of options when it comes to finishing your post frame building, both inside and out. Deciding on the finishing touches is always the most fun, but finalizing these selections can seem far-fetched.
The finishing touches you select are dependent on the style you wish to achieve for your pole barn.
Is the purpose of your pole barn storage space, which won't require anything extravagant? Or are you constructing a farm shop that needs to be durable and made for working?
Perhaps you're building a pole barn to use as living quarters, so finishing touches are an absolute necessity.
When it comes to attaining a completed appearance, drywall can help to achieve this.
The best part is that you can incorporate drywall in your pole barn's interior.
However, is this finish the best option for you? Like most building materials, drywall has its advantages and disadvantages. Keep reading to determine if incorporating drywall in your building plans is the right decision.
How Can I Install Drywall in My Pole Barn?
Drywall isn't limited to stick-built homes or garages. In fact, it can be used in post frame buildings.
Unlike stick-built construction, pole barns lack interior stud walls to secure the drywall. Their columns run vertically to the foundation. Sidewall girts attach horizontally to the columns and support wall sheathing.
To properly install drywall, interior girts need to be placed 16'' to 24'' on center where drywall will be fastened.
What Are the Advantages and Disadvantages of Adding Drywall to My Pole Barn?
Although FBi Buildings doesn't install drywall in your post frame building, we still want to inform you of the advantages and disadvantages of finishing your pole barn with this material.
Below, we list the pros and cons of pole barn drywall to help you determine if it's a viable option.
Advantages of Pole Barn Drywall:
1. It's more appealing to the eye.
If you're looking to incorporate drywall into a residential home, commercial building, or office space, it can be more attractive in this environment than other finishing options, such as a steel liner or OSB panels.
Drywall offers a sleek look and provides the possibility to add personal touches, since there is a solid wood member behind it. You'll have no problem securing these items on the wall if you choose to hang pictures, shelves, or other decorations.
Once you put a nail through steel liner, there's no turning back. That hole is there forever. It's critical to keep this in mind when reviewing the building plans.
2. You can easily repair damages.
If you accidentally damage a portion of your steel liner, you'll need to replace the entire panel to repair the damage. Panel replacement can be costly, and your wallet won't be happy.
If you accidentally damage a portion of your drywall, repairs can be as simple as patching and repainting. This option is budget-friendly and easier to take care of than having to replace it entirely.
Should you need to replace a more significant section of the drywall, it's a quick and easy process. It can be cut to size, whether you need a large piece to replace an entire section or a small piece to patch a hole, which makes it favorable in all spaces.
However, this doesn't mean the drywall is superior to other options. This all comes down to your personal preference on what finishing touch will work best in your pole barn.
3. The color options are endless.
Choosing drywall to finish the interior of your pole barn opens up endless possibilities of colors to personalize your space.
Drywall is made to be painted, whereas steel lining comes as is. This is especially helpful in residential pole barns with living quarters so you can truly make the space your own.
Commercial buildings can benefit from the use of color as well; especially those spaces customers see each day. Color can brighten up or neutralize the space to fit the personality of the products or services being offered.
In certain instances, such as hobby shops or storage areas, color is not the essential aspect of the space, and an interior liner package would suffice.
4. Say hello to noise reduction.
Most conventional drywall has a solid core of gypsum, a mineral that is made up of calcium sulfate. While conventional drywall doesn't entirely eliminate noise outside of a room, it'll muffle the sound.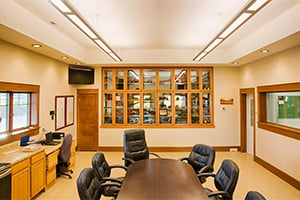 This is exceptionally helpful in commercial or farm offices where noise is abundant outside of the office space.
Drywall even helps with noise reduction within the room you're standing. Noise doesn't travel or echo as much as it would in an interior space lined with metal.
While conventional drywall is most popular among builders in the post frame and stick-built industries, there's another option that exceeds this standard, and that is noise-reducing drywall.
Noise-reducing drywall is made up of two dense layers of gypsum in the core, with a layer of viscoelastic polymer in between the gypsum. This choice is perfect for areas where you would like to eliminate distractions and increase focus.
5. It's fire-resistant.
Due to gypsum inside the core, drywall becomes fire resistant because the gypsum itself isn't flammable. Some drywall companies add glass fibers to the gypsum, which increases fire resistance.
How drywall helps to manage fire isn't only dependent on how it's manufactured, but also by how it's installed. Your drywall contractor will know local and state standards and fire codes to correctly apply and finish the drywall in your pole barn.
It's important not to confuse resistant with repellent, though. In this instance, steel liner might be the best choice since it's better at propagating the spread of fire.
Disadvantages of Pole Barn Drywall:
1. Potential for easy damage.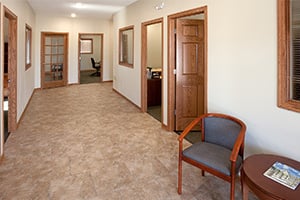 Unfortunately, drywall is quite brittle and prone to cracking along the joints, especially if it's not correctly finished.
It's normal for any foundation to settle over time. When this happens, ground shifting can put pressure on the structure, and it'll shift in ways it's not used to.
If shifting were to occur, this could cause the drywall to crack, since it's not flexible or able to move easily. Steel can bend and move more naturally, which makes steel liner packages a more favorable option in these instances.
Even with age, peeling drywall tape or nail pops is a common occurrence. These can become an eyesore and make the space look old or worn out.
However, since drywall is so easy to patch and repair, this could be a minor inconvenience for some as opposed to a complete disadvantage.
2. It's incredibly heavy.
Unlike its flexible counterpart steel liner, drywall is actually quite heavy, and we're talking 2-3 times more.
The heavy weight could make installation difficult for some, especially if you plan on doing the work yourself. However, should you opt to contract a professional team to install the drywall for you, this shouldn't be problematic for them as they have a lot of practice under their belts.
3. Adding drywall to an existing pole barn isn't ideal.
When a stick-built building is designed, drywall is nothing out of the ordinary to include in the building plans. But, when it comes to designing post frame buildings, extra steps need to be considered.
Most existing pole barns are not designed with drywall in mind. This makes it difficult for someone who wishes to add this feature because it's not as simple as hanging up sheets and calling it good.
As we mentioned above, for drywall to be incorporated into the design, your post frame builder's engineering team will need to investigate the original post frame structure. You'll want to converse with your builder to see if the building can handle the additional ceiling load.
If you're looking to add drywall to an existing pole barn, it could become costly to properly secure the drywall and keep your pole barn's structural integrity intact.
4. Vertical studs aren't a feasible option.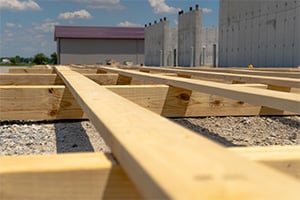 If your preference is vertical studs like we see in stick-built construction projects, adding drywall might not be the best option.
In post frame construction, there's no continuous foundation for the studs to be placed. Columns are typically spaced 8' on center and secured in the ground by concrete, making it difficult to consider using vertical studs between these columns.
In addition, adding insulation is also a challenge.
Horizontal wall girts are connected to the vertical columns, so adding in vertical studs breaks up insulation. The insulation cannot fully serve its purpose, potentially leaving your building colder in the winter and warmer in the summer.
Plus, you'll have to consider the cost of extra framing for drywall which can add up.
5. Drywall isn't water-resistant.
It's no surprise that drywall cannot deflect water since it's made up of paper. When installing drywall in areas of high moisture (e.g., a bathroom), there's the potential for its condition to be affected.
When drywall becomes damp from leaks or condensation build-up, this leaves the door open for mold growth. Once mold is apparent, the drywall must be removed immediately. If it's not taken care of quickly, further damage can ensue, as well as possible health problems.
To prevent moisture build-up and mold growth, opt for drywall that has an outer layer of fiberglass as opposed to paper.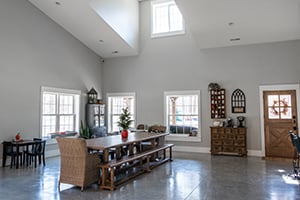 Will You Drywall Your Pole Barn?
After reviewing the advantages and disadvantages of incorporating drywall into a pole barn, will you install it in your next building project?
It's crucial to weigh the pros and cons before including drywall into your building design. In residential living quarters, drywall is considered a must, but in a cold storage building or garage, it might not be ideal.
Once you've concluded what purpose your pole barn will serve, the answer will come easily. Regardless of whether you choose to include drywall or not, we're positive you'll love your post frame building.
Just remember to build with confidence.
---
Do you have more questions about pole barn drywall that are not covered in this article? If you need help designing and planning, please contact FBi Buildings at 800.552.2981 or click here to email us. If you're ready to get a price, click here to request a quote, and a member of our Customer Engagement Team will help you determine the next steps of your project.