Posts | Post Frame Homes | Residential Buildings
Post Frame Home vs Stick Built: What Should You Choose?

Subscribe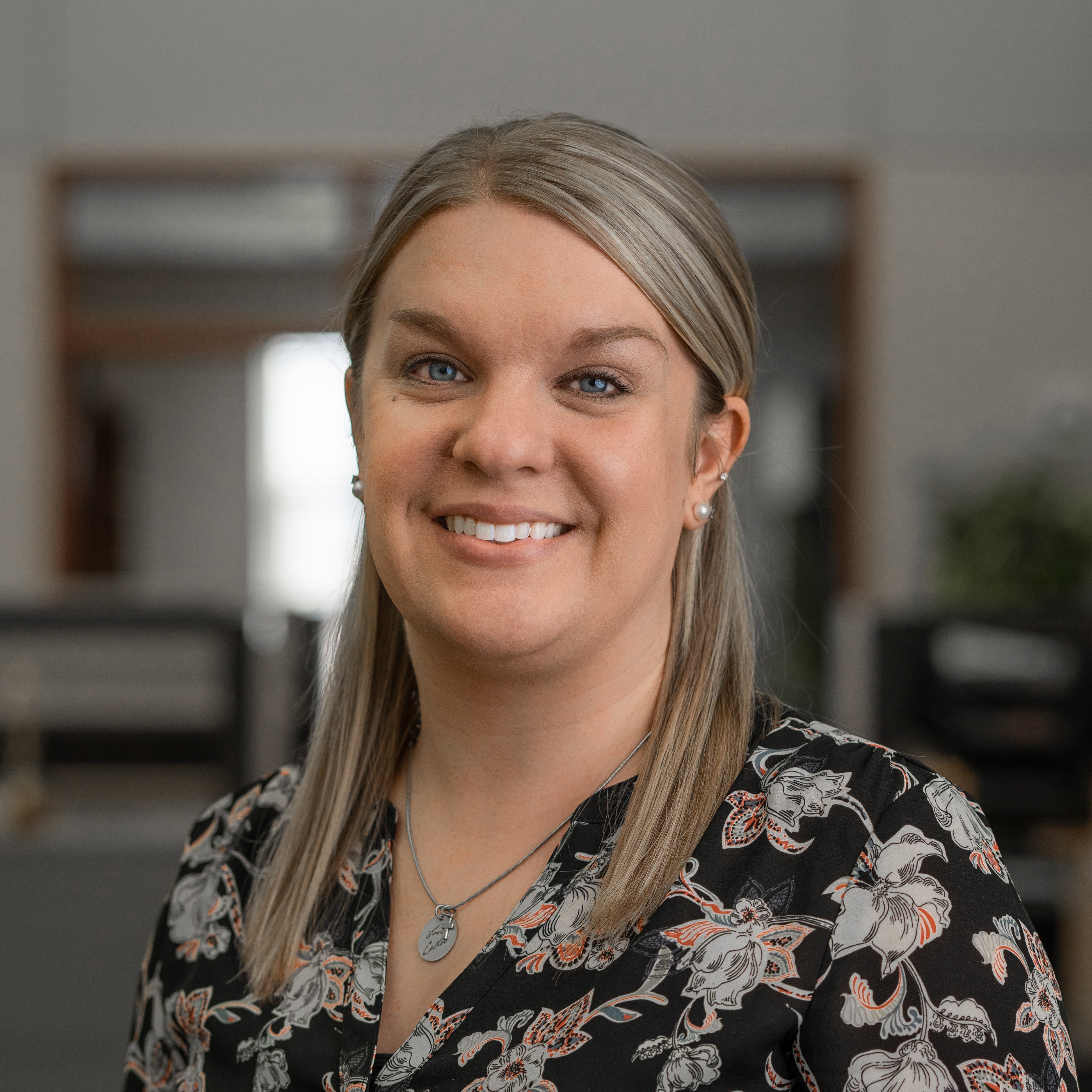 Angie graduated from Indiana State University with a Bachelor of Science in Interior Design. Prior to joining the FBi team, Angie was a kitchen and bath sales consultant in Lafayette, IN. In 2012, she started with FBi as the Inside Sales/Marketing Assistant. Today she holds the role of Sr. Marketing and Inside Sales Manager. Angie grew up in a farming community and has always enjoyed helping her family on the farm. A past 10-year 4-H Member, her passion for livestock pursued her to take a career in the agriculture field. She and her husband live in Northwest Indiana with their two daughters. In her free time, she enjoys outdoor leisure activities and spending time with friends and family.
It's a nice, sunny day and you find yourself driving down a country road. What do you see? Fields of corn. Pastures with cows. Post frame sheds. A stick built home currently being constructed. Another stick built home...or so you think.
This building has multiple windows and a country red front door with a 'Welcome' sign hanging on the front. It's nicely landscaped and the grass is freshly mowed. Could this be a pole barn home? The answer is yes.
You're intrigued. You want to learn more. So, what do you do? As soon as you get home you search 'post frame homes,' and you're surprised with what you find.
The internet is full of comparisons between post frame and stick built, and you're probably a little shocked. You just knew that post frame was cheaper, didn't you?
We understand why you would think that. You assume that pole barn construction would cost less and the building materials would be less. But, what if we told you that isn't always the case?
If you've read our other blogs on post frame homes (if not, I suggest you do), then you should have a basic understanding of how they differ from stick built. You should also understand that they present a few challenges that are unique to post frame construction.
However, there is something else unique...
We want all of our customers to be able to choose the building design that's best for them. And as your trusted pole barn builder, we will do our best to help you get there.
But, we are going to be honest and upfront with you because we don't want you to experience any surprises.
Surprises? Post frame is easy. Post frame is cheap. What surprises should come up?

Thanks for asking. Let's talk about this for a minute.
Post frame differs from stick built in the following three areas: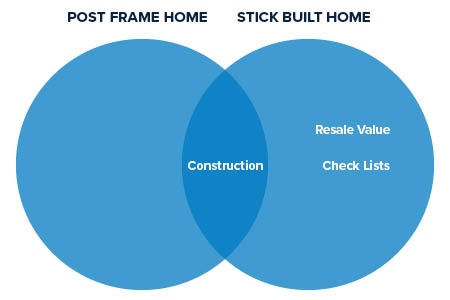 RESALE VALUE
Post Frame
We may live in a world where cash is king, but in a post frame environment, cash loses some of its cache. It all has to do with resale value.
Hypothetically speaking, let's say you plunk down cash for the construction of your new post frame home. You can afford it and feel no pain in your finances. Everything goes great. But eventually, for whatever reason, you decide to sell.
However, your prospective buyers need to finance. But, there is a problem. The bank is making it difficult because they're not experts at appraising post frame. This could slow down or completely scuttle the sale.
Even though you never worried about financing up-front, you've become a victim of it later.
But, if you know you won't sell for several years, or you're not worried about making a quick sale, then you might be ready to build.
Stick Built
Unlike post frame, when you decide to sell your home chances are the process will go a lot smoother for you.
But, there is one disadvantage that you can't control. The buyer's market. Ahh yes - what type of interest rate will you be getting? That all depends on when the best time to sell (or buy) will be.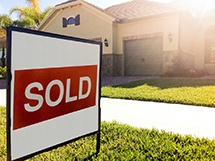 If you're building a new stick built home (or even a modular home), there are a few things to keep in mind that will help with resale value:
Location

Is your house located in town or in the country?
What school district will your kids go too?

Size

What's the living space like?
How many bedrooms and bathrooms?
Is there plenty of storage?
Does it have a basement?

Property

Have you done landscaping?
Have you taken care of the interior and exterior?
When you do decide to sell, chances are you're going to meet with a realtor and he/she will tell you what you need to do to your home to get it ready to sell.
Don't be surprised if you have to drop a few thousand dollars though. But, don't worry. The odds are in your favor and you'll make it up when the home sells.
CONSTRUCTION
Post Frame
Building a pole barn home provides you with a lot of options to think about. And the number one thing you should be thinking about is finding a builder who specializes in turn-key construction.
What do we mean by that? A builder who handles everything.
Everything? You know - the exterior, the interior, the plumbing, the electric. Unfortunately, if you decide to go with us, we only specialize in building the shell, which is just a part of your overall project. The other parts can be handled by a general contractor, which we can help you find or you can choose your own.
However, some customers prefer to handle the process themselves. And those with the knowledge and experience find this to be an enjoyable and rewarding activity.
Yet, for those with no experience, they are quickly surprised by how much time it takes to manage the basic requirements of building a new site. For them, they'd rather have the time savings and hire someone to be their GC.
Scheduling and paying for excavation, septic, electricity, water, a driveway, culverts, and more takes lots of time. Plus, if you're pursuing competitive bids from different vendors for each aspect of the job, you could be overwhelmed quickly. And if you're already working a full-time job, you could feel like a candle burning at both ends.
Stick Built
Fortunately, for you, stick built homes can go smoother than a post frame building. Depending on who you decide to build your home (either an architect who specializes in new construction or an independent builder), they will handle the entire project for you - from start to finish.
For some, it's a breath of fresh air because you know nothing about construction or contracting and you don't want to mess with it. For others, it might freak you out a little bit because you want to have control over everything. From start to finish.
If you choose a trusted builder, they will set up checkpoints with you during your project to make sure everything is on task. Your only responsibility? Picking out the interior finishes.
Some builders will have different packages for you to choose from while other home builders will give you dates and tell you when you need to have finishes selected by.
CHECK LISTS
Post Frame
You've put in the hard work researching your new post frame home. You're up for the challenge and you're crossing steps off your list. But, then out of nowhere, a hidden surprise derails your best-laid plans. And it turns out that if you had discovered it earlier, you would have saved so much wasted time.
That thing could be that your county doesn't issue permits for residential post frame unless it has a certain set-back. Ah-ha...the dreaded building codes. Something you didn't think that you would have to worry about.
Whatever the reason, the best first step is always to contact your county, city, village permitting department, and reach out to your bank to discover if they finance post frame homes. A yay or nay on either issue can save you time and money up front.
Once you have answers to your financing, permitting, and constructibility questions, refer to the following checklist of steps for a general overview of the process from start to finish.
The total time from beginning to end can vary widely, depending on the complexity of your design, permit issues, weather, the builder's schedule, etc.
Preliminary Design
Estimate Costs
Initial Staking of Building on Site
Getting Permits
Finished Elevations & Floor Plans
Contract Agreement
Final Staking of Building on Site
Clearing, Grading, Excavation
Utilities Hookup
Building (shell) Erection
Interior Build Out
Cleanup
Driveway
Insurance
Building Maintenance
Stick Built
Once again, the starting point for stick built homes is usually smoother than post frame.
You've decided to build. You've been pre-approved for a loan. You've found someone to work with. Your soil samples tested positive. You're good to go.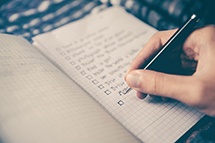 Phew! What a relief. The only hard part for you is the waiting game. Waiting game? Yes - you're at the mercy of your contractor or builder. You can't move into your new home until they are done.
That's why we always stress the importance of finding a trusted builder.
You want to make sure you're working with someone who has deadlines. Someone who has check in points. Someone who will be taking care of the project from start to finish. No surprises. No set backs.
Which Building Option is Best for You?
After reading this article, you might assume that a stick building is a better choice for you. However, yes there is a however, it is not uncommon for some of our customers to live in their farm shop.
They don't care that they have to find someone to finish the interior for them - they are dead set on building a living quarters inside their building. And that's OK...as long as we know that ahead of time.
Only you know your priorities for your new building. It's our job to provide you different aspects to consider as you determine the best fit for you or your business.
Does the building need to fit your aesthetics regardless of cost? Or do you prefer lower costs over customization? The sky's the limit with post frame and we will be here to help you with whatever your needs are.
---
Have more questions about building costs not covered in this article? If you need help designing and planning, please contact FBi Buildings at 1.800.552.2981 or click here to email us. If you are ready to get a price, click here to request a quote and a member of our sales team will call you!