Building Maintenance | Posts | Videos | Building Features
How To Fix a Pole Barn Sliding Door: 5 Easy Steps

Subscribe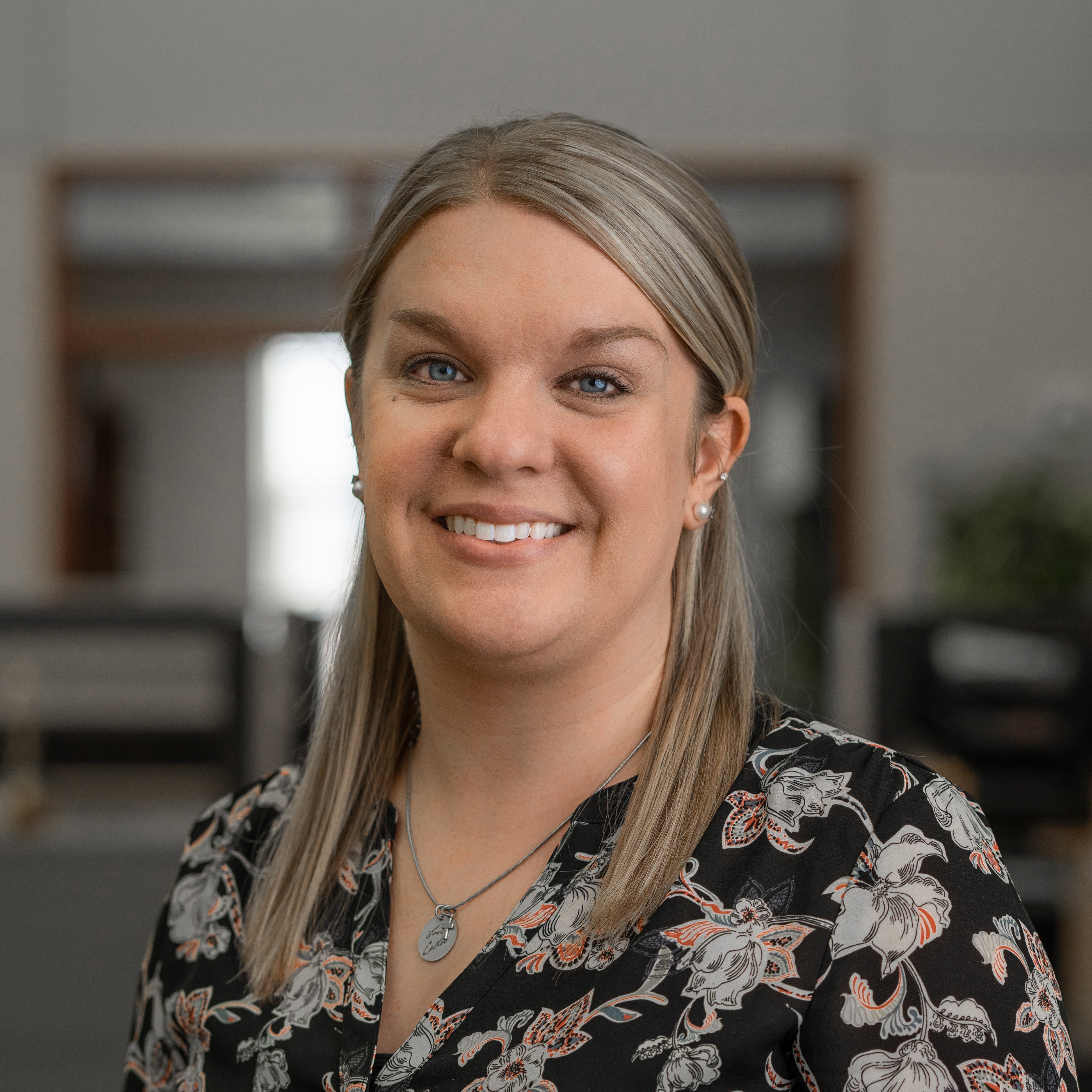 Angie graduated from Indiana State University with a Bachelor of Science in Interior Design. Prior to joining the FBi team, Angie was a kitchen and bath sales consultant in Lafayette, IN. In 2012, she started with FBi as the Inside Sales/Marketing Assistant. Today she holds the role of Sr. Marketing and Inside Sales Manager. Angie grew up in a farming community and has always enjoyed helping her family on the farm. A past 10-year 4-H Member, her passion for livestock pursued her to take a career in the agriculture field. She and her husband live in Northwest Indiana with their two daughters. In her free time, she enjoys outdoor leisure activities and spending time with friends and family.
Your pole barn project is complete. It's everything you imagined it would be and then some.
Your heavy machinery (e.g., baler, combine, tractor, planter, and skid steer) has a nice place to stay in a durable farm shop.
After a long day at work, you can sneak away to your custom hobby shop to work on enjoyable side projects. You couldn't ask for more.
Some customers spend years planning the perfect building design. Meanwhile, it takes others a couple of months.
A pole barn is a large and rather permanent investment. So, it only makes sense that you'd want every aspect of your construction project to run smoothly. Most importantly, you want to ensure that your post frame building will withstand the test of time.
Eventually, life happens. You're busy. Your children or grandchildren keep you on the go with school and extracurricular activities. Your job keeps the internal wheels turning.
And you can't forget about the daily maintenance of your home and property. We understand the everyday hustle and bustle.
How to Fix Your Pole Barn Sliding Door in 5 Easy Steps
Assess the Situation
Check Your Centers Guide and T-Guides
Inspect Your Posi Roller
Raise or Lower the Sliding Door
Make Sure the Doors Align
Then, one day, you go to open your sliding door. You notice that it's not working correctly. Your frustration is starting to show. The following questions swirl through your mind:
Is it stuck?
Does the sliding door need adjusting?
Do I need to clean the tracks?
Do I need to call my pole barn builder to have this fixed?
Is this something I can fix all on my own?
If you're thinking, "my sliding door is broken, and I'm not sure how to fix it," we're here to help you. Some things are simple enough to fix and adjust on your own. Hopefully, this is one of those instances.
Instead of pouring through Google searches and YouTube videos for a solution, we've detailed five easy steps (and a short how-to video) that you can follow to fix your pole barn sliding door all on your own.
No repair crews are needed (unless you really don't have the time and prefer someone else to fix it for you).
Watch a Video Tutorial
Are you a visual learner? No problem. Sometimes, watching a video tutorial is easier to follow than reading (and re-reading) the directions.
Check out this short video for a step-by-step breakdown on how to fix the sliding doors on your post frame building.
How to Fix a Pole Barn Sliding Door in 5 Easy Steps
1) Assess the Situation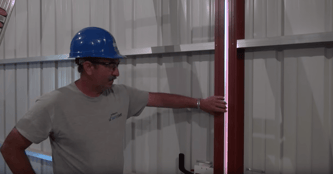 First, you need to check the rollers (both upward and outer) for necessary adjustments.
This inspection ensures that your sliding doors are properly aligned.
How your door is unaligned (at the top or bottom) will determine which alterations you can make. For instance…
If the door is falling inward at the top, adjust your center rollers down and outer rollers up. Vice versa, if the door is falling inward at the bottom, adjust your center rollers up and your outer rollers down.
Please note that it'll take a little bit of testing to see which alignment works best for your sliding doors.
2) Check Your Center Guides and T-Guides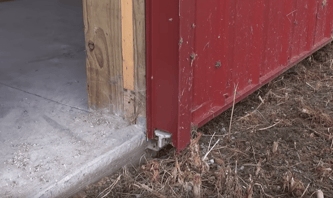 Next, you need to check the hardware on the outside to see how much room you have until it meets the center guide.
The pole barn doors will need to be raised or lowered depending on the distance between the center guide and bottom rail.
Don't forget to examine your T-guides, which are located at the end of each door opening to keep it secured to the jamb.
Are the doors resting or pulling on your T-guides?
You'll be able to tell if you need to raise or lower the doors based on how they're sitting on the T-guides. It should sit comfortably in the middle of the track without rubbing.

3) Inspect Your Posi Roller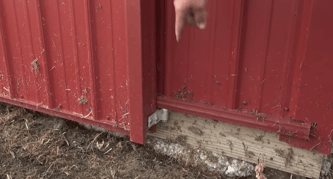 FBi pole barn doors feature the Posi-Guide Track. It's an exclusive weatherproof system that ensures your sliding door opens smoothly all year round.
The Posi-Guide Track doesn't collect rain, ice, snow, or other debris. A unique low-friction polymer roller is protected behind and underneath the track.
The Posi roller keeps the door snug to the post frame structure. This feature is especially convenient on extremely windy days. After all, the last thing you'd need is for your sliding door to fall off the track.
Moreover, the Posi roller should be exposed. Can you find it on your pole barn? If not, you'll need to make some adjustments.
The roller can adjust upward or downward. It has a slotted hole in the mounting bracket that allows you to raise or lower the door by ⅜''.
4) Raise or Lower the Sliding Door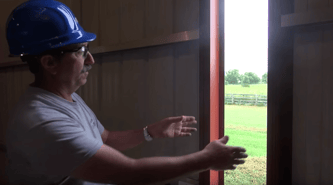 Don't fret...you're almost finished with repairing your broken sliding door. You'll be well on your way to work on other projects.
The fourth step is to raise or lower the door by loosening the jamb nut. The bolt is attached to the roller.
When you loosen or tighten the door, you may notice a slight bend in the aluminum frame. No need to worry! The bolt has a 90° bend. The loosening or tightening of the bolt will pull or push the door out from the header.
Once you're pleased with these changes, be sure to tighten the jamb nut, so your door stays in place.
5) Make Sure the Doors Align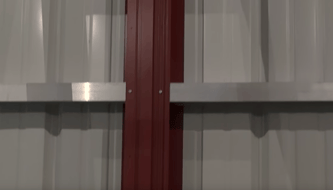 Now that wasn't so bad, was it? We try to make our repair steps as easy as possible for you.
Why? Because we don't want you to incur extra costs by sending a repair construction crew to fix your sliding door. Especially if the warranty no longer covers your building components.
Lastly, you'll need to make sure that your doors are aligned.
Do they sit parallel to each other? Are they gliding smoothly through the center guide and T-guides?
Is your jamb nut tight? If you answered "yes" to each question, then you have successfully fixed your pole barn sliding door. Congratulations!
Do You Still Need Repair Assistance?
It's possible that you've tried every suggestion in this article, and your sliding door still isn't working correctly. Just your luck!
However, we won't leave our customers hanging. Our Repair & Renovation team will get your door back on track (no pun intended).
FBi Buildings has specially trained crews who work exclusively on building repair and renovation projects. Our in-house experts have the knowledge, experience, and materials to enhance your pole barn's visual appeal and extend its useful life.
Best of all, it doesn't matter who built the original post frame structure.
---
Do you have more questions that are not covered in this article or video? If you need help designing and planning, please contact FBi Buildings at 800.552.2981 or click here to email us. If you are ready to get a price, click here to request a quote and a member of our customer engagement team will help you determine the next steps of your project.