4 Types of Pole Barn Headers: Which One is Right for You?

Subscribe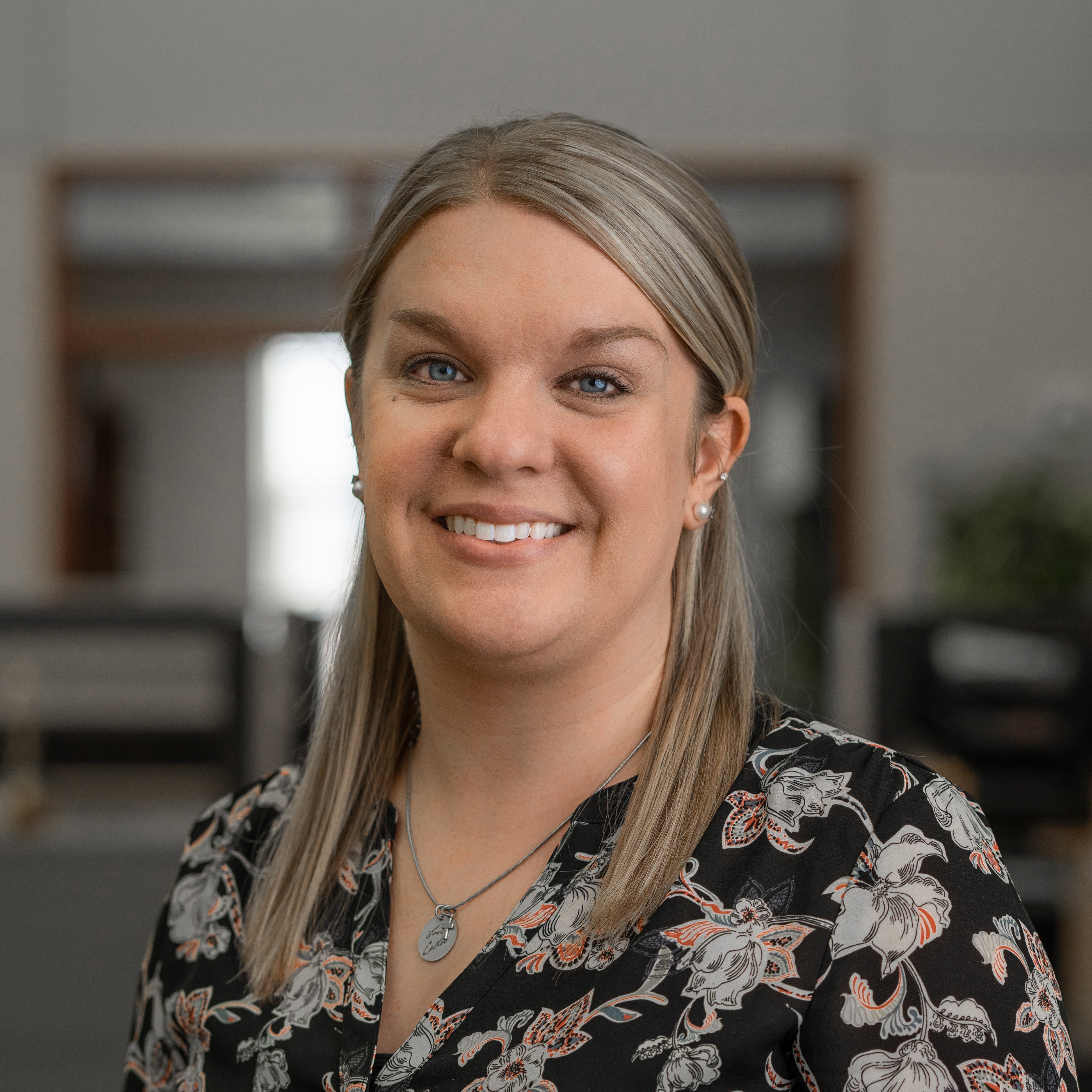 Angie graduated from Indiana State University with a Bachelor of Science in Interior Design. Prior to joining the FBi team, Angie was a kitchen and bath sales consultant in Lafayette, IN. In 2012, she started with FBi as the Inside Sales/Marketing Assistant. Today she holds the role of Sr. Marketing and Inside Sales Manager. Angie grew up in a farming community and has always enjoyed helping her family on the farm. A past 10-year 4-H Member, her passion for livestock pursued her to take a career in the agriculture field. She and her husband live in Northwest Indiana with their two daughters. In her free time, she enjoys outdoor leisure activities and spending time with friends and family.
After months (or years) of mulling around the idea, you've finally decided to take the next step in building a pole barn. The money is already set aside, so it's time to start designing your post frame building.
Sure, it's easy to put together a floor plan using a pencil and paper. In fact, most customers start with this method. If your preferred pole barn builder has an online design tool, then we recommend going down that route.
At the click of a button, you can create your dream 66' x 120' x 16' farm shop with the following features:
However, have you given much thought to the structural components behind your building design? For instance:
What is a Pole Barn Header?
A header is a horizontal beam that crosses and supports the ends of joists, studs, and rafters. Pole barn headers are located over doors, windows, and wall openings. They help distribute anticipated loads by transferring weight to parallel joists, studs, or rafters.
Typically, headers are made of steel and engineered or dimensional lumber. Some types of pole barn headers may give you more headroom or provide wider openings. Popular applications include:
Sawn lumber
Alternative lumber
Glulam
Steel
If not, you should research your post frame builder's options or preferred techniques. Why? Because your pole barn is only as strong as its weakest component.
Post frame buildings are a large and permanent investment. Therefore, you'll want to make sure it's built to withstand various stresses.
In this particular article, we discuss four types of pole barn headers that'll give your structure the strength support it needs.
What is a Pole Barn Header?
A header is a horizontal beam that crosses and supports the ends of joists, studs, and rafters. Pole barn headers are located over doors, windows, and wall openings. They help distribute anticipated loads by transferring weight to parallel joists, studs, or rafters.
Typically, headers are made of steel and engineered or dimensional lumber. Some types of pole barn headers may give you more headroom or provide wider openings.
What is a Pole Barn Load?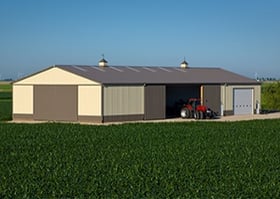 A load refers to the force or weight applied to a post frame building and its components. Any structure, regardless of size and location, must be able to resist the anticipated loads safely. These structural loads can be divided into two categories – vertical and lateral.
First, vertical loads act in the up-and-down direction. Popular examples of vertical loads include:
Lofts
Deck systems
The weight of the building itself
Second, lateral loads act in a direction parallel to the ground (e.g., earthquakes and high winds). These forces can work in any direction. Therefore, the pole barn must be designed to resist loads, both parallel and perpendicular, to any wall.
All structural loads must be able to pass from the areas in which the load is applied. This transfer of forces through the post frame structure is called the load path. A continuous load path transfers all vertical and lateral loads from one building component to another until they reach the ground.
If the load path flows continuously without interruption, there will be no structural damage. However, one break in the course can cause significant damage.
One "weak link" is all it takes to compromise the structural integrity of your pole barn. Again, each building component in the load path must be strong enough to carry out these anticipated design loads.
How Do Pole Barn Headers and Loads Work Together?
Now that you have a better understanding of how loads work, you're probably wondering how it relates to your pole barn headers. Let us explain…
The trusses, headers, columns, and foundation work together to transfer design loads through each building component properly.
The effectiveness of this system is only as good as the quality and quantity of connections. To avoid building collapse, your construction crew will need to make sure these materials are securely fastened.
4 Types of Pole Barn Headers
Below, we detail the four header options you should consider incorporating into your building design.
Helpful Tip: Each post frame builder has their own preferences. Don't be afraid to ask your preferred builder about their header options.
1) Sawn Lumber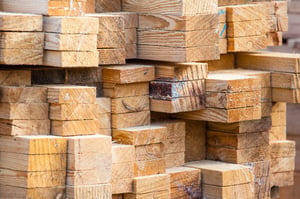 Sawn lumber (2x8 or 2x10) is a standard woodcut that is used to make pole barn headers. It's a cost-effective and straightforward way to mill logs into planks. Also, sawn planks tend to be wider than most woodcuts.
Are you interested in building a spacious garage to store your four-wheeler, mower, and utility tractor during the winter months? Sawn lumber is strong enough to support residential loads. It's best used for small window headers.
Not to mention, sawn headers cost less than laminated veneer lumber and steel. However, there's always a downside to using cheaper alternatives.
In this case, the tangential grain can cause plants to bow, cup, move, and twist. Please keep these concerns in mind when designing your post frame building.
2) Alternative Lumber
Next, laminated veneer lumber (LVL) and parallel strand lumber (PSL) are engineered wood products that you can use for pole barn headers.
LVL is produced by bonding thin wood veneers together in a large billet. As a result, the veneer grains run parallel to the long direction.
Because LVL is made with conjoined veneers, it's available in specialty lengths that exceed conventional lumber. In addition, laminated veneer lumber is almost completely free from warping and splitting. It's often used in place of light steel beams or open web steel joists.
On the other hand, PSL can be used where longer-span headers are needed. Why? Because it's manufactured from long strands of veneers that are laid in parallel formation. Then, the clipped pieces are bonded together with an adhesive.
Both of these alternative lumbers are strong enough to be used in residential and commercial buildings.
3) Glulam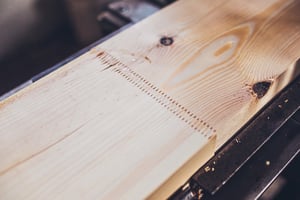 Glulam, or glued laminated timber, is a contemporary component found in commercial roof systems, bridges, roof beams, complex arches, and headers. It's composed of wood laminations (or "lams") that are bound together using moisture-resistant adhesive.
Interestingly, the Engineered Wood Association claims that glulam is stronger than steel (pound for pound). You can purchase both custom and stock sizes for your building.
Overall, increased design values, improved product performance, and cost competitiveness makes glulam the superior option for pole barn headers.
Alternatively, your post frame builder can sandwich a piece of steel flashing in the center of the plywood. Use construction adhesive and bolt the materials together in a diamond pattern. There you have it...makeshift glulam beams!
4) Steel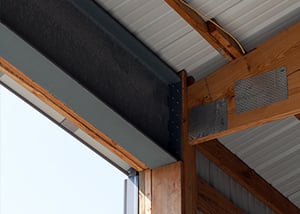 Lastly, a steel header is, well, a header made out of steel. It's pretty self-explanatory.
There are a few advantages to using steel headers. For starters, steel doesn't split, shrink, or warp. It's resistant to rot, decay, termites, and mold.
Plus, steel headers are more uniform than wood. There's less scrap because the quality of steel is more consistent than wood. This characteristic translates into lower construction costs.
Where's the "but?" There has to be one, right? Here's the deal. Steel headers require more fasteners. Consequently, it's more labor-intensive.
As a solution, engineers developed steel L-headers that require less cutting and fastening. They're easy to install and don't require skilled labor. However, they should only be used in residential buildings that are subject to low – moderate wind speeds.
Which Pole Barn Header Will You Choose?
By now, you should have a better understanding of pole barn headers and the importance of structural integrity.
Remember, not all headers are created the same. Your post frame builder should explain to you (in great detail) why they use certain header materials over others.
For more information about building components affecting your building's life cycle, you can download our FREE "Structural Integrity in Post Frame Construction" e-book. It'll help you get the dream pole barn you've worked hard for and enjoy it well into the future.
Additional Resources:
Steel vs. Wood Headers by Lani Thompson
Structural Composite Lumber (SCL) by APA - The Engineered Wood Association
---
Have more questions about pole barn headers not covered in this article? If you need help designing and planning, please contact FBi Buildings at 1.800.552.2981 or click here to email us. If you are ready to get a price, click here to request a quote and a member of our sales team will call you!