The Best of 2022: A Year in Review

Subscribe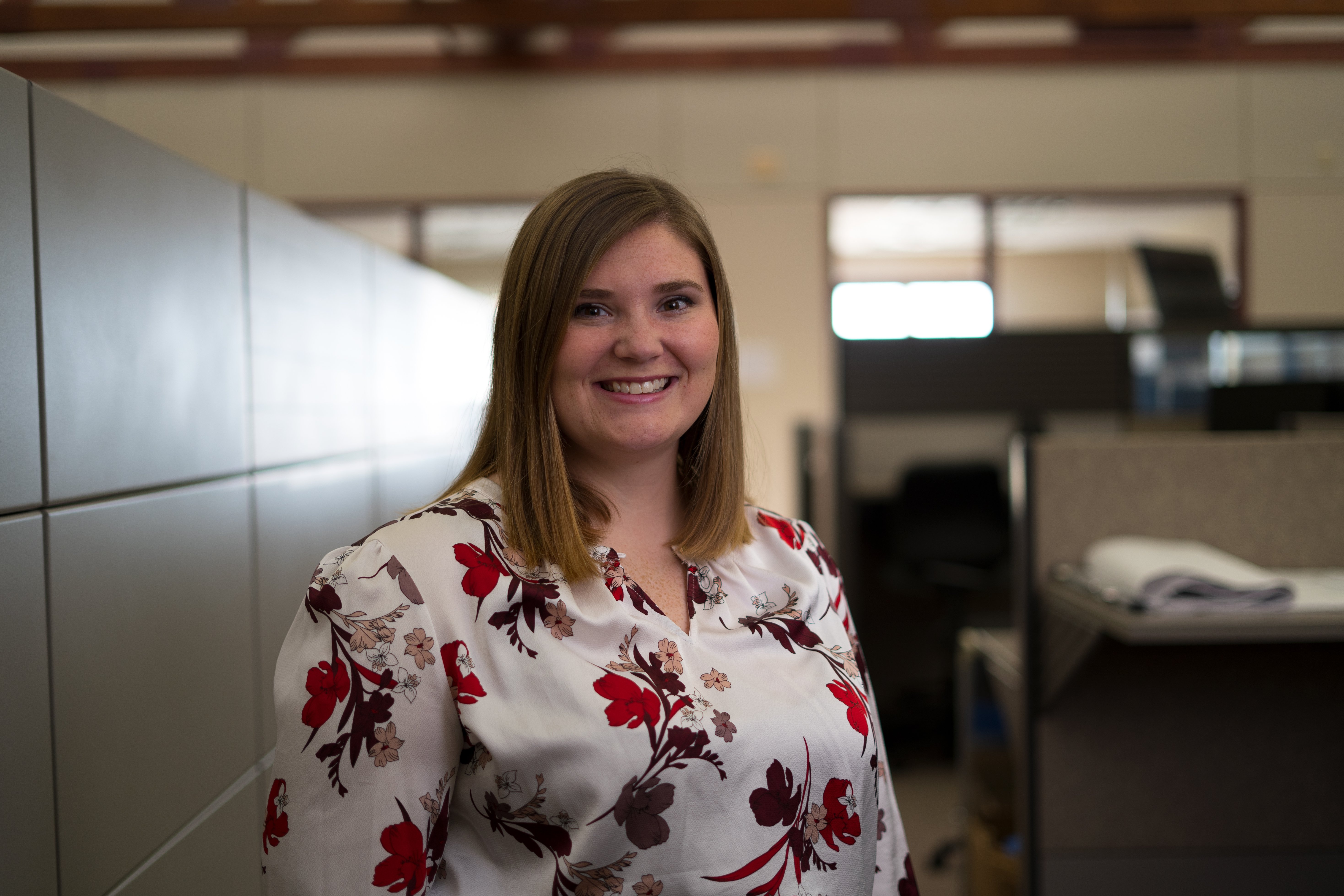 Nettie joined the FBi Marketing team in 2022 as the Marketing Content Creator. Nettie grew up just outside of Des Moines, IA. In 2016, she received her BS in Agriculture Communications from Iowa State University. Upon graduation, she has worked in agriculture sales and marketing. She moved to Indiana in 2020. Outside of work, Nettie enjoys quilting, crocheting, crafting, canning, gardening, fishing, and hunting. She is married and enjoys spending time with her husband and dog.
Due to the support of our amazing customers, FBi Buildings was able to expand our service area into 14 new counties to better accommodate our customers' needs in 2022.
In addition, we added 13 crews to have the manpower to tackle more jobs quickly for our customers.
We began the development of two drop lot locations for Illinois and Michigan for 2023. These will allow for materials to get to job sites faster and save you time and money.
Material prices started to drop, and in return, we were able to lower our prices and pass on savings to our customers in Q4.
The nearly 600 projects we completed in 2022 would not have been possible without our hardworking employees (from construction crews to office personnel) and our customers.
Whether you read each of our weekly blogs, have read a couple here and there, or maybe you are just starting to think about a 2023 building, we have compiled our top content just for you! Follow along as we dive into the top blogs, YouTube videos, projects, and brochures for 2022 and consolidate it into one blog.
Editor's Note: Please feel free to skip ahead to the sections that pique your interest the most.
Table of Contents
Our Top 5 Blogs of 2022
Editor's Note: Our Learning Center hosts 100+ FREE articles that give you insight into post-frame construction.
1)

How Much Does a 40 x 60 Pole Barn Cost in 2022?
One of the most common sizes in post-frame construction is a 40' x 60' building shell. This article breaks down the multiple factors influencing your pole barn cost. These ballpark numbers will help you create a realistic budget.
2)

How Much Does a Pole Barn House Cost in 2022?
Shomes, barndominiums, pole barn homes, whatever you may call them, are one of the biggest trends in pole barn construction. Some assume that pole barn homes are cheaper to build than stick-built construction, but this article will help you see how that is not often the case.
3) 5 Different Ways to Design a Pole Barn with Living Quarters
Thanks to social media (i.e., Pinterest), the ongoing trend in post-frame construction is adding living quarters to your pole barn. This article provides tips to help you design the perfect combination of residential and storage space.
4) How Much Does a 30' x 40' Pole Barn Kit Cost?
Is a 30' x 40' pole barn kit right for you? If you're a DIY person, who also likes to save money and get a quality product, then a pole barn kit is a great option.
5)

How Much Does a Pole Barn Cost in 2022? 5 Factors to Know
Again, consumers want to know how much their post-frame project will cost. While there is no black-and-white answer, we detail the five price factors you can expect when building a pole barn.
Our Top 5 YouTube Videos of 2022
Editor's Note: The Post Frame Channel is your go-to resource for short, educational videos that answer your pole barn questions.
1) 5 Steps to Building a Pole Barn Home
This video highlights the critical steps you'll take when building a pole barn home. By the end, you should better understand the entire process from start to finish, whether you're just looking or ready to make serious moves.
2)

How to Fix a Sliding Door on a Pole Barn
The FBi service team tells us how to adjust a sliding door on a pole barn. There are
5 easy steps
to fix the door.
3)

Pole Barn Foundation Options
Whether you are wanting a precast pad foundation, poured-in-place foundation, or continuous poured foundation this video will break down the three types of pole barn foundations.
4) How Do I Prepare My Site for a Pole Barn?
Proper site preparation leads to optimal construction conditions. In this video, Ken Culbreth (Vice President of Operations) explains some external factors that may affect your post-frame building.
5)

Popular Color Combinations for Your Pole Barn
We have 18 different colors to choose from. We have several suggestions on color combinations for your pole barn project.
Our Top 5 Resources of 2022
Editor's Note: Our Learning Center is also home to FREE resources guaranteed to make your post-frame project successful.
1) Farm Plan Book Volume 2
Our new Farm Plan Book (Volume 2) includes 20-floor plans and renderings of fan-favorite buildings. Not only will these pole barn designs catch your eye, but they'll work hard for your operation.
2) Suburban Brochure
Regardless of what you call a pole barn home, there is no shortage of information on how to obtain one for yourself. In fact, many post frame builders have adopted this new trend. Get the free plan book today!
3) Ag Features Guidebook
Request our Ag Features Guidebook, which includes 50+ viable features for your farm shop or storage building. These building components have been organized into nine sections then broken down by price range, material specifications, and pros/cons.
4) Commercial Portfolio
Are you expanding your business? Then, our Commercial Portfolio (Volume 3) is the perfect resource for design inspiration. It includes blueprints and involved parties, so you know what to expect from your building project.
5) QLYFT Building System Guidebook
Download our QLYFT Building System Guidebook, which explains the significance, details how its components work together, and answers potential questions you may have as a first-time buyer.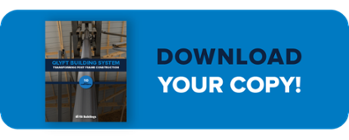 Our Top 5 Post-Frame Projects of 2022
Editor's Note: Our Pole Barn Gallery features a variety of pictures to scroll through (sorted by colors, building types, sizes, and custom features). You're bound to find a post-frame project similar to your needs or wants.
1) Mark Hurley
A 100' x 222' x 18' + 30' x 28' x 9' farm shop located in Jasper County, Indiana. The built-in office space is ideal for meeting with seed dealers. Moreover, the layout provides enough storage space for all types of equipment.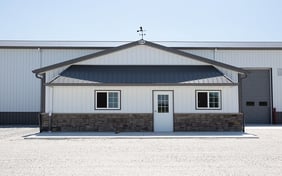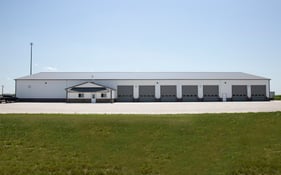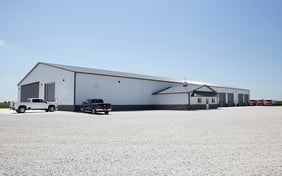 2) Nichols Paint & Fab
Check out this 100' x 296' + 80' x 72' car and truck hot rod shop in Watseka, Illinois.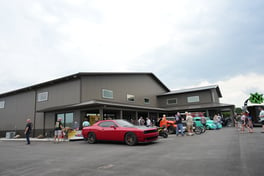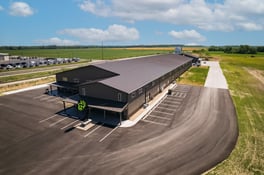 3) Bonnie Fisher
This post-frame equine building is located in Tippecanoe County, Indiana. It measures 42'x72'x14'. The owner built it this year and is in the process of finishing the inside and adding a fenced in pasture.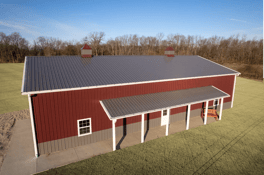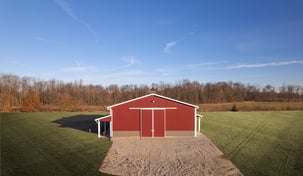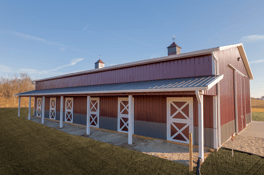 4) Brad Deno
Everyone loves a good pole barn hobby shop in their backyard! This particular one measures 48' x 72' x 16', the perfect size for storing your lawnmower, recreational toys, and tool collection.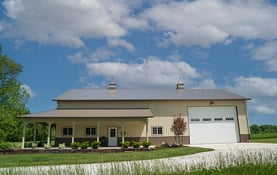 5) Fred Linville
Did you know that FBi has construction crews dedicated to repair and renovation projects? For example, we recently added on to this pole barn hobby shop addition with a breezeway. This project is 54' x 88' x 16' + 15' x 51' x 10'. It is an antique tractor farm collection located in Johnson County, IN.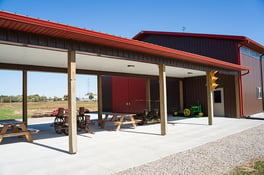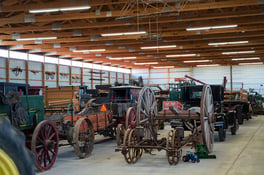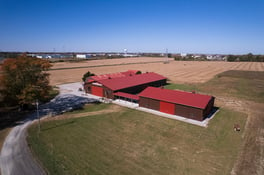 A New Year, A New Post-Frame Building
A special thank you to everyone who supported our business in 2022. We're looking forward to serving your pole barn needs again in 2023!
Are you ready to adopt the "new year, new post-frame building" mindset? Submit your custom building design, and a member of our sales team will call you to begin the estimating process.
---
Do you have more questions that aren't covered in this article? If you need help designing and planning, please contact FBi Buildings at 800.552.2981 or click here to email us. If you're ready for a price, click here to request a quote, and a member of our Customer Engagement Team will help you determine the next steps.