Subscribe
Expanding Your Commercial Business? Let's Talk About Vision.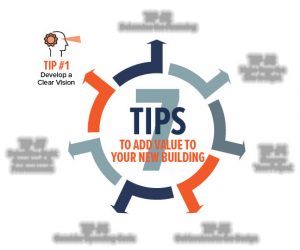 Are you ready to expand your business and move into a new commercial building? Have you developed a clear vision, or strategy, for your commercial building project? This is going to require some serious thinking – because time well spent now can prevent many headaches, such as delays or cost overruns, later.
In fact, developing a vision is a critical step for any successful commercial building project. Before you invest your money, spend time making some decisions that contribute to the big picture. If you abbreviate the process, you may regret it later – when you're walking through a nearly completed building and realizing it isn't what you needed.
Rough Concept
You may already have some initial ideas, so it's best to put them down on paper. This provides a good starting point for flushing out your thoughts. And you may find that a few handwritten notes will lead to even more notes, which will lead to, ultimately, a thought-out, well-documented plan.
Questions & Answers
Now comes the creative, "right brain" part of the planning process. Dare to dream a little and ask yourself a lot of deep-thought-and-discovery questions:
1. Start by considering what you want to build, and why. Will you use this building yourself or will you lease or rent it to another party? Identify the target market – the group of people you're trying to service through this venture. Determine what features will make your ideal building unique or better than other options.
2. The primary real-estate manifesto is "location, location, location." What makes a location ideal, varies depending on the type of business in the building. Some, such as a retail store, require a high-visibility, high-traffic area. For others, such as an industrial building, a low-visibility spot off the beaten path is fine. Don't forget to check out your neighbors and think about how far you want to be from other businesses.
3. Aesthetics are very important too. How your building looks, makes a strong statement. What do you want your building to say? If a sense of economy, value, and no-nonsense business are desired, a simple appearance is best. If you need to project class, attract higher-end customers or tenants, or just establish a "corporate image" for your business, a stylish facade is the order. This can be achieved with interesting rooflines, porches or mansards and/or an attractive combination of exterior finishes, such as brick, stone, and steel. Landscaping – or the lack of it – will also dramatically affect the aesthetics of your building.
4. Of course, the function should be a primary concern. Think through a typical workweek and how people, equipment, and goods move through the facility. Are any special accommodations needed for people with disabilities? How will seasonal weather conditions affect how business gets done in the facility? Thinking this through will help give you a rough idea of the needed size and layout of the building. As you brainstorm, don't forget the more mundane spaces, such as hallways, restrooms, and storage areas.
5. A look at the future can also be beneficial: How soon would you like to see the building completed? How long do you plan to occupy the building? If you plan to eventually sell it, estimate when that will be. Are you foreseeing any expansions? Answering these questions will help you calculate your expected return on investment.
The more that you can articulate what you want in a new building, the more your designer and builder can help you… and the happier you will be with the final results.
Additional Ideas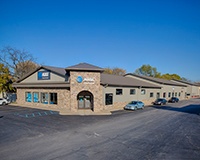 Building ideas can come from a multitude of resources. Sift through building design magazines and study existing buildings to determine their pluses and minuses, your likes and dislikes. Collect clippings and photos that you can share with your designer and builder.
Assess buildings in which you have previously worked or the building in which you are located now. Start a list of "must haves" and "nice to haves" to help you prioritize the features that you want in your new building. Undoubtedly, this list will undergo some revisions as you explore possibilities and reexamine your preferences.
Ask other building owners about their experiences with building, owning, and using commercial facilities. They will surely have some stories from which you can glean useful nuggets of information.
Finally, don't overlook what may be your most valuable resource: your builder. Don't hesitate to ask questions! Your builder should be able to help you find the answers and assist you in refining your vision before you actually begin to build.
Now comes the analytical, "left brain" part of the planning process: putting your vision through a S.W.O.T. (Strength, Weaknesses, Opportunities and Threats) analysis. This is a general technique that is used often in business management and is certainly appropriate for the early planning stages of a commercial building project.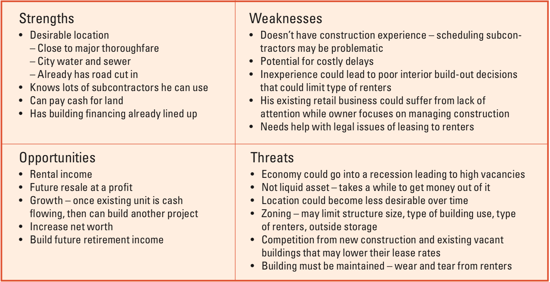 Here is an example of a S.W.O.T. analysis on a hypothetical project:
An industrial rental building in newer industrial park located in a growing suburban area.
Owner has a thriving retail business and wants to diversify into real estate.
Owner has no experience with construction.
As you perform this analysis, you will want to take account of your own resources and capabilities (strengths and weakness) and factors external to the project (opportunities and threats, both within and beyond your control). By putting the analysis in writing, you will be able to look at your vision from a more objective view – and then adjust it accordingly.
Download your FREE copy of our Business Facilities Guidebook for more information on how to add value to your commercial building! If you'd like to know why post frame is a great option for your commercial project, visit our Commercial Buildings page.

---
Do you have more questions that are not covered in this article? If you need help designing and planning, please contact FBi Buildings at 800.552.2981 or click here to email us. If you are ready to get a price, click here to request a quote and a member of our customer engagement team will help you determine the next steps of your project.