Posts | Farm Buildings | Building Features
Ag Features: Top Components for Your Farm Building

Subscribe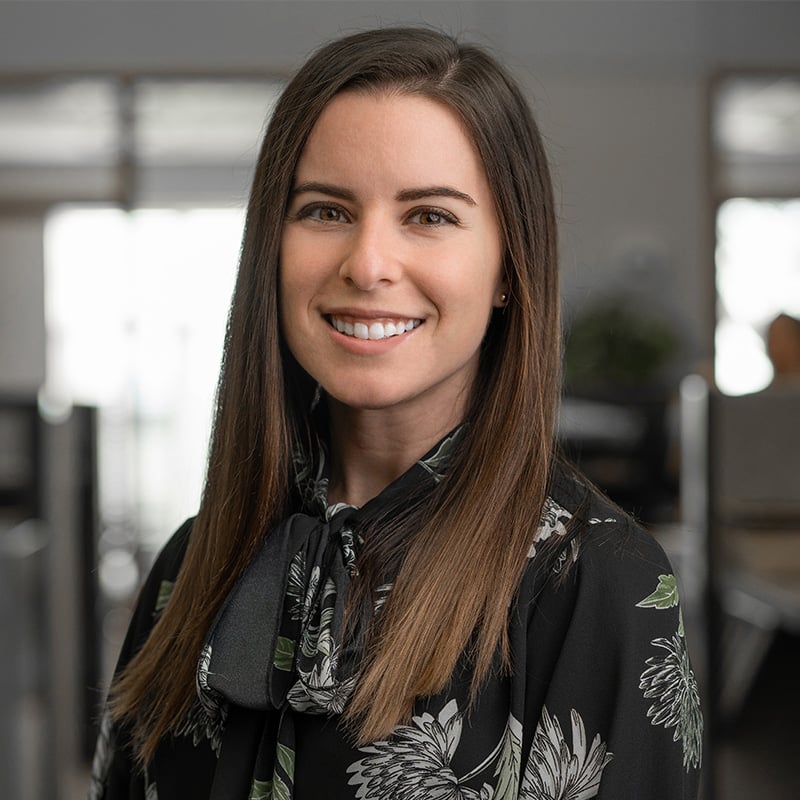 After working in the banking industry for 5 years after college, Courtney realized she needed a change and decided to pursue a new career path. Growing up she has always been creative and enjoyed writing, taking pictures, or painting. Now as the Marketing Content Creator for FBi Buildings, she gets to utilize her creative abilities in her everyday work. In her free time, you can find Courtney at home reading a book, partaking in any and all outdoor activities, or traveling and photographing her adventures. Courtney resides in Northwest Indiana with Lacey, her red tick coonhound.
When you're considering a new post frame building, the excitement sets in, and you can't stop anticipating the end result.
Maybe you're visualizing working on projects in your new farm shop, or maybe you're imagining how a combine will look in your new cold storage building.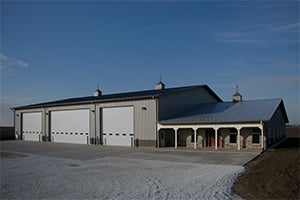 Envisioning the entire post frame project can be the easy part. The tricky part is deciding which building components you'll want to include in your pole barn design.
There are numerous features you can opt for in your new pole barn. Below are just a few that you'll want to consider adding:
Searching through building features can be an exhausting process. The possibilities are endless, and each one has its unique advantages and disadvantages.
We understand, and we hear you.
That's why we sought to create a resource for our customers that'll empower them to learn about the many different features they wish to include in their pole barn design.
The Ag Features Guidebook covers the top 58 features that we've seen on agricultural pole barns in our 60+ years of business. Using our knowledge and experience, we created this guidebook to help you through your post frame construction journey.
What is the Ag Features Guidebook?
The Ag Features Guidebook details the top 58 building components we've seen incorporated into agricultural pole barns.
These features have been divided into nine sections so you can focus on the areas that are most pertinent to you.
From there, each building feature is broken down by:
1. Price Range
The price range for each building feature will range from $ to $$$$$, with $ being the most cost-effective option and $$$$$ being the most expensive.
It's important to note that some prices may fluctuate with commodity materials. Therefore, we're unable to give an exact amount because it may become inaccurate.
2. Product Specs
Each building feature has a detailed breakdown of its comprised materials. These product specifications inform you of what each feature consists of, so you know what's going into your pole barn.
3. Pros
Each building feature will have a list of their benefits, and why you should contemplate incorporating these features into your building design.
4. Cons
Each building feature will also have a list of their disadvantages, allowing you to weigh the positives and negatives before making a selection.
Not every building feature is necessary. Therefore, the intended use of your pole barn will help you make a final decision.
Our Ag Features Guidebook is the perfect planning resource to help design your farm building.
By reading the specific details about each feature, we promise you'll feel more confident in your selections.
Which Farming Building Features Will You Choose?
This guidebook is user-friendly and easy to navigate. Early on, you'll notice the features are grouped into the following sections:
Drainage & Water
Building Access
Foundation
Natural Lighting
Birds
Lean-to/Porch
Interior Finish
Condensation
Future Prep
This organization allows you to jump right to the pages that are important to you.
1. Drainage & Water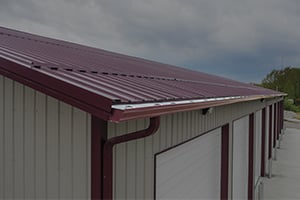 If your geographical location sees ample rainfall and wet winters, then you understand the importance of proper drainage on a pole barn.

Without proper drainage, there is nowhere for the water to run off, leading to pooling and condensation.
Examples:
Gutters
Downspout Locations
Snow Guards
2. Building Access
Having convenient access into your post frame building is something worth thinking about.
If you plan on frequently moving large equipment in and out, having the proper door system can alleviate stress.
The building features should make your job easier, not more difficult.
Examples:
Sliding Doors
StepSaver Latch System
Overhead Doors
Hydraulic Doors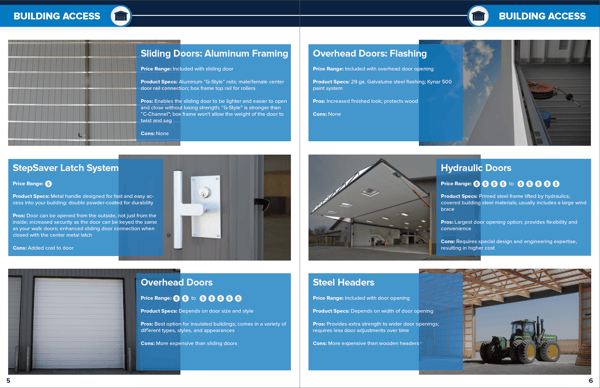 3. Foundation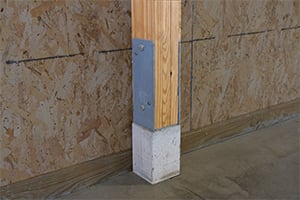 Foundation is critical to focus on when your new post frame building is being constructed. You want your pole barn to last, and the proper building components will do just that.
Examples:
Versetta Stone
Laminated Posts
Double Baseboards
Bracket-to-Concrete
4. Natural Lighting
Natural lighting is necessary if you plan to work in your pole barn often. Having ample sunlight makes it easier to work, and natural Vitamin D isn't a bad thing either.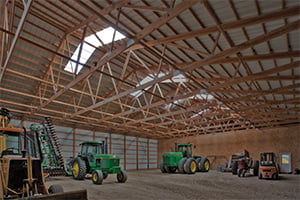 Not to mention, certain window styles provide energy-efficiency. Who could say no to saving money on energy bills?
Examples:
Eave Lite
Sky Lite
Ridge Lite
Vinyl Windows
Fixed Windows
Half-Round Windows
5. Birds
Birds can be a nuisance when they enter your pole barn. Your focus is then directed on getting them out before they mark their territory all over your belongings.
Examples:
Bird Blocking
Bird Netting
Continuous Footing Under Sliding Doors
6. Lean-To/Porch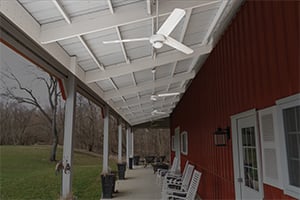 Having a lean-to or porch included in your building design really adds character. Also, they offer shade and protection against the outside elements.
Examples:
Soffit Porch Ceiling
Non-Soffit Porch Ceiling
Steel-Wrapped Columns
Miter Joints
Continuous Porch
Drop-Down Porch
7. Interior Finish
There are numerous options when it comes to finishing the interior of your pole barn. The purpose of your building will determine the look you wish to achieve.
Chances are you won't need an extravagant finish if your pole barn is used for storage. However, you might want a completed look with insulation for your farm shop or office.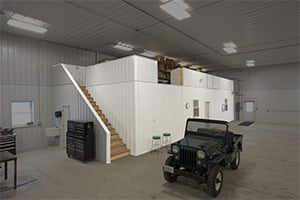 Examples:
Thermax
Vinyl Back
Sprayed Polyurethane Foam (SPF)
Fiberglass Insulation
Building Wrap
Steel Liner
Split Liner
Acoustical Steel
Deck System
8. Condensation
Condensation occurs when warm, moisture-laden air contacts a cooler surface, such as the underside of your roof steel.
Since lower-temperature air cannot hold as much moisture as warmer air, the excess humidity turns into water droplets. Drip, drip, drip!
If not taken care of right away, it can cause long term damage. Adding ventilation features that combat moisture levels is a great way to avoid condensation.
Examples:
Overhangs
Ridge Vent
Cupolas
OSB & Felt Paper
Bubble Wrap
MoistureLok
9. Future Prep
When you initially design your pole barn, you're thinking about your present needs. Over time, your building needs may change, and you might alter your layout.
Future prep gives you options to add building features at a later date (if needed).
Examples: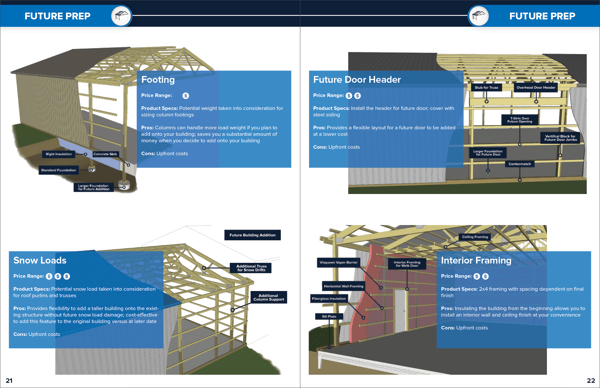 Download Your Ag Features Guidebook to Get Started
Whether you're a first-time pole barn buyer or someone who has a few on their property, our Ag Features Guidebook is the perfect planning resource.
For more information, you can download our FREE "Ag Features Guidebook" e-book. A digital copy will automatically be sent to your email for later reading.
If you'd like a print copy, our Project Sales Consultants (PSCs) can give you one and answer any lingering questions you may have. Or, you can call our office, and we'll mail a hardcover to you.
Selecting pole barn features may sound intimidating, but designing your own building is the best part of it all.
Just remember to always build with confidence.
---
Do you have more questions about the Ag Features Guidebook that are not covered in this article? If you need help designing and planning, please contact FBi Buildings at 800.552.2981 or click here to email us. If you're ready to get a price, click here to request a quote, and a member of our Customer Engagement Team will help you determine the next steps of your project.