Building Construction | Project Prep | Posts | Building Tips | Post Frame Homes | Residential Buildings | Permitting | Site Preparation | Financing | Building Design
5 Steps to Building a Pole Barn Home in 2023

Subscribe
Cori grew up on her family's small grain and livestock operation in Northwest Indiana. In 2018, she graduated Summa Cum Laude with a Bachelor's degree in Business Administration & Marketing from Marian University Indianapolis. Having shown beef cattle for 12 years at the county, state, and national levels, Cori chose to pursue a career in agriculture. Today, she serves as the Marketing Content Creator on the FBi team. In her free time, Cori enjoys spending time with family and friends, watching sports, listening to live music, and traveling.
Shome. Barndominium. Post frame home. Whichever term you use, it's safe to say that pole barns with living quarters are in style.
We live in a social media era where users tag their significant others in posts or "pin" pictures of post frame buildings to their Pinterest board. These platforms are great for design inspiration (and false expectations).
Moreover, customers browse our website and call our office, wanting to replicate floor plans. "How much would it cost to build the pole barn home in Tippecanoe County (IN)?" You know which one we're talking about – the classic Regal White and Matte Black color combination with exposed cedar trusses and porch columns.
If only it were that simple to give customers a total cost for their post frame project. But multiple factors go into pricing a pole barn (e.g., square footage, custom features, location, and construction timeline).
Not to mention, most post frame builders specialize in the building shell only. All interior work needs to be subcontracted. Therefore, the project scope can be confusing to some customers.
In this article, we break down the five steps to building a pole barn home in 2022. By the end, you should better understand the building process, whether you're just looking into post frame construction or ready to make serious moves.
Don't have time to read our blog? You can watch the video below for a detailed walkthrough of the pole barn home building process.
Why Should You Build a Pole Barn Home as Opposed to Stick-Built?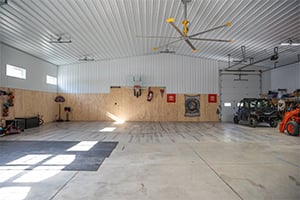 As you stumble across pole barn homes on social media, you may wonder, "Why would someone want to live in a tool shed?" Nowadays, building usage goes beyond the realm of agriculture.
Post frame structures can be constructed in a timelier manner than stick-built. Most importantly, they offer unmatched design flexibility and energy efficiency.
Your significant other can enjoy the open concept living room while you benefit from the abundant garage space – all under one roof. Even the exterior can resemble a stick-built home with its vinyl siding and shingles, although metal roofing and siding require less maintenance.
Plus, you've probably heard that pole barn homes are cheaper than stick-built...which is true to a certain extent.
A finished barndominium can cost anywhere between $150 to $200+ per square foot. Again, the building size and interior finishes will determine if you're on the low or high end of the cost spectrum.
So if these advantages stand out to you, and you're ready to put forth the effort to make this dream come true, we recommend following these five steps.
5 Steps to Building a Pole Barn Home: Do You Check All of the Boxes?
Editor's Note: Some steps in the building process can happen in conjunction with each other. One doesn't have to be completed before moving onto the next.
1) Secure Pole Barn Financing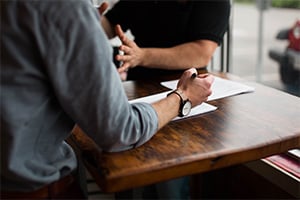 First, you must consider how you're going to pay for your post frame building. Some customers set money aside, while others need to explore their pole barn financing options.
Editor's Note: Some financial institutions don't loan money for barndominiums. Why? Because not all banks are experts at appraising pole barns with living quarters. It's a relatively new and non-traditional concept – one that's hard to predict the resale value and return on investment. To save yourself time and energy, we recommend asking your post frame builder for a reliable list of lenders.
Once you've contacted a bank, you must understand their loan-to-value (LTV) ratio. Lenders use this number to determine how much risk they're taking on a secured loan. An LTV ratio is calculated by dividing the amount borrowed by the appraised value. The higher the percentage (riskier), the higher the interest rate.
Another critical aspect of banking you must understand is the loan review process. The purpose of a loan review is to assess the overall portfolio quality for the board of directors (BOD) and senior management. In other words, who has the final say-so on your loan, and what does that process entail?
It would also help if you were prepared to discuss total square footage and provide copies of your personal finances. These documents include income verification, assets and debts, credit history, and other notable records.
Don't forget to ask how payments will work. Will the lender disburse funds to you or the contractors? Or will a draw schedule be utilized (pay as you go)?
Once your loan is finalized, you'll need an approval letter to show contractors (when collecting bids) and realtors (when purchasing property).
2) Acquire Land to Build On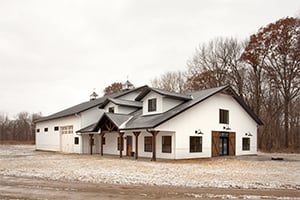 Next, you'll need to purchase land to build your pole barn home (if you don't already own a plot). As mentioned above, the location can affect your post frame project.
For instance, do you want to live within city limits or out in the country? Depending on the location, you may have to obtain building permits from the city hall rather than a county office. They also dictate if you can build a barndominium in that area.
Some cities require more paperwork and enforce more regulations (e.g., inspections and setbacks) than counties. Not to mention, permits can be costly. We'll cover permitting information in the following section.
Once you've acquired land, you must identify the exact location of your pole barn home. It would be best if you considered the following factors when picking a spot:
Site Preparation

: The work done to your land before post frame construction. This step addresses complications (if any) upfront. You can hire an excavator or tackle it on your own.



Utilities

: Includes electric, gas, sewage, and water. Mapping them out prevents utility strikes that may cause harm to you or contractors.



Site Access

: The flow of

building materials

, equipment, and people to your shome.

Construction crews

need ample space to do their job right and on time.



Excavation

: A level site with minimal obstacles (e.g., trees). The less excavation needed, the more money you'll save on site prep and construction costs. If your site is uneven or hilltop, you'll need to fill (add) or cut (remove) until the ground is flat.
Do you need help drafting a site preparation plan? Your Project Sales Consultant (PSC) will be able to assist you.
For more helpful tips, we recommend downloading our FREE "Site Preparation: Unlock a Successful Building Project" e-book.
3) Obtain the Necessary Permits
Before you can start site preparation and post frame construction, you need to obtain the necessary permits. Unfortunately, there isn't a "one size fits all" permit. It boils down to the building use and – you guessed it – location.
Again, a building permit within city limits may have a different set of rules than the countryside. However, all pole barn permits have the following components in common:
Setback

: The minimum distance between a post frame building and the property line.



Easement

: The legal right for another owner to cross or have limited access to one's property.



Building Height

& Lot Coverage Restrictions: Limits how high you can build and what percentage of your lot can be covered by structures.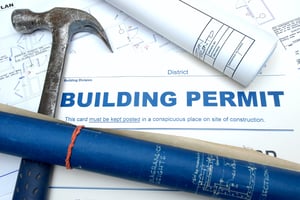 It's crucial that you understand these components and how they affect your post frame project.
Be prepared to apply for multiple licenses. For example, you'll need different ones for putting in a driveway, hooking up to utilities, and building during certain times of the year.
Furthermore, you should be ready to submit the following documents with your permit application:
Blueprint
Site plan
Plat survey
The legal description of the property
If approved, a fee for the permits will be charged. You'll most likely pay with cash or a check as some government offices don't accept credit cards.
When the permits are issued, work on your pole barn home can begin. They must be visible on the job site and readily available should the building inspector pay a visit. He/she may analyze construction methods and building materials, verifying that everything is up to code.
Most local governments require inspections at various stages in the construction process, such as:
Footing and

foundation

Framing
Electrical and plumbing
Do you need help pulling pole barn permits? We recommend working with a post frame builder who has proven experience in your area to minimize schedule delays and headaches.
4) Create an Interior Floor Plan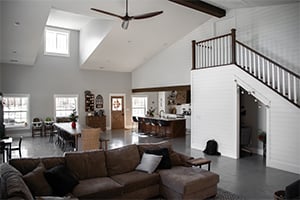 Despite what you may see on social media or company websites, most pole barn builders specialize in the building shell only. The purpose of these interior shots is to showcase the versatility that post frame construction offers.
Granted, it's nice to see how past customers designed their space and gather ideas for your shome. Just keep in mind that a large portion of the interior work was subcontracted.
With that being said, you'll need to hire an architect to create the interior layout. Or you can do it yourself (DIY) if you have a knack for floor planning.
At FBi Buildings, we don't have in-house designers to help envision your living quarters. But we'll tweak the drawing to coexist within the post frame structure.
Do you need help finding an architect? A quality pole barn builder will set you up with an architectural firm. While you're waiting, you can start designing the exterior of your post frame home with our Design Online Tool.
5) Assemble Your Construction Team
Since the pole barn builder is responsible for the building shell, you'll need to hire a general contractor (GC) for the other design aspects.
Some customers prefer to handle this process on their own. Those with the background and passion find this experience to be enjoyable and rewarding. Not to mention how much money you can save by doing it yourself (8 to 24% depending on building size and project scope).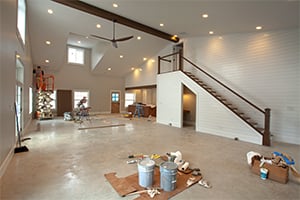 Meanwhile, those without the knowledge are surprised by how time-consuming it is to manage a construction project. Sometimes it's easier to pay a little extra and leave it to the professionals.
For instance, you'll have to coordinate and pay for the following jobs:
Installing a driveway, culvert, and septic tank
Frame the interior walls
Running electrical wires and plumbing pipes
Hanging

insulation

and

drywall

Finish other interior details
As you can see, general contracting your shome is a major commitment. It requires expertise, resources, and time. Plus, there's always the assumption of risk. For some people, it's worth it. Do you agree?
If not, we recommend asking your post frame builder for a list of reliable contractors in the area. Trust us; you don't want your barndominium to become the next #PinterestFail.
Once you know your GC plans, you'll need to decide who will do what jobs and for how much. You can partner with your professional builder or hire them as a subcontractor, but they're not responsible for driving the entire project.
Are You Ready to Build a Pole Barn Home?
We've unpacked a lot of information in one article, but we hope that you have a better understanding of what it takes to build a pole barn home.
To keep you on track and organized, we created a checklist that contains the most crucial steps in getting your barndominium project off the ground.
Besides, who doesn't love to check things off your to-do list? Plus, you'll build with confidence – an even better feeling.
---
Do you have more questions about pole barn homes that are not covered in this article? If you need help designing and planning, please contact FBi Buildings at 800.552.2981 or click here to email us. If you're ready to get a price, click here to request a quote, and a member of our sales team will call you.