Subscribe
How to Avoid Condensation in Your Post Frame Building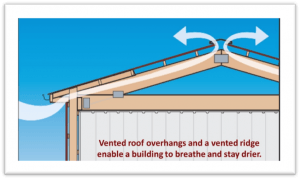 Did you know that condensation control starts with site preparation? Who would have thought, right? But how do you manage it? Removal of all sod, humus, and organic matter pre-construction eliminates the risk of that natural material decomposing later, causing the flooring to settle and crack. Coarse stone is layered over a crowned base to prevent any capillary action from occurring. Fill material can often be problematic itself. Wet fill material can hold up to 15 pounds of water/cubic.
Careful assessment of soil analysis and other characteristics of your site can better prepare the site for a building that can last longer, requires less maintenance, and takes less energy to regulate temperatures.
Drainage preparation means your building is solid – from below the ground up.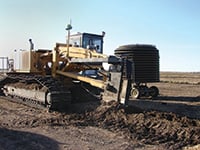 Set on a solid surface and at the right finished floor height, a series of considerations are examined, and tactics are put in place to allow optimal surface drainage around the building and also, around the property. Grading, gutters, downspouts and underground tile-age are all considered to keep water buildup away from the building.
Other moistures sources include anything that may increase interior humidity. Non-vented furnaces, propane heaters, puddles from wet vehicles all can build up to contribute to condensation over time. Even inside a building, curing concrete releases water into the air.
Proper ventilation helps keep condensation in check. Vented roof overhangs with a Venta-Ridge at the roof peak pull warm, moist air out of your building and replace it with fresh cooler and drier air.
Cupolas, doors and windows properly installed can help with ventilation.
For some buildings, mechanical fans are a solution. Several of these ventilation methods mentioned contribute to keeping condensation to acceptable levels. However, ventilation needs are dependent on your building's size, type, use, site, etc.
Several roofing backer options are also available to help manage condensation. While they cannot reduce the amount of moisture in the building, these many proven options provide benefits like insulation, strength, etc., while helping prevent condensation in your building. Vinyl backed insulation, Oriented Strand Board covered with moisture protection, physical vapor barriers, and other options offer means to manage various condensation challenges. FBi works directly with customers to ensure the many variables are examined for your building and environment.
Innovative solutions continue to be discovered, proven and deployed to help manage condensation at its core – where it is coming from and why, how it is accumulating, and what we do to eliminate, reduce, manage, and mitigate its impact.
---
Do you have more questions that are not covered in this article? If you need help designing and planning, please contact FBi Buildings at 800.552.2981 or click here to email us. If you are ready to get a price, click here to request a quote and a member of our customer engagement team will help you determine the next steps of your project.