Subscribe
5 Ways to Take Control of Your Building Project
Storage buildings go by a lot of names: Utility barns, shops, sheds, outbuildings—you name it. But they all have one thing in common: they're invaluable for safeguarding your valuables, from classic cars to ATVs, RVs, tractors, tools, equipment and more.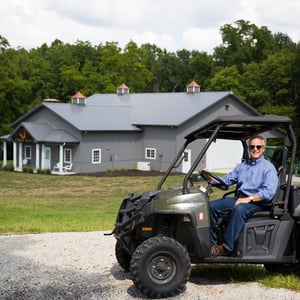 And because we never stop collecting things that need protection from the rain and snow, we want to get the biggest and best building for our budget. To do that, there are a few ways you can take control early in the process and stretch your dollar to the max.
#1: Location, location, location
It turns out that location, just like in real estate, can mean a world of difference. Not only can site location save you money, but it can also save you time and hassle, too.
Let's start with the basics: your builder will need access to the building site to bring in trucks, equipment and labor. Using your grass lawn or field as a driveway can actually cause project delays if it turns into a rutted, muddy mess. Not to mention, it will look bad and simply become an issue you'll need to deal with post-construction.
So, if you think you're going to add a driveway, such as gravel, in the future, you might consider talking about it to your builder before construction begins. They might actually offer you costs savings on adding a driveway if they foresee a muddy headache down the road with stuck trucks and delays, increasing everyone's stress, including yours.
Another thing to consider is, a gravel driveway can save your existing asphalt (or concrete) driveway from being marked up by a dual- or tandem-axle trailer delivering supplies and equipment.
Finally, talking to your neighbor earlier in the process can lead to efficiencies. If your site is located in a corner of your property, as many are, and presents a challenges to access, your neighbor's property might offer a better access point. Including them early in the process, could smooth the way to a faster completion date.
#2: Where space-friendly and budget-friendly meet
Your builder's equipment is often in direct proportion to your building's size. So, the bigger you go, the bigger the equipment gets. And this can lead to a larger construction footprint when the lumber and steel are laid out around the site. So taking stock of what's around your proposed site is a good way to make the project go smoother.
For example, if you have a nice big garden next to your potential site, you might want to consider moving it or the garden. That's because chances are the garden will get trampled during construction. Whichever you decide to move can save you stress later when you have to explain why there are no tomatoes this year.
# 3: When underfoot should be top-of-mind
Your site selection isn't just impacted by what's in plain sight, but by what's hidden as well, including buried gas and power lines. That's why a quick call—the sooner the better—is in order.
In case you didn't know, a free call to 811 will bring out a crew to mark your underground utilities with those flags you often see at construction sites. This service is an important first step to any project that involves digging. Not only does it protect your safety—as well as your family's and builder's—but it also gives you actionable information.
Armed with this information you can now make proactive decisions about your site. Do you want to spend the money to move an underground or overhead utility? Do you want to choose another site? These are decisions you can make long before you involved a builder. In turn, this will greatly reduce the chance of surprises once you start digging. And surprises can often affect budgets.
Also, don't forget about your sceptic system. Driving heavy equipment across a field can harm its effectiveness. If driving around it isn't an option, you may need to scout a new location.
#4 What grows up, must come down
Many of our customers like the idea of building their new shops near trees or within a canopy. It's an attractive way to incorporate your new building into the existing landscape.
Although trees can live a long time, branches, twigs and leaves, tend to come and go. And when they do, they can clog gutters and cause roof damage, leading to repair and maintenance costs. So, take a look at the trees near your prospective site and ask yourself some of these questions.
Are some leaning toward the pad? Do they have overhanging branches? What is the health of the tree? Can its root structure withstand nearby construction work and the required auguring for the foundation?
If any of your answers involve trimming or cutting down, consider taking action before you begin construction. After all, once the building is up, the cost for trimming could go up, too. Plus, you'll sleep better on those stormy nights if deal with that old ash tree sooner rather than later.
#5 Does your builder make the grade?
If your site is off-grade or contains slopes, talk to your builder about options. In some cases it might be more cost effective to move your site a few feet instead of excavating. A proactive builder is ready and willing to give you alternatives that save you time, money and hassle. And spare you the shock of any grade-related issues, such as needing fill, from popping up later.
Having trust in your trusses is essential
FBi Buildings has over 60 years of experience building post-frame storage buildings, utility barns, shops, sheds and more throughout the Midwest. For a collaborative approach that focuses on building you the perfect shop to fit your needs, you can trust us.
Our project sales consultants are backed by an experienced in-house team of engineers, designers, crew managers and foremen. Each held to the highest FBi standards. And all following the most rigorous, comprehensive safety programs in the industry.
---
Do you have more questions that are not covered in this article? If you need help designing and planning, please contact FBi Buildings at 800.552.2981 or click here to email us. If you are ready to get a price, click here to request a quote and a member of our customer engagement team will help you determine the next steps of your project.