Posts | Building Features | Product Review
Top Pole Barn Fan Companies: 4 Installation Advantages

Subscribe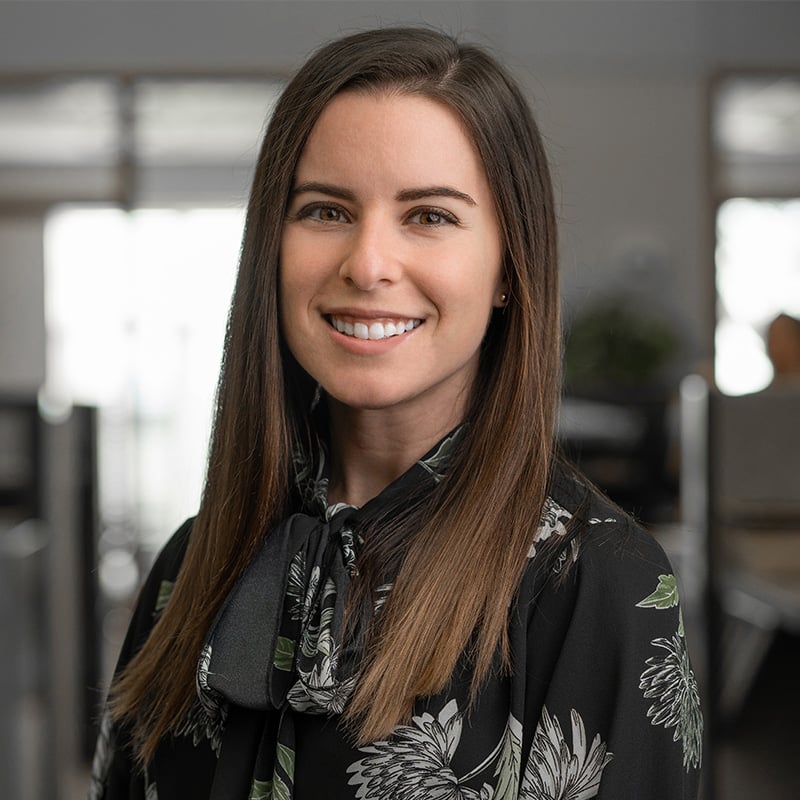 After working in the banking industry for 5 years after college, Courtney realized she needed a change and decided to pursue a new career path. Growing up she has always been creative and enjoyed writing, taking pictures, or painting. Now as the Marketing Content Creator for FBi Buildings, she gets to utilize her creative abilities in her everyday work. In her free time, you can find Courtney at home reading a book, partaking in any and all outdoor activities, or traveling and photographing her adventures. Courtney resides in Northwest Indiana with Lacey, her red tick coonhound.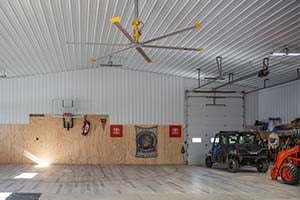 Summer is right around the corner in the Midwest, and it's about to get hot and humid. After a long winter of minimal sun and bitter cold, we feel it's time for the sunshine and the heat to make its appearance.
Until we complain that it's too hot and we're ready for winter again.
Also, summer is the perfect opportunity to spend more time out in your pole barn, working on projects. The days are longer and offer more sunlight to work, and doors and windows can be opened to enjoy the fresh air.
Altogether, you'll find yourself in a better mood with more motivation thanks to ample amounts of Vitamin D.
Having open doors and windows while working is great. But, it can become incredibly humid and stuffy inside your post frame building. As the heat takes over, you no longer have a comfortable environment to work in.
So, how can you alleviate the stagnant air in your post frame building?
By installing an industrial- or commercial-grade ceiling fan.
Although FBi Buildings doesn't install ceiling fans, we still want to make sure you're aware of the best brands on the market.
Therefore, we compiled a list of companies that can provide quality ceiling fans for your pole barn. Please keep reading to find out why ceiling fans are important and which companies made the cut.
Why Should You Install a Pole Barn Ceiling Fan?
Over the years, industrial- and commercial-grade ceiling fans have improved significantly. Current models are quieter, more affordable, and visually appealing in many different spaces.
Your pole barn can benefit from installing a ceiling fan. For instance, this feature can increase air flow, improve ventilation, reduce condensation, and result in energy savings.
As a result, more pole barn owners are looking to incorporate ceiling fans into their building design.
Are you still on the fence? Below, we detail four advantages of installing a ceiling fan in your post frame building.
4 Advantages of Installing a Pole Barn Ceiling Fan
1) Ceiling fans improve airflow.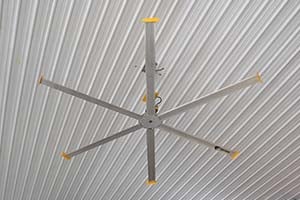 Contrary to popular belief, ceiling fans were not created to cool or warm the room in which they're installed.
In fact, ceiling fans were created with the intention of circulating stagnant air and improving airflow.
When a room is hot and stuffy, your first instinct is to turn on the fan. The ceiling fan creates an artificial breeze to help evaporate moisture on your skin, making you feel cooler.
So, how can you maintain a comfortable temperature in your pole barn? It depends on the ceiling fan rotation.
Science taught us that warm air rises. Once the hot air travels to the ceiling, it has nowhere to go.
Industrial and commercial fans have large blades; therefore, they can move a vast area of warm air.
During the summer months, you'll want your pole barn fans to turn counter-clockwise. This rotation will push the warm air down and out of the building via ridge vents.
In the winter, you'll want to turn your ceiling fans clockwise. This rotation pulls the cold air up and pushes the warm air down.
Making these little changes will improve airflow and reduce energy costs.
2) Ceiling fans can be energy-efficient.
Despite what you may think, running a ceiling fan doesn't cost a fortune. Installing a ceiling fan in your post frame building can improve overall energy efficiency and save money on rising utility costs.
Certain industrial- and commercial-grade ceiling fans produce high volumes of air at a very low speed (HVLS). The large volumes of air make the space comfortable without consuming a large amount of energy.
Depending on the season, using your ceiling fan (in the correct direction) eliminates the need to run your air conditioner or furnace as much. Again, you'll be saving money in the long run by not having to run energy-consuming appliances often.
3) Ceiling fans increase pole barn ventilation.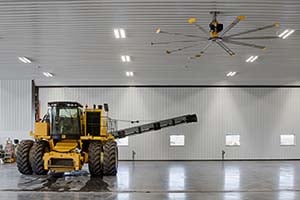 Ventilation is the intentional exchange of indoor air with outdoor air. Without proper ventilation, an otherwise insulated and airtight pole barn can trap moisture and extremely harmful pollutants (e.g., carbon monoxide).
Often, natural ventilation is preferred over mechanical ventilation from a cost-effective perspective. Popular examples include:
Cupolas
Overhangs
Ridge vents
Eave vents
Doors
Windows
However, industrial- and commercial-grade ceiling fans only add to the picture and help increase ventilation. By promoting circulation, you can rest easy knowing that the air you (or your animals) breathe is safe, and moisture buildup is minimal.
4) Ceiling fans help control pole barn condensation.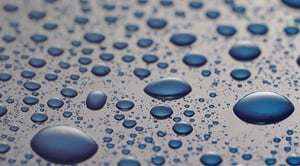 Speaking of which, condensation occurs when warm air laden with moisture contacts a cool surface, such as your steel liner.
Since air with a lower temperature cannot hold as much moisture as air with a warmer temperature, this excess humidity turns into water droplets.
Controlling condensation goes hand-in-hand with ventilation. By having a large ceiling fan to keep air moving, there's less chance of moisture buildup in your pole barn.
Condensation can cause future structural issues if not taken care of right away. Examples of moisture damage include:
Mold growth
Decaying lumber
Poor human/animal health
Discoloration of equipment, furniture, and vehicles
Again, ceiling fans will work to regulate the interior temperature. While they can be costly, there's no comparison to the amount you'll have to pay in pole barn repairs caused by condensation.
Please note that you'll need to consider installing a ceiling fan at the beginning of your post frame project. Your pole barn builder will need to ensure the proper fan base is included in the layout.
Our Top Ceiling Fan Brands for Your Pole Barn
Now that you understand why an industrial- or commercial-grade ceiling fan is a viable option for your pole barn, which brand should you purchase?
After ample amounts of research, we compiled a list of ceiling fan companies that we feel would offer the best ceiling fan for your post frame building.
Our recommendations (in no particular order) are based on product specifications, prices, and reviews.
1) Big Ass Fans
Since 1999, Big Ass Fans (yes, that really is their brand name) has been leading the industry with their superior fan designs. They offer a variety of styles and sizes for your building needs.
Their high-volume, low-speed (HVLS) airflow approach is key to making your pole barn more comfortable and energy-efficient.
By installing their fans, you can save up 30% in energy costs and feel a 10°F temperature difference.
All in all, Big Ass Fans prides themselves on "delivering comfort, style, and energy savings that make life and work more enjoyable."
2) Humongous Fan
Next, Humongous Fan is proudly based and built in Cleveland, Ohio. They take pride in their American-made ceiling fans, and it shows through in their high-quality products.
Humongous Fan also offers high-volume, low-speed (HVLS) fans with performance-engineered blades. There are numerous "application types, product variants accessories, and customization options."
Similar to Big Ass Fans, their HVLS fan system promises year-round energy savings.
All fan components are guaranteed a 5-year warranty.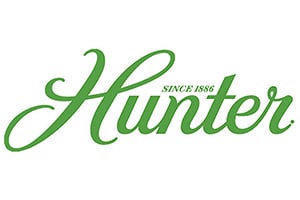 3) Hunter
In 1886, John Hunter invented the first-ever ceiling fan. Since then, his company has been leading and changing the industry as we know it.
Located in Nashville, Tennessee, Hunter is committed to quality, craftsmanship, and innovation.
Their ceiling fans are available in different sizes, styles, features, materials, and colors. Whether you're building a man cave/she shed or farm shop, Hunter has the perfect fan for you.
Do you want to add a ceiling fan to an existing structure? Their experts will determine what's best for your pole barn.
Maybe you want to upgrade your current ceiling fans? Hunter will gladly accept their competitor's HVLS fans and apply credit towards their products.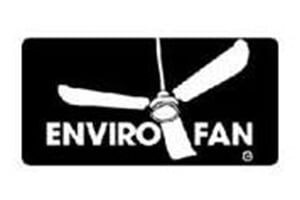 4) Envirofan
In 1972, Envirofan was founded as Northwest Feed Research, an agriculturally based feed supply company. Since then, they've expanded their product lines to include environmental control systems in the commercial and industrial segments.
Nowadays, Environfan's main focus is ceiling fans and accessories; hence the name change to better reflect their product offerings. Their headquarters is located in Oshkosh, Wisconsin.
Furthermore, Envirofan takes pride in their ability to handle large and diverse orders while still providing high-quality products, top-notch customer service, and paying individual attention to customers' needs.
Their "powerful, all-metal, heavy-duty" fans are engineered to excel in any application. You can expect energy savings of up to 30% and 50% during the winter and summer, respectively.
Moreover, their Agrifans will withstand high moisture and dust levels found in horse barns and other livestock facilities.
However, Envirofan has their own installation instructions. You'll need to communicate these spacing directions to your electrician or post frame builder (for framing purposes).
Which Ceiling Fan Company Will You Choose?
After reading our recommendations, which ceiling fan company will you contact? The options are endless, and it may be a tough decision. But, there's no right or wrong answer to this question. It boils down to personal preference.
Ceilings fans have an extensive resume, featuring improved airflow, increased ventilation, and reduced moisture buildup — all year long. Including them in your building design will not only bring you comfort but also peace of mind knowing the overall positive impact it can on your pole barn.
No matter which route you decide to take, just remember to always build with confidence.
---
Do you have more questions about the top pole barn ceiling fan companies that are not covered in this article? If you need help designing and planning, please contact FBi Buildings at 800.552.2981 or click here to email us. If you're ready to get a price, click here to request a quote, and a member of our Customer Engagement Team will help you determine the next steps of your project.