Building Tips | Farm Buildings | Residential Buildings | Horse Barns | Commercial Buildings | Building Design
Do Certain Pole Barn Colors Cost More?

Subscribe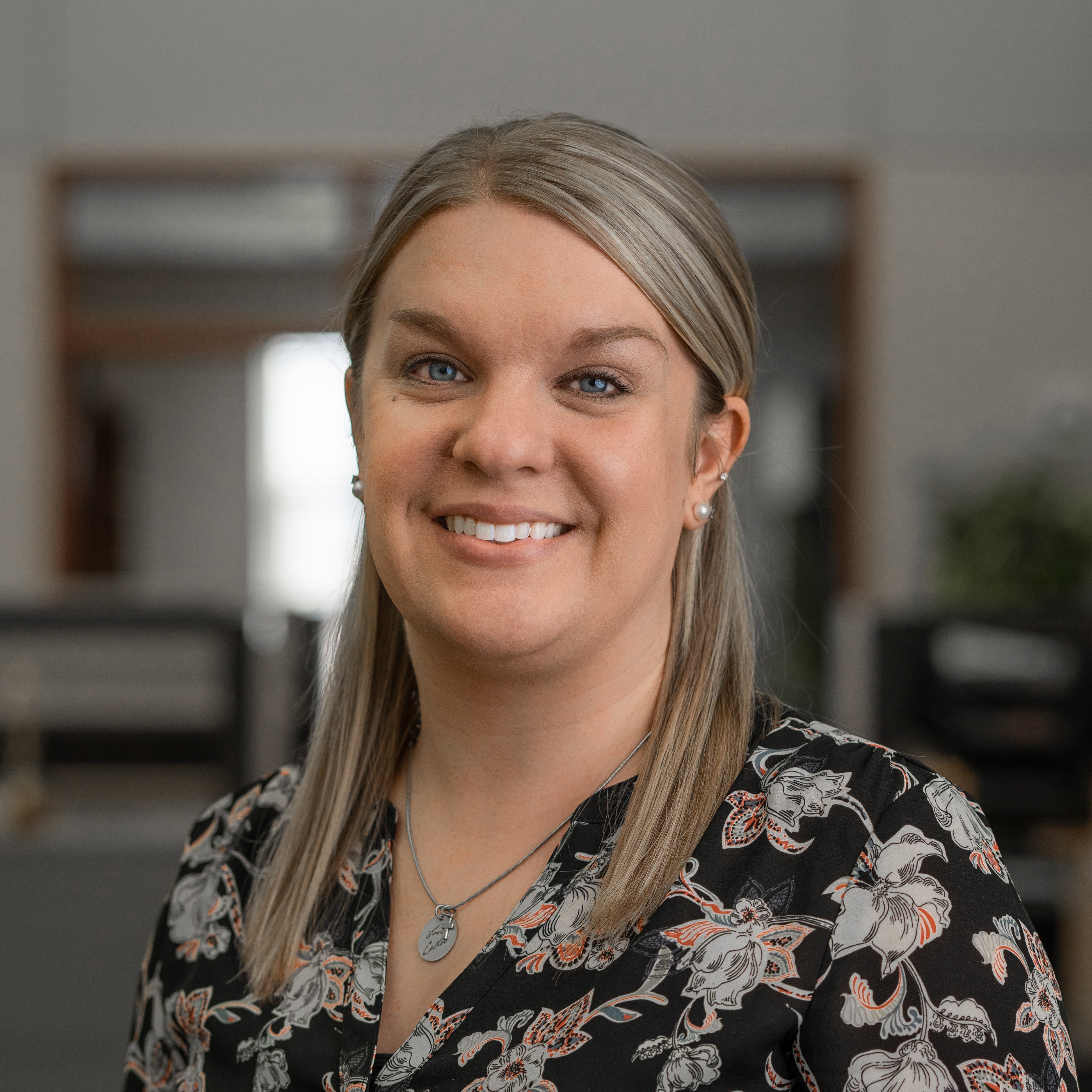 Angie graduated from Indiana State University with a Bachelor of Science in Interior Design. Prior to joining the FBi team, Angie was a kitchen and bath sales consultant in Lafayette, IN. In 2012, she started with FBi as the Inside Sales/Marketing Assistant. Today she holds the role of Sr. Marketing and Inside Sales Manager. Angie grew up in a farming community and has always enjoyed helping her family on the farm. A past 10-year 4-H Member, her passion for livestock pursued her to take a career in the agriculture field. She and her husband live in Northwest Indiana with their two daughters. In her free time, she enjoys outdoor leisure activities and spending time with friends and family.
Building a pole barn is a big decision. Arguably, a bigger decision is how to design your pole barn. There are many different building features for you to choose from, such as: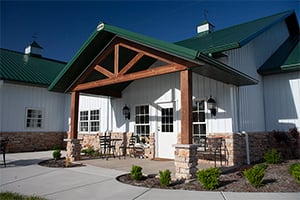 If you've been planning your dream building for a while, there's a good chance that you've been scrolling through online galleries for inspiration. Unfortunately, you didn't realize the number of options you'd have to choose from for your pole barn colors, making it harder to decide.
After all, a pole barn is a permanent investment. You want to make sure that your decision fits your personal or professional taste. Whether you're constructing a commercial industrial building or a horse barn, there are several color schemes to choose from.
Luckily for you, we've compiled a list of things to consider prior to making your color choices. Do certain pole barn colors cost more? Keep reading to find out.
3 Things to Consider When Choosing Your Pole Barn Colors
1) Are You Looking for an Exact Match to Building Features?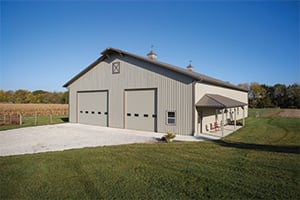 If you're looking to match your pole barn colors to building features, such as walk-in doors or windows, there's a good chance that you might not be able to get an exact match.
Depending on who you choose as your post-frame builder, they should have windows and walk-in doors of specific sizes and colors in stock (meaning readily available to the customer). In-stock products help the construction schedule stay on track and lessen the risk of delays.
If a specific feature you choose is non-stock, it's up to the manufacturer to get your product on time. There have been delays on certain building features. It's imperative that you know that information to prepare for any changes you might have to make with your pole barn (if necessary).


2) Is Designer Wall (Wainscoting) More Money?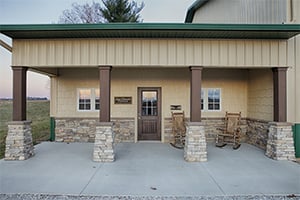 If you're looking to have your hobby shop or pole barn home stand out, it might be a good idea to choose a designer wall (also known as wainscoting).
Wainscot is simply used as a decorative steel panel in post-frame construction. The height on it can vary, but it is usually done in three or four-foot strips added along the exterior base of your building. You can have one-sided, two-sided, three-sided, or four-sided wainscot.
It's also an option to upgrade your exterior facade to brick, stone, stucco, or various siding products.
You're probably curious about the price of a feature like this, and we don't blame you. You usually pay more for something nicer, and in this case, a designer wall will enhance your building.
Overall, you will be paying more to have a designer wall on your pole barn. You won't be paying extra to add color, but you will be paying extra for the labor and transition flashing.
Below is a price range that you can expect to pay for pole barn wainscoting:
36'': $3 - $4 per linear foot
48'': $4 - $5 per linear foot
3) Are All Pole Barn Colors Created Equally?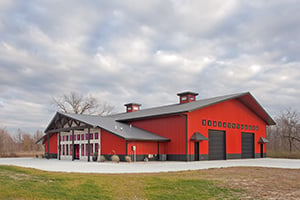 First, paint systems play a significant role in helping your pole barn look "fresh" year after year.
Paint systems are identified by their resin type. Three primary resins are used for coating metal panels: polyester, silicone-modified polyester (SMP), and polyvinylidene fluoride (PVDF). The latter two are standard options in modern post-frame construction.
We recommend using PVDF, also known as Kynar 500®, since it's the premium resin for post-frame construction.
Its unique formula contains one of the strongest bonds known to humankind. A mixture of fluoropolymer resin and ceramic pigments produces excellent resistance to fading and weathering.
Most post-frame builders use a PVDF paint system. Some competitors offer metal panels coated with SMPs or Kynar 500. If given a choice, you should specify that you'll only accept steel finished with the latter.
To prove this statement, we traveled with McElroy Metal to Sherwin-Williams' "test fence" facility in Fort Myers, Florida. Watch the video below to understand better the benefits of a PVDF (Kynar 500) paint system.



Do Certain Pole Barn Colors Cost More?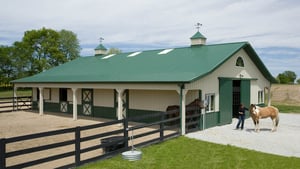 You're in the home stretch of making the final decisions with your post-frame building. The last thing you have to decide on is what colors to choose. A simple decision for some might be overwhelming for you.
How do you know what colors to choose? Are you basing your decision on looks, price, or matching existing buildings?
There are a variety of hues, shades, and metallic colors to choose from. It's only natural to feel overwhelmed. So, do specific pole barn colors cost more?
The answer is no. Standard colors do not cost more or less. Pole barn color pricing is based on the stock level availability by the steel supplier and if your post-frame builder has used it as a standard.
What exactly does that mean? Keep in mind that each post-frame builder is different, and they order their supplies based on what works for their business. Some builders might keep items in stock, while others might only order what is needed for each job.
At FBi, our colors that are not standard (meaning not listed in our color brochure) wouldn't be an up-charge because our steel orders are job-specific. However, that might be different for another pole barn builder.
For example, if you choose a color that the steel suppliers don't usually use or have a stock coil of (remember that steel comes in coils), that supplier would need to buy the coil. However, when the supplier buys coils, they pay for units of coil necessary to complete the order, not what's needed for your building (they have a minimum order to place).
There is a good chance that suppliers will be buying more steel units than what is necessary. As previously mentioned, each post-frame builder operates differently, so there is a good chance that this scenario would result in a higher price for that specific pole barn color.
Do You Know Which Pole Barn Colors You Will Choose?
Do you want to see how certain colors will look on your dream pole barn? Then, you can design your post-frame building with our online 3D tool.
Once you're finished, you can save, print, or email your design to family and friends. It might be good to get other opinions to see if everyone is on the same page with your chosen colors.
When you're ready to request a quote, feel free to submit your building design to us, and a member of our sales team will give you a call to begin the estimating process.
Now that you understand how colors work, we hope this helps you make an informed buying decision. Please remember that no two pole barn builders are the same, and certain colors might cost more with another builder.
---
Have more questions about open-sided buildings not covered in this article? Please contact FBi Buildings at 1.800.552.2981 or click here to email us. If you're ready to get a price, click here to request a quote, and a member of our sales team will call you.