Subscribe
Who Are the Top Pole Barn Builders in Michigan?
When the sun sinks beneath the horizon into shades of orange after a hard day's work, there's a place you can store the equipment used to plant this year's harvest. Or, when it's time to gather around the table for a home-cooked meal, there's a place that will provide you and your loved ones with comfort, warmth, and an abundance of memories.
For a time when you need to rejuvenate your mind and just get away from the world, there's a place you can go and saddle up your best friend for a ride chasing the setting sun. For the hobbyist, there's a place to build, restore, and create what you take pride in most.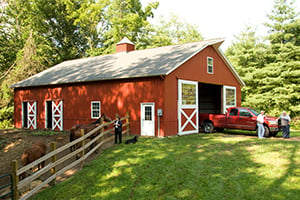 To our farmers, mothers, fathers, ranchers, and the heart of America… a pole barn is not just a post frame building. A pole barn is where you work on your classic car collection, play basketball with your children, and gather the family for the holidays. You deserve the best, and we want to ensure you know who the best is.
*End Pure Michigan Commercial Theme Song with Narrations Done by Tim Allen*
Honestly, everything just sounds better if you read it in Tim Allen's voice.
In the past, we have brought you blogs on the top pole barn builders in the Midwest, Indiana, and Illinois. Now, it's time that we brought you the top pole barn builders in our Great Lakes State.
As always, we did the difficult part of narrowing down the best so that you don't have to. All you need to do is continue reading for our list of the top pole barn builders in Michigan.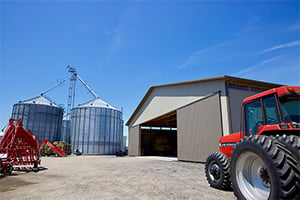 How Do You Decide Which Post Frame Company is Right for You?
If a person makes a promise to you, the last thing you want is for them to break it. This especially holds true when you're putting your trust and hard-earned money into your post frame builder's hands. You don't want them tossing out empty promises just to make a few quick bucks and then run off without a trace.
Every pole barn company is going to promise you they're the best in the industry, but how can you decipher for yourself that this statement is accurate? It's beneficial to ask your potential builder a plethora of questions. If they answer these questions confidently and with ease, that's an excellent sign they're competent in what they're talking about and just might be the best at what they do.
Here is a list of the pole barn builders in Michigan who we think came out on top:
Top Pole Barn Builders in Michigan (Our Recommendations):
MilMar Post Buildings
Headquarters: Chesterton, IN
Insights: MilMar Post Buildings is a locally owned company based in North-Eastern Indiana who happily serves the midwest. They offer exclusive services building post frame buildings in Indiana, Michigan, Illinois, and Ohio. They do not outsource their crews, so you can be sure their crews are held to a higher standard to provide you with only the highest quality buildings.
Morton Buildings
Headquarters: Fairfield, IL
Insights: Morton Buildings has been serving its residential, agricultural, and commercial community since the late 1940s. This employee-owned company has over 100 construction centers throughout the country to assist you with both your building and repair needs. They also have eight manufacturing facilities where many of their building components are produced.
FBi Buildings, Inc.
Headquarters: Remington, IN
Insights: FBi Buildings, Inc. is a family-owned company that has been servicing Indiana and Illinois since 1958. Since then, they have built over 20,000 agricultural, equine, commercial, and residential pole barns. They also offer their repair and renovation services with crews specifically for this market.
Wick Buildings, Inc.
Headquarters: Mazomanie, WI
Insights: Wick Buildings, Inc. is a privately-held company located in Wisconsin that has constructed over 70,000 buildings since being founded in 1954. They are one of the nation's largest post frame building companies and offer their services in suburban, commercial, and industrial pole barns, horse housing facilities, on-farm livestock and storage facilities, and animal confinement systems.
Cleary Building Corporation
Headquarters: Verona, WI
Insights: Since 1978, Cleary Building Corporation has sold over 114,000 buildings that include cabins, homes, and horse, farm, and commercial structures. They are a national, family-owned company that prides themselves on putting their customers first.
Lester Building Systems, LLC.
Headquarters: Charleston, IL
Insights: Founded in 1947, Lester Building Systems, LLC has expanded its territory from "the Eastern Seaboard to the Rocky Mountains and as far south as a line running from Oklahoma eastward through Tennessee and North Carolina." They offer custom pre-engineered post frame building systems for hobby, commercial, livestock, equine, and farm purposes.
To Narrow Down Your Options, Ask Yourself These Questions:
What does the company's building process entail?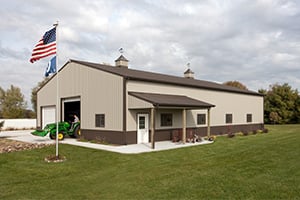 To get an idea of what the building process looks like, we highly encourage you to converse with your builder about it before you proceed too far into the operation. Since no two building processes are exactly the same, you'll want to be aware of what you're getting yourself into before you get too far into the building design. Knowing how they operate can help you narrow down your options until you find the right post frame company.
Does the builder have everything organized and under control? Are they working on one or two projects or numerous projects at once? Is the time frame that was given to you reasonable? These are crucial questions you'll want to ask yourself, because if they're not adding up, you may want to rethink your option. A lack of organization can lead to a slew of surprises that weren't in the contract.
Are they using quality materials?
Each post frame builder is going to use different materials, such as lumber, siding, paint, windows, and doors, so that's something to keep in mind when selecting a builder. If they use better materials than the rest, that's definitely a point worth considering.
A quality builder will use quality materials that will withstand the test of time. If a builder is giving you a really low price on a building and you're thinking to yourself, "this is too good to be true," you're probably right. Just like that old saying says, you get what you pay for.
What is the time-frame to complete my post frame project?
You've been dreaming up this project for quite some time, and you're ready for it to be finalized as quickly as possible. We get it, and we'd be excited too, but there are a few things to keep in mind about the time-frame:
How's the weather?
Considering it's near March and we've hardly seen any snow, chances are your pole building will be constructed a lot quicker than usual. If April brings those resilient rain showers, chances are your project will be delayed until the weather clears, and the site dries up. While we don't like it and we hate to admit it, weather plays a significant role in the timely construction of your pole barn.
What's the crew size?
The larger the crew size, the more men and women on-site offering their specialties in constructing your post frame building. The old saying "two hands are better than one" couldn't be any more true in this scenario.
Wait, my project isn't the only one you're working on?
You probably won't be the only client who gets the builder's full attention, unless you've hired your friend's brother's aunt's third cousin twice removed who does this as a side job to earn extra cash. If your builder is working with an extensive list of customers, they will be doing their best to focus on everyone at once and won't be able to offer all their attention on your project alone.
Are the construction crews directly employed or outsourced?
If a builder utilizes crews that aren't directly employed by them, this opens the door to potential delays. These crews could be jumping from job to job, and issues could arise in the timely delivery of building materials.
A builder who employs their own crew knows that the optimal way to ensure top performance and high quality is with accountability. Time can be managed more efficiently, and scheduling crews and deliveries are less complicated.
Project Sales Consultant or Project Manager?
Project managers keep the project moving smoothly because they're on-site and see what's happening. This is their designated position, and it's not an easy task with the copious amount of juggling they have to do.
Project sales consultants have their own busy schedules, so by acting as the project manager as well, it could potentially leave room for error. There is nothing wrong with having someone wear both hats, but it could get tricky.
What's included in the company's warranty package?
Let's start by mentioning that a standard warranty does not exist in the post frame industry. While we wish it did, sometimes life just isn't that straightforward. We recommend discussing the pole barn warranty package with your builder early on. Accidents happen, and mishaps are inevitable, so you'll want to make certain you're covered against anything that could go wrong.
Not positive of what to look for? Feel free to utilize these top five warranty essentials for reference.
How do they handle building damage after construction?
Unfortunately, pole barn buildings are not invincible against the everyday wear and tear of the outside world. Hail, sweltering heat, and powerful winds are a usual occurrence here in the midwest. Since these elements are unavoidable, you'll want to find a quality post frame construction company you can trust to handle any repairs you need. You'll want someone who will come promptly, especially in the instance for something minor.
What have past customers said about the company?
While you can't believe everything you read on the internet, it's a good place to begin your search for company reviews. There are several credible sources you can turn to, such as Yelp or Angie's List, to read about the experiences past customers have had.
If the majority of the reviews are positive, that's a good sign you'll have a great experience with them should you elect to contract them for the job. If the majority are negative, that's a good sign that this builder is clearly not cut out for this line of work, and you should move on to your next option.
Don't let a couple of bad reviews out of 100 steer you away from a company, though. We all know that in this day and age, trolls don't just live under bridges.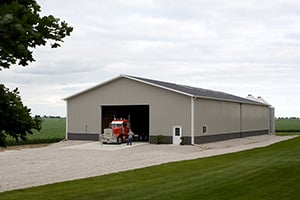 Will the construction company be around in 20 years?
Someone who has been in the post frame construction industry for 20 years is credible and competent in what they are doing. That is an extensive time frame to gather knowledge and experience to ensure they're providing you with only the highest quality product. This kind of person can handle anything the pole barn industry throws at them because they've seen and done it all.
Just because someone hasn't been in the industry for 20 years doesn't mean they aren't the best fit, though. What they lack in years of experience, they can definitely make up in skill and talent.
Which Pole Barn Builder Will You Choose?
You've read our recommendations, and you know which questions to ask, so now which pole barn builder will you elect for your project? It's a tough decision, but we have faith that you'll make the best possible choice as long as you remember to always build with confidence.
---
Do you have more questions about Michigan pole barn builders that are not covered in this article? If you need help designing and planning, please contact FBi Buildings at 800.552.2981 or click here to email us. If you're ready to get a price, click here to request a quote, and a member of our Customer Engagement Team will help you determine the next steps of your project.