Who Are the Top Pole Barn Builders in Michigan?

Subscribe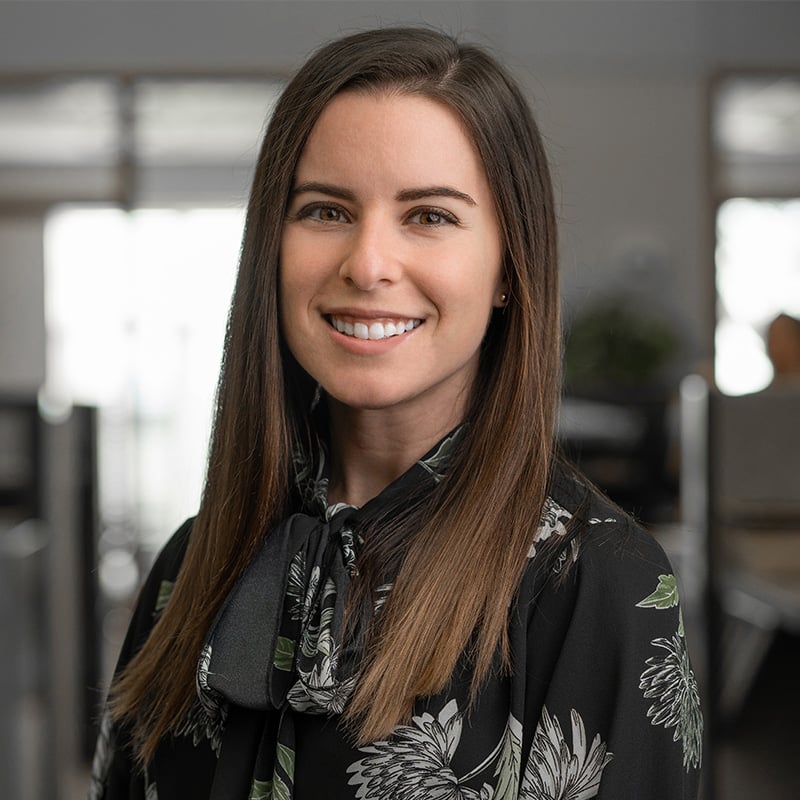 After working in the banking industry for 5 years after college, Courtney realized she needed a change and decided to pursue a new career path. Growing up she has always been creative and enjoyed writing, taking pictures, or painting. Now as the Marketing Content Creator for FBi Buildings, she gets to utilize her creative abilities in her everyday work. In her free time, you can find Courtney at home reading a book, partaking in any and all outdoor activities, or traveling and photographing her adventures. Courtney resides in Northwest Indiana with Lacey, her red tick coonhound.
After a long day spent planting (or harvesting) the fields, there's a farm shop to store your heavy machinery.
When it's time to gather around the table for a home-cooked meal, there's a residential dwelling that will provide you and your loved ones with comfort.
When you need to escape the real world, there's an indoor riding arena where you can saddle up and ride your horse for a few laps.
As a hobbyist, there's a workshop to build, create, or restore the most items you take pride in.
To most customers, a pole barn isn't just a pole barn. Instead, a post-frame building is where you spend a lot of your time and create an abundance of memories.
You deserve the best, and we want you to familiarize yourself with the top pole barn builders in Michigan.
Top 5 Pole Barn Builders in Michigan (Our Recommendations)
1) Morton Buildings
Headquarters: Morton, Illinois
Company Insights: Morton Buildings has served agricultural, commercial, residential, and equine communities since the late 1940s. This employee-owned post-frame company has over 100 construction crews all over the nation to fulfill your building needs. They also have six manufacturing facilities where many of their building materials are produced.
2) Wick Buildings
Headquarters: Mazomanie, Wisconsin
Company Insights: Wick Buildings is a privately-held construction company that has built over 75,000 post-frame buildings since its founding in 1954. They are among the nation's largest pole barn builders specializing in on-farm storage buildings, horse barns, suburban structures (such as "shouses"), and commercial businesses.
3) Cleary Building Corporation
Headquarters: Verona, Wisconsin
Company Insights: Founded in 1978, Cleary Building Corporation constructs post-frame buildings for agricultural, commercial, residential, and equine applications. They're nationwide and pride themselves on offering quality pole barns at an affordable cost.
4) Lester Buildings
Headquarters: Charleston, Illinois
Company Insights: Since 1947, Lester Buildings has built post-frame structures for farm, livestock, equine, hobby, and commercial purposes. Moreover, they sell material-only packages.
5) MilMar Post Buildings
Headquarters: LaPorte, Indiana
Company Insights: MilMar Post Buildings is a locally owned construction company from northeastern Indiana. They happily serve the surrounding Midwestern states (including Illinois, Indiana, and Ohio). Their construction crews aren't outsourced so that they ensure high-quality pole barns.
How Do You Pick the Best Pole Barn Builder?
As you perform your research, you'll notice that every pole barn builder promises that they're the best in the post-frame industry. But how can you decipher for yourself that this statement is accurate?
To narrow down your options, we recommend asking potential construction companies the following questions. If they answer them confidently, it's a good sign that they're competent in pole barns and might be the best at what they do.
A) What does their building process entail?
Each post-frame builder has their own building process, so you'll want to better understand their construction phases.
From processing and permitting to pre-mobilization and actual construction, all involved parties must be on the same page – including you as the building owner.
Lack of organization can lead to many surprises (and cause major headaches) that weren't anticipated when you first signed the contract.
B) What type of building materials do they use?
Furthermore, each post-frame builder will use different building materials (e.g., fasteners, lumber, steel, paint, doors, and windows).
If your pole barn quote is low and you're thinking to yourself, "This is too good to be true," then you're probably right. Just like the old adage says, you get what you pay for. Quality building materials aren't cheap, but they'll withstand the test of time.
Watch the video below to see how FBi Buildings' metal siding compares to that of other post-frame builders in the marketplace.
C) What is their timeframe for completing my post-frame project?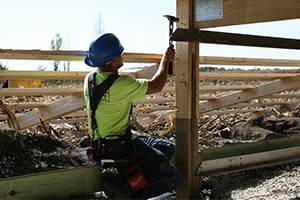 You've wanted to build your dream pole barn for quite some time, and you're ready for it to go up as quickly as possible. We get it, we'd be excited too, but there are a few things to keep in mind as you're assigned a timeline.
The first determining factor is the builder's backlog. You'll want a construction company with the crew power to get on-site within a reasonable timeframe. Depending on the time of year, this timetable can range from one to three months.
However, you might find a post-frame builder with no backlog that can be at your property within a week or two. Please exercise caution in this situation. Typically, a construction company with a lower backlog has one for a reason, which may cause future problems.
The construction crew size is dependent on the pole barn size. For smaller residential buildings, the crew size ranges from 3-4 people. Larger farm shops or commercial buildings require 4-10 workers.
D) Are their construction crews directly employed or subcontracted?
If your preferred post-frame builder subcontracts their labor, beware of issues like job jumping. These delays can cause problems with deadlines.
Pole barn builders who invest in their field employees do so because direct accountability is the best way to ensure quality performance.
E) Does the salesperson serve as the Project Manager?
While a knowledgeable sales associate brings tremendous value to your construction experience, it's crucial that your post-frame building has a dedicated Project Manager (PM).
This person facilitates scheduling, handles change orders, accepts payments, and answers lingering questions.
F) What does their pole barn warranty cover?
It's important to note that there's no standard warranty in the post-frame industry. With that being said, you don't want to skim through coverages.
Be sure to discuss the top five pole barn warranty essentials with your salesperson for a better understanding.
G) How do they handle pole barn damage after construction?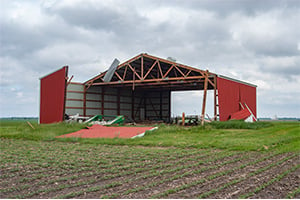 Unfortunately, post-frame buildings are not invincible. They experience everyday wear and tear.
High winds and heavy snowfall is a common occurrence in the Midwest. Any product that is left outside in the elements is at risk of being damaged.
Therefore, having a pole barn builder with a repair and renovation crew on hand for these inconveniences is necessary.
It can be difficult for post-frame builders to pull new construction crews off the job site to handle repair work. As a result, you could spend months waiting on labor to fix a simple project.
And let's be honest, the longer you have to wait for something to get done, the angrier (or annoyed) you get.
H) What do past customers have to say about the construction company?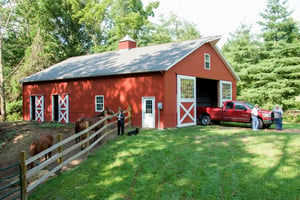 Consumers run to the internet and social media for product reviews and recommendations in this day and age.
Performing a quick web search (e.g., Google or Yelp) can help you find out what past customers say about your preferred construction company. For example, is it mostly positive or negative feedback?
If the majority are positive reviews, that's a hopeful sign that you'll have a good construction experience should you choose to do business with them. On the flip side, an abundance of negative comments may suggest that the pole barn builder is not cut out for this line of work, and you should move on to your next option.
However, you shouldn't let a couple of bad reviews out of 100 positive ones deter you. We know that not all trolls live under bridges these days.
I) Will the post-frame builder be around in the next 20+ years?
Someone who has been in the post-frame industry for 20+ years is credible and competent in building pole barns. This longevity also shows that they can handle the swings of an ever-changing economy and environment.
Plus, they'll most likely be around for another 20+ years to handle your future addition or building repairs. Their presence will bring much-needed peace of mind to your building investment.
Which Michigan Pole Barn Builder Will You Choose?
You've read our recommendations and know the hard questions to ask, so which post-frame builder will you choose? It's a tough decision, but we have faith that you'll make the right decision.
---
Do you have more questions about Michigan pole barn builders that are not covered in this article? If you need help designing and planning, please contact FBi Buildings at 800.552.2981 or click here to email us. If you're ready to get a price, click here to request a quote, and a member of our Customer Engagement Team will help you determine the next steps of your project.