Building Construction | Posts | News | Videos | Post Video | Structural Integrity | Building Design
QLYFT Building System: Transforming Post Frame Construction

Subscribe
Cori grew up on her family's small grain and livestock operation in Northwest Indiana. In 2018, she graduated Summa Cum Laude with a Bachelor's degree in Business Administration & Marketing from Marian University Indianapolis. Having shown beef cattle for 12 years at the county, state, and national levels, Cori chose to pursue a career in agriculture. Today, she serves as the Marketing Content Creator on the FBi team. In her free time, Cori enjoys spending time with family and friends, watching sports, listening to live music, and traveling.
"There's a better way to do it – find it." This fundamental truth has been one of FBi Buildings' guiding principles since our founding in 1958.
During our 60+ years of business, we've consistently pushed the boundaries to find and use high-quality building materials so your pole barn can withstand the test of time.
For instance, FBi Buildings was the first post-frame builder to utilize:
Many of these innovations have become industry standards, while others keep us ahead of the competition.
But that doesn't mean we should be content with our product. There's always a better way of doing it; the key is finding it.
FBi's implementation of the QLYFT building system is the next big step in improving post-frame construction and empowering customers to build with confidence.
In this article, we introduce you to this revolutionary construction method and its significant advantages. But first, you should watch the video below to see the QLYFT building system in action.
What is the QLYFT Building System?
The QLYFT building system is an unprecedented way of erecting post-frame structures. It was created to improve field employee safety while taking building quality to new heights.
Research and development for the QLYFT building system started in 2018. The first model was built in the same year and has been used regularly.
Moreover, our team continues to perfect the building system to ensure high-quality structures while smoothly transitioning away from traditional practices.
In Fall 2020, FBi construction crews will build most pole barns with the QLYFT building system.
6 Key Benefits of the QLYFT Building System
Again, the QLYFT building system was developed to ensure field employees are working in the safest atmosphere possible. While increasing safety measures, we discovered other advantages not offered with your typical pole barn.
Below, we discuss the six key benefits of the QLYFT building system and how it will optimize your construction experience.
1) Enhanced Quality Control
Construction crews can install flashing, gutters, and overhangs at the waist level. This installation reduces the chance of pole barn damage (e.g., leaks) and repairs during/after the building process.
2) Transparent Inspection
Next, customers can inspect their roof, gutters, trims, and trusses with the QLYFT building system.
This level of transparency isn't available with conventional construction practices due to building height and safety concerns.
3) Less Strain on Building Materials
The QLYFT building system makes it easier for construction crews to keep the trusses and walls straight, reducing the racking and twisting of building materials.
These components are plumbed and squared at 39'' above the finished floor instead of 16' and higher.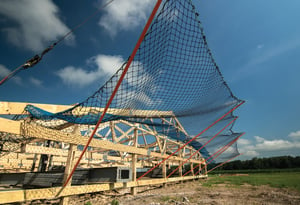 4) Fewer Project Delays Due to Inclement Weather
During QLYFT construction, your post-frame building is less vulnerable when assembled near the ground level.
Because it's closer to the ground, the wind isn't as much of a hindrance when hanging trusses and running metal roofing panels.
This building system is designed to lift roofs in windy conditions (up to 15 mph).
5) Improved Construction Crew Safety
Netting is installed along with the lower roof system and building exterior.
Workers don't have to worry about scaling tall buildings or, worse, falling off. Instead, they can focus on constructing a higher-quality pole barn.
The building process is also easier on one's body, resulting in lower turnover rates among tenured employees. This level of experience allows for unmatched construction quality.
6) Reduced Power Line Costs & Delays
Because QLYFT construction occurs near ground level, you can build closer to overhead hazards. It can save you time and money while increasing flexibility on building location.
With standard post-frame construction, you have to call the electric company to de-energize the cables so field employees won't get zapped. You may have to relocate power lines in some cases, and your provider will hold you responsible for the cost.
Reading the benefits of QLYFT construction and witnessing them firsthand are two different things. Check out this customer testimonial featuring Rodney Ver Steeg, owner of WR Fabrication & Repair. He recounts his positive QLYFT construction experience and how it enhanced his post-frame building.
How Does the QLYFT Building System Work?
It's important that you understand how the QLYFT building system operates during your post-frame project.
Below, we briefly detail five out of the ten components that work together to raise your pole barn.
Editor's Note: Due to continuous improvement, some parts of the QLYFT building system may differ from what is shown at publication time.
1) Hydraulic Cylinders
Each hydraulic cylinder can lift 50 tons up to 20' eave height. Depending on the building design and size, some pole barns may require specialized cylinders that can lift higher.
Furthermore, they're mounted above a reinforced footing that allows post-frame buildings to be raised on soft or unstable ground.
The cylinders are powered by the controller, a computer program designed specifically for QLYFT construction.
In case of hydraulic loss, check valves are installed to prevent the cylinders and I-Beam frames from falling.
2) I-Beam Frames
I-Beam frames lift the actual structure. They're assembled on-site and fitted to the building length. Each frame is made out of (2) 18' I-Beams.
Then, they're connected to one another with no less than (4) 1'' diameter bolts. Depending on the building size, FBi may use (8) 1'' diameter bolts per connection.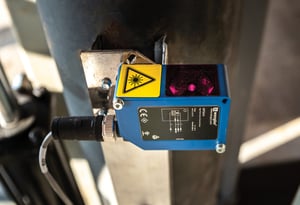 3) Scissor Braces
Next, scissor braces keep your pole barn stable as it's raised into its final position. Once the walls are secured, the scissor braces steady the frames as they're lowered to the ground.
4) Lasers
Lasers read the lifting height of each hydraulic cylinder, sending that information to the controller.
The laser readings ensure that the roof of your post-frame building remains level within tight tolerances.
5) Hinges
The hinges allow workers to build and attach end- and side-wall sections to the roof prior to the lift.
After the roof is raised to the desired building height, the walls are conveniently moved and immediately braced into place.
Are you interested in learning more about the components that make up the QLYFT building system? Download our FREE guidebook, which outlines the remaining parts and how they work together to ensure a seamless construction experience.
Are You Ready to Move Forward with Your Post Frame Building?
At FBi Buildings, we've built a reputation as a post-frame industry trailblazer who stands behind integrity and excellence before, during, and after the sale. The QLYFT building system is another one of our innovations that allows us to offer high-quality pole barns.
When you alter a 60+ year history of constructing post-frame buildings, there will be questions, and rightfully so.
Download our FREE QLYFT Building System Guidebook, which explains the significant benefits, details how its components work together, and answers potential concerns you may have as a first-time buyer.
Would you like a print copy? Our Project Sales Consultants (PSCs) will hand-deliver one to you and answer your lingering questions. Or, you can call our office, and we'll mail a hardcover one to you.
Are you ready for a quote? Submit your floor plan, and a member of our sales team will give you a call to begin the estimating process.
---
Do you have more questions about the QLYFT building system that are not covered in this article? If you need help designing and planning, please contact FBi Buildings at 800.552.2981 or click here to email us. If you're ready to get a price, click here to request a quote, and a member of our Customer Engagement Team will help you determine the next steps of your project.