Subscribe
3 Reasons Why You Should Attend the 2021 Farm Progress Show
Posts | News | Post Video | Farm Buildings
In-person trade shows are back, and we're looking forward to attending the nation's largest outdoor event – the Farm Progress Show.

For 50+ years, the Farm Progress Show has been a tradition for farmers and their families. Imagine learning more about the latest agricultural equipment and technology with your parents or grandparents. They've shared their passion and work ethic with you, and when it's time, you'll pass the torch to the next generation.

Ritual or not, this article discusses the three reasons you and your family should attend the 2021 Farm Progress Show.
What is the Farm Progress Show?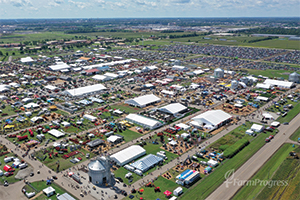 Every day, agribusinesses and manufacturers work hard to design and build products/services that will change farming for the better. The Farm Progress Show allows companies to showcase these advances while farmers gain hands-on knowledge.
Over 600 exhibitors from across the globe attend this industry-leading event. They display their new machinery, seed and crop protection products, and additional farm-related supplies and services.
Moreover, field demonstrations are a show staple. Examples include side-by-side tillage techniques, global positioning systems (GPS), and equipment performance comparisons.
Do you own livestock? Ranchers can test the newest cattle chutes, animal products, and cattle-handling techniques.
Furthermore, the Farm Progress Show wouldn't be an agricultural trade show without antique machinery and country music entertainment.
Fun Fact: The Farm Progress Show rotates between two permanent sites. Even-numbered years are held in Boone, Iowa. Meanwhile, odd-numbered years are located in Decatur, Illinois.
Overall, this three-day event is an unparalleled learning experience for producers.
3 Reasons Why You Should Visit FBi Buildings at the 2021 Farm Progress Show
1. Live Pole Barn Raising Using the QLYFT Building System
Most people attend the Farm Progress Show to see something they've never seen before, and FBi Buildings has a unique exhibit (Lot 67).
All three days, we'll raise and lower a post-frame building using our revolutionary QLYFT building system.
QLYFT Demonstration Dates & Times

Tuesday, August 31st

10 AM, 1 PM & 3PM (CST)

Wednesday, September 1st

10 AM, 1 PM & 3PM (CST)

Thursday, September 2nd

10 AM & 1 PM (CST)
*Save these dates and times to see the QLYFT building system up close and personal.
This method is an unprecedented way of constructing pole barns. It was created with product quality and employee safety in mind.
Our crews assemble the metal roof on the ground and raise it to the desired building height using hydraulic cylinders, I-beams, scissor braces, and wall hinges. This process takes about fifteen minutes.
"This is the biggest innovation in pole buildings since the pole," says Matt Jungmann, National Events Manager. "It's a totally different way to construct the pole building. I'm thinking this will be one of the can't miss things of the show in 2021."
After the Farm Progress Show, the post-frame building will be relocated and utilized by the ag program at Richland Community College.
"It's going to put a good foundation together for Richland, which is exciting in the long run," adds Jungmann.
For more information, you can download our FREE QLYFT Building System Guidebook. This resource explains its significant benefits, how the parts work together, and answers potential questions you may have as a first-time buyer.
2. Plan Your Next Post Frame Building with Our Project Sales Consultants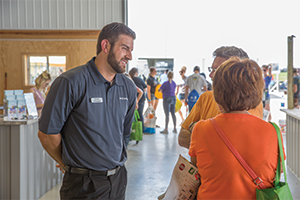 Do you want to build a pole barn in the near future? If so, you should add FBi Buildings (Lot 167) to your itinerary.
The Farm Progress Show is the perfect (and convenient) time to speak with our Project Sales Consultants (PSCs) about building the ultimate shop, garage, pole barn home, or horse barn.
You can grab a copy of our farm, equine, or residential floor plans for design inspiration. If a building design catches your eye, but you'd like to make an adjustment, please let us know. All of our pole barns are customizable.
Not to mention, we'll have the following resources on hand to help you:
Our salespeople can walk you through our innovations that continue to raise industry standards:
As you can see, we've built a reputation as a trailblazer in the post-frame industry with these innovations, and the QLYFT building system is no exception.
When you alter a 60+ year history of constructing pole barns, there will be questions, and rightfully so. That's why the masterminds of the QLYFT building system will be on-site to answer questions from Farm Progress Show-goers.
3. Register to Win Fun Giveaway Items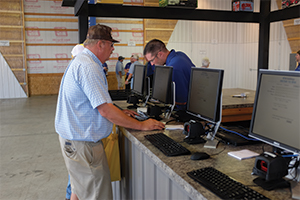 As always, we have some fun giveaways in store for our customers. You can register daily for your chance to win one of the following items (a $500 value):
A Southwest Airlines® gift card to the destination of your choice


A black CRAFTSMAN® 2000 Series 52'' W x 37.5'' H 10-drawer steel rolling tool cabinet


A pair of Vortex Optics Viper HD Roof Prism Binoculars (8x42) suited for the avid hunter
The lucky winners will be announced on Tuesday, September 7th. Follow us on social media for more information.
Pssst! We'll also be giving away cool freebies at our booth (Lots 67 and 167). If that doesn't grab your attention, we don't know what will.
Will You Attend the 2021 Farm Progress Show?
Now that you have three reasons, we hope you'll attend the 68th annual Farm Progress Show on August 31st – September 2nd in Decatur, Illinois.
All are welcome to attend (you don't have to be a farmer). We look forward to seeing you there!
---
Do you have more questions that aren't covered in this article? If you need help designing and planning, please contact FBi Buildings at 800.552.2981 or click here to email us. If you're ready to get a price, click here to request a quote, and a member of our Customer Engagement team will determine the next steps of your project.