Building Construction | Posts | Post Video
How Does the QLYFT Building System Improve Construction Crew Safety?

Subscribe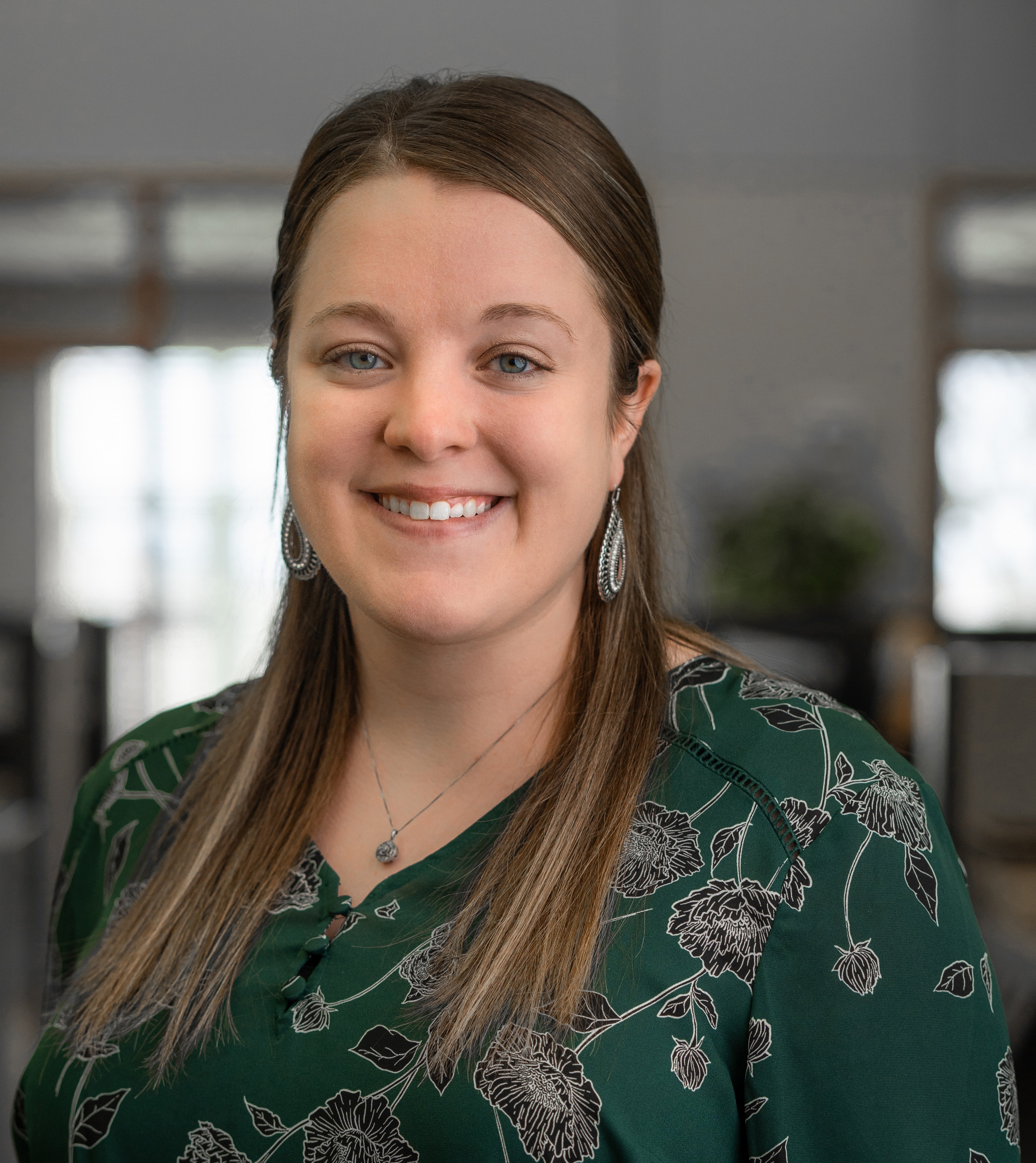 Cori grew up on her family's small grain and livestock operation in Northwest Indiana. In 2018, she graduated Summa Cum Laude with a Bachelor's degree in Business Administration/Marketing from Marian University Indianapolis. Having shown beef cattle for 12 years at the county, state, and national level, Cori chose to pursue a career in the agriculture field. Today, she serves as the Marketing Content Creator on the FBi team. In her free time, Cori enjoys spending time with family and friends, watching sports, listening to music, and traveling.
In the fall of 2020, FBi Buildings introduced the QLYFT building system, an unprecedented way of erecting post-frame structures on the ground.
Yes, you read that right. We're building pole barns on the ground and raising them to the desired height.
We created this construction method to improve crew safety while taking product quality to the next level.
When you alter a 60+ year history of constructing post-frame buildings, there will be questions, and rightfully so.
Our frequently asked question on social media is the lack of fall protection equipment worn by construction workers using the QLYFT building system.
We understand. It can be alarming to scroll through Facebook or Instagram and see field employees wearing no lifelines.
To help customers and prospective employees better understand, we explain the OSHA-approved safety measures behind the QLYFT building system.
Editor's Note: Are you familiar with the QLYFT building system? Watch this video to see the revolutionary construction method in action.
3 Ways the QLYFT Building System Improves Crew Safety (and Post Frame Construction)
1) Post-frame buildings are assembled near the ground.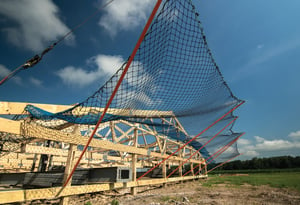 As mentioned above, we developed the QLYFT building system to ensure construction crews are working in the safest atmosphere possible.
Because the pole barn roof is on the ground, workers don't have to worry about scaling tall buildings, or worse, falling off.
Field employees aren't exposed to heights greater than 6'; therefore, fall protection equipment isn't required.
Netting is installed in between the trusses and along the building perimeter. Our safety nets were designed and tested per the Safety Net Systems 1926.502(c) requirements.
The nets don't cause any permanent damage to your post-frame building – no drill holes or screws are needed for installation.
2) Construction crews aren't exposed to high fall injuries.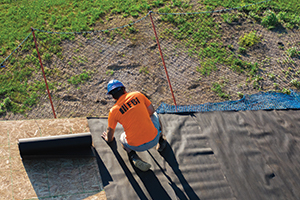 In standard post-frame construction, carpenters must wear a fall arrest system.
The personal protective equipment (PPE) consists of a safety harness and an attached lanyard that connects the workers to a series of anchor points. This gear prevents field employees from hitting the ground should they fall.
However, fall arrest systems are designed to prevent serious injuries or death. Users can still suffer minor injuries, especially if they collide with other objects on the way down.
Again, construction crews don't have to wear fall protection equipment when using the QLYFT building system.
This process is easier on one's body, resulting in lower turnover rates among tenured employees.
3) Construction crews can focus on building higher-quality pole barns.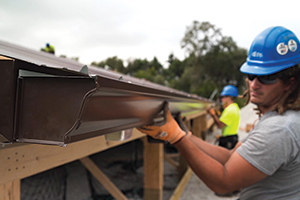 Since carpenters don't have to wear or worry about connecting lifelines from one anchor point to the next, they can focus on building higher-quality pole barns.
Field employees install flashing, gutters, and overhangs at waist-level like never before. This construction method reduces the likelihood of damage and repairs.
Not to mention, customers can inspect their metal roofs, gutters, and trusses. This level of transparency isn't available with standard post-frame construction due to building height and safety concerns.
Moreover, it's easier for workers to keep the trusses and walls straight, reducing racking and twisting the building materials. These components are plumbed and squared at 39'' above the finished floor instead of 16' and higher.
Improved construction crew safety paired with a higher-quality post-frame building is a win-win for all parties involved.
How is the QLYFT Building System OSHA-Approved?
The Occupational Safety and Health Administration (OSHA) mission is "to assure as far as possible every working person in the nation safe and healthful working conditions."
Every organization must establish and follow OSHA's Hierarchy of Controls. These processes help employers identify, prevent, and control hazards in the workplace; thus, providing workers with safe and healthful working conditions.
The Hierarchy of Controls is as follows: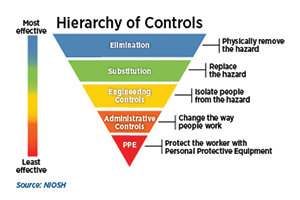 Elimination

: Physically removes the hazard.



Substitution

: Replaces the hazard.



Engineering Controls

: Isolate people from the hazard.



Administrative Controls

: Change the way people work.



PPE

: Protect the workers with personal protective equipment.
Controls at the top of the hierarchy are more effective and protective than those at the bottom.
Per the National Institute for Occupational Safety and Health (NIOSH), "engineering controls are favored over administrative and PPE for controlling existing worker exposures in the workplace because they are designed to remove the hazard at the source."
The QLYFT building system is an engineering control that eliminated the need for field employees to be exposed to heights of 6' or higher.
Building pole barns on the ground, surrounded by safety nets, remove fall hazards before workers come into contact with them. In contrast, fall protection equipment requires significant effort by users while the threat remains.
Making these changes to post-frame construction has substantially reduced the risk of illness or injury on the job site.
Are You Interested in Joining Our Team?
At FBi Buildings, we've built a reputation as a post-frame industry trailblazer who stands behind integrity and excellence.
The QLYFT building system is another one of our innovations that not only allows us to offer high-quality pole barns but provide a safer environment for the people who build them.
Our construction crews are scattered throughout Illinois, Indiana, Iowa, Michigan, Ohio, and Wisconsin.
Are you interested in becoming a carpenter? Click here to fill out and submit your online employment application.
Do you want to learn more about the QLYFT building system? Download our FREE QLYFT Building System Guidebook, which explains the significant benefits, details how its components work together, and answers potential questions first-time buyers (or users) may have.
---
Do you have more questions about the QLYFT building system that aren't covered in this article? If you need help designing and planning, please contact FBi Buildings at 800.552.2981 or click here to email us. If you're ready for a price, click here to request a quote, and a member of our Customer Engagement Team will help you determine the next steps of your project.