Subscribe
3 Tips to Meet Your Pole Barn Schedule in 2020
Posts | Building Tips | Permitting | Site Preparation | Financing
It's hard to believe that we are over halfway done with 2020. To say that 2020 has been an interesting year would be an understatement. COVID-19 has left several ripples throughout the country, which has caused a "new normal" for businesses, schools, churches, restaurants, etc.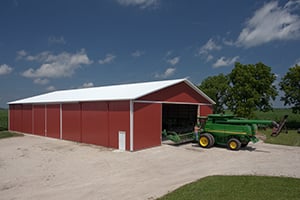 Depending on what state you're located in, you probably have to abide by a mask mandate. Maybe your work has one. Your children or grandchildren's school probably has one, or perhaps you opted for the virtual learning option. Either way, social distancing is still preferred, and this new way of life is among us.
For many, their plans have changed significantly this year. Spring break plans were canceled. Family vacations were canceled. Work from home policies was put in place until further notice.
However, something else happened that we didn't see coming. Our lives had no choice but to slow down, which gave us more time at home. And what does more time at home mean? Time to tackle that "honey-do list" or the "I'll get to that project when I have more time" list.
Landscaping projects were being done. Small home improvement projects were being done. And believe it or not...pole barns were being built. You may or may not know this, but construction has been deemed essential during this time, so thankfully, our crews can continue their work.
You're probably thinking, "there's no way my pole barn can be built now," and we understand why you think that. There are four months left of the year, and our pole barn schedule has to be getting full.
But, what if we told you that building a pole barn this year is still possible? Would you change your schedule around to get your pole building put up sooner instead of later?
In this article, we will explain the three tips you need to take to insure your pole barn gets built in 2020.
3 Tips to Meet Your Pole Barn Schedule
Before you tackle any project, it's important to have a goal. Your goal is defined as the milestone or result that you hope to reach. What will be achieved once this goal is met?

For some people, it's to lose x amount of pounds within a year. For others, it's to save x amount of money by a specific date.
The same type of goal is no different for your post frame schedule.
Maybe you're looking to build an ag cold storage building before harvest is over. Perhaps you need a hobby shop by the end of December, so you have a place to do your woodworking in the cold winter months. Or maybe you need a residential building, but you won't be able to do anything until next spring.
Knowing your goal before you reach out to us or any post frame builder will help guide you through your project to ensure your goal is met. These three tips will help guide you in the right direction for reaching your building goals.


1) Financing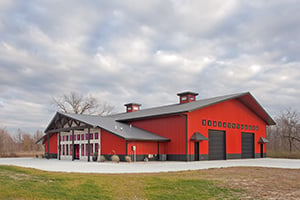 You've finally decided to move forward with your pole barn building project, and your goal is to have it completed before the end of the year. You know what size you want, you know what pole barn colors you're going to choose, and you even know how the interior is going to be finished.
It's great to know what building design you want and what building materials you're going to choose, but do you know how much the entire construction project will cost?
It's important to think about the following questions before making a decision:
How are you going to pay for your post frame building? If you already have the money set aside then you won't have to worry about this.
Will you be able to get enough financing to get your dream building?
Have you ever talked to your bank to see if you can get a loan for a pole barn?
What type of paperwork is your bank or financial institution asking for?
How long will it take to get your financing approved? Depending on your financial institution, it could be anywhere from one week to one month. The timing will vary on the complexity of the building project.
In reality, financing a post frame building has never been easier (and yes, we really do mean that).
The builder that you end up using for your final pole barn construction should have a list of lenders that they recommend using. If they do not, would you know how to obtain financing? If your answer is no, don't worry...we have you covered.


2) Permitting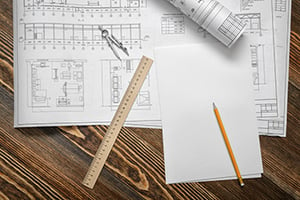 Before you can think about building a pole barn, you need to determine what type of building permit you'll need to obtain, how much that permit is going to cost, and how long will it take to obtain the permit?
Unfortunately, there isn't a "one size fits all" permit for post frame construction. It all boils down to the intended use and location.
For instance, a building permit in town may have a different set of rules than in the country. If you're building an ag building, that process looks different from a commercial building.
Many municipalities restrict where you can and cannot build. The one common connection between all pole barn permits is the setback, easement, height, and lot coverage restrictions.
When you are ready to obtain a permit, you must complete an application and submit it to the appropriate city hall or county office. At a minimum, you'll need to give them a blueprint, site plan, plat survey, and legal description of the property.
Additional information may be required. Upon approval of your application, a fee for the permit will be assessed. You'll probably need to pay with cash or a check; many government offices don't accept credit cards.
When an actual construction permit is issued, work on your post frame building can begin. The permit must be visible on the job site and available for the building inspector.
While your building is going up, he/she may visit and look over the construction methods and materials, verifying that everything is up to code.
3) Site Preparation / Concrete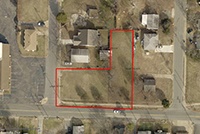 Site prep is the work done on your land prior to construction–finalizing location details, gaining access to the site, drainage, and more. This process allows you to identify site complications upfront and address them before construction begins.
You also need to determine if you're going to be doing the work or is someone else doing it for you? If you choose to hire someone else, what does their schedule look like? Will they be able to meet your deadline?
From pad structure, fill type, and drainage...all of these are important aspects of preparing your building pad. Here's a good overview to help you get a general idea of what we're discussing.
4 Key Building Pad Features
When to build your pad: Before building your pad, you need to analyze the benefits of each season and determine the ideal time to build. Late summer/early fall months are generally good months to start your building pad. Depending on the weather, December could also work.
Pad structure: Before the construction of your pad takes place, you (or your excavator) need to highlight key areas (dependent on your site) to ensure the pad is executed correctly.
Fill type: It's vital to discuss the different fill types and the advantages that each brings before you start.
Drainage: To minimize condensation within your building, it's important to review proper drainage. If done incorrectly, it can cause long-term effects on your structure.
If you're interested in more detail about each feature, our Site Preparation eBook explains each one in greater detail.


Are You Ready to Put Up Your Pole Barn?
We realize we just gave you a lot of information. Do you feel overwhelmed? You're not in this alone. It's important to work with a post frame builder who will help guide you with financing, permitting and site preparation.
A builder who has experience in all three of those areas, can not only help you design your pole building but can also make sure your project gets done on time and works well with your site.
If your end goal is to have your pole barn put up by the end of 2020, make sure your focus is on the three tips discussed in this article. And remember, no goal is too big to achieve if you have the right help throughout the process.


---
Do you have more questions that are not covered in this article? If you need help designing and planning, please contact FBi Buildings at 800.552.2981 or click here to email us. If you are ready to get a price, click here to request a quote, and a member of our customer engagement team will help you determine the next steps of your project.