My Pole Barn is Damaged. What Should I Do?
Subscribe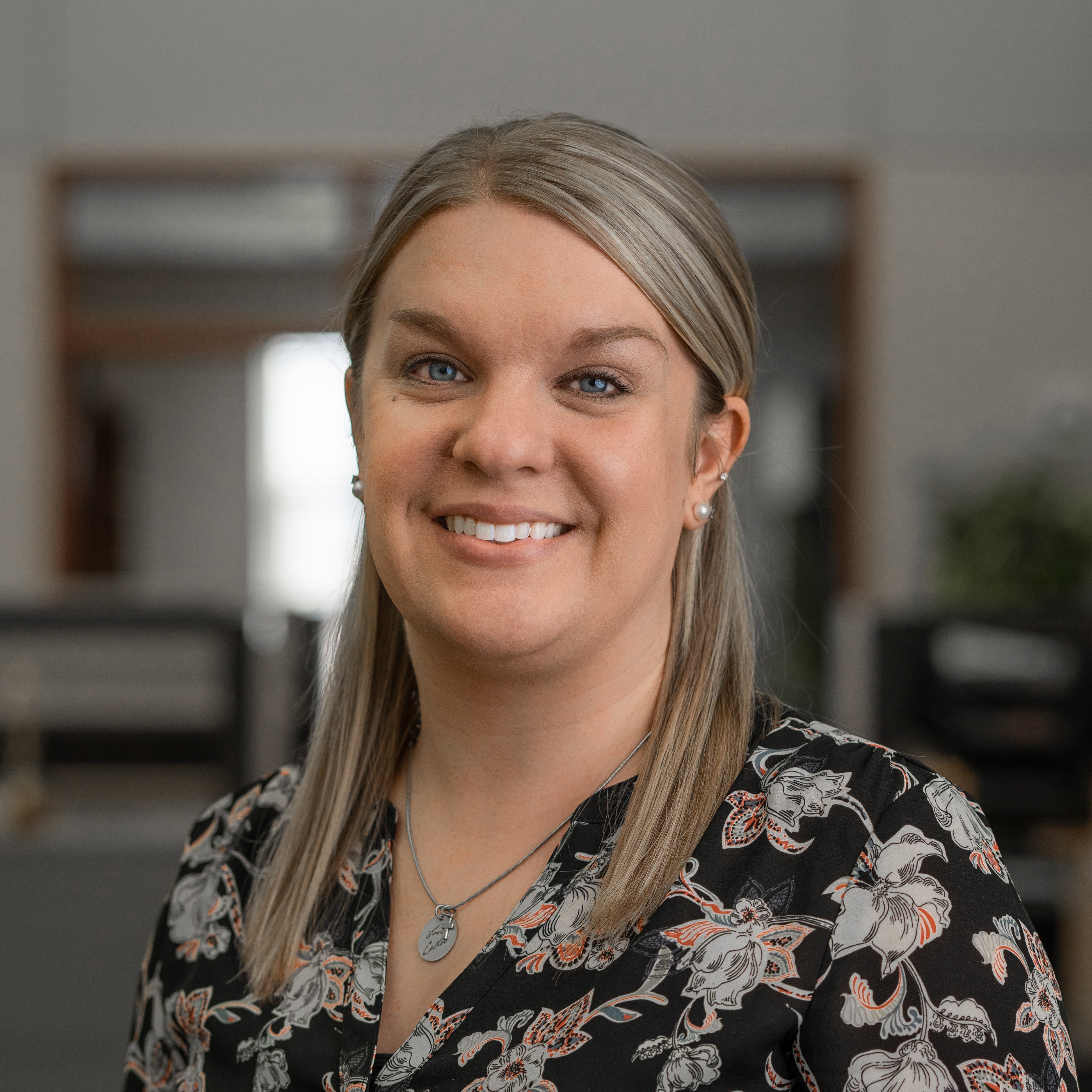 Angie graduated from Indiana State University with a Bachelor of Science in Interior Design. Prior to joining the FBi team, Angie was a kitchen and bath sales consultant in Lafayette, IN. In 2012, she started with FBi as the Inside Sales/Marketing Assistant. Today she holds the role of Sr. Marketing and Inside Sales Manager. Angie grew up in a farming community and has always enjoyed helping her family on the farm. A past 10-year 4-H Member, her passion for livestock pursued her to take a career in the agriculture field. She and her husband live in Northwest Indiana with their two daughters. In her free time, she enjoys outdoor leisure activities and spending time with friends and family.
"Some things in life are unplanned." As cliché as that quote sounds, it couldn't be more accurate.
For example, the local meteorologists are following an overnight storm with high winds. Severe weather isn't uncommon, especially during the spring and summer months in the Midwest. It'll blow over, right?
This time you weren't so lucky. After breakfast, you make your way outside for another day of honest work. Instantly, you noticed a nearby tree collapsed and damaged a few metal roofing panels on your farm shop.
On the other hand, maybe you're not the best driver in reverse and accidentally hit the side of your garage. If only you could fix that glaring dent in the wainscoting before your significant other notices...
Whether it was an "act of God" or human error, your post frame building needs to be repaired. Preferably sooner rather than later.
But where does one even begin? It's not like you planned or prepared yourself for this particular situation.
Yet, you can still control the aftermath. In this article, we discuss the five steps you should take to repair your pole barn damage.
5 Steps You Should Take to Repair Your Pole Barn Damage
1) Notify Your Insurance Agent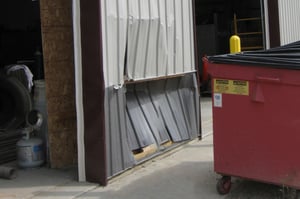 Once the initial shock wears off, you should notify your insurance agent. They'll walk you through the steps of filing an insurance claim.
First and foremost, you'll need to document the property damage. Pull out your cell phone and take photos of your post frame building. Note the date, time, and details of the incident (if possible).
It may sound tedious, but these details will keep your claim moving forward. Trust us; the last thing you'd want is annoying delays that can be prevented.
Then, your provider will ask for your policy number and any documentation. They'll explain your insurance coverage options based on the policy you pay for throughout the year.
Also, the claims department will assign a claims number and adjuster to your case. This person is responsible for assessing the damage and calculating a repair estimate.
2) Call Your Pole Barn Builder ("The Experts")
Moreover, your insurance agent may suggest requesting quotes from different construction companies. Please note that this extra work isn't a requirement on your part.
Instead, we recommend working with someone you're most comfortable with, such as your pole barn builder. No one knows post frame construction better than them.
Plus, you don't have to waste your valuable time gathering competitive bids your insurance agent won't use.
Don't have a preferred builder? We compiled a list of 7 tips to help you hire the right pole barn repair team.
When you're ready, pick up the phone and explain your unfortunate situation to the experts. They'll be more than happy to help you with your problem.
3) Schedule a Repair Assessment with Your Pole Barn Builder
After contacting your post frame builder, they will send a Repair & Renovation Specialist to your property for assessment. This initial visit should occur within 24 to 48 hours (schedule permitting).
These professionals go through your pole barn damage with a fine-tooth comb, so to speak.
To the Average Joe/Jane, it's just a fallen tree in your metal roof. Not only is it a major eyesore, but your belongings may be exposed to further harm.
But to the trained eye, this fallen tree has caused more than just roof damage. The structural integrity of your post frame building could've been compromised.
Briefly, structural integrity refers to a pole barn's ability to withstand anticipated loads without breaking. Any post frame building, regardless of size and location, must be designed to resist vertical and lateral loads safely.
Pole barn damage (e.g., accidental, fire, storm, and water) isn't an anticipated load. Therefore, the following building components should be inspected:
Foundation
Truss-to-column connections
Sidewall girts
Your Repair & Renovation Specialist will draft a work order detailing the project scope and cost. In severe cases, they may recommend rebuilding from the ground up.
4) Connect with Your Insurance Claims Adjuster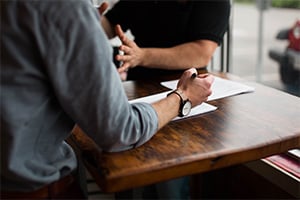 Meanwhile, your claims adjuster will conduct their own assessment. They'll evaluate the post frame building, and take their own pictures of the property damage.
Also, the claims adjuster may ask about pre-existing damage, routine maintenance, or other safety measures implemented to reduce risk.
Using their best judgment, they'll write-up an appraisal and share it with your insurance company. From there, the insurer will determine if the building damage is covered or not.
In some cases, you may disagree with the claims adjuster's ruling. Consequently, the insurance company's payout is significantly lower than you expected.
If you'd like, your pole barn builder can work with the claims adjuster directly. They'll bring a high level of post frame knowledge and repair experience to the table.
Furthermore, your preferred builder will inform the claims adjuster of the situation and costs associated with restoring the pole barn to its original state.
Not to mention, the claims process can be time-intensive. So why not let your post frame builder take this burden off your shoulders?
Pulling in the experts to collaborate with your claims adjuster gives you the control you deserve, and quite frankly, the protection you paid for.
Remember, once you settle the claim, the insurer's payout is final. No take-backs. In other words, "you get what you get, and you don't get upset."
5) Schedule the Repair & Renovation Crew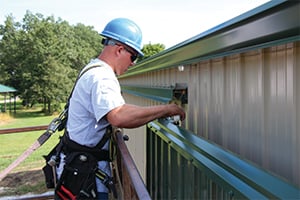 Once the insurance claim is settled, your agent will cut you a check for building repairs.
Depending on your insurer and the agreed amount, it may take a couple of business days (or longer) to hit your bank account.
When you receive the sum, you can contact your post frame builder to start the repair process.
You'll sign the finalized work order and make the first deposit. A copy will be forwarded to your insurance company for their records.
Next, you'll be introduced to your Project Manager (PM). This person is responsible for facilitating project scheduling, building changes, payments, and answering any questions throughout the repair process.
As part of their duties, your Project Manager will assign a Repair & Renovation crew to your pole barn. This specialized team of workers is crucial to the timely completion of your repair project.
It's important to note that not all post frame builders have construction crews dedicated solely to repairs.
Most likely, your damaged pole barn will take a backseat to new construction projects that need to stay on schedule. Your urgency may be met with, "We'll get to your post frame building in a couple of weeks." It can be very frustrating, to say the least.
At FBi Buildings, we have (4) Repair & Renovation crews with decades of combined experience and resources to restore your pole barn to its former glory.
In addition, our in-house engineers will ensure your post frame building is structurally-sound. This service isn't offered by small contractors or professional builders who hire external engineering firms.
Lastly, our purchasing team orders building materials at bulk prices, which allows for competitive pricing.
Do you need a specific part? They can order specialized building components for your pole barn repair.
Best of all, it doesn't matter who built the original structure. We'll make it look good as new.
Are You Ready to Move Forward with Your Pole Barn Repairs?
Any type of pole barn damage can be upsetting. You put your heart, soul, and countless hours into the building design. Then, you paid thousands of dollars to turn your big dream into reality. Only to have an unplanned incident or accident ruin its visual appeal.
Sure, it's easy to dwell on the negative. If you could go back in time, you would've planted that oak tree farther away from the structure. Or you would've invested in a vehicle with a backup camera or sensors.
We've all heard the old adage, "Hindsight is 20/20." Redirect your energy towards following these helpful steps to repairing your post frame building to its original condition.
With a trusted pole barn builder by your side, you can rebuild with confidence.
---
Do you have more questions about pole barn repairs that are not covered in this article? If you need help designing and planning, please contact FBi Buildings at 800.552.2981 or click here to email us. If you are ready to get a price, click here to request a quote and a member of our customer engagement team will help you determine the next steps of your project.