Posts | Residential Buildings | Building Design
Our Top 5 RV Storage Pole Barns in 2022

Subscribe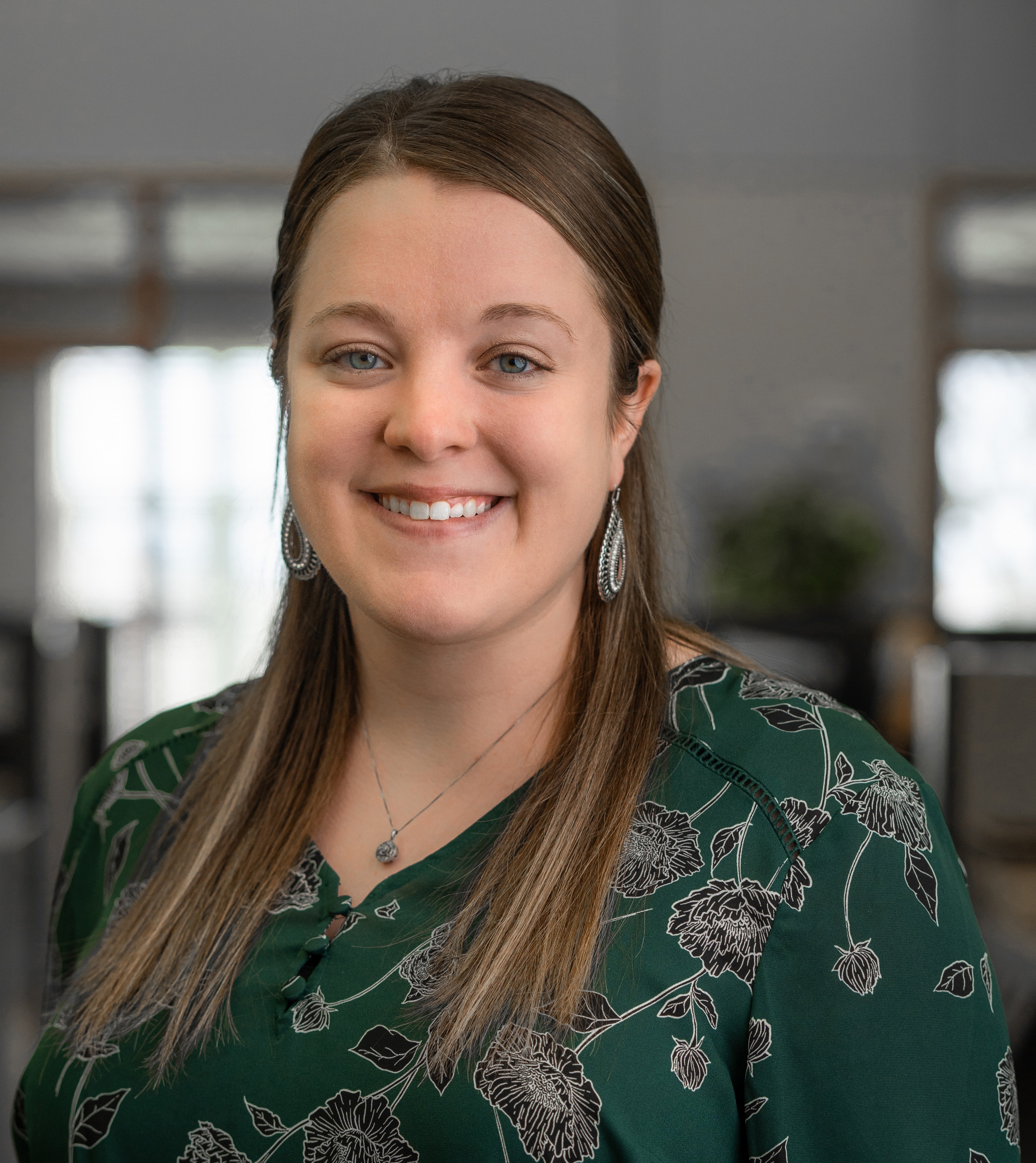 Cori grew up on her family's small grain and livestock operation in Northwest Indiana. In 2018, she graduated Summa Cum Laude with a Bachelor's degree in Business Administration/Marketing from Marian University Indianapolis. Having shown beef cattle for 12 years at the county, state, and national level, Cori chose to pursue a career in the agriculture field. Today, she serves as the Marketing Content Creator on the FBi team. In her free time, Cori enjoys spending time with family and friends, watching sports, listening to music, and traveling.
Rejoice, it's officially summer! Warm weather is finally here. School is out. It's the perfect time to take your kids or grandkids on a camping trip in your RV.
There's nothing better than camping in the great outdoors. Your adventure options are endless: biking, boating, canoeing, fishing, hiking, swimming, etc. At the end of a busy day, you and your family can relax around a blazing campfire and make s'mores.
When the season is over, you'll need a place to store your RV, boat, and outdoor equipment. Trust us; that storage space will fill up quickly! We'd hate to see you run out of room for all of your toys.
Now, you're probably thinking, "Why should I build a big pole barn for my camper?" True, it may seem like a lot of money to house one item.
But, what if we told you that post-frame construction offers design flexibility? Meaning, you can house your camper and have extra room for entertainment, hobbies, and machinery. Would you believe us?
Below, we detail the Top Five RV Storage Buildings that'll prove you can have enough space for recreational equipment and extra amenities. Our goal is to help you design an affordable and versatile pole barn that you'll enjoy for years.
Note: If a layout catches your eye, but you want to make a few tweaks, please let us know. All of our post-frame buildings are customizable. No cookie-cutter floor plans here! Our pole barns are built around your needs.
Top 5 RV Pole Barn Designs to Consider Building — Our Recommendations
1) Sportsmen's Club
Do you enjoy hunting and fishing? Does your significant other like to host small get-togethers for family and friends? If so, you'll find that this deluxe floor plan covers your needs.
The lean-to portion of the pole barn can be transformed into living quarters. You can fix light meals (or clean fish) for guests. There's plenty of room to pick up a game of pool or foosball with the guys.
In between outdoor activities, you can sneak back into the private office to catch up on bookwork or emails.
It's also an ideal location for that man cave or she shed you've always wanted. Add furniture, artwork, and shelving to create the ultimate oasis. Don't miss the big game or the latest episode of "Real Housewives" with a flat-screen TV.
Of course, we included an open-concept garage for housing your big toys.
During the winter months, you can protect your camper, boat, or 4-wheelers from the harsh elements. Consider adding insulation and an HVAC system so you can utilize your pole barn year-round.
2) Work-n-Pleasure

Who says you can't mix work and pleasure? This building design combines an industrial-strength garage with a pleasant recreational area.
The roomy shop features large overhead doors with high clearance to accommodate heavy machinery. You can park the camper on one side and service a semi-truck or tractor on the other.
A workshop is located off to the side for the avid craftsperson. Organize your woodworking tools and showcase your recent Pinterest-inspired projects.
Not a hobbyist? That's okay! You can store bikes, canoes, kayaks, and other outdoor accessories here.
On the weekends, you'll enjoy the "game room." This space can be used as an entertainment center for family and friends. A comfortable front porch is a welcoming place for crowd spillover. The raised floor system on the "pleasure" side makes it a snap to run plumbing and other utilities.
Indeed, this indoor RV storage building is the best of both worlds.
3) Crossover Delight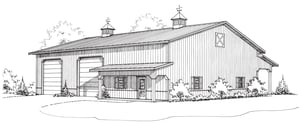 Picture this. Occasionally, you and your significant other take your horses on camping trips. Instead of building a horse barn and garage, you'd like to combine the two structures.
Luckily, this post-frame building accommodates hobbies dear to both parties. You can pull your camper into the shop via one overhead door and horse trailer the next. There's no need to take turns storing trailers.
Plus, there's an office to kick back and relax after a long day's work. Again, you should add an interior finish and comfy furnishings to give it that "homey" feeling. Especially if you plan on spending a lot of time there.
The building's backside features a covered porch for plants, patio furniture, and a fire pit – great for summer gatherings.
However, you can use the shaded space as a cooling spot for your horses. The choice is yours.
4) Liberty Summons

We understand that not everyone owns a large motorhome, fifth-wheel, or toy hauler. A simple pop-up or travel trailer camps just as well as the bigger (albeit more expensive) options.
As a result, you won't need as big of a pole barn to store your possessions.
Imagine the Liberty Summons storage building in the corner of your backyard. It complements your house, right down to the matching shingles and color scheme.
Outside, the inset porch is a shady place to spend a lazy summer evening. Sit in a wooden rocking chair with a cold glass of sweet tea and watch the children (or grandchildren) ride ATVs.
Inside, you'll appreciate the workshop and out-of-sight storage room. The garage features overhead doors for moving vehicles in and out. A sliding door in the back provides ample room for a camper, gator, or utility tractor.
This storage unit may just become the favorite part of your property. In some cases, it may increase your resale value (should you decide to move). Find out for yourself!
5) Backyard Beaut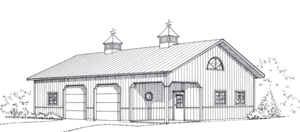 Lastly, this floor plan is one of our all-time customer favorites.
The welcoming front porch serves as a statement piece. It's an excellent opportunity to add little decorative touches (e.g., a bench, hanging plants, and potted flowers).
Energy-efficient landscaping not only adds curb appeal but reduces heating and cooling costs.
Inside, you'll appreciate the workshop – an ideal getaway for Dad or an area where the entire family can work on projects together.
The central part of the post-frame structure provides plenty of room for your pop-up camper, vehicles, mower, and whatever else you've wanted to get out of your house garage.
We're positive that this RV pole barn will be an absolute beaut in your backyard.
Plan Your Next Post Frame Building
It's never too late to properly store your hobby toys inside so you can make more memories with them.
Our goal as one of the top post-frame builders in the Midwest is to recommend a wide selection of floor plans that'll give you the best bang for your buck.
Are you interested in seeing more layouts? Download our FREE "Rural Lifestyle Plan Book." This guide features 16 detailed plans, including a variety of storage, utility, and hobby barns designed for the way you live (or want to live).
Don't see the "right" residential building for you? You can design your pole barn with our 3D Design Tool. Save, print, or email your final plan to family and friends.
Are you ready for a quote? Submit your design to us, and a member of our sales team will give you a call to begin the estimating process.
---
Have more questions about RV storage buildings not covered in this article? Please contact FBi Buildings at 1.800.552.2981 or click here to email us. If you are ready to get a price, click here to request a quote and a member of our sales team will call you.