Posts | Building Tips | Repairs & Renovations | Building Design
Pole Barn Renovation Ideas: What Can I Do?

Subscribe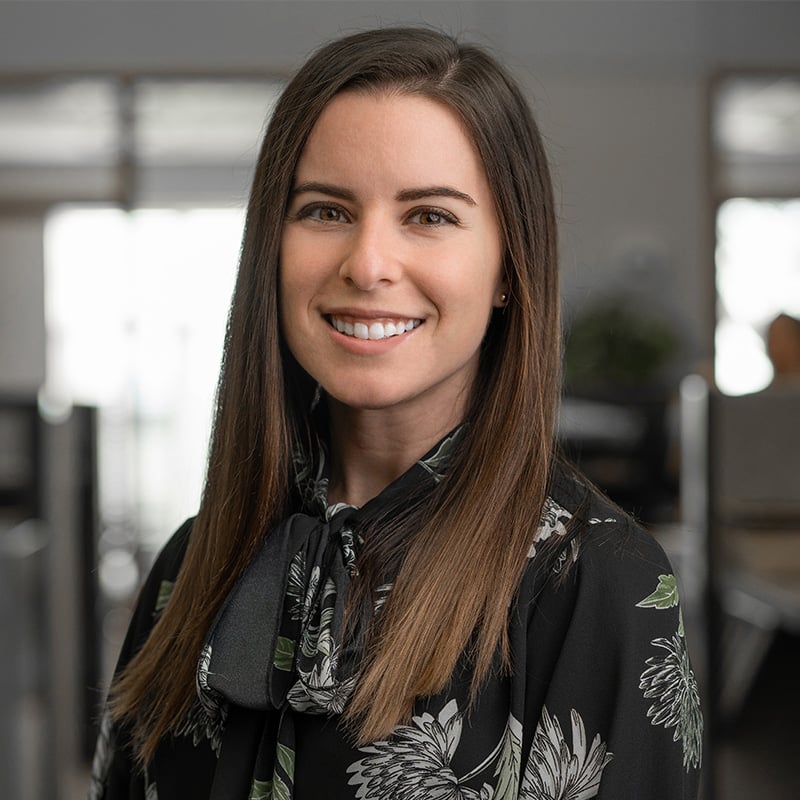 After working in the banking industry for 5 years after college, Courtney realized she needed a change and decided to pursue a new career path. Growing up she has always been creative and enjoyed writing, taking pictures, or painting. Now as the Marketing Content Creator for FBi Buildings, she gets to utilize her creative abilities in her everyday work. In her free time, you can find Courtney at home reading a book, partaking in any and all outdoor activities, or traveling and photographing her adventures. Courtney resides in Northwest Indiana with Lacey, her red tick coonhound.
When it comes to renovating your pole barn, it's easy to feel overwhelmed. Social media platforms like Instagram and Pinterest are constantly bombarding you with the latest renovation ideas. So, what should you do, and where should you start?
And when you think you've made up your mind, some new trend comes along and skews your vision.
If you're going to spend a significant amount of time and money on renovating your post frame building, you want to make sure it's worthy of gracing the front cover of HGTV Magazine.
But don't fret too much – some styles have a way of coming back. Just take a look at wall paneling.
Luckily, your options are virtually endless when it comes to refurbishing your pole barn. Whether you want to make a few minor changes or tackle a complete makeover, resources are certainly not lacking.
In this blog, we break down the current pole barn renovation trends.
Note: Most post frame builders specialize in the building shell only. However, we can still give you design ideas for your dream post frame building.
What Are the Top Pole Barn Renovation Ideas?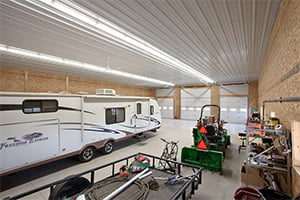 As the years go by, your building needs will inevitably change. You built a pole barn several years ago and underestimated how much stuff you would accumulate.
Trust us; you're not the first person (or the last) to miscalculate their building size.
One option would be to sell your property and buy a house with a bigger storage building (or combine the two). But let's be real, that's not always realistic.
So why not consider adding onto your existing pole barn? Depending on the project scope, it may be easier and more budget-friendly than building brand new or moving entirely.
Not sure if you should build a new pole barn or renovate your current one? Click here to find out which construction method is right for you.
But if you decide to move forward with your building addition, you should know that the structural integrity must be considered. Below are three morsels of information to keep in mind:
If you're for a cost-effective add-on, extending the length is cheaper than the width.


Ensure the original

truss

and

column strength

can support a building addition, plus

snow

and

wind loads

are factored.


The original structure has been exposed to the elements and may be subject to fading or

rust

. The new steel will look shinier, causing the entire

pole barn color combination

to look uneven.
Once your building addition is constructed, you can focus on designing the exterior and interior of your pole barn.
How Should I Renovate My Pole Barn Interior?
1) Install a Wall Liner Package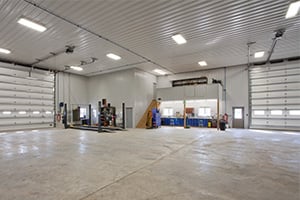 Most post frame builders offer a wall liner package with their pole barns. The most common finishes include:
Plywood
Oriented Strand Board (OSB)
Steel
Combination (Plywood & Steel)
Miscellaneous (e.g., Pallet Wood, Shiplap, Tin, etc.)
These materials give your post frame building a finished look compared to exposed girts and posts.
Click here to learn about the pros and cons of each pole barn interior finishes.
2) Pour a Finished Floor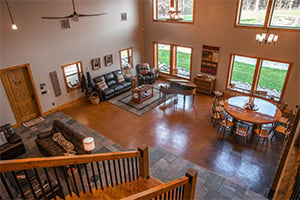 Again, your building needs will change over time. The dirt, gravel, or stone flooring in your pole barn is no longer the look you want to achieve. Luckily, you can upgrade to a more solid solution at a later date.
Concrete is one of the most popular floor selections in post frame construction. Why? Because it reduces the following annoyances associated with dirt, gravel, and stone floors:
Dust build-up
Excess

moisture

Inability to maintain a clean space
As a result, a concrete surface is often installed in farm shops, commercial businesses, hobby barns, and garages.
Depending on the contractor, it's available in a wide variety of colors, finishes, and stamps.
You can also consider adding wooden or tiled floors that sit on top of the concrete foundation. It'll give your business, man cave/she shed, office, or post frame home a nice decorative touch.
3) Add an Office or Workshop
Are you working remotely during the global pandemic? Are you tired of working at your kitchen table and need a designated spot to focus on paperwork? If so, you can easily convert a portion of your pole barn into an office.
Do you enjoy hobbies like woodworking or tinkering on classic cars? You may want to consider moving out of your stick-built garage and into a workshop. You'll be happy to have your own space, and your significant other will be glad that he/she can finally park their vehicle inside.
4) Entertain Family & Friends in Your Newly-Renovated Space
If you and your significant other are entertainers, why not add the living quarters to the older pole barn in your backyard?
You can add a small kitchenette for preparing light meals. Complete the sitting area with comfy furniture and a flatscreen TV. Be careful not to make your space too entertaining. Otherwise, your guests will never want to leave!
5) Lay Down a Basketball Court
Are you raising the next Michael Jordan, Kobe Bryant, or Lebron James (depending on who you think is the G.O.A.T.)?
Having a post frame basketball court (half or full) is a great way to perfect those dribbling, passing, and shooting skills, especially when the weather turns cold. Your athlete won't have an excuse to miss practice.
If you're not a basketball fan, you can install a tennis court or batting cages instead.
6) Overhead Storage with a Loft/Deck System
When you're running out of space, installing a loft is the easiest way to add more room.
You can store outdoor accessories (e.g., bicycles or kayaks) or holiday decorations that are taking up precious real estate in your garage.
Moreover, lofts can be converted into a hangout spot or toy room for your kids.
We recommend talking to your post frame builder about loft requirements. After all, building codes still need to be met.
How Should I Renovate My Pole Barn Exterior?
1) Add a Porch to Your Post Frame Building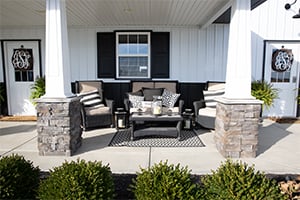 Porches are a great way to add charm to your pole barn.
Nothing welcomes guests like a well-designed porch with a rocking chair or two. It's nearly impossible to turn down a cold glass of sweet tea and good conversation with family or friends.
Whether you prefer a simple front porch or one that wraps around the entire structure, you can't go wrong with this feature.
There's nothing better than ending a long day by sitting on the porch with both feet kicked up, watching the sun sink below the horizon.
2) Try a New Pole Barn Color Combination
Is the original paint of your metal roof and siding looking blah? Now is your chance to switch it up with a completely different color that better fits your personality. Click here to learn about our pole barn color combination tips.
Add a little flair to your building design with a designer wall (or wainscoting). Take it to the next level with a brick or versetta stone façade, depending on the exterior options provided by your post frame builder.
3) Upgrade the Doors & Windows
You'd be amazed by the effect new doors and windows can have on a pole barn. Trends are constantly changing, and styles are more modernized with no exception to walk or overhead doors and windows.
Not only will door and window upgrades change the look of your post frame building, but they can also lower that utility bill. Spending extra on energy-efficient choices can save you money in the long run.
For more information, you can download our FREE Energy Efficiency in Post Frame Construction Guidebook.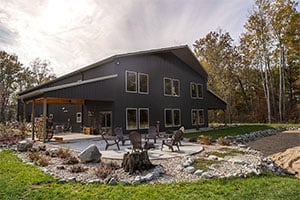 What Are Some Minor Changes I Can Make to My Pole Barn?
Sometimes, you don't have to spend the big bucks to change the appearance of your space. Here is our list of small upgrades that will transform your pole barn without breaking the bank.
Cupolas
Shutters
Lighting
Fire Pit
Outdoor Seating
Don't forget about the finishing touches that you'll add when it's all said and done. It's the small pieces that will reflect your personality and truly make your space special.
How Will You Renovate Your Pole Barn?
How you choose to refurbish your post frame building is up to you. Our goal as one of the top post frame builders in the Midwest is to provide tips that will help you design the perfect structure.
So, which pole barn renovation ideas inspire you the most? Do you like the thought of having your own place to work on classic cars, shoot some hoops with the kids, or retreat from the demands of everyday life?
Regardless of how you wish to revamp your post frame building, we're positive it'll look better than you imagined. As long as you remember to build with confidence, there's no renovation project that you can't tackle.
Get a head start and design your pole barn with our 3D Design Tool. Save, print, or email the floor plan to your family and friends.
Are you ready for a quote? Submit your building design, and a member of our sales team will give you a call to begin the estimating process.
---
Do you have more questions about pole barn renovations that are not covered in this article? If you need help designing and planning, please contact FBi Buildings at 800.552.2981 or click here to email us. If you're ready to get a price, click here to request a quote and a member of our Customer Engagement Team will help you determine the next steps of your project.