Subscribe
Pole Barn Renovation Ideas: What Can I Do?
Posts | Building Tips | Repairs & Renovations
When it comes to renovating a pole barn, it's easy to become overwhelmed with what to do and where to start. Thanks to social media platforms like Instagram and Pinterest, it seems as though we are constantly bombarded with the latest ideas in renovating.
Enter man caves and she-sheds.
Perpetually-changing trends make it even more challenging to narrow down your options. Just when you think you've got your style pin-pointed, some new trend comes along and skews your vision. The style you selected five minutes ago is seriously archaic, so now you feel like you should conform to the new trend to keep up with the times.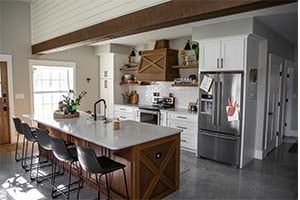 But don't fret - style always has a way of coming back around again.
Your options are virtually endless when it comes to refurbishing a post frame building. Whether you're looking to tackle some minor cosmetic changes or begin a complete overhaul, resources are certainly not lacking.
You can stress yourself out by flipping through magazines and endlessly watching HGTV for inspiration, or you can make it easier on yourself and trust your post frame experts to inform you on how to make your pole barn the talk of the town. Even though we are unable to finish the interior of your pole barn for you, we can, however, provide you with ideas to make your dream a reality.
Before a bandwagon comes along with the next best thing, let's take a look at some of the current trends in the pole barn renovation industry.
What Are the Top Pole Barn Renovations?
Let's start with the obvious: you built a pole barn a few years back but underestimated just how many things you had to put in it. One option would be to sell your property and find a new house with a bigger pole barn, but let's be honest, that's not always realistic.
Why not consider a pole pole barn addition to your already constructed pole barn? Whether you need this extra space for a farm shop or cold storage building, it's a much easier and more budget-friendly option than going through the hassle of selling and then buying a house.
We highly encourage reaching out to a quality post frame construction company that can navigate you in the right direction. Adding an addition can significantly impact your building's structural integrity if it's not done correctly, so to ensure all aspects are taken into consideration, it would be ideal to get a professional opinion first. Before you start your addition, here are three things to keep in mind:
If you're looking to be more cost effective, adding off the end wall and extending the length of the building is less expensive than adding on to the width.
Ensure the original truss and column strength is able to support an addition, and that snow and wind loads are taken into consideration.
Your original structure has had plenty of time in the sun, which means the paint is subject to fading. The paint on your addition will look brighter and shinier, causing the overall pole barn color combination to look uneven.
Once you've got your addition constructed, it's time to focus on the interior changes you can make. The cool thing about pole barns is that they're pretty universal. You can transition a post frame structure into almost anything you want, regardless of your style or hobbies. Here are a few ideas on how to renovate the interior of your pole barn building.
Pole Barn Interior Renovation Ideas
1. Wall Liner Package

Most pole barn builders will offer an interior wall liner package for the inside of your building. This option gives your post frame building a finished look, as opposed to seeing only columns and girts. By adding this feature, your building will instantly be transformed into a completely new space.
2. Finished Flooring
If you have dirt, gravel, or stone as flooring in your pole barn and it's not helping the look you want to achieve, you can always upgrade to concrete. This option is especially helpful if you have a shop, and you don't wish to have dirt or gravel dust flying around the project you're working on. If you're renovating your pole barn into a living space, wood floors can give your space a cozy feel and take it to the next level.
3. Add A Shop or Office
Do you have your own business, but you're tired of working at your kitchen table and not having space to truly concentrate? Renovate your post frame building into an office. If you enjoy doing side jobs for your family and friends, consider moving out of your garage and turning that pole barn into a shop. You'll be happy you have a space of your own, and your significant other will be happy they can finally park their car back in the garage.
4. Entertainment Space
If you're someone who likes to host parties and get-togethers, why not transition that old pole barn in your backyard to the ultimate entertainment space? Add in a kitchen with a refrigerator, stove, and oven for cooking the most delicious meals. Create space for custom cabinetry to store all the kitchen necessities.
Build your own custom bar for after-dinner drinks and arrange some furniture in the space for great conversation. Just be careful not to make your entertainment space too incredible, or your friends and family will never want to leave.
5. Basketball Court
Have you ever considered putting in a one-of-a-kind indoor basketball court? It's a great way to enjoy playing your favorite sport all year round, or for your kids to get their practice in before the next big game. If you're not a fan of basketball, you can always put in a tennis court or batting cages instead.
6. Add a Loft
When you begin to realize you're running out of room in the house and need some extra storage options, a loft is a great idea. If an addition seems like too much to just store away Christmas decorations, a loft is a perfect arrangement to get just enough extra space without overdoing it.
Lofts can also be utilized as a place to lounge around. If there is not enough room in your pole barn, but that's the only option you have for friends and family to gather, build a loft, and arrange some comfy couches up there. The possibilities are endless to make a loft your own. Just make sure you talk with your local builder about what building a loft entails - there are still codes that need to be met, after all.
Pole Barn Exterior Renovation Ideas
1. Add a Porch
Porches are a great way to add charm and warmth to any building. There's just something about a porch that says, "Welcome, come on in!" They are inviting and make it impossible to turn down a glass of sweet iced tea and a good conversation with a friend on the porch swing.
Whether you prefer a simple front porch, a back screened-in porch, or one that wraps all the way around, you can't go wrong with this feature. There's nothing better than ending a long day by sitting on the porch, kicking your feet up, and watching the sunk sink below the horizon.
2. Try A New Color
Is the original color of your metal roof and siding looking blah or faded? Switch it up with a completely new color that fits your personality better. If you need inspiration, we can help you figure out which colors to go with.
Adding wainscoting is a simple way to transform the exterior of your pole barn remarkably. If you truly want to take it to the next level, you can upgrade to stone, brick, or stucco, depending on what options your builder has available.
3. Upgrade the Doors and Windows
You'd be amazed at the effect new doors and windows have on a building. Trends are continually changing, and styles are becoming more modernized, with no exception to walk doors, overhead doors, and windows.
Upgrading doors and windows in an old pole barn not only helps achieve a more modern look, but they are also energy efficient. Instead of putting those extra dollars towards a utility bill, you can put them towards future upgrades.
What About Minor Upgrades?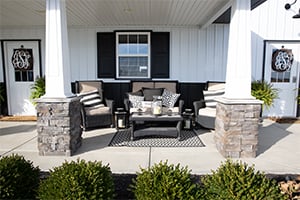 Sometimes spending the big bucks isn't always necessary when renovating a space. There are many small upgrades you can make to transform a space that won't break the bank and won't require a lot of work. Here is a list to name a few:
Cupolas
Overhangs
Shutters
Lighting
Outdoor Seating
Firepit
Let's not forget about the finishing touches you'll add once it's all said and done. It's the small pieces of your personality that will truly make your space special.
What Does Your Pole Barn Renovation Plan Look Like?
When your research is all said and done, which ideas inspire you the most? Does the idea of having a place of your own to work on old cars, shoot hoops with your kids, or retreat from life's constant demands intrigue you the most? Or, would you prefer to have a place for family and friends to gather and have fun?
Regardless of how you wish to revamp your pole barn, we know in the end it'll look better than you ever imagined. As long as you remember to always build with confidence, there's no renovation project you can't accomplish.


---
Do you have more questions about material packages that are not covered in this article? If you need help designing and planning, please contact FBi Buildings at 800.552.2981 or click here to email us. If you're ready to get a price, click here to request a quote, and a member of our Customer Engagement Team will help you determine the next steps of your project.